This is one of the sad days in the calendar now. It's hard to believe it's four years now since we lost another of the great characters from Jock Stein's incredible teams of the sixties and seventies, Harry Hood.
I never had the pleasure of meeting Harry personally – a real regret – but in record years it has been my privilege and pleasure to get to know his family in the course of writing his official biography. Wonderful folk, who made me feel so welcome and who I now consider friends. My thoughts are very much with them today.
I remember reading about Harry as a wee boy when he was at Sunderland, then I had the pleasure of watching him throughout his seven years wearing his beloved Hoops. Harry was brought up in Balornock and Barmulloch, just a mile or so from my home in Springburn, so we local kids could really relate to him as the Bhoy who got to live his dream.
He played with the Lions and the Quality Street Gang, in the best Celtic teams of my lifetime and probably all-time. And he pulled on those Hoops 300 times in that kind of company, scoring cup-winning and title-clinching goals, winning medals galore.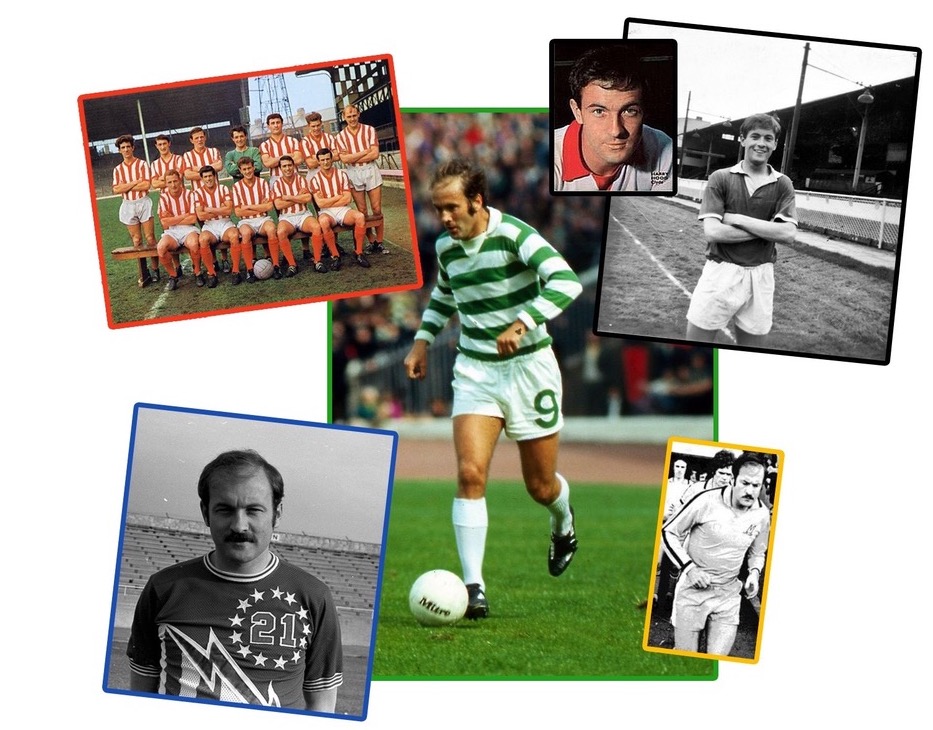 But that's only part of the story. The book – Harry Hood Twice as Good – allowed me to look at all aspects of Harry's careers – he was a very popular and successful businessman beyond football – and indeed his life. The family were lovely, extremely supportive and helpful, as were his friends and colleagues from the early days until his later years.
I spoke with folk who played football with him in the local parks to those who lined up beside him throughout his senior football career. Some who did both, like John McHugh at Brunswick Youth Club and Clyde, Denis Connaghan at Holyrood and Celtic and Jim McCalliog, who stood in for the schoolboy Harry in a cup final then played beside him for Scotland on the other side of the world. Gentlemen Graham Macfarlane and Dick Staite from their spells together at Shawfield.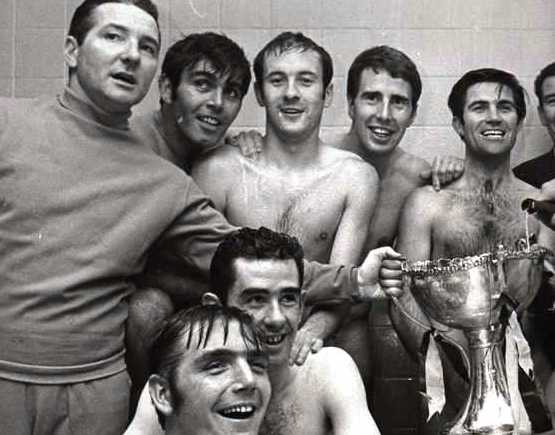 Another former Clyde and Scotland legend George Herd on Harry's Sunderland experience. And perhaps best known to most reading this article, the legendary Celts who wore the Hoops with Harry in those heady days under Jock Stein. Old pals Tommy Callaghan, Kenny Dalglish, Davie Hay and Willie Wallace who wrote beautiful forewords and shared their memories of those days with me so that I, in turn, could share them with others.
They say you should never meet your heroes, so I guess I've been very lucky. Class acts, one and all. Very fitting that they should be talking about another class act in Harry. Tommy, in particular, had so much in common with Harry. Both of them Jock Stein signings post-Lisbon, then playing together in the company of some of the world's greatest players in a spell in the USA towards the end of their respective careers.
I heard so many marvellous anecdotes which illustrated the kind of boy then man Harry was, with three key themes shining through – principles, talent and humour. Harry was a Celtic hero, but first and foremost he was a loving husband and dad.
It's a wonderful story.
Harry spent some of his final hours watching his beloved Celtic on television with his son Nicky as the Hoops clinched an historic and unique Treble Treble at Hampden, a stage he graced so often. But I'm going to finish this small tribute by looking at another week at this time of year which had happier memories for Harry and his family, which co-incidentally was a rather special week for Celtic. This extract from Harry's biography takes us back to May 1967.
God bless you Harry and thanks a million for the memories.
Matt Corr
Four long years ,missed every moment of every day 🙏🙏🙏🙏💚💚💚💚 pic.twitter.com/16wS7qFjts

— Nicky Hood (@helenahood25) May 26, 2023
#NewProfilePic pic.twitter.com/vmImFLazYH

— Nicky Hood (@helenahood25) May 26, 2023
Remembering Harry Hood
CELTIC hero Harry Hood passed away 3 years ago today at the age of 74 after a long battle with cancer. The skilful striker was legendary manager Jock Stein's record signing for the club when he bought him for £40,000 from Clyde in March 1969…😥☘️☘️ pic.twitter.com/PikrnWGFja

— Willie Collow (@CollowWillie) May 26, 2023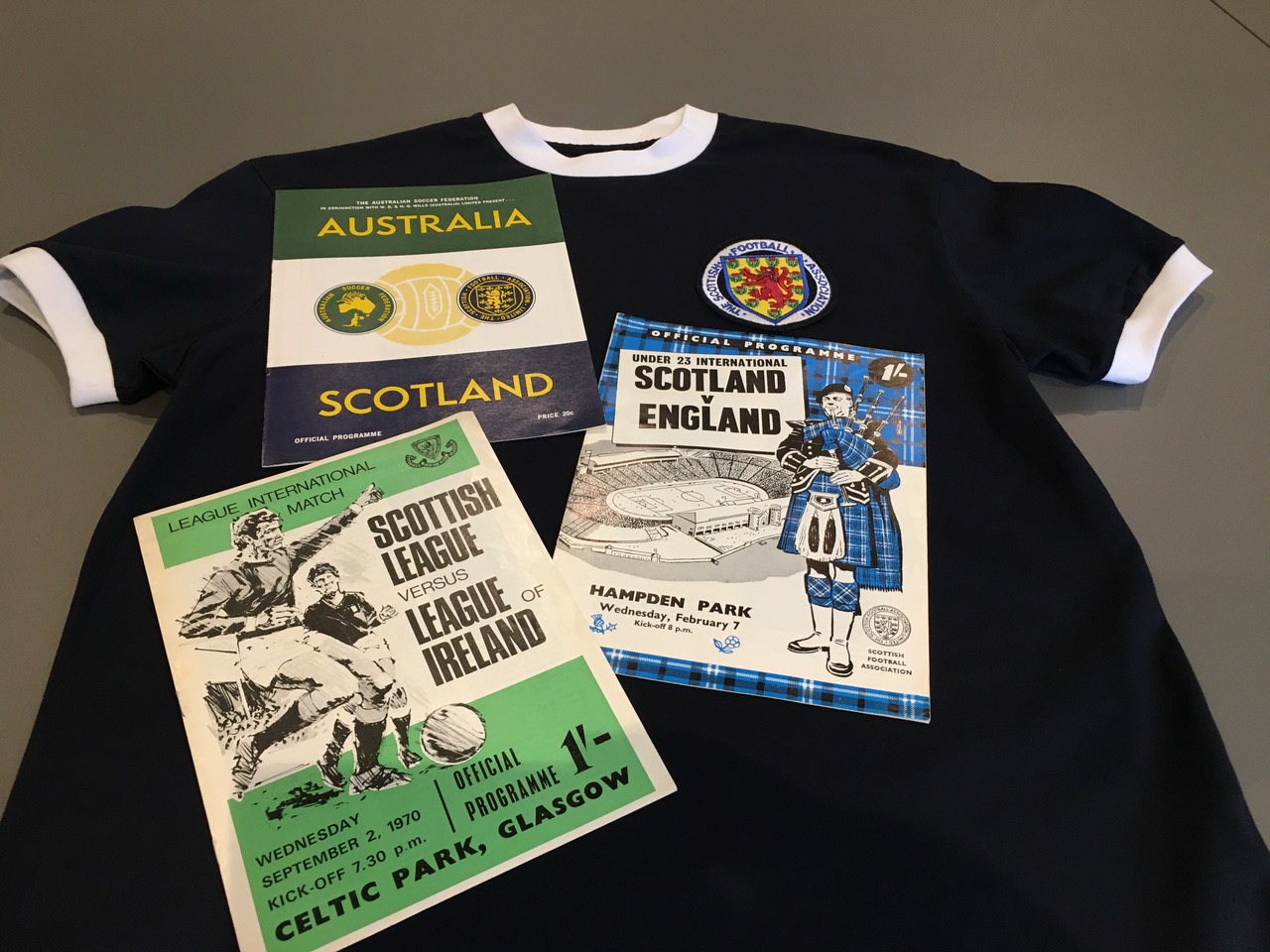 Harry gets a first taste of international football – this week in 1967
The success enjoyed by Scottish clubs – and indeed Leeds United – in Europe during that unique 1966/67 season did have a negative impact on the international scene, a clash of dates between the final stages of continental competition and the upcoming world tour robbing the Scotland travelling party of the services of no fewer than 10 of the 18 players previously selected.
An emergency meeting of the SFA was held on Saturday, 29 April 1967, the day of the Scottish Cup final between Celtic and Aberdeen, to decide if the tour was still viable in these circumstances. Perhaps predictably, the governing body chose to go ahead with the month-long trip, attempting to deflect further media and supporter criticism by rebranding the squad as a touring select rather than a full international side.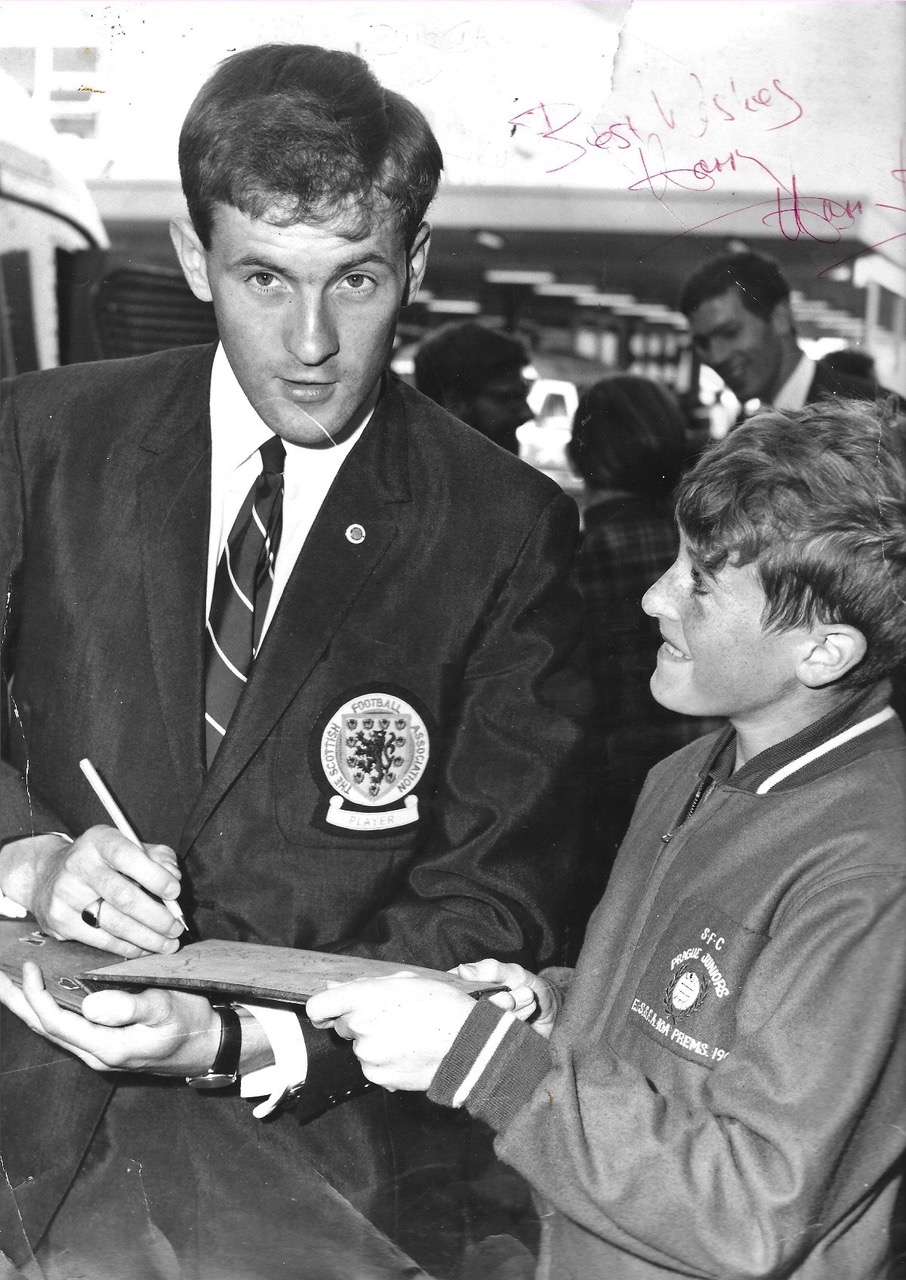 It feels correct and appropriate in these circumstances to emphasise that Harry Hood had been chosen on merit in that initial 18-man squad, which very much represented the cream of Scottish talent, with Denis Law the most notable established international player excluded, the Manchester United icon required for a club tour of Australasia at the same time. Another Wembley hero, Jim Baxter, would also be away with Harry's old Sunderland mates in Canada.
Three days before that Hampden Scottish Cup final, Celtic had secured the 0-0 draw in Prague against Czech champions and army club Dukla, which set up a first-ever European Cup final for a side from the British Isles. Jock Stein's men would now meet either twice-world champions Internazionale of Milan or Bulgarians CSKA Sofia, who were scheduled to meet in a play-off to decide who would progress to Lisbon for that day of days on Thursday, 25 May 1967. Thus, Tommy Gemmell and Willie Wallace would be wearing the green-and-white of Celtic rather than the navy blue of Scotland that evening.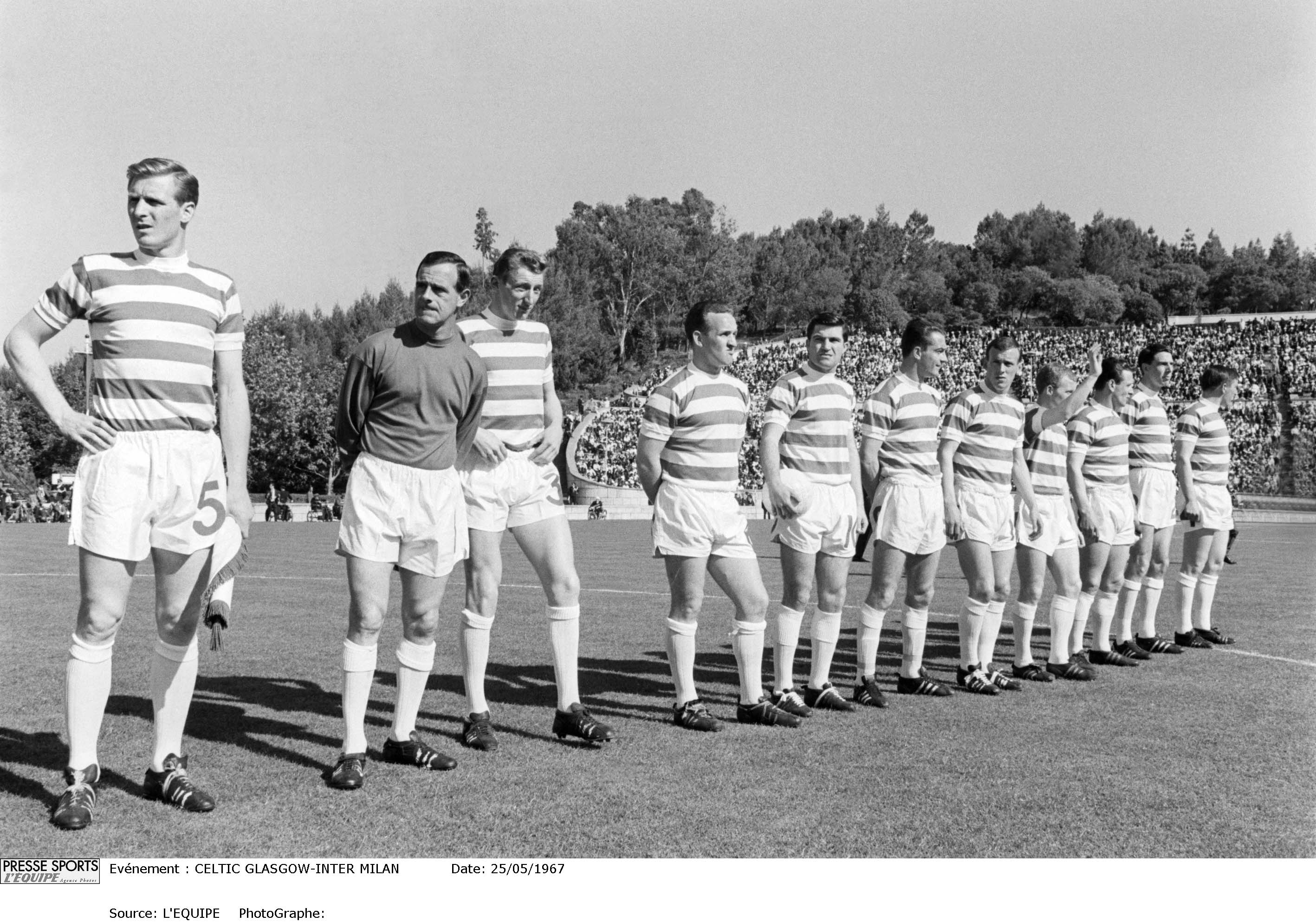 The coming midweek would also surely see Rangers book their place in the final of the competition for national cup-winners, having established a 1-0 lead in the away leg of their semi-final against another Bulgarian outfit, Slavia Sofia. Scotland would duly lose the services of John Greig, Ronnie McKinnon and Willie Henderson. The Ibrox club had recently agreed a 'swap-plus-cash' deal with Dundee, which saw Berwick scapegoat George McLean head for Tayside with Dens inside-forward Andy Penman making the opposite journey. Penman would be ineligible for the expected Nuremberg final against Standard Liege or Bayern Munich, so the new Ranger would now find himself instantly promoted to the international scene.
The Inter-Cities Fairs Cup schedule was somewhat behind that of the other two tournaments, the last-four tie between Leeds United and Kilmarnock due to take place in tandem with the aforementioned finals. That clash of dates would cost Scotland the Killie duo of Bobby Ferguson and Tommy McLean, plus Don Revie's Anglo quartet of Willie Bell, Billy Bremner, Eddie Gray and Peter Lorimer.
Some of the replacements announced by Scotland manager Bobby Brown on Monday, 1 May 1967 were familiar names, with others much less so. From Arsenal came former Dundee defender Ian Ure and teenage wing-half John Woodward, the latter originally from Glasgow's Possilpark. Burnley provided goalkeeper Harry Thomson and winger Willie Morgan.
Left-back Hugh Tinney had enjoyed five years at Partick Thistle before moving south to Bury, whilst Joe Harper had scored a barrowload of goals with strike partner Joe Mason as Morton romped to the Second Division title and had recently signed for Huddersfield Town. Both would now find themselves unexpectedly representing Scotland.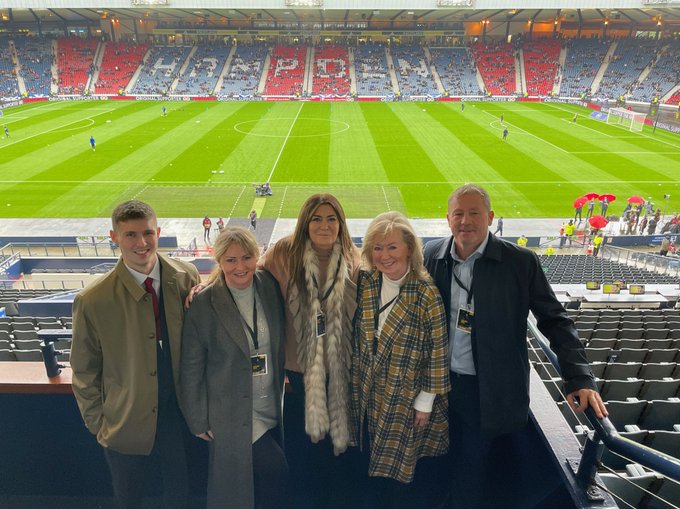 Three players from West Bromwich Albion joined the group, defenders Doug Fraser and Eddie Colquhoun, plus inside-forward Bobby Hope, who had edged Harry out of the Scotland Under 23 team in the season just ended. The final name listed was former East Stirlingshire full-back Eddie McCreadie, now starring under Tommy Docherty at FA Cup-finalists Chelsea. Due to the European date clashes, McCreadie and Jim McCalliog would now be the only members of the Scotland team which beat world champions England at Wembley the previous month to make the trip.
The revamped squad list was as follows.
Goalkeepers: Jim Cruickshank (Hearts) & Harry Thomson (Burnley).

Full-Backs: Willie Callaghan (Dunfermline Athletic), Hugh Tinney (Bury) & Eddie McCreadie (Chelsea).

Half-Backs: Alan Anderson & Jim Townsend (Hearts), Eddie Colquhoun & Doug Fraser (West Bromwich Albion), Frank McLintock, Ian Ure & John Woodward (Arsenal).

Forwards: Alex Ferguson (Dunfermline Athletic), Joe Harper (Huddersfield Town), Bobby Hope (West Bromwich Albion), Harry Hood (Clyde), Jim McCalliog (Sheffield Wednesday), Willie Morgan (Burnley) & Andy Penman (Rangers).
McCalliog, McCreadie and McLintock were also named in a 16-man Scotland squad to face the USSR in a Hampden friendly the following midweek, Celtic manager Jock Stein perplexed and angry that no fewer than nine of his players had been selected and would thus miss out on part of the team's preparation for the European Cup final in Lisbon, later that month.
A knee injury suffered by Frank McLintock in the 2-0 defeat to the Soviets then ruled him out of the forthcoming tour, whilst Chelsea's progression to meet Tottenham Hotspur in the FA Cup final at Wembley on Saturday, 20 May 1967 had seen full-back Eddie McCreadie hurt and subsequently prevented from joining up with the party.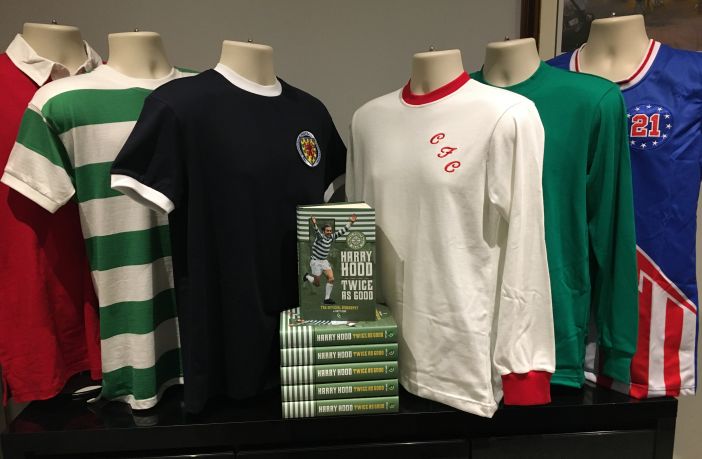 The trans-global trip commenced in the Ramat-Gan Nation Stadium in Tel Aviv on Tuesday, 16 May 1967, as Scotland faced Israel in front of 27,000 spectators. With only two-full-backs travelling, that lack of cover was exposed as Hugh Tinney suffered a reaction to his smallpox jab, forcing Bobby Brown to field central defender Eddie Colquhoun at left-back. Harry was listed as 12th man as the Scots lined up as follows.
Harry Thomson; Willie Callaghan & Eddie Colquhoun; Alan Anderson, Ian Ure & Doug Fraser;
Andy Penman, Bobby Hope, Jim McCalliog, Alex Ferguson & Willie Morgan.

Substitute: Harry Hood.
Harry would come off the bench after just half-an-hour to get his first taste of international football, replacing another debutant Andy Penman who had suffered an ankle injury. At that stage, the visitors led 1-0, Burnley winger Willie Morgan opening his Scotland account in the 20th minute with a wonderful goal. Israeli striker Giora Speigel then beat another Turf Moor star, Scots goalkeeper Harry Thomson, to equalise five minutes before the break.
Morgan would also be involved in the game's decisive goal, scored by Alex Ferguson six minutes from time, the scramble which ensued from his corner ended by the head of the Dunfermline Athletic hitman to give the Touring XI a winning start, albeit some newspaper reports cited both Eddie Colquhoun and Harry as the scorer. On a more negative note, a facial injury to captain Ian Ure meant that he would take no further part in the tour, the Arsenal central defender returning home after playing just 90 minutes of football.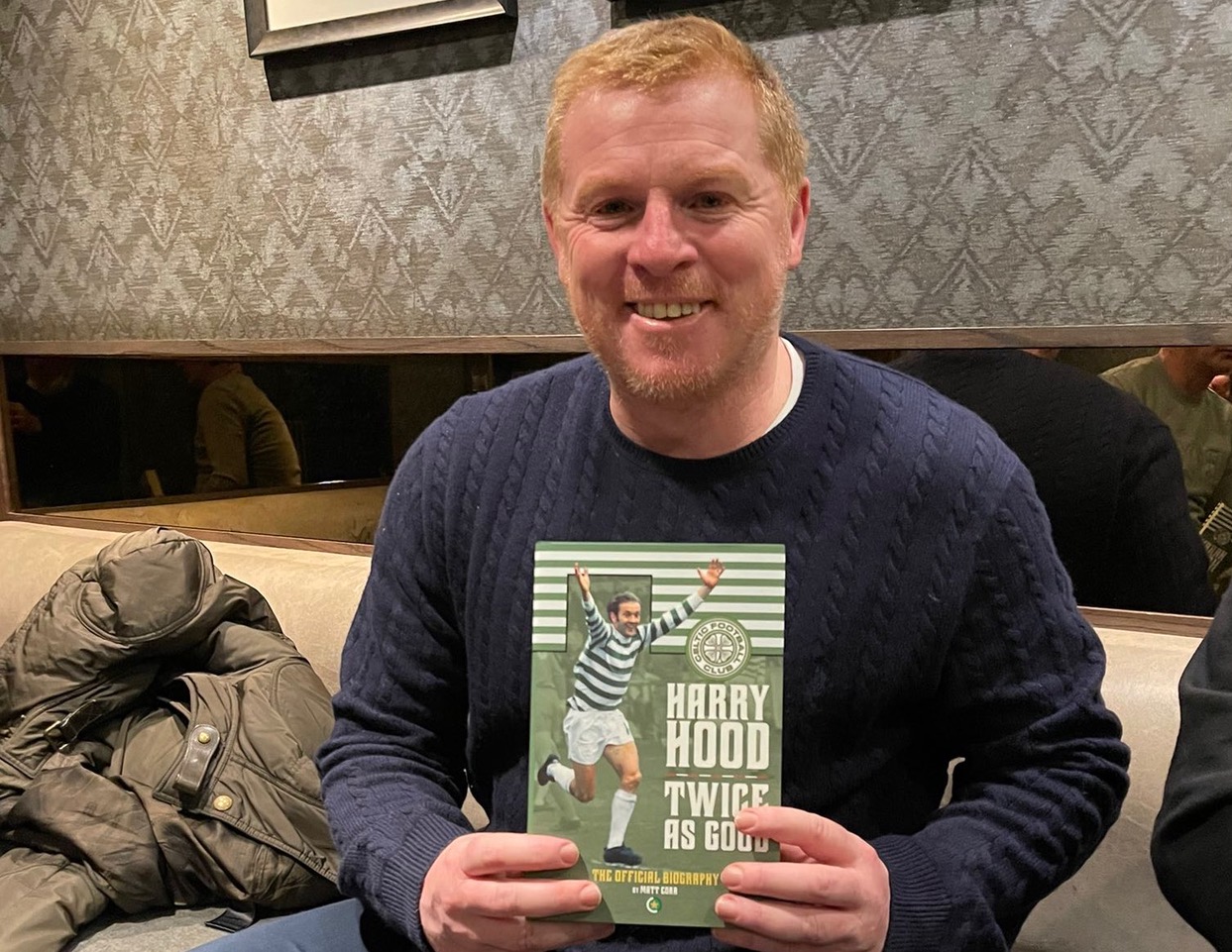 The second game of the tour was due to take place against a Chinese XI in Hong Kong six days later, however, rioting in the colony caused the introduction of a 'dusk to dawn' curfew, which in turn forced the cancellation of the match.
The next fixture did take place at the Hong Kong Stadium on Thursday, 25 May 1967, a few hours before Celtic took on Internazionale in Lisbon, Hugh Tinney restored at full-back allowing Eddie Colquhoun to revert to his normal central defensive berth to replace Ian Ure whilst Harry Hood started instead of Andy Penman.
Like his boyhood club, Harry would also enjoy the taste of victory that day, scoring his first international goal in Scotland's 4-1 win over Hong Kong before just 7,000 spectators. The Scots had fallen behind early on, Ken Wills taking advantage after Alan Anderson had been short with a passback. Alex Ferguson was on target again, this time with a double strike either side of the half-hour.
The Dunfermline Athletic marksman took a Jim McCalliog pass to equalise before Harry's cross allowed him to head Scotland into the lead. Harry's own moment of glory would arrive on the hour, the young Clyde hitman making it 3-1 with a lovely solo effort. With 10 minutes remaining, it would be another Pars player who would complete the scoring, full-back Willie Callaghan – the elder brother of Tommy – firing home from a tight angle for the tourists.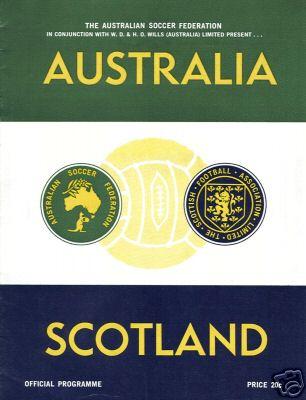 The party then moved on to Australia for a series of three matches against the hosts, SFA secretary Willie Allan confirming the status of these fixtures as full internationals due to a FIFA ruling where the home side is fielding its strongest team.
The Scotland squad was boosted by the arrival of Kilmarnock duo Jackie McGrory and Tommy McLean, following the Ayrshire club's two-leg defeat by Leeds United in the semi-final of the Inter-Cities Fairs Cup.
The first test against Australia took place at the Sydney Showground on Sunday, 28 May 1967 in front of 35,000 spectators, the hosts managed by a certain Jozef Venglos. Colquhoun again deputised for Tinney at left-back whilst new Hearts wing-half Jim Townsend, who had replaced the Bury defender against Hong Kong, was awarded his first international start by his old St Johnstone manager, Bobby Brown. Harry was again listed wide left in an unchanged forward line.
On a surface totally unsuitable for football – it was normally used for livestock shows – the only goal of the game was scored after half-an-hour by Alex Ferguson, the third consecutive tour match in which he had netted, this one a simple tap-in after the ball had rebounded his way in front of goal. Scotland boss Brown was scathing afterwards in both his assessment of the way Australia had approached the match and repeated criticism of his own team.
"I can't recall any match of this standard where the tackling was so brutal. It was downright dangerous to be caught in possession. I think the critics have been unfair to the Scottish players. We are being treated as a full international team, which we are not. Due to circumstances well-known, including the success of teams like Celtic, Rangers, Kilmarnock and Leeds United in cup competitions, I brought a young and inexperienced squad of players to Australia.

"These players met something they had never experienced before when they played at the Showground on Sunday. The big crowd, the international atmosphere and the way the Australian team fought. All this was new to some members of the Scottish team. I am sure we shall put on a better exhibition in the remaining two matches in Adelaide and Melbourne and I look to Australia to play better too."
Matt Corr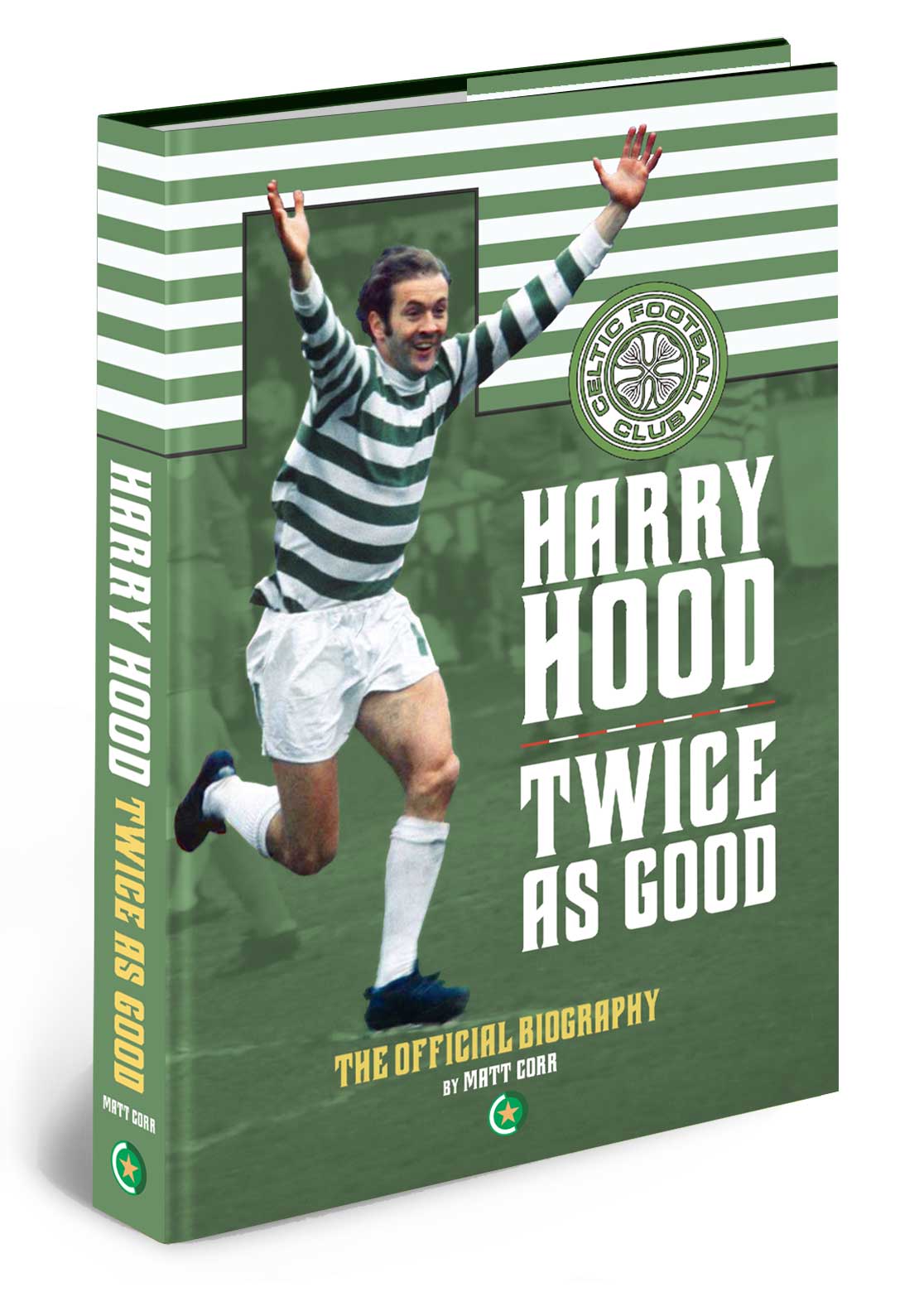 *An extract from Twice As Good, the official Harry Hood biography by Matt Corr published by Celtic Star Books. There's currently a FREE Twice as Good t-shirt available when you order the book via the Celtic Star Books link below (just add the size of t-shirt you require after your name in the address section, sizes available are small, medium, large, XL and XXL while stocks last).
£1 from the sale of each copy of Harry Hood – Twice as Good will go to support the fabulous work of Marie Curie at the request of the Hood family and the author. We also have a similar promotion available for Matt's debut Celtic book, Invincible also published by Celtic Star Books.