TONY CASSIDY filmed the ten minutes after the final whistle in the Stadio Olimpico last night and captured in one video the absolute joy and delight among the travelling Celtic support, who were there in their thousands to see the Bhoys become the first Celtic side ever to win in Italy.
Well done Tony, this video will bring a tear to many an eye today!
final whistle, Lazio 1 Celtic 2 … an historic victory for the Pope's XI https://t.co/vncjtVwoQs

— Tony Cassidy (@TonyCassidy123) November 8, 2019
It's not the first time that Celtic have come from behind to beat Italian opposition, we did it a fortnight ago at Paradise and on one or two other occasions going as far back as 25 May 1967 and Tony delightfully pays tribute in this video to European Cup winning Celtic captain Billy McNeill and also club legend Tommy Burns who were represented at the game on a supporter's flag.
Celtic and coming from a goal down to beat Italian opposition.

name a more iconic duo.. We'll wait.#FridayFeeling 🍀 #RomeConquered pic.twitter.com/fs9q26EODt

— Celtic Football Club (@CelticFC) November 8, 2019
If you weren't in Rome and were watching at home then I'm guessing that this next video pretty much sums up you last night when Olivier Ntcham scored that brilliant 95th minute winner…
Excuse the arse crack, the mrs loves filming me watching games.. bet she didn't expect to catch this wi 1 minute left on the clock! 🍀🇮🇪 love you @OlivierNtcham pic.twitter.com/6YMwkt2aeK

— AB (@84_Alanb) November 7, 2019
Talking about being Unmissable, you really do need to read Sandman's Player Ratings today, Sandman's Definitive Ratings – When in Rome you bring a gladiator, Maximus Scottius Broon, Soldier of Celtic...see HERE.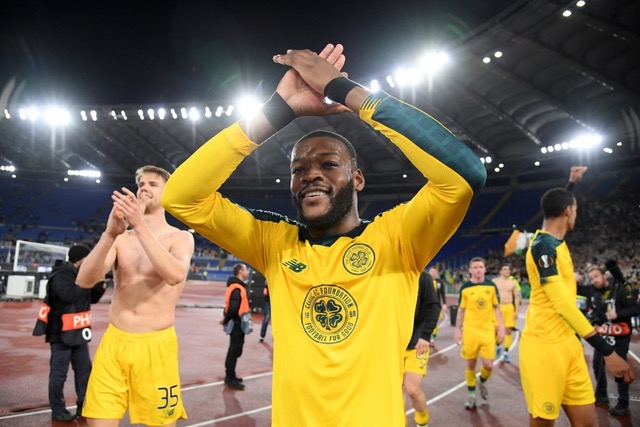 And what about Lazio? They don't quite need snookers but they do need a MASSIVE favour from CELTIC if they are to qualify. Oh and if Celtic keep winning it is likely to open up a SECOND Champions League spot for Scotland so that will probably mean it goes to The Rangers! Who cares! Lazio left clutching at Green and White Straws – Italians need a massive favour from Celtic. Read about this HERE.
Celtic should fear NO-ONE in this Europa League now. NO-ONE!