UEFA are reportedly considering a move towards starting campaigns in the winter in order to accommodate for the shutdown caused by Coronavirus this year as well as the World Cup in Qatar in 2022. This means that it could take 3 years to get football back to normal.
The Scottish Sun are reporting that the European footballing authorities are considering a plan proposed by a Dutch organisation that would restructure football to allow for resumption of football without supporters missing out as well as preparing for the calendar change that the World Cup will bring in the winter of 2022.
Dutch Sport Business company Hypercube have proposed that UEFA should sanction leagues to begin in the winter of 2020, with a month break for Euro 2020 next summer. The league will run through to the beginning of November 2021. This is continued through to the 2023 season, which would commence in January and be completed in July, allowing for the 2023/24 season to begin as normal in August.
Hypercube are also keen to allow for associations that are yet to decide their league standings to complete the competitions, safely. Their director Pieter Nieuwenhuis, said that a move to change the layout of football would be the best way to mitigate the disastrous effects of Coronavirus.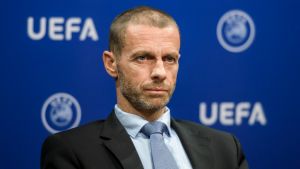 "This is the best way to still decide all competitions on sporting grounds and take the pressure off clubs and associations.
"All seasons will be played as usual, but the layout will be different in the coming years.
"At the moment, they are planning league, European and international games from September with no guarantees of them being played. No one knows for sure what damage coronavirus will do.
"Our plan is definitely financially feasible and this multi-year plan will prevent many bankruptcies. We have calculated everything.
"It requires around £7 billion worth of financing across Europe, which sounds a lot until you consider the top European clubs turnover around £30 billion a year.
"Everywhere, football is asking their Governments for hand-outs. We have proposed a well thought-out, multi-year plan that allows everyone to financially budget in advance."
This plan is definitely worth considering. As it stands, there is no definitive start date for football next season and this would potentially reduce the amount of time without supporters at matches. Should the season start in December, that gives clubs sufficient time to prepare for the future as well as time for a vaccine to be found.
In any case, Scottish football should ask the Scottish Government for financial aid so that the national game can survive through the pandemic.
SFA to demand bailout for Scottish Football as Celtic title decision draws nearer | The Celtic Star https://t.co/N89CgKQ5k1

— The Celtic Star Editor – INVINCIBLE (@CelticStarMag) May 5, 2020
The Scottish football season could end within the next few days, with the lower divisions already having been declared to be over. Celtic are awaiting confirmation of their 9th title in a row. Meanwhile, five Premiership clubs have claimed that they do not have enough players to complete the season.