UEFA have charged the Rangers for the second time this season for their fans racist and sectarian behaviour, this time in the away match against Legia Warsaw last Thursday night. And the immediate reaction from Ibrox is to ban their own supporter from their next away European match.
That could be in the group stages of this year's Europa League or would run over to the next time they qualify for a European competition, depending on the second leg of the Play-off round which takes places at Ibrox tomorrow night.
The Rangers stadium will have 3000 empty seats due to the Racist and Sectarian behaviour of their supporters in the the first qualifying round against tiny St Joseph's in July.
Rangers fan gets 'up to our knees in fenian blood' tattooed on knee in defiance over UEFA's Billy Boys crackdownhttps://t.co/PkCUyARvFQ pic.twitter.com/o8ArtAfyOn

— The Scottish Sun (@ScottishSun) August 28, 2019
The Rangers statement reads as follows:
"RANGERS has today informed UEFA's Control, Ethics and Disciplinary Body that the Club will not be requesting tickets for its next European away match.
"The Club now faces an additional UEFA charge of racist behaviour for sectarian singing during the first leg of our Europa League play–off tie against Legia Warsaw last Thursday evening. We are liaising with UEFA in relation to this second charge.
"The first charge came after the match against St Joseph's at Ibrox on Thursday, July 18. A consequence of sectarian singing from section BF1 of the ground that evening is that UEFA ordered a partial closure of our stadium for tomorrow night's crucial game. Those fans responsible for this partial closure of Ibrox Stadium need to understand that they are damaging our Club. If there is a further incidence at tomorrow night's match this could lead to a ground closure.
"The same applies to those who indulged in sectarian singing in Warsaw last week and that is why we have taken the decision to make UEFA aware that we will decline tickets for our next away match even though this means that, once again, the many must suffer because of the few.
"This kind of behaviour has no place at Ibrox, or anywhere else where our many teams appear. Offenders must please stop. You are endangering your Club which has recently launched its Everyone Anyone project aimed at welcoming all to Ibrox. Those who wish to sing offensive songs must realise by now that they are insulting Rangers players, staff, and fellow fans. There is nothing clever, bold or even defiant in what this small number of supporters are doing.
"By supporting Rangers in the correct way the rest of us must strive to protect our great Club. One way or another this offensive behaviour must end and it would be much more preferable if we stopped it ourselves, simply by behaving like true Rangers fans."
Rangers fans suddenly realising pic.twitter.com/l2LwFT9M0n

— Tam Sellics son (@gibbogibby1) August 28, 2019
The pro-active move by the Rangers may go some way to mitigating the consequences that the Rangers could face as UEFA get tough on their support's undiluted racist and sectarian behaviour. The Scottish FA and the SPFL must surely take note of the songbook that will be heard at their next domestic game, ironically enough against Celtic at the weekend.
And the same racist and sectarian supporters were instrumental in convincing the Rangers Board to remove Celtic Fans from the Free Broomloan Stand and pushed with much reduced numbers into the tiny corner. This means that four sides of Ibrox – say for the 800 hardy Celtic souls in the corner – will all have the opportunity to support their team in a socially acceptable manner, or in a racist and sectarian way.
And if this is not going to be tolerated by UEFA why should it be in domestic football. We will all be listening intently.
Also on The Celtic Star…
Missing Players from Celtic's flight to Stockholm, likely starting eleven…see HERE.
'Either Celtic will be superior or it will be a magical night for us,' AIK Captain…see HERE.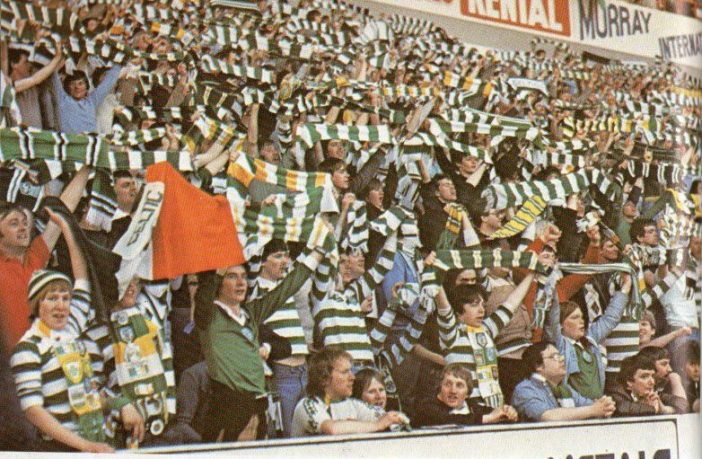 'We've Won the League Again, Fly the Flag,' Celtic's Exhilarating 1980/81 Rollercoaster Season…see HERE.
Celtic sign right back Moritz Bauer on season long loan deal, with option to buy…see HERE.
Rogic's Return but for the Socceroos not Celtic…see HERE.
Fall Guy? The Celtic Noise asks, is Neil Lennon carrying the can?…see HERE.
Flag Warning! Willo Flood had a Transfer Window named after him and a League title was lost…see HERE.
'Turning point for Billy McNeill's Centenary Celts,' If you know the history – Celtic at birth, 50 & 100: August 1988…see HERE.
David Potter on Tangled Up in Blue, Stephen O'Donnell on Rangers' attempts to Conquer Europe…see HERE.