Other than the two games in Australia, there will be no Unique Angle until sometime in December, hopefully after a Celtic victory at Pittodrie in the early kick-off on Saturday 17 December.
So sit back and enjoy the second 2-1 victory of the week. After Celtic got the better of Motherwell, the referee and the ludge-VAR you might have expected things to calm down yesterday, as so much heat had been placed on the Scottish FA they were forced to realise a feeble, unconvincing statement attempting to justify the unjustifiable.
But it was not to be and instead we were treated to another Scottish FA farce of an afternoon at Celtic Park against Ross County with a referee who demonstrated repeatedly that he has inadequate knowledge of the rules of the game, and lost concentration and control on numerous occasions. The penalty decision though, was clear that he knew exactly what he was doing.
Matt Corr attended the post match media conference with Ange and reports on what the Celtic manager had to say about VAR. "We don't have to talk about it. I think me talking about it the last few weeks has done my football club no favours. I've said my piece and from my perspective, what I'm focusing on is a group of players who are doing this football club proud. We just have to keep winning."
So "We just have to keep winning," is the mantra and the Celtic players and the management team, all know the game and know what is going on here. It's cheating.
Matt O'Riley was bemused by the penalty decision.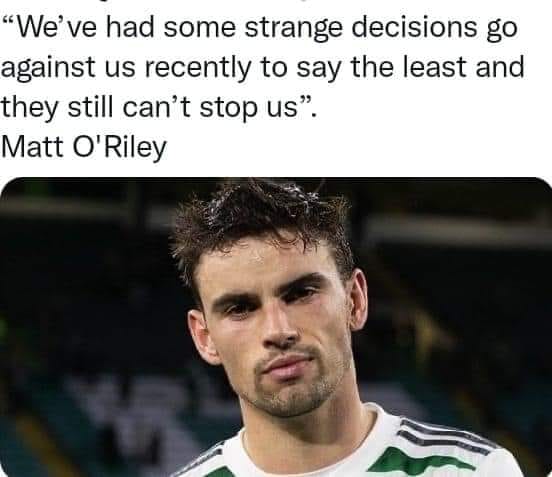 So our latest 2-1 victory is all the sweeter. It means more than say a 4-0 win over Ross County. It's delicious.
Here's the Unique Angle – revel in it and know that even with their ludge-VAR they can't stop us. Nine points clear at the top of the league looking down on theRangers…