So Steven Gerrard has called on Sundays Glasgow Derby referee, Kevin Clancy to get the big calls right in Sunday's so called title showdown with Celtic. As sure a sign as any manager showing concern for the outcome of a game – that they try and influence the referee.
Hardly a new tactic but one rarely employed by the manager of the side that is confident. Hence Lennon's media silence when it comes to the referee and Gerrard's immediate go to tactic. It's almost like 'the' Rangers manager is very much aware he'll require things to fall for him. Perhaps he's not got that confidence in his own players to do it without assistance? In fact there is no perhaps about it. It is evidence he doesn't trust his players to go there and win.
"It will be hostile with emotions running high in both teams.
"You hope that the officials get the big decisions right," Gerrard said at today's Media Conference, as reported by Daily Record, ahead of his side's visit to Celtic Park on Sunday.
"If you get beat by a great goal you can hold your hands up and accept it but if it is from a wrong decision it can be difficult to take."
The Kilmarnock players will no doubt be thinking that today after Alfredo Morelos 'beat' the offside trap for the only goal of the game at Ibrox yesterday. The striker was clearly in an offside position yet Gerrard certainly never called for VAR assistance in this instance. VAR's only useful when it suits him.
This morning I had the Peppa Pig theme tune going through my head. Such is life when you've had breakfast with a five year old.
By the time I'd had a look through the Newsnow feeds it had been replaced by a Cranberries classic for the 90's.
"We're in your head, in your head
Zombies, zombies, zombie-ie-ies
We're in in your head, in your head
Zombies, zombies, zombie-ie-ies, oh"
At least I think that's what they sang, it certainly was in my head.
Gerrard's press conference tells the story. Neil Lennon's Celtic team are very much in the head of Steven Gerrard's Ibrox outfit. You can understand that. We've played them twice this season and won both ties without conceding. 2-0 at Ibrox in September and followed up with the first silverware of the season in a 1-0 win at neutral Hampden to lift the league Cup.
Cast your minds back to the league encounter first of all. The bookies had 'the' Rangers as favourites on the day. Those ever so kind bookmakers rarely get it wrong but there were odds on offer just north of 2/1. I said at the time it was buying money and I purchased a large amount of it myself.
In practice Neil Lennon outflanked, quite literally 'the' Rangers managerial rookie and it was as one sided a 2-0 win as you are likely to see. If memory serves me right the Ibrox club had a solitary strike on target. We were comfortable winners.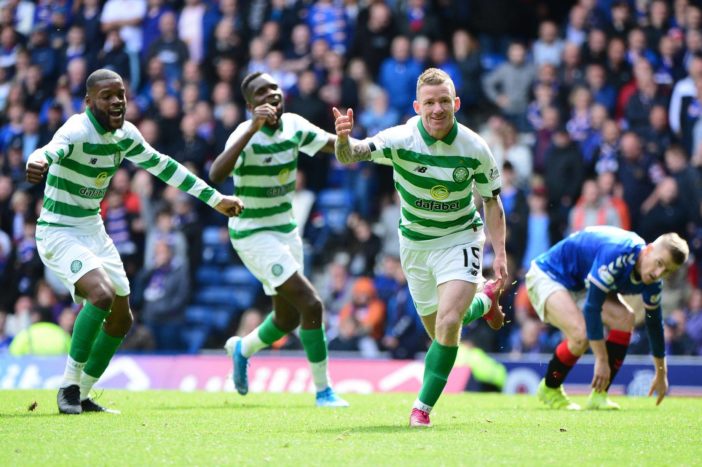 We then had the League Cup Final. Celtic had defended resolutely throughout and in the absence of star man Odsonne Edouard it took us a long time to get into the game. And 'the' Rangers had passed up a number of opportunities by the time Odsonne let Lennon know that he had thirty minutes in his legs. It was enough to change the game. It lifted half the stadium at least and Conor Goldson immediately decided to test the Frenchamn's injury with an outrageous foul on the touchline.
Edouard had them rattled straight away and from the very same free kick award Christpher Jullien won the cup with a side footed finish from Ryan Christie's perfect free kick.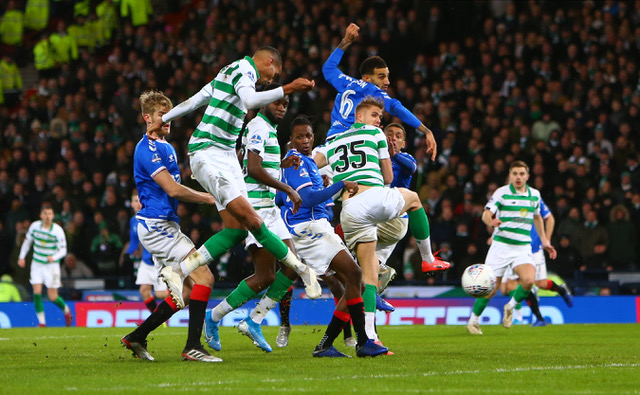 Despite the award of a penalty that Morelos contrived to miss and despite having a man advantage for the remainder of the game it all ended in tears for souvenirs for Ryan Jack and his teammates.
Steven Gerrard panicked and broke from the tactics that had at least gained the opportunities in the game. It was the error of a manager under stress, a coach who had the opposition very much in his head. Today's press conference quotes show we remain fixed in his mind. That niggling anxiety that just won't leave.
Celtic's 1-0 win was a new one on me. The press seemed to laud the defeated side and not just as brave battlers, they talked them up as if they'd won something. It was as if they'd overcome a mental barrier rather than play as well as they could and still lose, against ten men and even with the gift of a penalty. Scottish football is strange indeed.
I was glad to see Neil Lennon bring the League Cup onto the Parkhead turf against Hibernian on the 15 December, Just so I could be certain I hadn't had a few too many beers and that we had actually won that final.
So with two wins already bagged against 'the Rangers' and now 5 points clear in a title race-what more stressful situation than to have to head to the home of the eight times champions who have yet to drop a solitary point at home?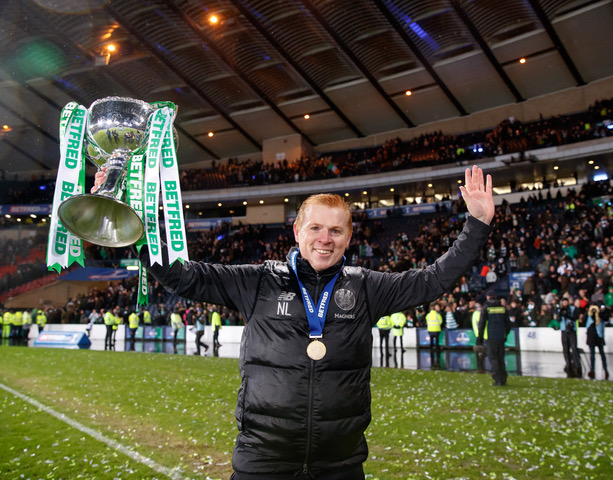 This on the back of having played and lost on your own turf and neutral ground. It's enough to make you scramble around for help, or maybe it's just getting the excuses in early. It certainly explains the unnecessary pressure 'the' Rangers manager has heaped on the match referee. I suppose in the whole scheme of things he has nothing to lose and everything to gain by adopting this approach.
Despite all the positivity in the press and the apparent mental barrier the Ibrox club crashed through while losing the League Cup final, Steven Gerrard and indeed his players will have some sleepless nights before they head to the home of the treble treble winners, the eight in a row champions, ten trophies on the bounce heroes and an unbeaten at home this season, Celtic side. If the shoe was on the other foot I think I might be bricking it!
While I was whistling a Cranberries track this morning, the song stuck in Steven Gerrard's mind at 2.20 on Sunday afternoon and with an eight pint deficit to overcome, might just be from Kylie. 'I just can't get you outta my head'
Niall J