OUTWITH the mega-rich clubs like Paris Saint Germain or Barcelona, there is little doubt that the Austrian Champions Salzburg have been the most impressive of all Celtic's European opponents in recent times.
Salzburg reached the Europa League semi-finals last season and have ambitions of going one better this time around by reaching and perhaps winning the final. One mystery is how they failed to qualify through the knock-out rounds for the Champions League. It puts our pitiful failure against AEK Athens into perspective! Better teams than Celtic can slip up in these tricky summer qualifiers.
And one player who is happy to accept that Salzburg are currently playing at a level above Celtic is Callum McGregor, who has described the Austrians who won all six matches in our Europa League group as 'the benchmark' for Celtic in Europe.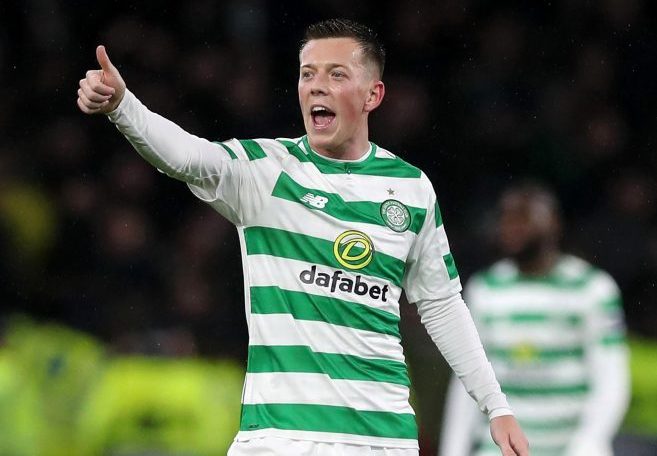 "I think Salzburg were a real benchmark for the way we want to play in Europe – that fast, aggressive style of play.
"We've got to keep working to get to that level as well.
"They were semi-finalists last year, so we've got to build something as well that can go on and compete at that level in Europe," Callum told the official site.
Celtic lost 3-1 in Austria and 2-1 at Celtic Park, although a major goalkeeping error by Craig Gordon for their second coupled by an astonishing miss from Kristoffer Ajer from one yard contributed to Celtic's only domestic loss this season. Make no mistake though, Salzburg were a very good side.
Perhaps better that the Valencia side that Celtic will face in the knock-out round next month. McGregor can't wait to test himself against the accomplished Spanish side, after that late Rosenborg goal in Leipzig sent Celtic through and the the German side out of the competition. It was a Love Street, May 1986 moment at Celtic Park when smart phones rather than transistor radios broke the good news to the Troops.
"Everyone was delighted to get through," McGregor noted.
"We got the points and finished second in the group. Valencia is a big tie, it's a big club, and I think everybody was pleased to get such a big name.
"We think we've got a chance of getting something, and everybody is positive. The fans are happy with it, too, and, as we know, anything can happen at Celtic Park on European nights.
"We've just got to go for that and see what we can do."
McGregor of course scored that memorable goal last February to give Celtic a 1-0 win over Zenit in the first leg of the Europa League knock-out. It meant that he had scored for Celtic last season in the three domestic competitions, the Champions League and the Europa League – the only player to have achieved that.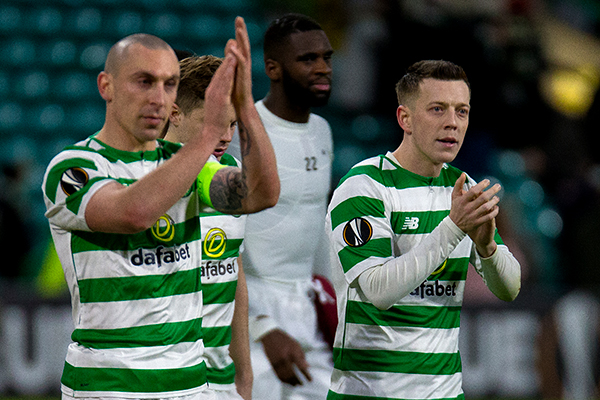 Earlier this week McGregor, who recently signed a new long term contract and made his 200th appearance for Celtic, was asked if he fancied joining Scott Brown in the 500 Club.
"I'll certainly be here for long enough!" was his reply.
"As a player, you definitely want to play as many games as you can, and for this club it's been amazing, and it has been such a big part of my life.
"I've been here since I was nine-years-old, and you know the culture of the club and everything it stands for.
"If I can also go on to make 500 appearances for the club like Broony, then that's something I'd be immensely proud of."
From Boy Wonder to Celtic Man, Calvin Miller comes of age…See HERE.
Refereeing Brotherhood Blow Whistle on Compliance Officer Clare Whyte…See HERE.
Jim Craig – Celtic defence was "wide open as a barn door"…See HERE.
Grace! Liam McGrandles v Sir Rod Stewart for the best new version…See HERE.
New Bhoys Burke, Weah and Bayo mean competition for starting spots will be intense, reckons Celtic's Star Man, Forrest…See HERE.