THIS WEEK we have being paying tribute to Lisbon Lion Willie Wallace who celebrated a significant birthday on 23 June. If you haven't been following this series it is well worth taking the time to catch up, the quality of writing from Matt Corr is outstanding…
In early May 2019 Willie had just arrived from Australia to attend the funeral of his captain Billy McNeill. He had started that long, sad journey back to Glasgow when more terrible news broke. His striking partner in Lisbon, Stevie Chalmers had also died. It was a time of profound sadness for the entire Celtic family, especially the surviving Lisbon Lions.
Willie, still jet-lagged headed to a radio studio to join John Clark, Bobby Lennox, Jim Craig and Bertie Auld for an interview with another veteran of Lisbon, the broadcaster Archie Macpherson. At the time the current Celtic captain Scott Brown urged all Celtic Supporters to listen to this broadcast on GoRadio DAB and it really is very special indeed. This interview lasts just under an hour, so grab a coffee, sit down and be ready to wipe a tear or two away.
Incidentally the views figure on You Tube for this wonderful interview is just 7775, that suggests that perhaps many more Celtic fans would like to discover this brilliant interview this weekend, so here goes…
A few of the comments on Archie's interview with the five Lions of Lisbon are below…
"Brilliant testimony for two Celtic and Scotland greats."
"Outstanding interview with greats of the Scottish game, no hype no look at me, I'm this or that, just honest doon tae earth lads as they where then, they are still are now…well done to Archie, for getting these lads together."
"Brilliant to hear the remaining Lions talking about big Billy & Stevie the genuine love these bhoys have for each other, is there for all to see. I'm a Royston bhoy & as Stevie came from the Garngad & with the scheme being a Celtic area, it would be nice to have a little plaque in memory of the man who scored the most important goal in Glasgow Celtic history. The interview with Archie and the bhoys was a fantastic listen you won't get another like big Billy or Stevie for a very long time RIP Billy & Stevie YNWA HH"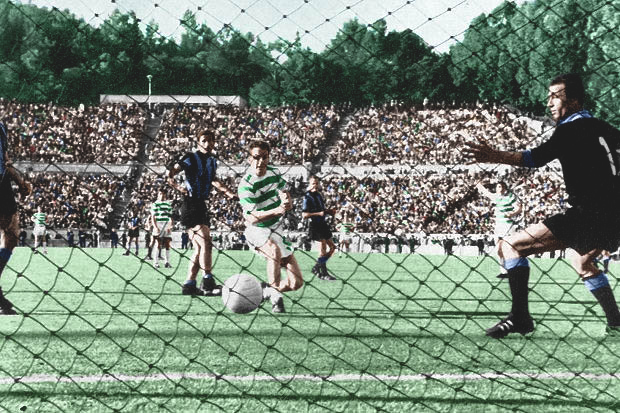 "This does my heart good to hear all these stories from the members of the Mighty Glasgow Celtic who brought glory and honour to the club when in 1967 they brought home the famous European Cup to Parkhead. God Bless all these gentlemen past and present for their memory will liveth on forever more in the annals of footballing history."
"What a fantastic tribute to two greats."
"Fair play to Archie Macpherson getting these Great players together to tell their stories. Hail hail the Lisbon Lions."
We're going to conclude our series on the one and only Willie Wallace shortly by giving the final word on Celtic's number 8 in Lisbon on 25 May 1967 to Archie Macpherson…stay tuned.
WATCH HERE : https://t.co/mbp3fOmqo2
Last night Go Radio had the honour of hosting all five remaining #LisbonLions as they gathered to remember Celtic's greatest ever captain Billy Mcneill, and the man whose goal propelled them into the history books, Stevie Chalmers.@PaulDykes

— NeillyMac (@NeillyMac_) May 2, 2019