Celtic have taken to YouTube to announce the extension of their partnership with Cadbury, which aims to provide memorable experiences for Celtic Fans…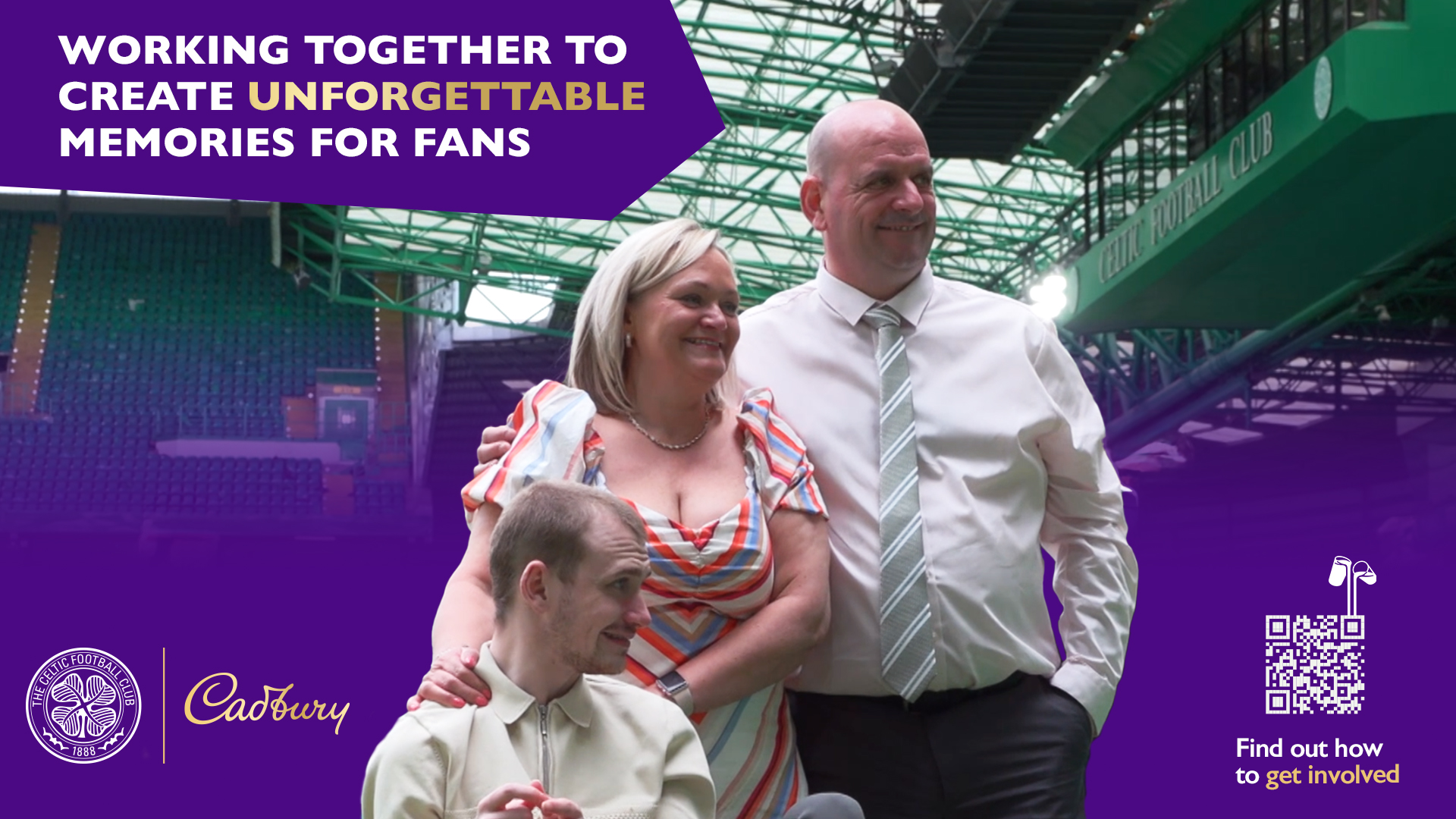 In this clip posted to the Celtic YouTube page, we see a success story of Celtic's partnership with Cadbury, as we follow Sean Drew, a lifelong Celtic fan who has been involved in various Celtic Foundation projects. Seas was born with an immune deficiency, causing him to require constant care. We see the Celtic and Cadbury partnership in action as Sean is brought to Celtic Park to watch Celtic play and lift the League trophy.
At the end of the clip, Celtic's captain, Callum McGregor delivered a short dialogue commenting on the partnership. He says…
"Celtic and Cadbury are committed to providing people like Sean and Stephanie with the memorable experiences they deserve. We look forward to bringing more memorable experiences to guys like them."
Some of the comments from Celtic supporters on this video…
"Lovely to see Sean and Stephanie again. Sean has the best smile , it's brilliant to see him enjoying the occasion. Thanks to Celtic & Cadbury. Thanks also to Stephanie for all her hard work for the foundation"…"One of many reasons I support this club"…"More power to Sean and his wonderful Mum"…"A Club like No Other"…"May God bless the Drew family, you will never walk alone."
"Wonderful. Well done Celtic and Cadbury! Two great institutions"…"Fantastic from Celtic a wonderful day for Sean and mum Stephanie"…"God bless ye, Sean, and your Mum, Stephanie, too. You'll Never Walk Alone as you've got the global Celtic Family right behind ye, all the way!! love fae Japan, G"…"What an emotional vid Celtic fc. Hail hail to the greatest club in the land with the best support too".
"Brilliant from Cadbury and Celtic"…"God Bless You Sean and your mum and know you are part of an extended family Celtic"…"Celtic family!"…"brilliant looked a great day out go on Celtic and Cadbury"…"Amazing from Cadbury, club and players"…"World Class , Hail Hail".