This video is well worth watching. Dr Michael Connolly speaks to Barry Sheppard about his recent PhD research into the founder of Celtic Football Club, Brother Walfrid.
Discussing the great Irish Famine and the Irish diaspora in Scotland, Dr Connolly brings us the first ever doctoral research on Brother Walfrid, born Andrew Kerins in Ballymote, Co. Sligo in 1840.
"Brilliant interview by Barry Sheppard with Dr Michael Connolly about his PhD on
Celtic FC founding father Brother Walfrid. What an interesting project…" Paddy Hoey.
Brilliant interview by @barry_shep with Dr Michael Connolly about his PhD on @CelticFC founding father Brother Walfrid. What an interesting project. One for @S_J_H1978 and @celticrumours https://t.co/ooJKLuOk5E

— paddyhoey* (@paddyhoey) June 10, 2022
Here's Liam Kelly, of this parish writing about Brother Walfrid…
As those of you following this series of articles will know, there were many individuals involved in the founding of Celtic Football Club. Unfortunately, the vast majority of the Celtic faithful only seem to know of Brother Walfrid though.
This is the case because he was the the leader of the founding fathers who had the inspiration to bring a group of people together to form the football club. Indeed, it was once said that Brother Walfrid was the main man who founded Celtic and John Glass was the person who then established the club.
Born in Ballymote, South Sligo, in 1840; Brother Walfrid's real name was Andrew Kerins. The son of dedicated Catholics, John Kerins and Elizabeth Flynn, Andrew studied teaching and joined The Marist Brothers Teaching Congregation in 1864. It was not long before he moved to Glasgow, making the trip across the Irish sea on a coal ship.
Upon arriving in the Dear Green Place, he began teaching at St Mungo's Academy in Townhead, where he tutored many of the future founding fathers of Celtic. He was a major player in the local Irish community and as an academic, he was very interested in playing his part in the Gaelic cultural revival that was being experienced by Ireland and her diaspora. Indeed, Walfrid established a literary society for local Irish linguists. He also took a keen interest in local Irish friendly societies and enjoyed listening to music that was Nationalist in nature.
On 13 May 1870, having previously been the protégé of Brother Procope, Walfrid was promoted to an assistant teaching position and was transferred to St. Mary's School. Four years later, he was appointed Headmaster of the newly opened Sacred Heart School in Bridgeton.
Then, in mid-1877, another Marist Brother, Dorotheus, joined St. Mary's to fill the Headmaster position that he had left behind. Despite managing his own institution, Walfrid was still sent to teach in the school and the working relationship that grew between the pair was to prove pivotal in the development of The Poor Children's Dinner and Breakfast Tables.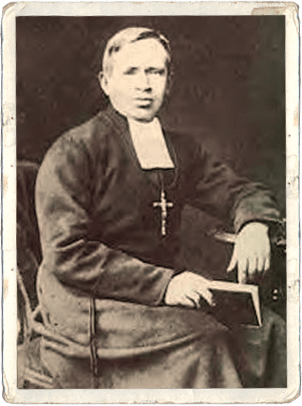 Establishing the Penny Dinner Scheme in 1884:
Ten years into the role as Headmaster of Sacred Heart, Brother Walfrid was increasingly faced with a trio of issues – the appalling social conditions of Glasgow, a lack of school attendance and Catholic children converting their faith due to proselytism within Protestant ran soup kitchens. Walfrid identified the school's attendance record as his primary concern, as with greater attendance the government increased the funding that it donated to each educational institution. A rise in government grants would mean that he, as a lead member of the St Vincent De Paul Society, could then seek to tackle wider issues with greater resources.
The 'Penny Dinner Scheme' was one of the projects that Walfrid established in the hope that children would be encouraged to attend school in order to enjoy a substantial meal. The payment of a penny was a suggested token to avoid embarrassment for parents who may feel a loss of pride at being seen to depend on charity, although payment was never compulsory.
To acquire premises for serving these school dinners, Brother Walfrid approached the local St Vincent De Paul Conference for assistance. The Society obliged, renting a shop property behind Sacred Heart School, in Savoy Street. The shop was turned into a makeshift kitchen and was to be the first location used to provide food for The Poor Children's Dinner and Breakfast Tables.
Brother Walfrid worked closely with his confrere, Brother Dorotheus, who headed St. Mary's Catholic School in the Calton district of the city. Taking over a disused blacksmith in the school yard, Dorotheus also set up the 'Penny Dinner Scheme' for pupils at St. Mary's. As the year progressed, the scheme's success rocketed to such an extent that it became challenging to continue to satisfy the increasing demand, and other initiatives needed to be explored to sustain benefit for the children.
A mark of the problematic overgrowth of the scheme was that Sacred Heart provided 48,500 dinners and 1,150 breakfasts in its debut year. Added to this huge level of service was the fact that the school capacity had quadrupled and was to educate over 1,200 pupils for the school year of 1886. Similarly, St. Mary's started the first six months of 1886 by serving 26,421 meals to students, 17,707 of which were free of charge. Rather than make the suggested donation of a penny compulsory, the decision was made to reach out to other aspects of social assistance.
CONTINUE READING ON THE NEXT PAGE…