A very proud but slightly frustrated Fran Alonso spoke to a mixed media conference today, after his side's impressive Champions League debut against much fancied Spanish side Levante. The game ended in a 2-1 defeat for Celtic FC Women after a stunning goal from Caitlin Hayes got Celtic back into the game.
The closing 20 minutes saw Levante reduced to time-wasting and desperate defending and Alonso revealed that he was 100% certain that the free kick in the last seconds from Izzy Aitkinson was going to hit the back of the net – it flew inches over the crossbar.
Likewise Celtic's Wonder Women – who scores from there Caitlin? No-one ever does that! – was inches away from connecting with her diving header right in front of the Levante goal. Here's her goal…
🤩 Caitlin Hayes, AHA!💥

Catch the centre back speaking to the press ahead of #MINCEL on Saturday later this afternoon🎙️#UWCL | @celtictv pic.twitter.com/xXyOwRwqoC

— Celtic FC Women (@CelticFCWomen) August 20, 2021
Celtic play FC Minsk tomorrow morning in the club's second Champions League match, looking for our first win and it's live on Premier Sports 1 from 10.55am tomorrow – don't miss it. If it's as exciting as that game in midweek then we're in for a treat.
"We're so excited to have another opportunity to leave Norway with a Champions League win," the Celtic manager said.
Alonso appreciated the support from the Brattbakk Bhoys who will be back tomorrow morning making sure that no Celtic side will never walk alone.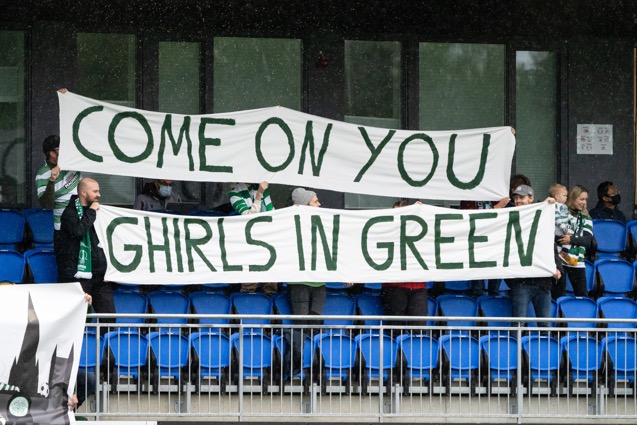 Here's Fran speaking to various media sources today including The Celtic Star…a 3-0 win for the Ghirls is our prediction for tomorrow and Fran certainly hopes that we are right!