Neil Lennon came out to talk after the latest embarrassing performance from his side as he ruefully looked back on Celtic losing due to yet another conceded penalty and failing to defend a corner. He reckoned that this has been the story of the season for Celtic as he talked about now looking at changing the way the team defend set plays.
Neil Lennon: 'I think I should got more time at it, but if not then so be it.'

— stephen.mcgowan (@mcgowan_stephen) November 29, 2020
Few if any will think that he's going to be given the chance and his agent will probably have marked his card not to resign as that should be left to Peter Lawwell to do so that the CEO has to write a large cheque to remove the manager he appointed in the shower at Hampden in May 2019.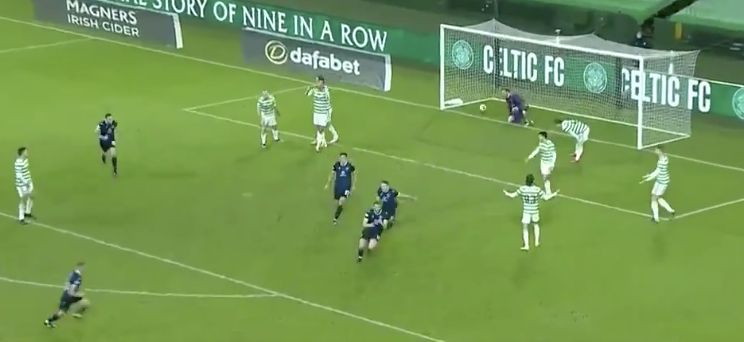 Here's the current Celtic manager's post match interviews. Neil Lennon came back and steadied the ship after the way Brendan Rodgers decided to leave the club after his own difficulties with Peter Lawwell.
💬 Neil Lennon on the match. #CELROS pic.twitter.com/8FDcZPYudd

— Celtic Football Club (@CelticFC) November 29, 2020
Lennon refused to accept that his players were letting Celtic down. "I don't want to say that. That's unfair. We're in a bad moment that's been going on for a few weeks.
Unbelievable scenes at Celtic Park! 😱

Iacovitti is the hero for @RossCounty, and Celtic look set to crash out of the cup 👀 pic.twitter.com/9VouNpTNBJ

— Premier Sports 📺 (@PremierSportsTV) November 29, 2020
"We've got to ride it out. We've got to win a game and take it from there step by step. Whether that's enough for people is another thing. I can't control that.
"But what we're doing is we're working at all angles to try and improve things. It's not normal what we're doing through at the minute, that's definitely not the case.
"There has to be an improvement in all aspects of our play at the minute and of course questions will be asked of the manager and I understand that.
"You always have to be positive and channel it on the right way. I'm not standing here like a happy clapper going, 'everything is going to be alright'.
"There has to be a bit of steel about us as well. I didn't think it was missing today, just important moments it was in both boxes."
🎙 Neil Lennon: "They're devastated in there. It's a long run that's come to an end under my watch so I'm as devastated as them."

More from the manager soon.

— Celtic Football Club (@CelticFC) November 29, 2020
For everything he has gone through as a man, as a player and as a manager he deserves our respect and will always be regarded as a Celtic legend. This has not worked out and it is time to go, let Lawwell do the necessary and let Celtic move on.
One plus for whoever takes over. With Aberdeen losing at St Mirren last night there is now a free date in December for Celtic to play the game postponed from the start of the season due to the Bolingoli incident.
P/2 is this news Lennon's last interview as Celtic manager? 🤔 pic.twitter.com/BwjE2yh9UA

— Michael McCahill 🍀 (@MickMcCahill) November 29, 2020
The spectacular collapse of Celtic is not just down to Lennon, Kennedy and Strachan junior.
CEO Lawwell and majority shareholder Desmond are also highly culpable for being asleep at the wheel when it was clear the manager & his coaches were not up to the job of securing 10.

— Brian McNally (@McNallyMirror) November 29, 2020
Gavin Strachan deleting his internet history before he gets the sack pic.twitter.com/dIZTXXK5aR

— Rikos (@Rikos67_) November 29, 2020
A new manager should have been in place after the CL exit. Dermot and Lawwell are as complicit as Lennon and his coaching staff. First step is sack the manger and his staff tonight. Steady the ship and focus on salvaging the season. This farce must not be allowed to continue. HH

— Celtic Gossip (@CelticGossip) November 29, 2020