Celtic FC Women will be looking to get back to winning ways this afternoon against Hearts at K-Park. The Hoops started back after an extended lay-off due to the Government restrictions on playing football in Scotland outside of the Scottish Premiership and Championship and this meant that the SWPL went into over three months of hibernation, ending last Sunday.
Celtic welcomed Glasgow City but a combination of terrible weather affecting the performance and a number of new signings failing to make an immediate impression – and a controversial refereeing decision for the first goal – resulted in a hugely frustrating 3-0 defeat for the team.
Yesterday, speaking to Celtic TV, English defender Jodie Bartle expressed her frustrations at the poor performance and the terrible weather conditions last week that Celtic failed to deal with as well as the long term Scottish Champions, who have been the dominant force in the Women's game over the past decade and a half.
"On Sunday we were a bit gutted with the weather," Bartle said. "Leading up to the game it was nice weather and the day after was nice weather as well but it seems to know that when we are stepping foot on that pitch and the wind picks up."
Bartle revealed that the team have been gutted by the performance and the result against Glasgow City, which has left the team trailing 5 points adrift at the top of the table with 13 games remaining. "The mood in the camp is not fantastic but we've got to re-group, we've got to reflect and we've got to learn from the mistakes.
"There are some positives that came out of that match, not as many as we wanted obviously. We've got to bounce back. We had a meeting yesterday and it got us remembering why we're here and how much we want to compete and how much of a point that we want to prove.
"I think that has really helped us. It's helped us all mentally, definitely and the reaction at training last night was phenomenal, the bite, the aggression, the pure passion was back and I think that on Sunday we weren't showing our true colours.
"The football aside, the passion wasn't there, that's what was lacking on Sunday. Maybe Glasgow wanted it more than us and we just had to find ourselves again. This week in training, Monday wasn't were we wanted to be. We wanted to be buzzing back in on Monday with a great result. But it didn't happen so we've just got to bounce back and so far I think we have done."
Today's game against Hearts kicks off at 2pm but is NOT live on TV. However the BBC Scotland channel has highlights later this evening of all of today's SWPL matches. Last time Celtic played Hearts the game ended in a 10-0 win for the Hoops. Here's hoping for more of the same today…
🍀 It's matchday for the Ghirls 🍀

🆚 Hearts
🏟️ K-Park
🏆 SWPL1
🕐 2pm
📲 @CelticFCWomen

Hear from @Bartle_5 as the Hoops defender previews the match 🗣️#COYGIG pic.twitter.com/jHhfnhpMle

— Celtic Football Club (@CelticFC) April 11, 2021
🍀 It's matchday for the Ghirls 🍀

🆚 Hearts
🏟️ K-Park
🏆 SWPL1
🕐 2pm
📲 @CelticFCWomen

Hear from @Bartle_5 as the Hoops defender previews the match 🗣️#COYGIG pic.twitter.com/jHhfnhpMle

— Celtic Football Club (@CelticFC) April 11, 2021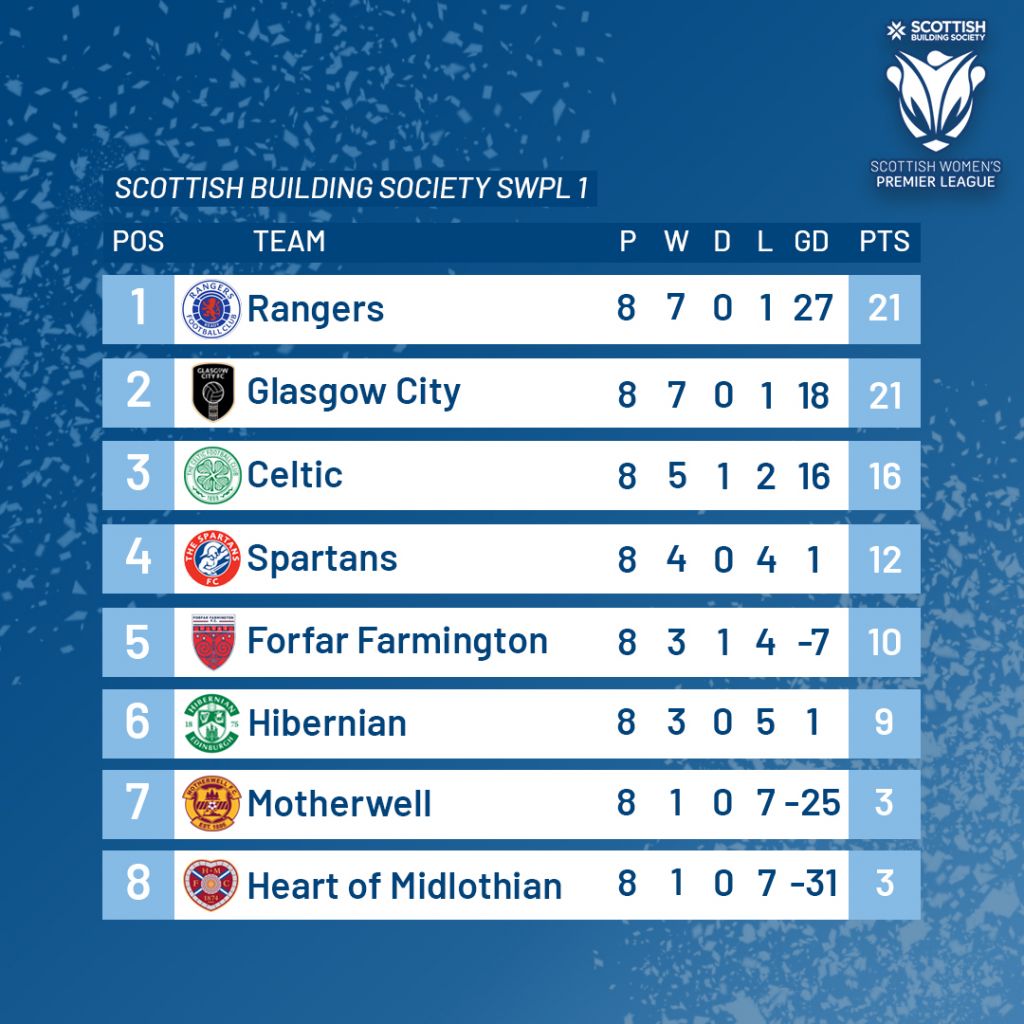 TEAM'S UP…
🆕 Your #CelticFC Women starting XI v Hearts today! Come on you Ghirls in green! #CELHEA 🍀 pic.twitter.com/E0zyADbxtO

— Celtic FC Women (@CelticFCWomen) April 11, 2021