Today marks the third anniversary of Paul Wilson's tragic passing at the age of 66. A member of the Quality Street Gang, who is credited with two League titles, two Scottish Cups and a League Cup for Celtic (though he played at least one match in six league title winning seasons), Paul was an outstanding talent. Racking up 214 games for the Hoops, Wilson's debut for Celtic came in a European Cup tie at Parkhead against KPV Kokkola in 1970. Celtic won 9-0 and Wilson came on when the Bhoys were six ahead. He scored two goals that night.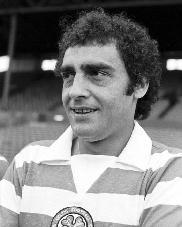 Paul Wilson was born in India and lived there for a year. He described his mother as Dutch/Portuguese and his father as Irish/Scottish. As such, Wilson had a multi-ethnic background and suffered a lot of racism at matches. Never once reacting to such abuse, Wilson famously spoke to Jock Stein about the matter, which sums up his attitude to life. Jock said that the best way to deal with it was to answer fans by scoring. Wilson replied "What if I score two?"
And score two he often did – including a wonderful double against Rangers in the 1975 Glasgow Cup final, which came just a week after scoring a double against Airdrie in the 3-1 Scottish Cup final victory. As a winger, who could be utilised up front, Wilson scored 52 goals for the Bhoys and came through with some iconic Celtic names. He was a real talent.
You can enjoy Paul Wilson's double against Rangers in the video below. Pay special attention to his second goal… what skill that was!