The Celtic Star's coverage of Celtic's history is perhaps not something that the other Celtic fan media sites focus on quite as much and with writers like David Potter, Matt Corr and Liam Kelly – all respected Celtic historians and published authors – we've certainly got a very strong team on here.
We're in the early stages of taking The Celtic Star to the next level by developing our You Tube channel and we'll attempt to create decent output on there as you are used to reading on here.
This weekend we'll show you a number of videos that will illustrate how we'll be looking at creating content that is unique to The Celtic Star and will hopefully be enjoyed by the Celtic Support.
Tomorrow we'll have an exclusive interview with a former Celtic Star from the Martin O'Neill era and we'll also take a look at the Gallowgate and the role that it plays in the Celtic match day experience for so many generations of Celtic Fans down the generations.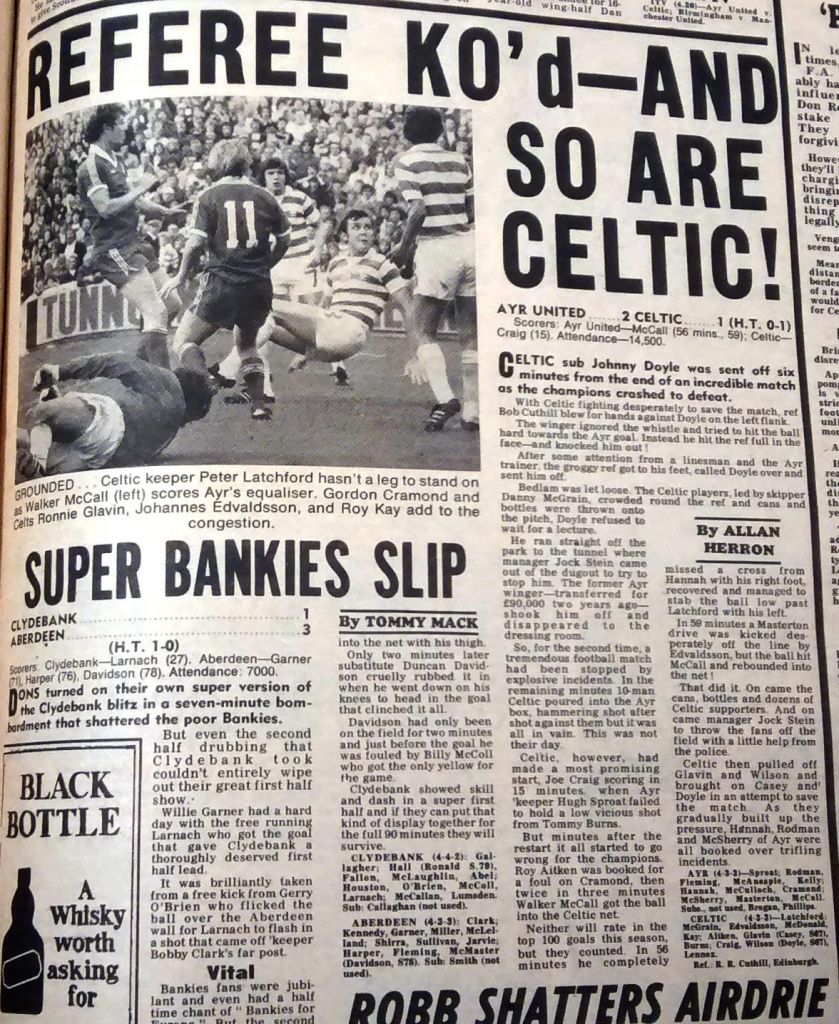 We'll start today with Liam Kelly talking us through a famous incident from August 1977 when Celtic winger Johnny Doyle was given perhaps the most ridiculous red card in Celtic's history and let's face it there have been plenty to choose from. Didn't Callum McGregor get sent off at Hamilton for bumping into someone over on the touchline? What's your most ridiculous red card?
The context to the terrible August that Liam talks about in this video was of course the sale of Celtic's world class  captain Kenny Dalglish to Liverpool for £440,000 – just look at the results that month and indeed for that whole season to see how much on a terrible impact that transfer had on our club.
Anyway this is the story of Johnny Doyle's ridiculous red card as told by Liam Kelly and before or after you've watch it we'd appreciate it if you could press that red SUBSCRIBE button for us.