FRASER FORSTER sprinted practically the entire length of Celtic Park last night to join in the 93rd minute celebrations as Celtic's Captain Marvel grabbed a stunning winner to send Celtic two points clear at the top of the Premiership.
And check out the start that Moritz Bauer has from his right back position near the centre line as Broony finds the back of the net.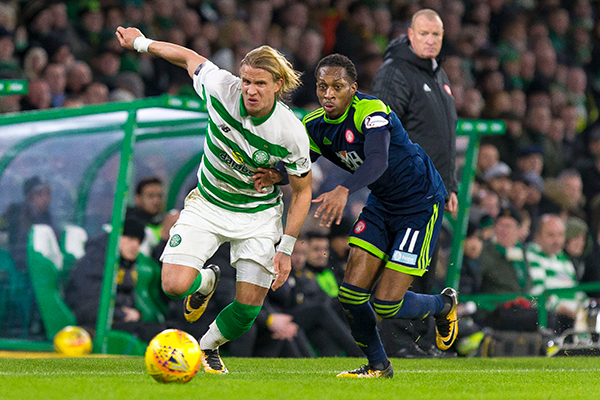 Forster's starting point is at the edge of his 18 yard line and both players were determined to run to their captain and teammates and join in the celebration. For an outfield player there's nothing unusual in that but for a goalkeeper to sprint the length of the park then that does say something.
And rather embarrassingly for Moritz Bauer, the big Englishman gives him a 30 yard start and still beats him to Broony.
What a special moment it was, a real "This is how it feels to be Celtic" situation. Moments earlier empty Bovril cups were being kicked in frustration and some supporters had seen enough, accepted that two points were lost on what was a bitterly cold night. It was frustrating, like drawing at Dunfermline that afternoon when we were trying to STOP the Ten.
Here's the Jolly Green Giant making his way past the Austrian "Moritz a Grand Old Team to Play For" to hail the captain and match winner. "This is How it Feels to be Celtic" right enough.
We found the ONLY footage!

📂Documents
└📁 Camera 1
└📁 Camera 2
└📁 Camera 3
└📁 Camera 4
└📁 Camera 5
└📁 Camera 6
└📁 Camera 7
└📁 Pitchside Cam
└📁 Unique Angle
└📁 Analysis Cam
└ 🧤 Run, Forster, Run! pic.twitter.com/pm7FXk6fAu

— Celtic TV (@CelticTV) December 5, 2019
ALSO ON THE CELTIC STAR…
'Honestly it makes you sick'…'An absolute waste of a good pie,' Podcast Bhoys send up Kris Boyd
David Potter pays the biggest compliment of them all to Scott Brown
Sign of The Times – "Craig Brown leaves it late to rescue champions Celtic"