Celtic beat Liverpool in a penalty shoot-out to lift the Dubai Champions Cup after the match had ended in a 1-1 draw, on this day in 1989. The Hoops claimed the unofficial British club soccer title when they won the Dubai Champions Cup, beating English League champions Liverpool4-2 on penalties after a 1-1 score at full-time.
Celtic skipper for the night Mark McGhee had given the lead in the 12th minute, while second half substitute John Aldridge equalised in the 73rd minute.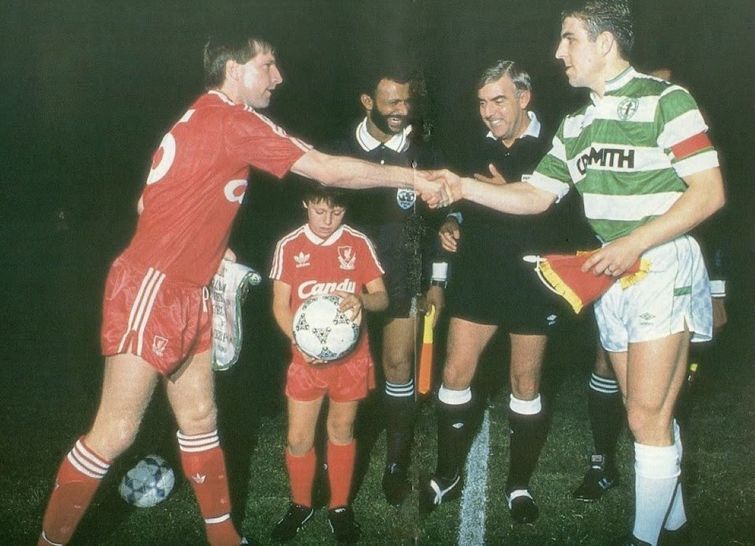 In the penalty shoot-out Mick McCarthy missed the first Celtic kick but Peter Grant, Tommy Coyne, Lex Baillie and Billy Stark all made no mistake.
Peter Beardsley and Aldridge scored for Liverpool in the shoot-out, but Steve McMahon and Steve Staunton both missed and it was Mark McGhee who lifted the Cup with one or two no doubt singing 'He's Fat, he's round, he's worth a million pound, Mark McGhee…"
Billy McNeill was clearly delighted to with the cup in Dubai, especially beating such an impressive Liverpool side.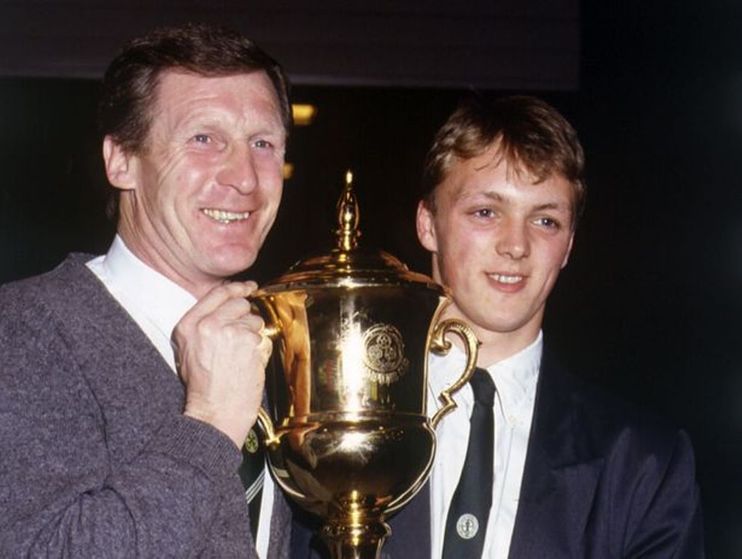 The Celtic team was Pat Bonner, Chris Morris, Anton Rogan, Steve McCahill, Mick McCarty, Peter Grant, Joe Miller, Paul McStay, Tommy Coyne, Mark McGhee and Steve Fulton. Subs: Billy Stark, Ian Andrews, Andy Walker and Lex Baillie.
The Liverpool team was Bruce Grobelaar, Barry Venison, David Burrows, Gary Gillespie, Gary Ablett, Steve Nicol, Ray Houghton, Steve McMahon, Ronnie Whelan, Peter Beardsley and John Barnes. Subs: Steve Staunton, Alex Watson, Mike Marsh, Kenny Dalglish and John Aldridge.
Attendance was just 12,000.
4th April 1989, Celtic beat Liverpool on penalties to win the Dubai Cup. pic.twitter.com/Tsrn5Uj2qN

— Li'l Ze (@LilZe_7) April 3, 2021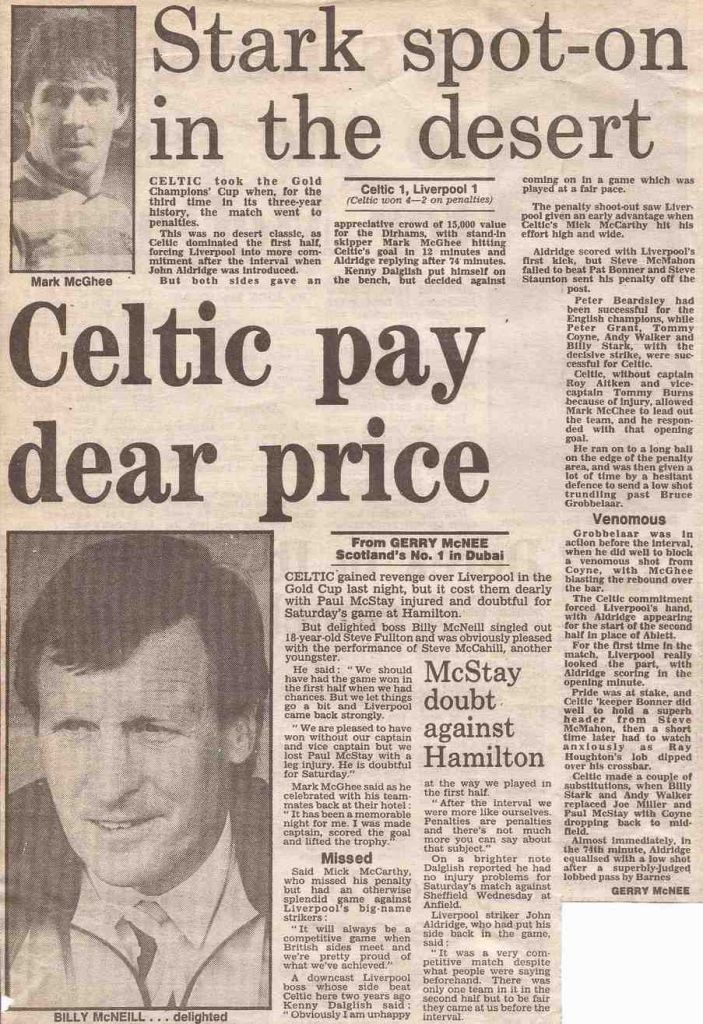 The two sides certainly didn't expect to be playing each other again that month but that is exactly what happened. This time the game was at Celtic Park and it was played due to the awful events that happened on 15 April 1989 at the FA Cup semi-final played in Sheffield.
The Hillsborough disaster – a fatal human crush during that caused the death of 96 Liverpool supporters – would cast a shadow over the game and the justice system in England for decades to come as the families of the victims fought for justice.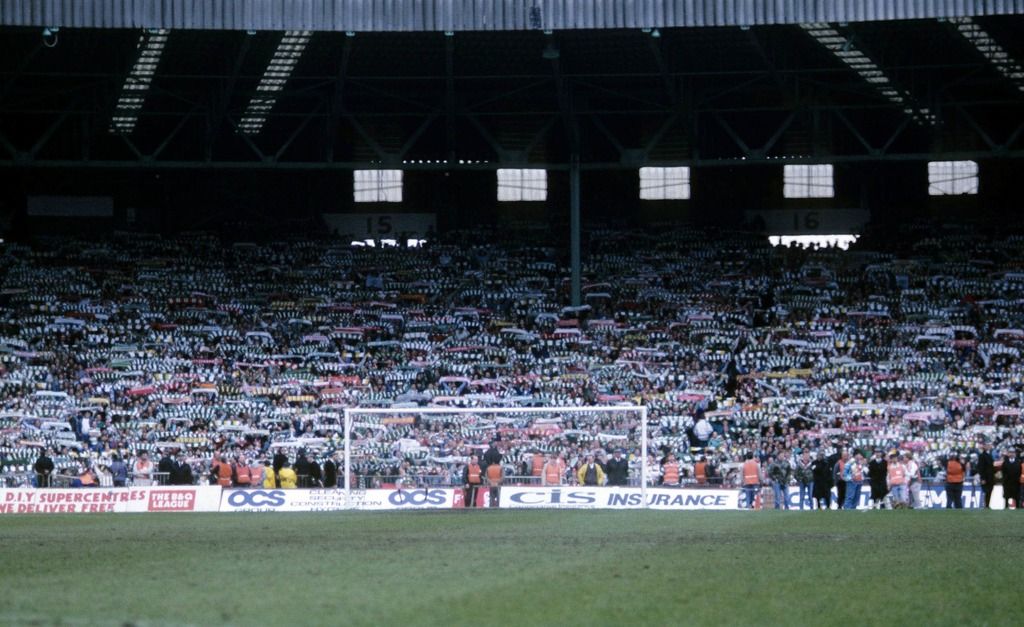 But when it was time for Liverpool FC, after weeks fo the most awful grief imaginable for a football club and its family to go through, to think about playing football again, they accepted an invitation from Celtic to play at Paradise.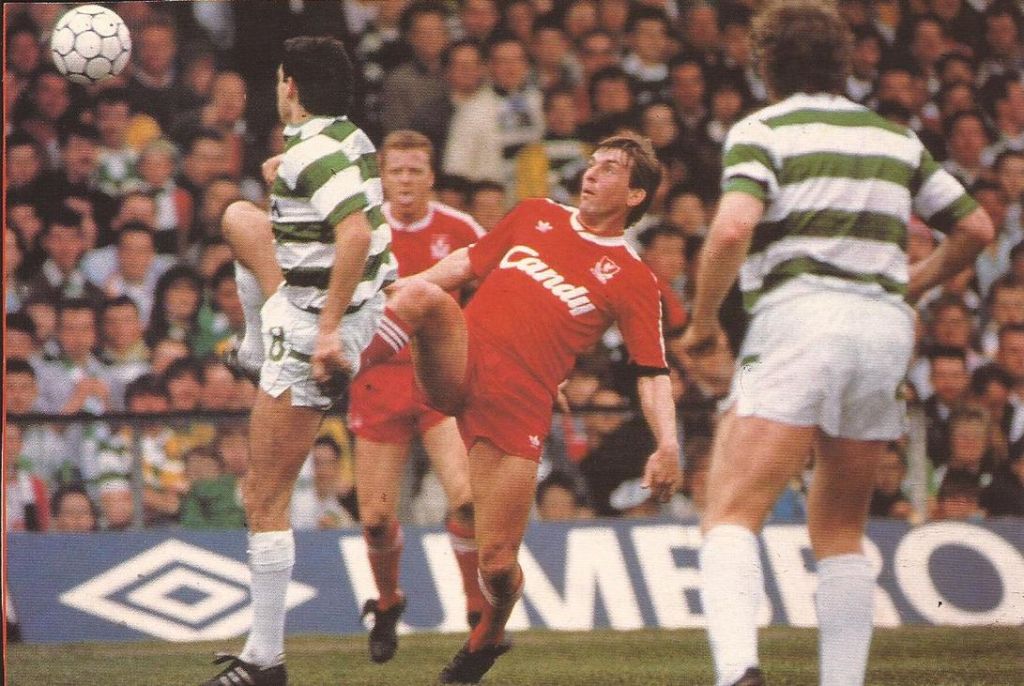 The Hillsborough Memorial Game took place on 30 April 1989 at Celtic Park. Liverpool won 4-0 but no-one really bothered too much about the result. It was one of the most emotional days ever at Celtic Park, and probably the finest, most poignant rendition of You'll Never Walk Alone.
And in the decades that followed the Liverpool supporters came to realise that Celtic fans never did let them walk alone in their long but ultimately successful fight for justice for the 96.