U2's 'THE SWEETEST THING,' who when they hear that song, now holds up five fingers on one hand and one on the other? Yep, me too!
Here's why. On this day in 1998 league leaders Rangers arrived at Celtic Park absolutely brimming with confidence. Celtic had lost Wim Jansen in the summer and Dr Jo Venglos was late in the door for the new season. Many Celtic players had been to the World Cup in France with Scotland – yes we qualified! – and it is fair to say that we had made a particularly poor start to the season.
The press had a story about Celtic signing a 'Dud Czech' some unknown veteran that Venglos had worked with previously, and the struggling new Celtic manager was criticised for signing this unknown rather than John Spencer, the ex-Rangers and Motherwell forward.
Here's what happened in the game, as posted by @LilZe85…
21st November 1998, Celtic rattle Rangers 5:1.

Lubo(2), Larsson(2) and Burchill. @Burchyboy27 pic.twitter.com/gxwOyzvuSJ

— Li'l Ze (@LilZe85) November 21, 2019
And here's what happened at the end where you'll HEAR the Sweetest Thing being sung in Paradise and you'll also SEE the Sweetest Thing over at Ibrox as their beam-back empties quicker than if the fire alarm had gone off!
Celtic fans singing U2 "The Sweetest Thing" after the game. Bonus clip of the Rangers fans leaving their beamback after Burchill scores the 5th! pic.twitter.com/qLzc6GSkcF

— Li'l Ze (@LilZe85) November 21, 2019
Incidentally have a look at this newspaper clipping from the next day and check out the Moonbeams story on the right hand side, designed as always to sooth the hordes. David Murray's media pals serving up succulent lamb, and just look where it got them.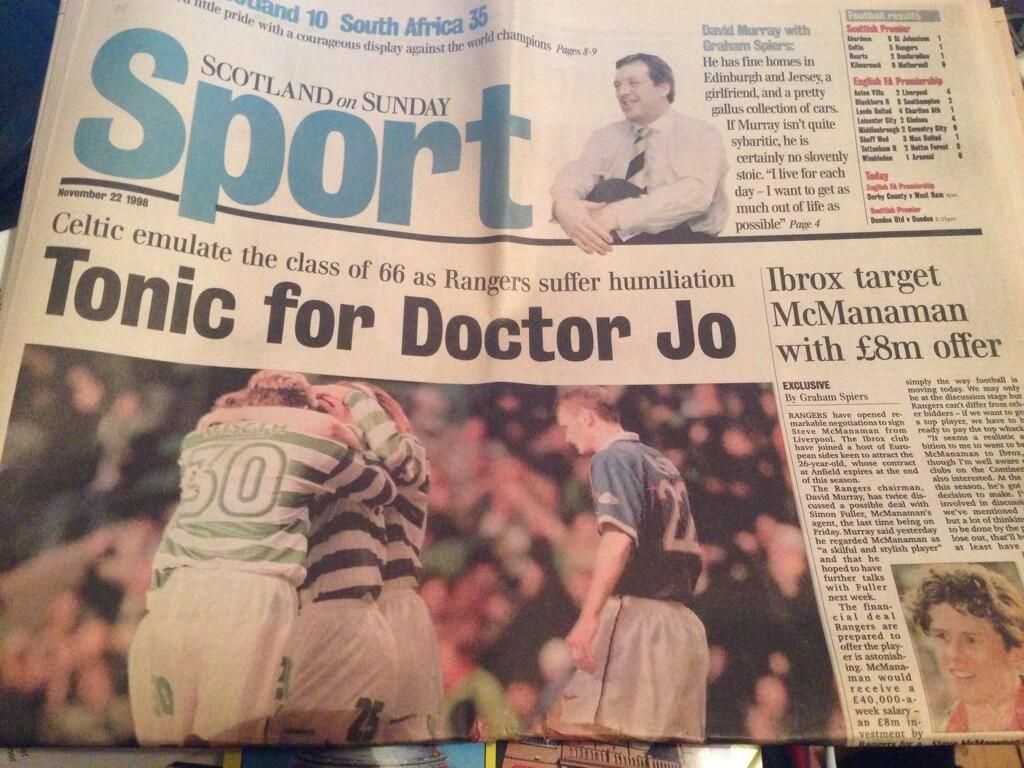 Here's how The Celtic Wiki remembered this game…
The Humping
"In what were very dark days, it was hard for us to get even a glimmer of hope that we were able to compete with Rangers. They were just financially way ahead of us, and there was a lack of stability at the club after Jansen had left at the end of the last season, and so all the good feelings were dissipating especially after the reception Fergus McCann got at the unfurling of the league flag back in August. The omens weren't really good, but any game v Rangers was said to be unpredictable and this one lived up to that more than most.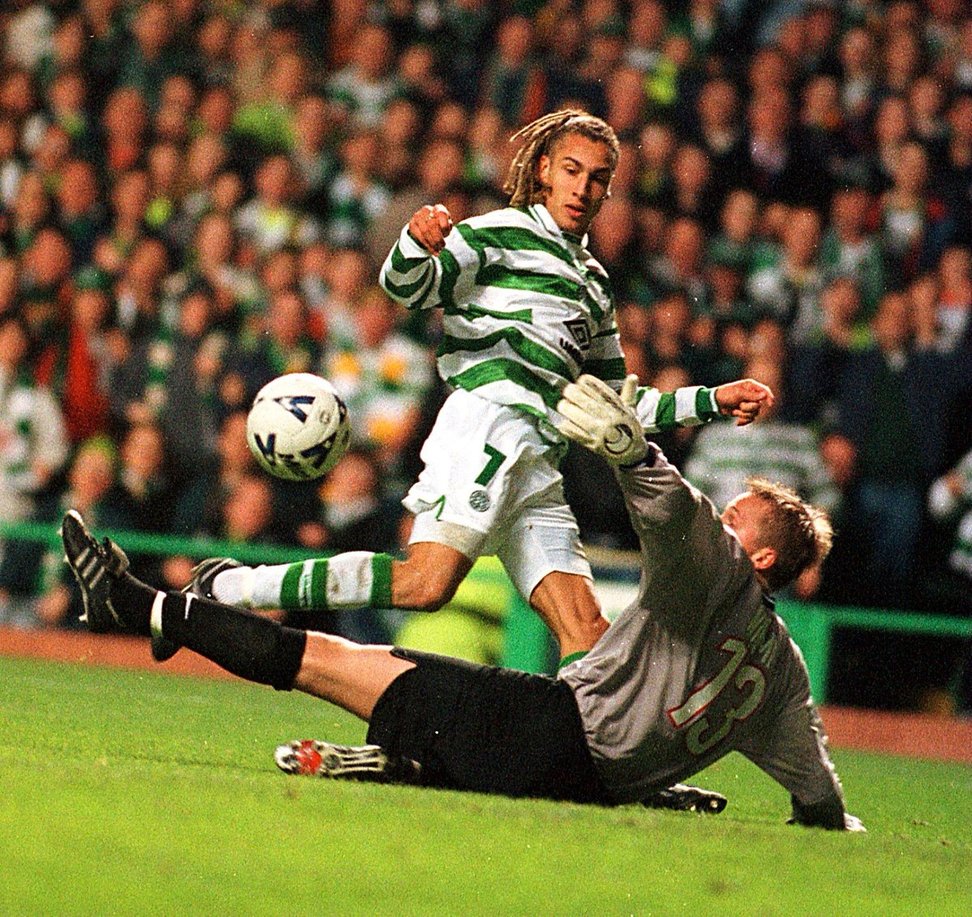 Put simply we skelped them supremely. Two wonderful goals by Lubo followed by two more gems by Larsson and then capped by a Mark Burchill goal sent Celtic Park into delirium. The quality of the play was great, and you couldn't ask for a better set of goals than that what was scored on the day. Lubo was a gem, and outshone everyone. A joy to watch, and the moniker "A Gift from God" was born for the great man.
It was a massive victory which got all our hopes up. Were we back in with contention? Was Venglos vindicated as a manager? Its all academic now, as the season as a whole saw them ride off with the league trophy again and it was in retrospect a false dawn.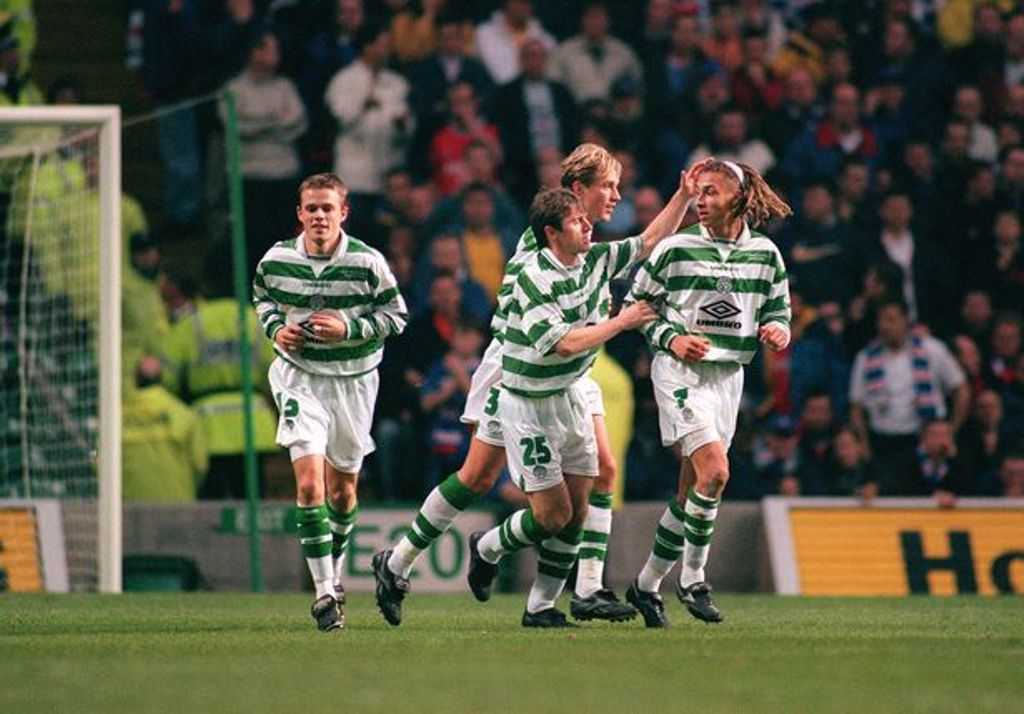 On the other hand, it was an early signal of the quality of some of the players that was to play a significant part in the club's sustained revival and success under Martin O'Neill, something that we had to wait a little too long for. It was a mouthwatering prospect.
Regardless, amongst all the gloom and doom, this was a wonderful respite for us all."
It sure was, The Sweetest Thing…and emptying that that beam-back, just delicious really.