Harry Hood – Twice as Good is out now! While stocks last you can receive a signed copy by Harry's official biographer Matt Corr. £1 from ever book sold will be donated to Marie Curie in memory of Harry Hood.
You can order now from Celticstarbooks.com – just click on the image below…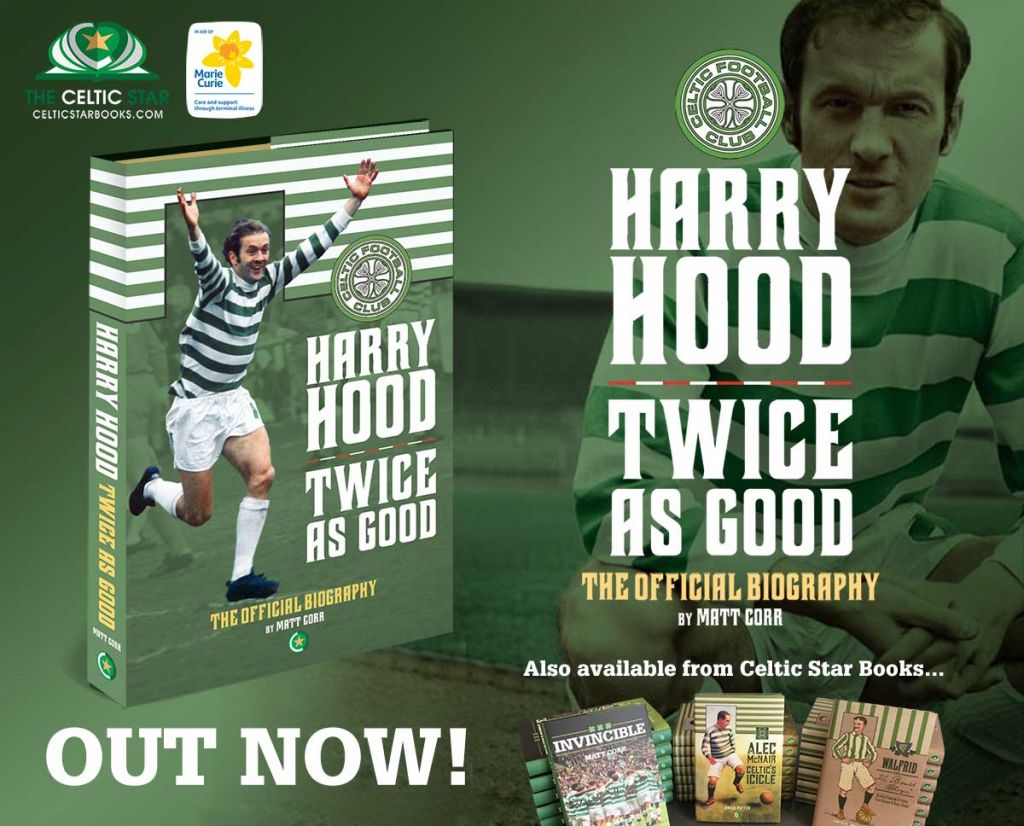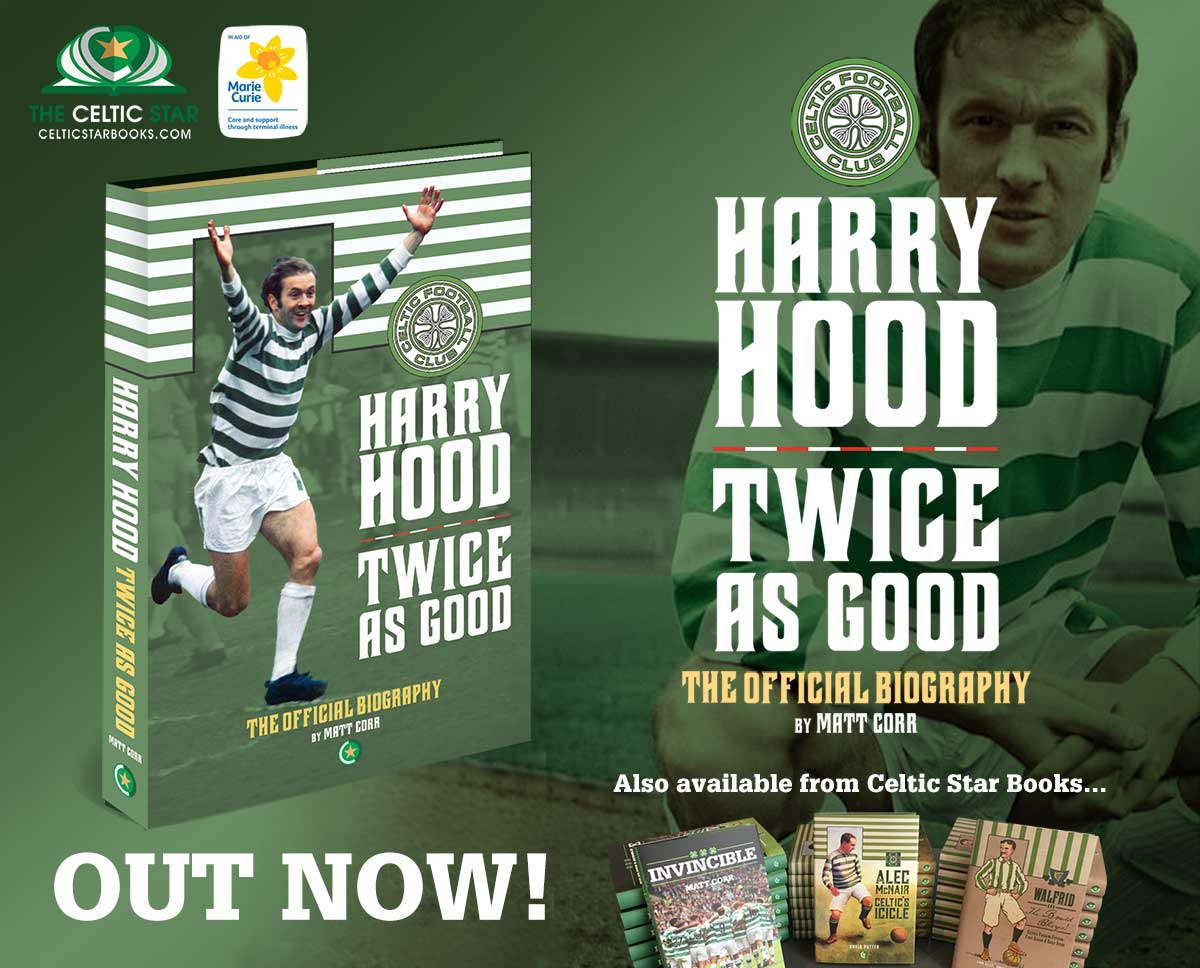 "We've got someone twice as good. We've got Harry Hood!"
Mention the name Harry Hood and it evokes memories of a wonderful footballer in a glorious era, most notably at Celtic, his boyhood club. Wearing those magical, unspoilt green and white Hoops.

Of the chants which rang out as he scored vital goals for Celtic, against the giants of European football under those massive lights in Glasgow's east end, in the intensity of the city's fierce derbies or major cup finals before six-figure crowds. Moments which created history.

Skilful, intelligent and classy, with 125 goals and over 300 games for Celtic in that post-Lisbon era, where the Lions and Quality Street Gang merged with Jock Stein's astute signings to keep the Hoops at the summit of European football. A key man in an incredible team, some of whom pay tribute to Harry in this, his official biography.

Oh Harry, Harry! He did it all.

And he did it beside some of the greatest Celts of all time.

Jimmy Johnstone, Tommy Gemmell, Kenny Dalglish and Billy McNeill.

Teammates and lifelong friends.

And with that unmistakeable Glasgow sense of humour.

"I called my dog Pele. It was only fair, given that he had called his dog Harry Hood!"

This is Harry's story.
Published by Celtic Star Books and available now from CelticStarbooks.com and also the official Celtic stores.

Also available from Celtic Star Books…
Alec McNair – Celtic's Icicle by David Potter…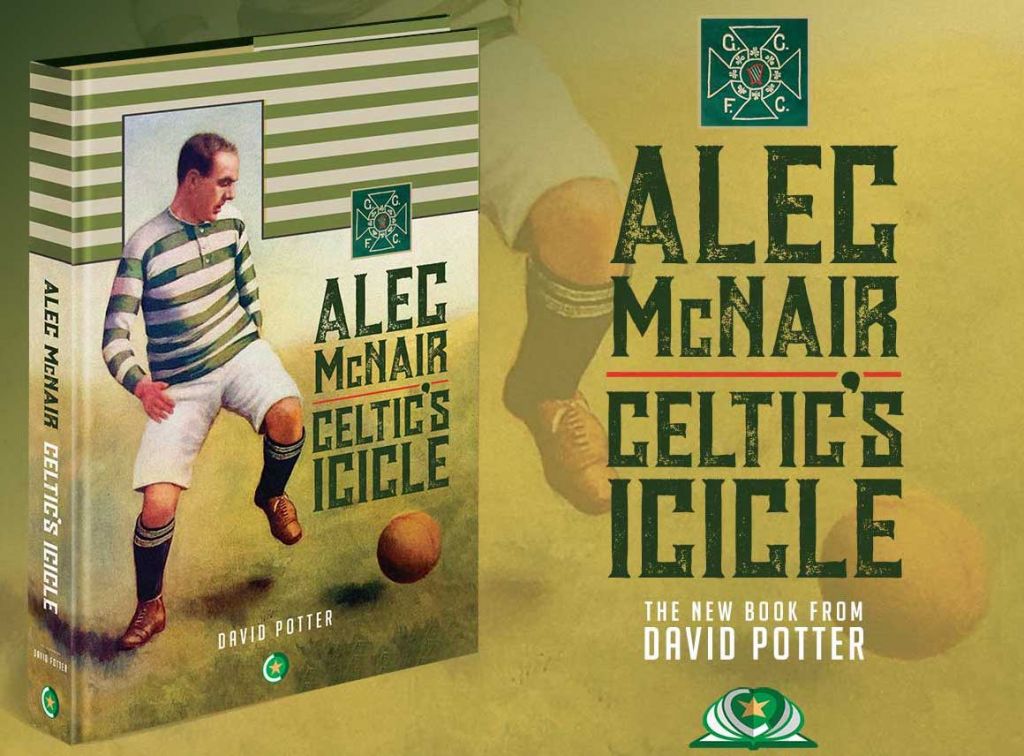 Alec McNair Career Summary
• Alec played in Celtic's first team for an incredible 21 years. No-one has ever matched that.
• He played for Celtic four months into his 43rd year. Another record. McNair remains the only outfield player to take the field for the club after his 40th birthday and is one of only two men to have done so, his friend and contemporary Celtic goalkeeper Charlie Shaw being the other.
• Alec played a total of 584 League games for the club. Another record.
• He made 716 appearances in total for Celtic, despite the Scottish Cup being suspended for five seasons during the First World War. Only Billy McNeill has beaten that, and Cesar's tally of 822 included over 200 matches in the League Cup and European football, neither of which were available in the era of McNair.
• Alec won 34 honours with Celtic, another record.
• These included an incredible 12 League Championship titles, another record.
• McNair was a key member of the team which won 6 successive League titles between 1904/5 and 1909/10, a Scottish record which stood until Jock Stein's Class of 1972. He then formed the core of Maley's next great Celtic side, which won four Championships in a row from 1914.
• He is also one of a select group of men to have captained both club and country as a Celt, Alec's international highlight no doubt being the day he led Scotland to victory over England at Hampden in April 1914.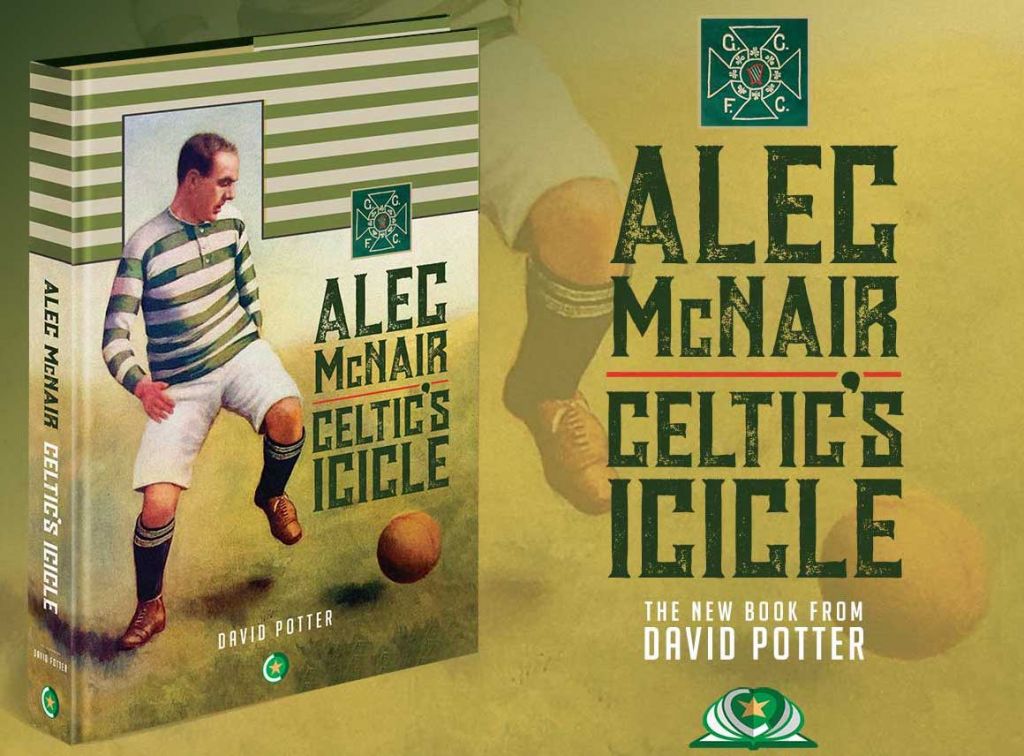 An introduction to Alec McNair – Celtic's Icicle by David Potter
I'm not really sure where you would begin to describe Alec McNair and his contribution to the success of Willie Maley's first great Celtic sides. Perhaps you could think about a combination of Danny McGrain and Billy McNeill, those defensive and leadership qualities allied with a career-spanning devotion to Celtic.
The rocks upon which great Celtic teams were built and flourished. Revered 'one-club' legends, who operated at the top-level of football over two decades, captaining club and country and winning medals for fun in those cherished Hoops. Men who commanded respect from far beyond the Celtic community, on and off the field. Humble but classy. Fabulous role models and ambassadors for Celtic and everything we stand for.
Then throw in the coolness and composure of George Connelly and the authority and presence of Virgil Van Dijk.
Now we might have Alec McNair, the best defender in the world in his day. The story of Celtic's Icicle is quite remarkable. He created records which stand to this day, almost a century after he hung up his boots after a trophy-laden 21-year career. No-one has matched that sort of longevity in the history of Celtic Football Club.
Alec wore Celtic's colours an incredible 716 times over that period, second only to Billy McNeill, whose total of 822 included over 200 matches in the League Cup and European football, neither of which were available in the era of McNair.
He made 584 League appearances, still a club record. For the last of those games, against Queen's Park in April 1925, he was 42 years and 4 months young, another record. Indeed, Alec McNair is the only outfield player in Celtic's proud 133-year history to take the field beyond his 40th birthday, with his goalkeeper of that golden era, fellow 'Holy Trinity' member Charlie Shaw, the only other man to play for Celtic after achieving the age of 40.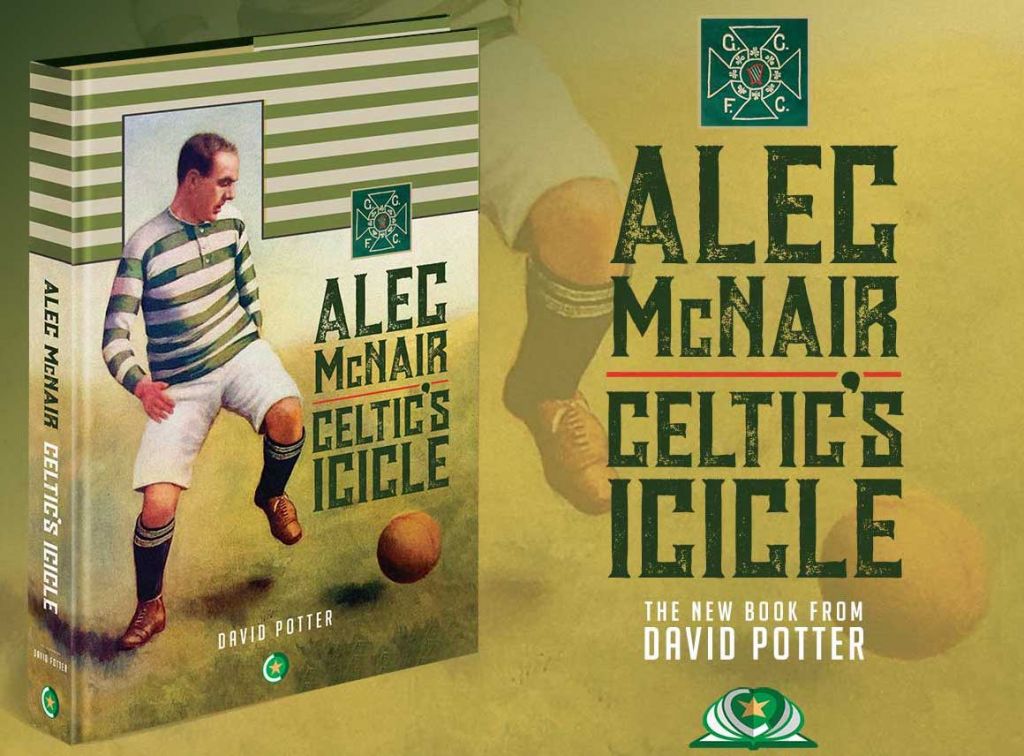 And it was a highly successful career, as Willie Maley's first great sides enjoyed a golden era.
Alec's astonishing medal haul of 34 includes a club record 12 League titles, with his Scottish Cup tally of six beaten only by fellow Celtic legends, Jimmy McMenemy, Billy McNeill and Bobby Lennox.
And to literally 'cap' things off, as well as being a Celtic icon, Alec McNair was chosen to represent his country no fewer than 15 times, captaining Scotland to victory over both England and Ireland.
A genuine all-time legend for both Celtic and Scottish football.
Great stories require great authors to tell them properly. Someone who can get under the skin of the main characters, feel and share their joy and their pain and take you as the reader into the story itself. Fortunately, we have David Potter in this role. A man whose lifelong devotion to his beloved Celtic would sit comfortably beside any of the great names mentioned above. The eminent Celtic historian is in his element here.
In many ways this is a football love story, written by him about one of the greatest Celts of all time, and the social and political context and insight which supports the narrative is fantastic. It really brings Alec's story to life, as we kick every ball with the early Celtic greats.
Jimmy Quinn and Patsy Gallacher. Sunny Jim Young, Napoleon McMenemy and Charlie Shaw. James Edward McGrory and the first set of McStay brothers. What a supporting cast that is.
I thoroughly enjoyed this wonderful trip back through a record-breaking period in Celtic's history.
You will too, I'm sure.
Matt Corr
My all-time hero – Paul Robeson (1898 -1976)
A nice wee article from my English cousin Moya this afternoon, who has only recently started to show an interest in football and hopes to visit Celtic Park for the first time ever when supporters are allowed in. She recently read Walfrid & The Bould Bhoys and was fascinated by the back-story to Celtic's formation. The club's founding fathers and principles are as strong today as at any time since 1888. And if Brother Walfrid is one of her new heroes she wanted to share the story of her own hero who she was introduced to by her dad, just as most of you reading this will have been introduced to Celtic in exactly the same way.
Below Moya tells the story of her all-time hero Paul Robeson. And if this inspires you perhaps you'd like to contribute to the site by explaining who your (non-football) all-time hero is and why. Just email editor@thecelticstar.co.uk…over to you Moya!
The great Paul Robeson was born on this day in 1898, here he is in 1949 singing the Ballad of Joe Hill to a group of Scottish miners: pic.twitter.com/iKxX2VQbWV

— Paul O'Connell (@pmpoc) April 9, 2021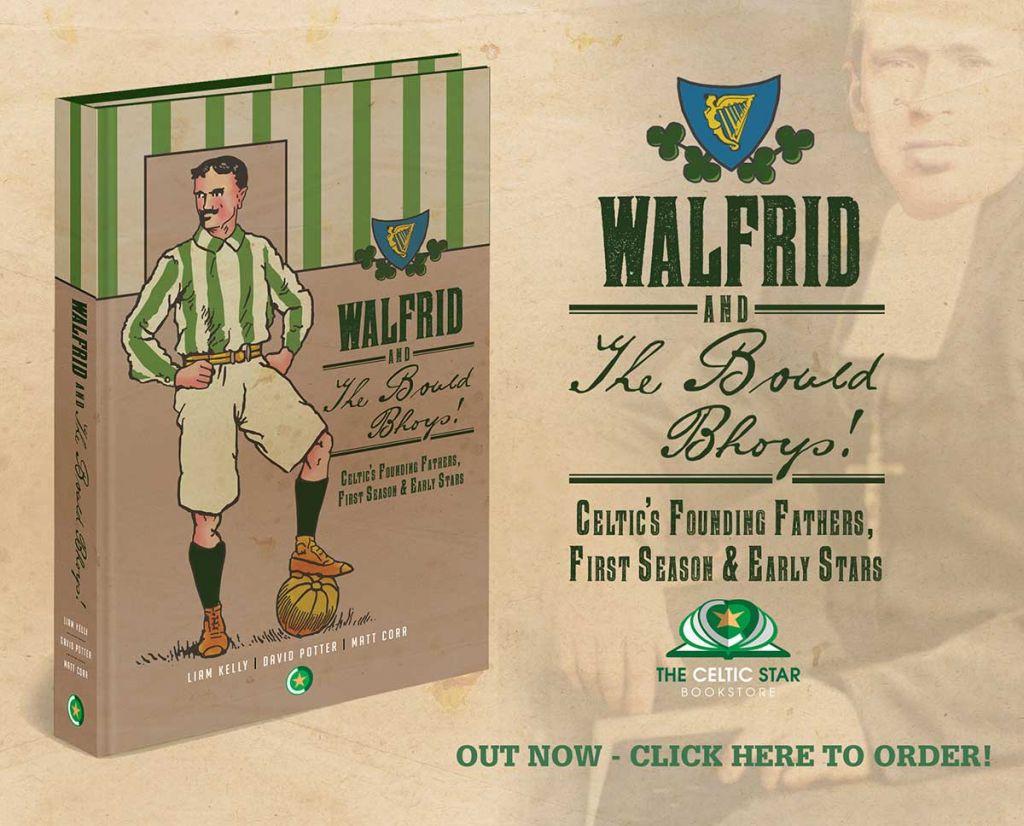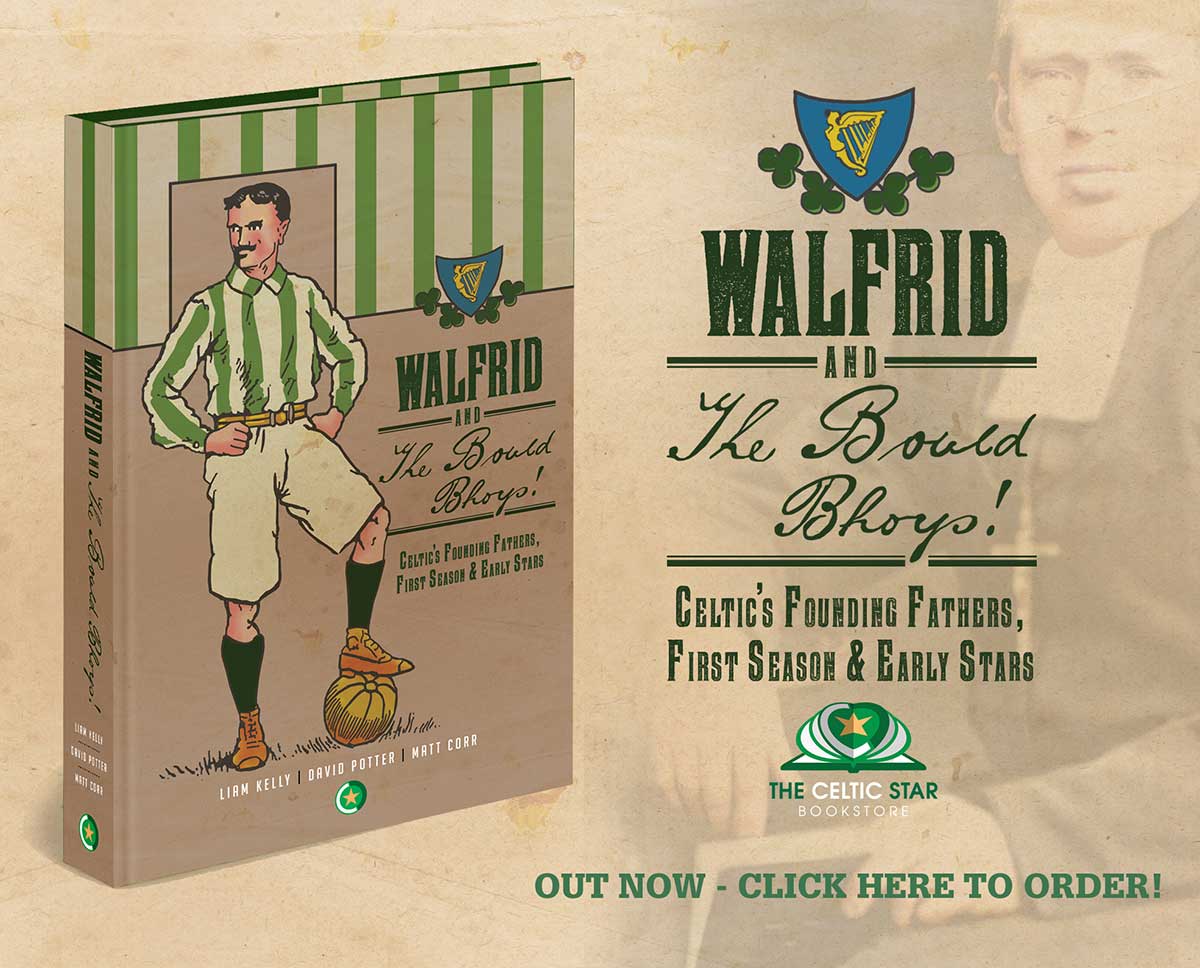 The Common Struggle of Paul Robeson
David has ensured that Brother Walfrid is a family hero, even to those of us who are only belatedly getting inducted into football (moi)!
I'd like to share my all-time hero – Paul Robeson (1898 -1976). He was a hero of my dad, George, who introduced him to me in my teens. I read his biography in my early 20s and still dip into it from time to time. The life of this great artist, athlete and global activist is never more resonant than it is in today's world…and this week.
And what you might not know is this colossus of a human being and humanitarian can be linked to the Faulds family history!
A few facts about him:
* His father was born into slavery.
* He was a first class football player, an All-American in football and posthumously inducted into the American College Football of Fame.
* He studied and practised law but had to give up as a lawyer because he experienced too much racism (when studying for his LLB he had to switch university from NYU to Columbia because of the racism he experienced).
* Arguably, his greatest talent was singing – he became world-known for his singing, covering a range of genres from opera to spirituals/slave songs (his Othello is still viewed as one of the best ever).
* He was an actor of international repute.
* He became politicised during the Spanish Civil war and took up the fight against fascism.
* He became one of the greatest political activists (particularly Civil Rights) America (or the world ) has seen.
* He was blacklisted during the McCarthy Era, his passport was revoked and he was forced into isolation in his home country (check this whole period out, he was amazing!)
His passionate and dogged pursuit of civil rights, social justice and a better world for all continued after the McCarthy Era…
And so it it goes on… I urge you to have a look at his life!
BUT, here's the thing – he supported the Scottish Miners – have a look how! Check out this You Tube video of that time in 1949.
And, a very interesting fact – one of his closest friends in later life was Andrew Faulds. Andrew was an actor who he met when he was performing Othello at the Royal Shakespeare Company in 1959, and he stayed with his family. Paul Robeson inspired Andrew into politics and he became a Labour MP.
So I really hope that we'll add him into our list of family heroes.
I was reminded about him on Monday after listening to a Radio Scotland programme on him, and his links to Scotland and miners (listen HERE).
And here we are at the end of the week having witnessed the events on Capitol Hill.
What would Paul Robeson make of the world in 2021?
Moya
Perhaps this is what Lego will make if it…
Update…
Just a comment on Paul Robeson. Are you aware that he recorded the Irish ballad Kevin Barry after hearing the story of his torture and execution?
As part of the back story the ballad was written and handed into the Irish Independent offices by a person who asked for it to be published in their newspaper . He stated that he was leaving that evening on the Dublin to Glasgow boat. It is not known if he was I
Irish or Scottish. The tune he picked for the song was the old Scottish tune Rolling Home to Bonnie Scotland.
I'm sure if Paul Robeson was around in later years he would have recorded The Fields of Athenry or the Town I loved so Well.
Thank you for sharing your story on a Great man.
Neil Doogan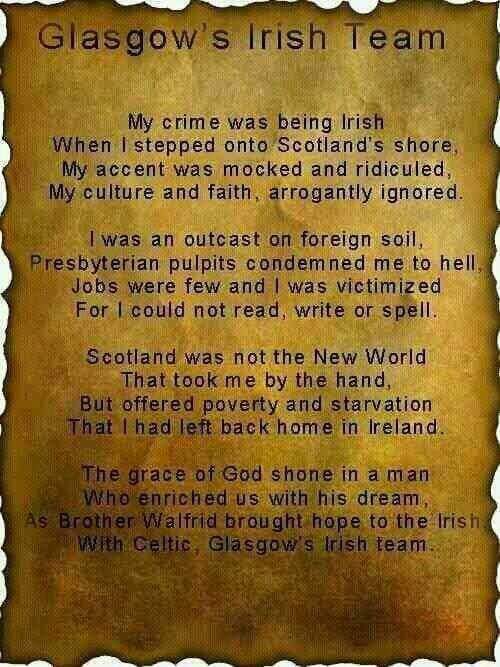 A special offer for you this week, get both Walfrid & The Bould Bhoys and Invincible for just £30! Order now at Celtic Star Books.
WALFRID AND THE BOULD BHOYS
There can surely be no other football club in the world whose history is devoured, cherished then handed down through family, enabling our children and grandchildren to recite the great names and events of the past with the same feeling and passion as for those they witnessed first-hand. It is a rite of passage. A gift which is uniquely Celtic…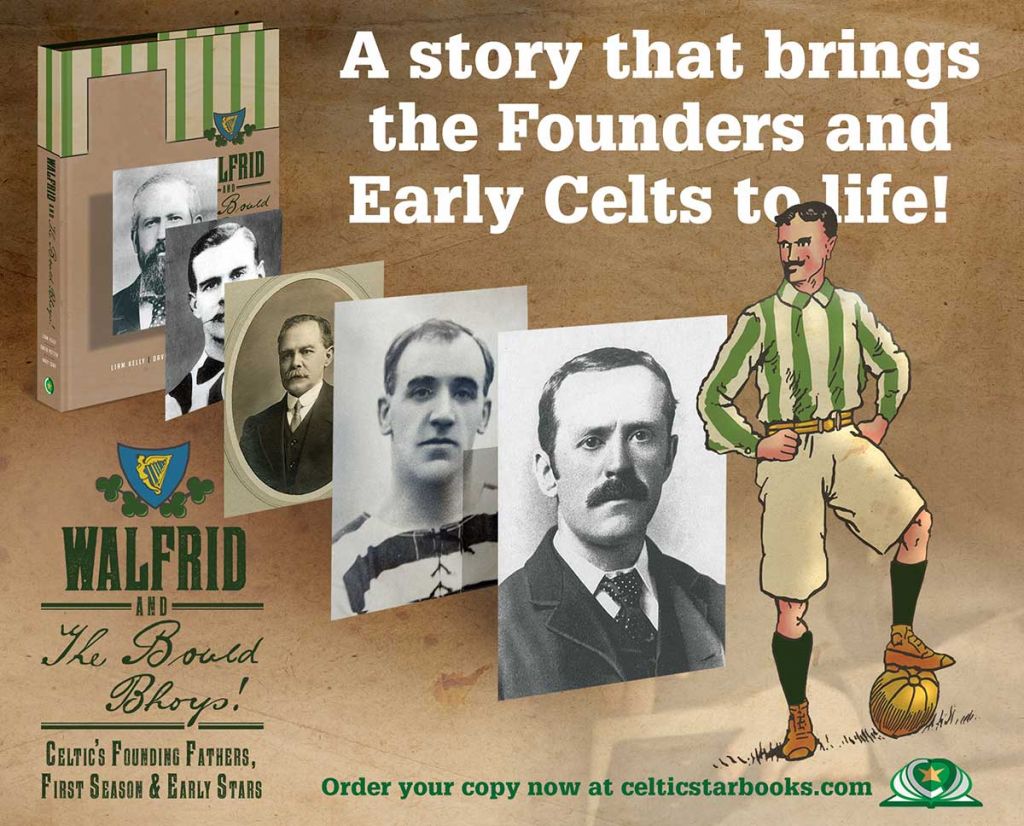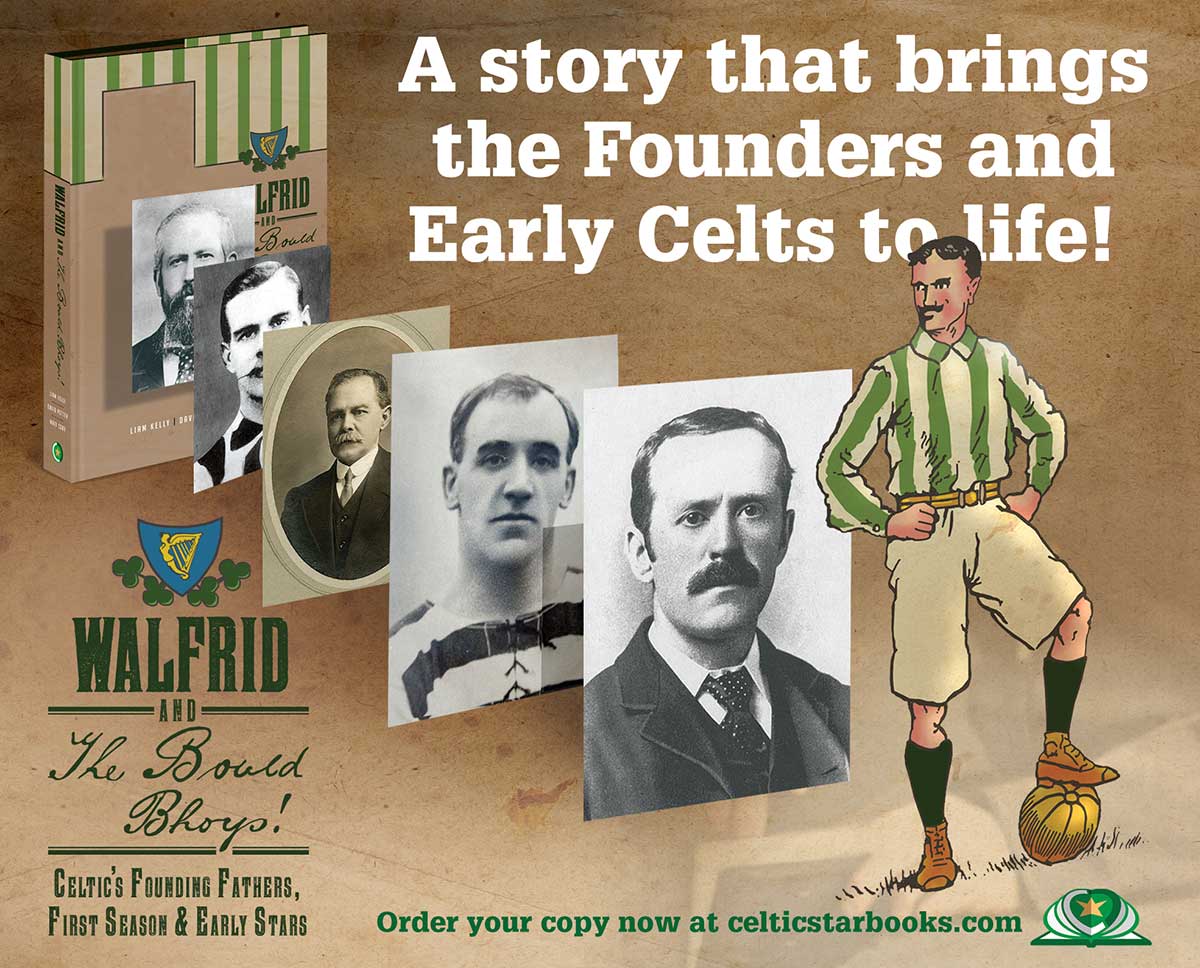 In Walfrid & The Bould Bhoys, the second book published by The Celtic Star in 2020, authors from three generations of that Celtic family take you on a magical journey through the early days of the new football club which was springing to life in Glasgow's impoverished east end.
Through Liam Kelly, we meet the founding fathers. Those men whose compassion, vision and energy created Celtic Football Club for the most wonderful of reasons, to help those struggling to survive. Those of our forefathers and mothers who had nothing. Origins and principles which set us apart as more than a football club, even to this day.
We walk game-by-game through an incredible debut season with Matt Corr, as players are recruited to form a team which will become a cause, a reason for living the other six days in the week. Challenging the established order and creating joy in the communities of the east end by reaching the prestigious Scottish Cup Final from a standing start, then delivering silverware, all within that thrilling first year of existence.
We hear the thoughts of a Celtic supporter, Dan Drake, who lived through that first season and who attended the original Celtic Park with his own father on the day it all began, with a 5-2 victory over Rangers back in May 1888.
Then David Potter shares his thoughts on the inaugural heroes in white and green who would thrill Dan and the other Celtic fans of the early years, playing their way into our hearts and the opening chapters of The Celtic Story. Men like Kelly, McMenemy and Quinn, whose names still roll off the tongue more than a century later, idolised to this day by the descendants of the men and women who watched them create history.
This unique collaboration between these three Celtic writers, all published authors in their own right, has it all.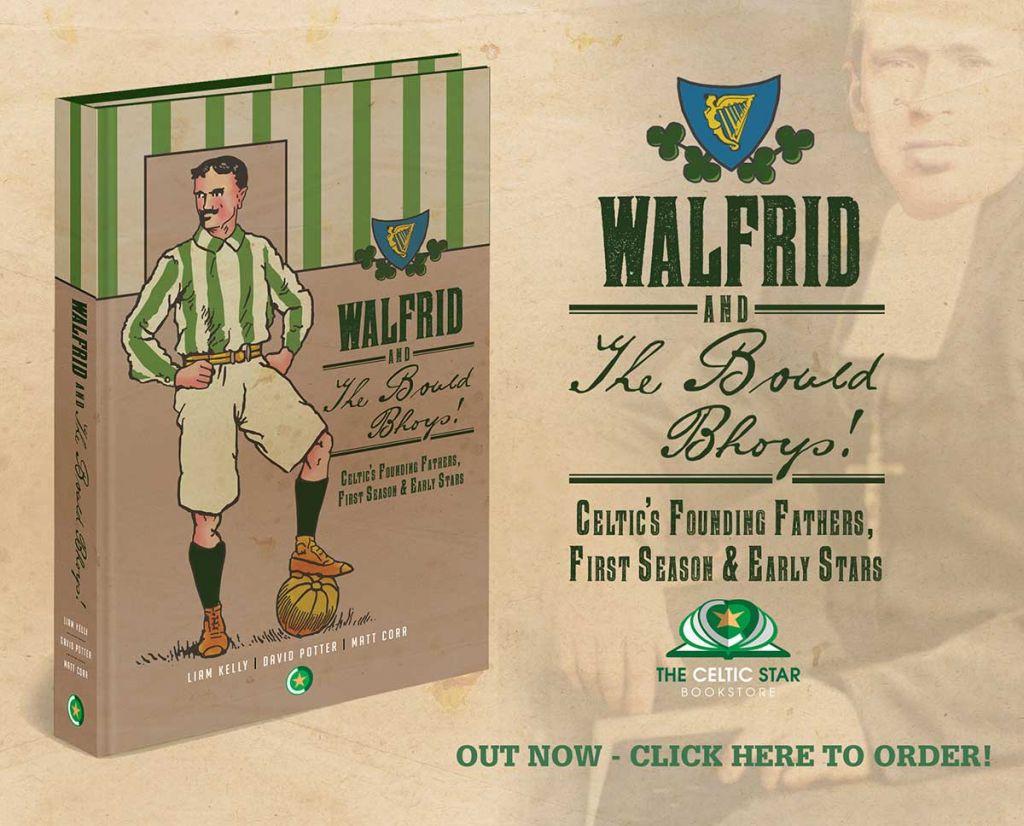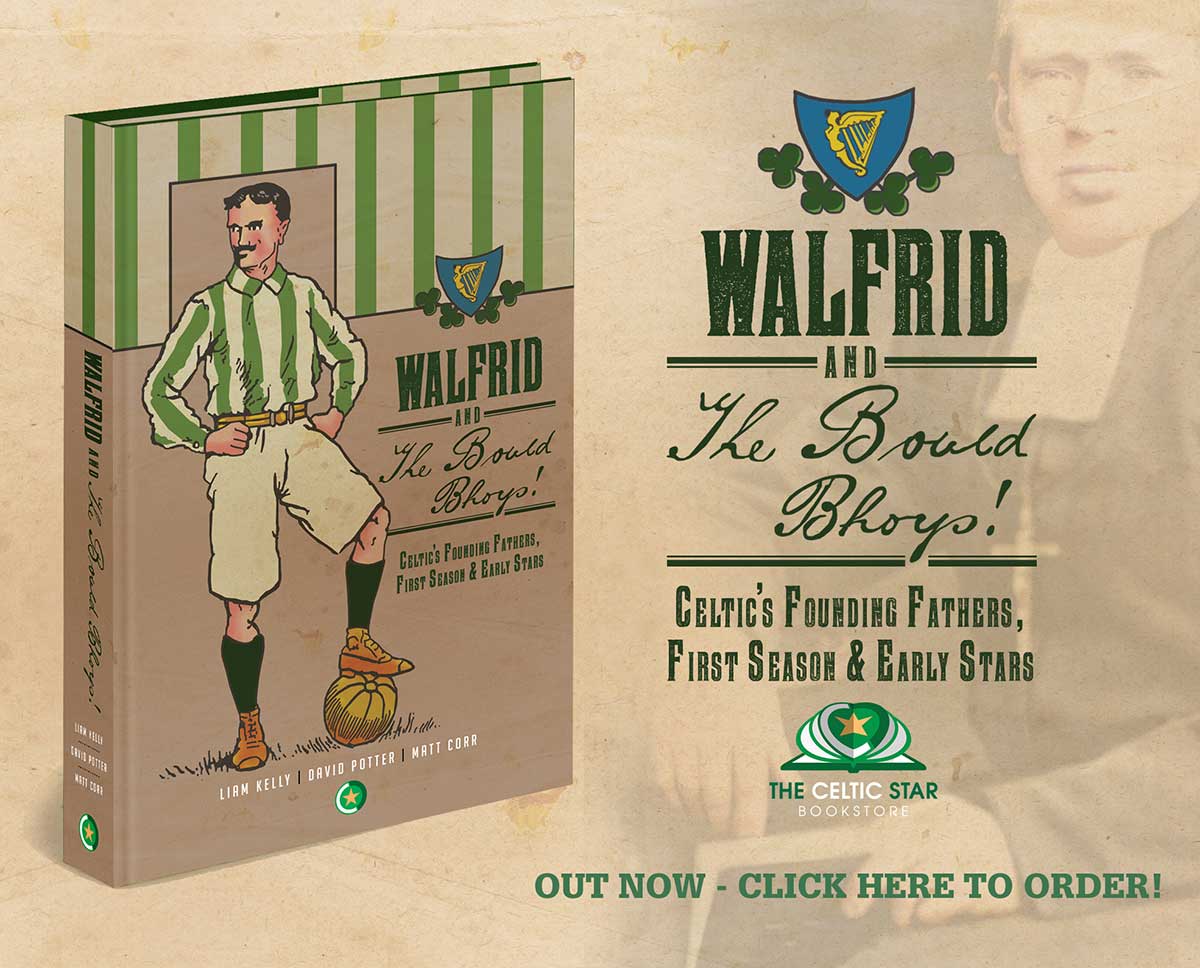 Meet the Authors…In assembling Walfrid & The Bould Bhoys, The Celtic Star's own formidable team sheet was brought into action, spanning three separate generations of Celtic supporters.
Liam Kelly published 'Our Stories & Our Songs' in 2015 and followed that up last year with 'Take Me to Your Paradise.'
David Potter has drawn from a lifetime of following the club to write scores of wonderfully informative Celtic books, which will be valued for generations of Hoops supporters to come.
Matt Corr is the author of The Celtic Star's first publication of 2020, 'INVINCIBLE', and is a popular member of the Stadium Tours team at Celtic Park.
WALFRID & THE BOULD BHOYS is beautifully designed and produced, is priced at £19.99 and is published on hard-back by The Celtic Star – order now at CELTIC STAR BOOKS…
'The Three Kings' – Stein, Busby and Shankly
The Three Kings is a feature length cinema documentary on Matt Busby. Bill Shankly. Jock Stein and it's showing at selected cinemas from this Sunday 1 November. The Three Kings  is available via digital channels and DVD from Monday 16 November and is now available to pre-order. You can watch the trailer for this eagerly awaited cinema documentary below. We broke the news a few weeks ago about the release of The Three Kings and since then there's been great interest in the documentary with a great number of Celtic Supporters looking forward to seeing it. We're sure that this will also be the case for Manchester Utd and Liverpool fans.
From the Oscar and BAFTA-winning producers of Diego Maradona and Senna and the director of I Believe In Miracles, The Three Kings is the definitive film portrait of three men who were born in the central lowlands of Scotland within 30 miles of each other – and went on to change the history of football: Busby. Shankly. Stein.
Cinemas across the country will be playing The Three Kings from this Sunday with participating cinemas listed on threekingsfilm.co.uk. The film will then be available on all home entertainment formats from the middle of November.
Matt Busby, Bill Shankly and Jock Stein all came from mining communities around Glasgow where the call of the pits was only drowned out by a call of the pitch, and only then if your talents warranted it.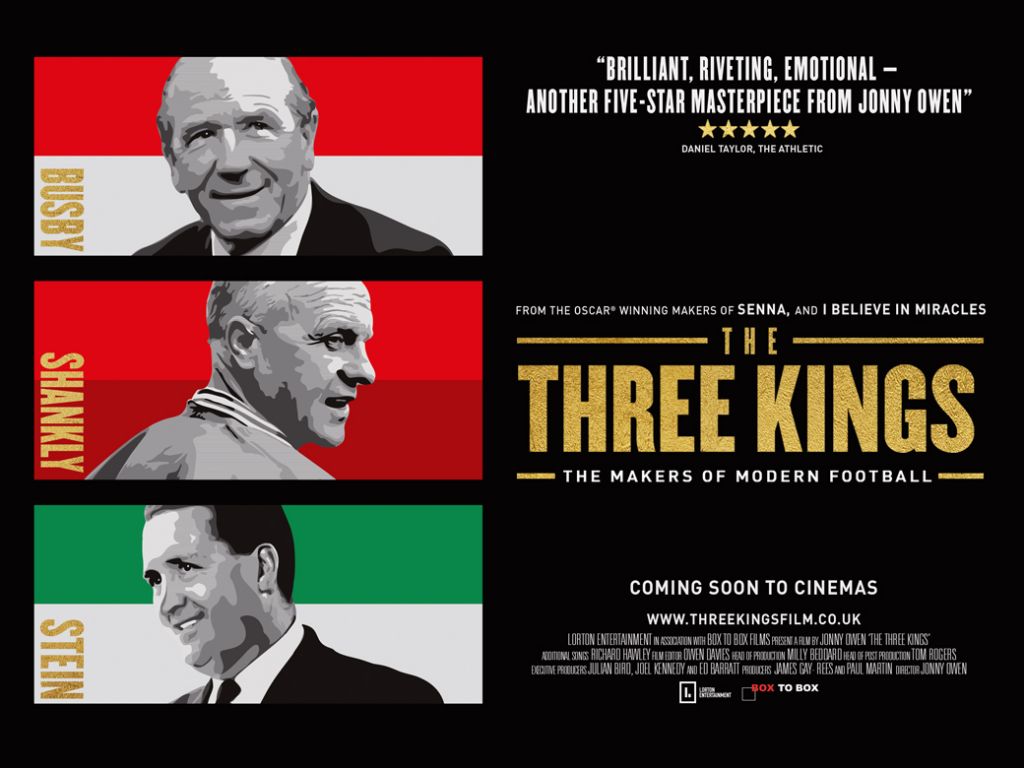 This cinema documentary offers a fascinating look at three remarkable men and managers. How their upbringings shaped their lives and their football teams. How they became the best of friends and how they became the fiercest of rivals. Each man arriving in three great British industrial cities and changing the life of the people forever. Glasgow, Liverpool and Manchester.
They would turn three clubs in those cities into three of the most famous sporting institutions on the planet. Celtic, Liverpool and Manchester United today have a combined global fan base of billions, and this is the story of how that happened.
This film is about more than three men. It is about Three Kings, the men that made modern football.
BAFTA-winning director Jonny Owen (I Believe In Miracles) says:
"My Father, who had worked underground, always told me that Bubsy, Stein and Shankly were once miners. That generation of people are leaving us now. It's astonishing what they gave, the legacy they left to British culture. From the NHS to football they left their incredible mark. This film celebrates them and their remarkable achievements."
`
"Most important is that each club's fan base is told the film has a lot in it for them, a must-see – a brilliantly told story about how Busby / Shankly /

Stein

made their club what it is, and the impact they had on the people and city forever."
The Three Kings is in cinemas from Sunday 1 November, is available on DVD and digital on Monday, 16 November and is available to pre-order now .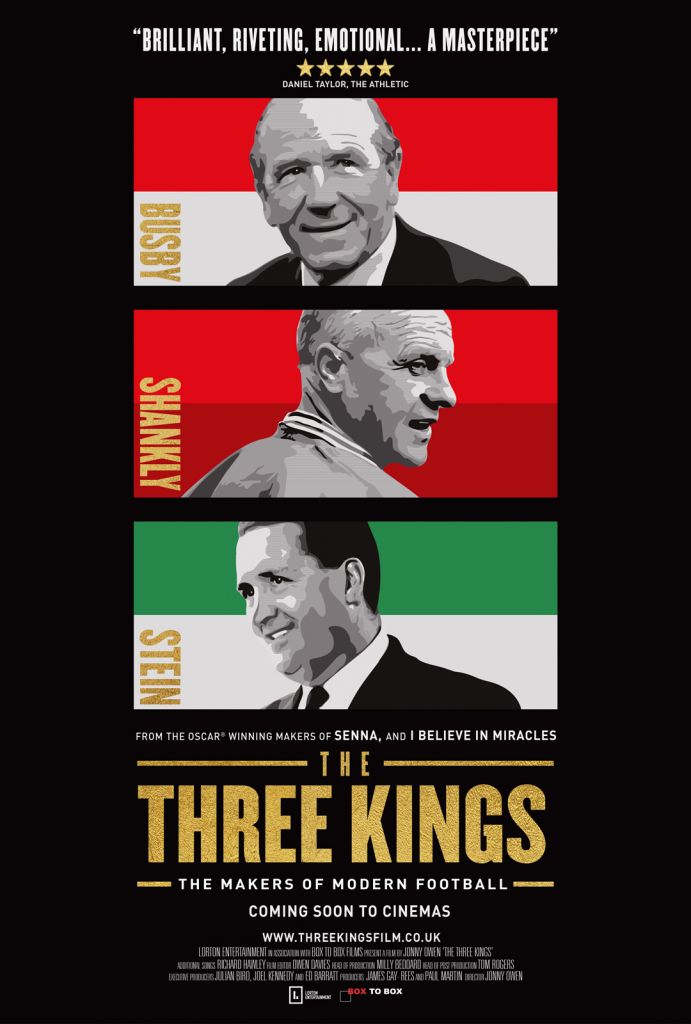 INVINCIBLE is Matt Corr's stunning debut as a published Celtic author.
INVINCIBLE has 288 pages plus a bumper 32 pages of colour courtesy of the wonderful Vagelis Georgariou at Big Lens, capturing all the action from that magical Celtic year – surely the best since season 1966-67 when Celtic also won the Treble and added the European Cup!
Our Father's Day offer is as follows. When you order INVINCIBLE from The Celtic Star Bookstore you will receive a signed copy of Matt's book plus a copy of That Season in Paradise, so Celtic's best two seasons in your dad's lifetime are covered brilliantly.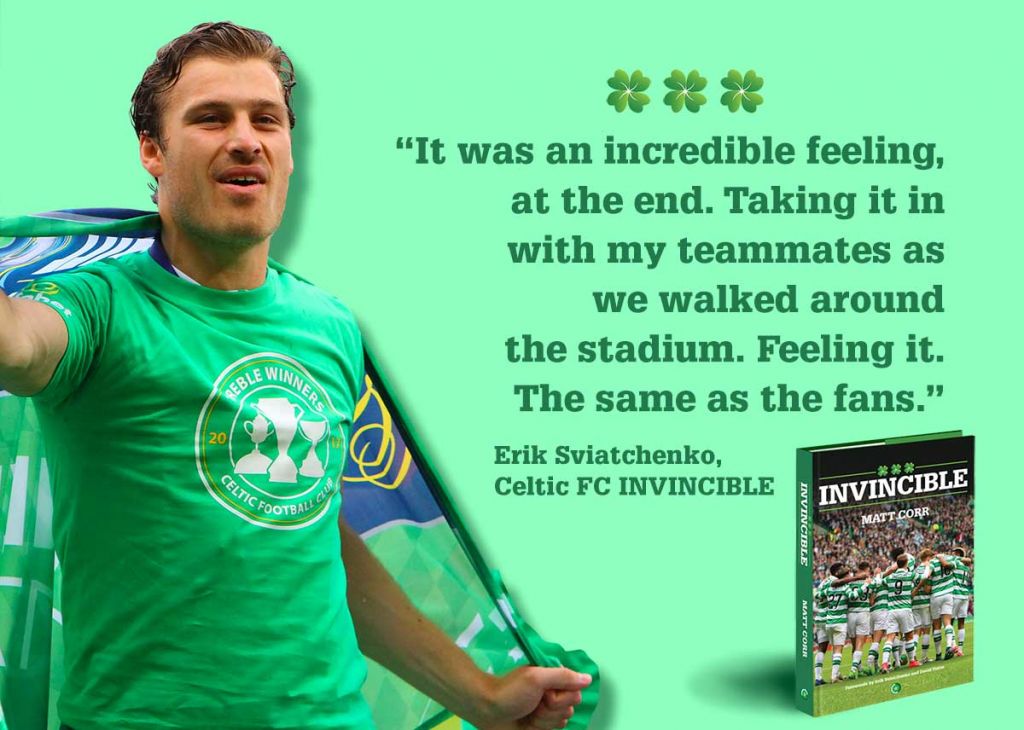 With forewords from renowned Celtic author and historian, David Potter and a star of the Invincible season ERIK SVIATCHENKO , INVINCIBLE tells the story of the grand old Glasgow club's record-breaking 2016/17 season through the perspective of a lifelong Hoops supporter, who follows the Bhoys as events unfold which could not possibly have been envisaged by the worldwide Celtic diaspora just twelve months earlier.
New heroes emerge and memories are created, to be recalled and retold by those with Celtic in their hearts long after those privileged to witness history have passed through Parkhead's gates for the last time. You will laugh and you will cry, as memories from the author's five decades of following his beloved team are woven into his record of this incredible campaign.
INVINCIBLE. That was how it felt to be Celtic.
Invincible author Matt Corr is a stadium tour guide at Celtic Park, writes for the match day programme and is a popular contributor to The Celtic Star, where he covers Celtic players from the past in great detail as well as writing about the club's European trips from the perspective of the travelling Hoops support.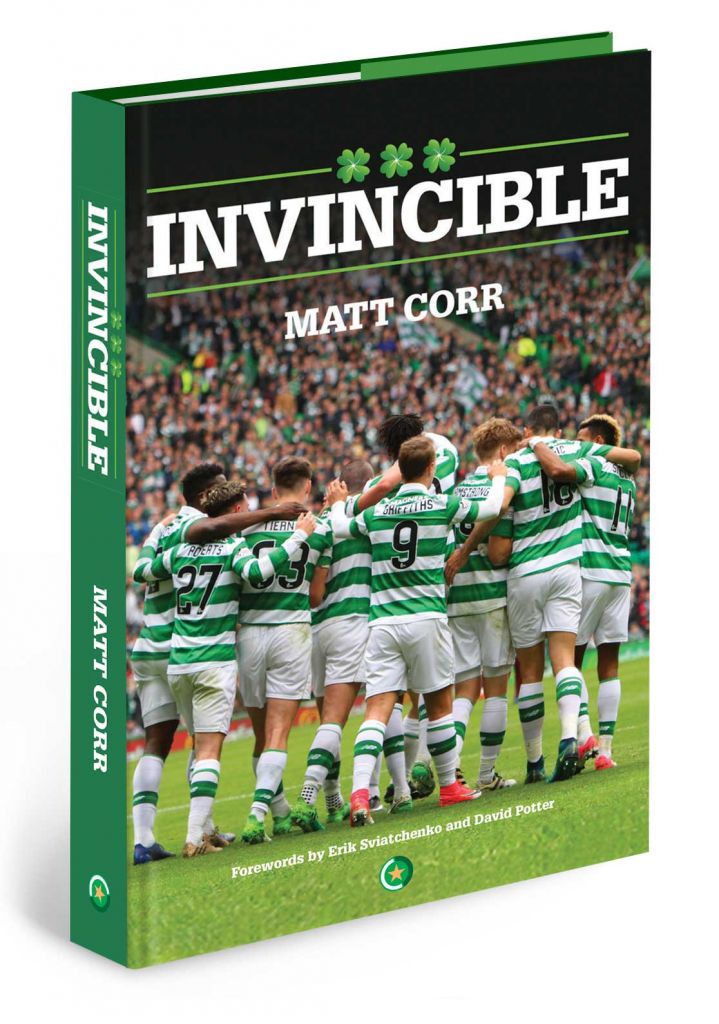 "I am in a training camp in Poland and they are there. They stand up and cheer, then start to sing. "He's magic, you know, Erik Sviatchenko." I turn to my teammates. "Listen guys. They are everywhere!" That love that you show to every player makes you unique. If I were still in Glasgow, I would walk around with a sign on my back. 'I am Invincible! Have you ever tried that?'
ERIK SVIATCHENKO, Celtic Invincible Star
"The 2016/17 INVINCIBLE season will be talked about by Celtic supporters for a long time in the same way as people still talk about 1907/08 and 1966/67. It was a tremendous season. Tremendous events need tremendous recording and recounting. Matt Corr has done just that. This is a worthy addition to the impressive panoply of writing about our great club.'
DAVID POTTER, Celtic FC author & historian
"The story of Celtic's Wonderful, Magical and INVINCIBLE season is quite brilliantly told by Matt Corr. The quality of his writing and attention to detail is astounding. He manages to take the reader with him at every step on an emotional roller-coaster of a journey through an incredible, thrilling season, which gets to the very essence of what it means to support Celtic. INVINCIBLE raises the bar and sets the standard for others to follow. It is right up there with the very best Celtic books I have ever read."