You forget just how cold watching Celtic can be in December and it's fair to say that the large Celtic crowd at the Excelsior Stadium in Airdrie this afternoon will be thawing out this evening but will have a smile on their faces after spending an enjoyable late afternoon watching Glasgow Celtic, putting on a show.
There was a surprise in the team-sheet when Player of the Year Jacynta was listed as substitute as once again Fran Alonso rotated his squad to reward those who impress on the training pitch at Barrowfield.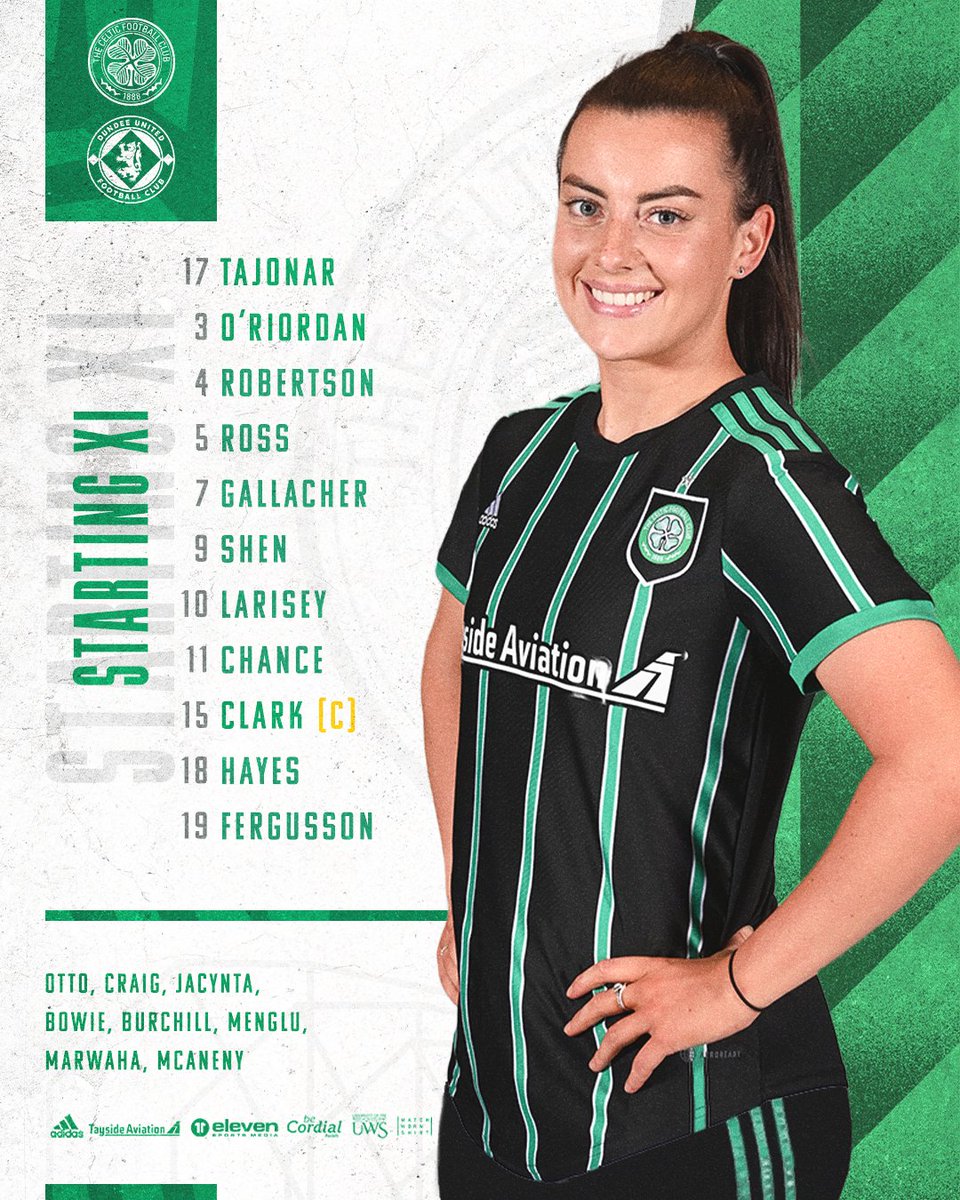 And you could tell that Celtic were in the mood after they started by dealing with Dundee United firing themselves well up the park and threatening in the opening moments of a match. Thereafter you felt for Mexican goalkeeper Pam Tajonar, getting her first real experience of winter football in Scotland and having absolutely nothing to do for the rest of the match.
The Celtic forward line with Larisey at the centre of everything started to click after that initial adventurous flurry from the visitors. Gallacher and Shen were interacting cleverly and opening Dundee United up at will and with just three minutes on the clock Clarissa Larisey slotted home after a fine build-up to give Celtic the lead and they never looked back.
1-0 GOAL FOR CELTIC – CLARISSA LARISEY…
⚽Tabhal tràth sa gheam'⚽

Tha @CelticFCWomen air thoiseach!

🔥Celtic take an early lead🔥#SWPL pic.twitter.com/DmRnP9wBhG

— BBC ALBA (@bbcalba) December 4, 2022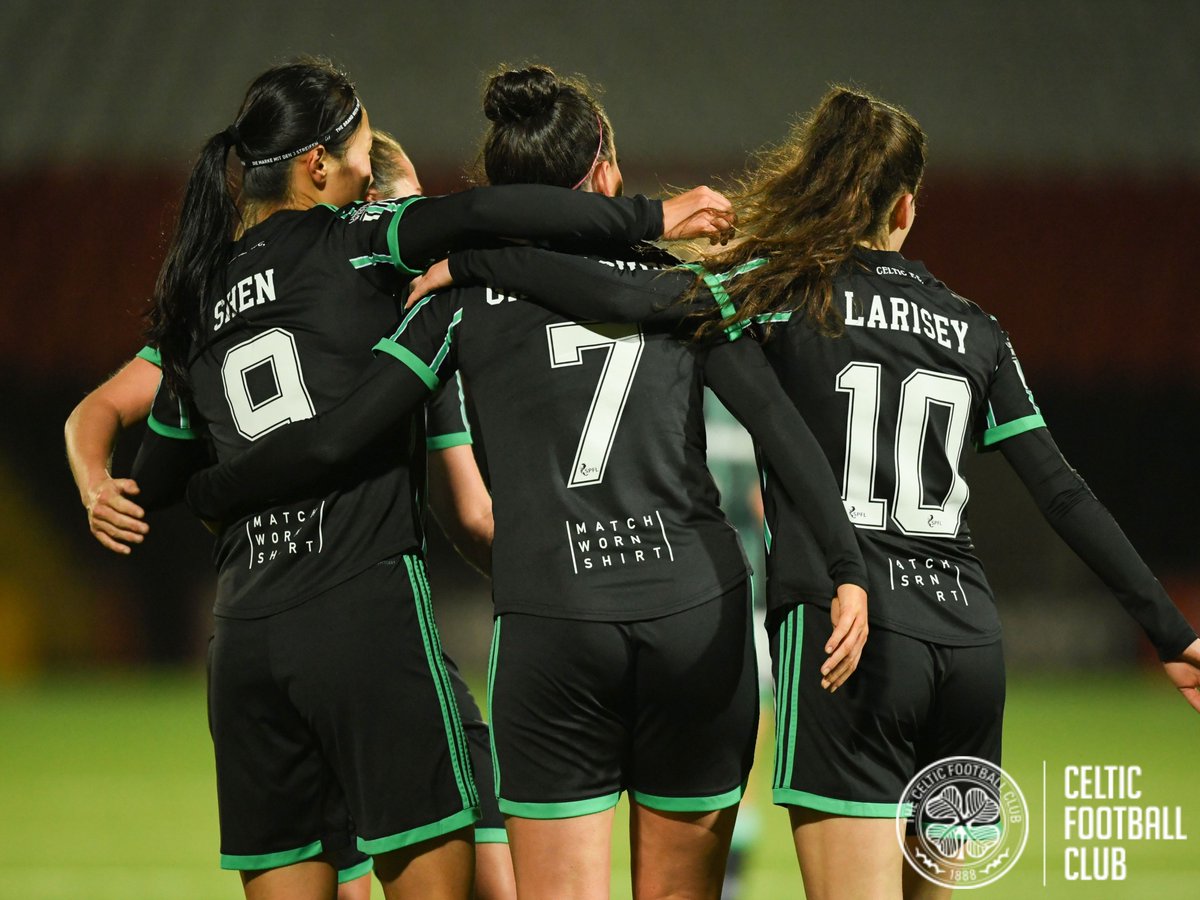 Next, Any Gallacher put one on a plate for Shen to tap into the empty net on 20 minutes and Celtic were purring into top gear with the only question being how many they were going to score on this form.
2-0 GOAL FOR CELTIC – SHEN MENGYU
⚽TADHAL⚽@CelticFCWomen double their lead and Shen Mengyu gets her first goal of the season🔥 #SWPL pic.twitter.com/3IDWaJqymO

— BBC ALBA (@bbcalba) December 4, 2022
With a few minutes Amy Gallacher got herself on the scoresheet with a powerful shot from the edge of the area, a well deserved reward for the start to the match from Amy, the great-granddaughter of Celtic great Patsy Gallacher. That's the kind of goal you'd imagine Patsy often scored himself.
3-0 GOAL FOR CELTIC – AMY GALLACHER
⚽ABAIR TADHAL DO CELTIC⚽

Celtic get their 3rd goal of the game! Brilliant strike from @amygallacherr, straight over McNicoll🔥#SWPL pic.twitter.com/5OhT2lO5R5

— BBC ALBA (@bbcalba) December 4, 2022
Five minutes before the interval Clarissa Larisey stayed down at the edge of the box after challenging or the ball and although she saw out the half, she didn't look comfortable and it was no surprise when the Canada International striker failed to re-appear after the break, being replaced by young Maria McAneny who had an eventful 45 minutes, picking up a booking for what was a rather reckless challenge – she was lucky it was only a yellow and that point was being made to the referee by several of the unhappy Dundee United players. Salt was rubbed in when McAneny scored her first senior goal later in the game!
4-0 GOAL FOR CELTIC – ANOTHER ONE FROM SHEN
Two other goals from Shen completed her hat-trick and won her the sponsors Player of the match Award and your Tiree Burchill, with her delighted dad in the large crowd, would have been impressed with that great effort.
5-0 GOAL FOR CELTIC – FIRST EVER FROM MARIA McANENY
🔥⚽TADHAL⚽🔥@CelticFCWomen flying ahead after @maria_mcaneny scores her first senior goal with the club!#SWPL pic.twitter.com/4cUwkWS3dm

— BBC ALBA (@bbcalba) December 4, 2022
6-0 GOAL FOR CELTIC – FRIST EVER FROM TIREE BURCHILL
ABAIR TADHAL!

What a goal! A night full of firsts for @CelticFCWomen😱 #SWPL pic.twitter.com/TQW6aRMx45

— BBC ALBA (@bbcalba) December 4, 2022
7-0 GOAL FOR CELTIC – A HAT-TRICK FOR POTM SHEN
⚽TADHAL⚽

📣POTM AND A HAT-TRICK! What an evening for Shen!#SWPL pic.twitter.com/uXSRsSxyFi

— BBC ALBA (@bbcalba) December 4, 2022
Jacynta did come on to add some additional class to the proceedings and was unlucky not to find the postage stamp corner with an effort after she danced past several defenders.
A delighted Fran Alonso, still in the dugout, spoke to The Celtic Star moments after the final whistle of the match that ended Celtic 7 Dundee United 0. Here's Fran's immediate reaction to the win where he also confirms the excellent news that Clarissa Larisey is fine and will be ready for the next game against Motherwell on 18 December….
We also had a quick word with Amy Gallacher who was very happy…
⏱️LÀN- ÙINE / FULL- TIME⏱️

❗Celtic walking away with 7 goals and 3 points❗@CelticFCWomen 7️⃣@dundeeunitedWFC 0️⃣#SWPL pic.twitter.com/q9UE0IxwIc

— BBC ALBA (@bbcalba) December 4, 2022
Fran Alonso and Player of the Match Shen Mengyu both spoke to Celtic TV…
📹 Get the post-match thoughts from a delighted Fran Alonso after his side hit Dundee United for 7️⃣!

🍀7-0🔶#CELUTD | #SWPL | #COYGIG pic.twitter.com/C3cIJedRWN

— Celtic FC Women (@CelticFCWomen) December 4, 2022
🎙 "I was so excited. I appreciate my teammates and my coach, and this is my first goal this season so I'm glad for myself!"

Shen Mengyu spoke after bagging her first ever hat-trick in our 7-0 win!

🍀7-0🔶#CELUTD | #SWPL | #COYGIG pic.twitter.com/V4iaJH0gg4

— Celtic FC Women (@CelticFCWomen) December 4, 2022
NEXT UP FOR THE GHIRLS
Celtic FC Women v Motherwell – Sunday 18 December, kick-off 12.30pm – and we hope to see you there, watching Glasgow Celtic putting on a show…