We've described 29 year old Lisa Robertson as the Bobby Murdoch of Fran Alonso's exciting young Celtic side and hopefully she'll take that as the huge compliment that it's intended to be. Jock Stein used to say that when Bobby Murdoch played so did Celtic and it's the same for the current Celtic FC Women's midfield maestro. .
When you're watching today's game you'll notice how she controls everything that's going on around her for the Hoops. What a player she is and well worthy of her Scotland call-up for the forthcoming matches against Northern Ireland (sic) and Wales.
Lisa has been speaking to Celtic View editor Paul Cuddihy ahead of this afternoon's final league match of the season, which should see Celtic secure their place in the Champions League and could even see the Hoops winning the title if a Love Street scenario unfolds. Stranger things have happened, ask Albert Kidd.
"I'm really excited for the game and so are all the girls," Lisa Robertson told The Celtic View Podcast. "It is the most important game because, if you win, it means something and you get your reward for all the hard work that everyone's put in for the whole season.
"It's been a very stop-start season, so credit to every single girl and all the staff as well because we've still managed to put on performances and be in a position that we can actually challenge for the league and the Champions League spots to the very last day, which is massive."
Those claiming that the SPWL was a two horse race this season – involving Glasgow City and the big spending theRangers simply provided additional motivation for these Hoops ghirls.
"We'd heard that quote a lot, that it's a two-horse race and Celtic are out of it, but that's for other people to say," Robertson noted. "We knew fine well that if we put all our work into a Sunday, we could keep ourselves in it and we believed the whole way through that, even after that defeat to Glasgow City, we could build momentum and we could really start pushing on.
'We're glad we're in this position and it's because every single player has thrived off the 'two-horse race'. We wanted to prove a point that it wasn't and that the league was still open.'
Robertson, alongside Kelly Clark and Chloe Craig are the senior players in what is a very young Celtic squad, with around half the squad still in their teens. And these three have plenty of experience and knowledge of the game that can be passed down to help the development of the club, perhaps with the challenges of a first ever Champions League campaign ahead.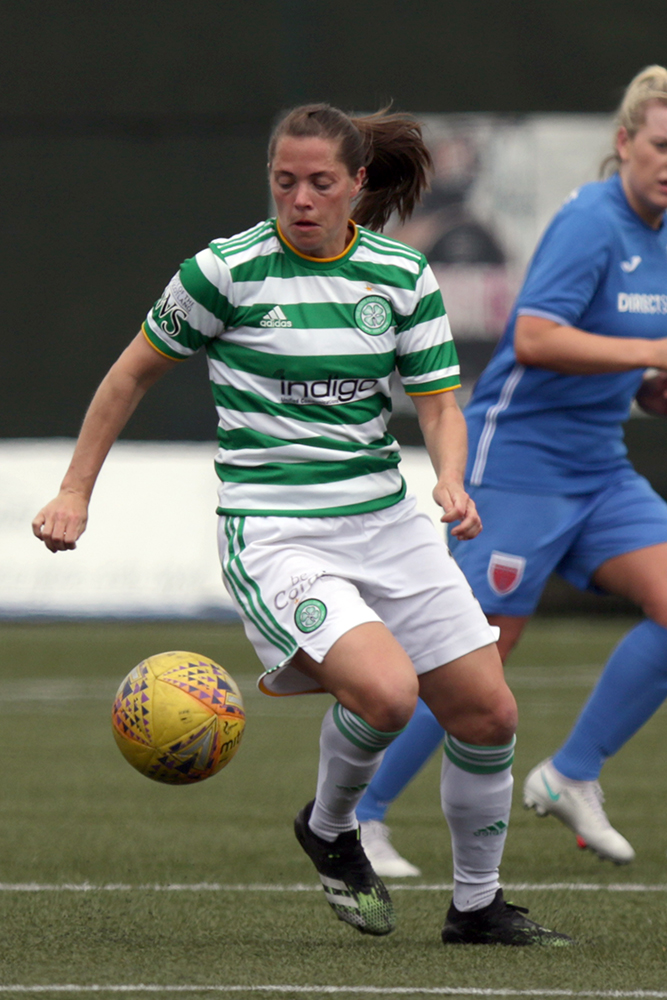 "It's really important to have that experience in a squad and have some leadership because the young players do look up to you and they listen to you," Lisa said, "and you can tell, because on a Sunday they're listening to instructions and taking it on to the park, and the younger ones are putting on a performance.
"It's been great to have that mix because we've got a balance of youngsters and experienced players and I think that's why, collectively, we've done so well.
"I've been quite happy with my form this season, but I just want to focus on today and what we do as a team as opposed to what you do as an individual."
Watch Lisa Robertson chatting to Paul Cuddihy on The Celtic View podcast below…