Supporting Celtic from Near and Far has been a wonderful read on The Celtic Star from DidsburyCelt over the course of the international break. If you haven't been following his daily posts, go to our homepage and read the earlier instalments – you won't be disappointed. Next up is his account of Celtic's season 1971-72…
1971-72
Perhaps the first thing to mention is the important change in respect of determining the league position of clubs which were level on points in that the factor had become goal difference. (In the old system winning a "thriller" by say 4-3, while attracting the same 2 points as any other win at the time, decimated the goal average. This way the benefit of winning the points was supplemented by an increased goal difference.)
For my summer holiday I had come to my parent's home in Glasgow to see the family, catch up with my mates and if truth be told do the most important thing which was to watch Celtic. On 4 August I travelled with my dad and some friends for my only trip to Pittodrie. Sad to say we lost The Dryborough Cup final 2-1.
I was still around when we opened the League Cup campaign with what should have been a home match, well technically it was, against Rangers but because our new stand was not quite ready and with "The Gers" objecting to Hampden which was also undergoing reconstruction we played at Ibrox and won 2-0 with the opener from Jinky followed soon after by a penalty from Kenny Dalglish, his first competitive goal for Celtic.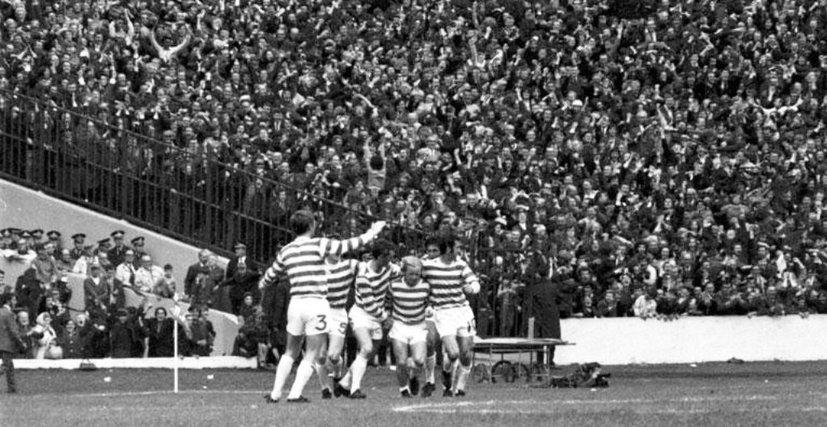 After I had returned to Manchester we had two away wins at Morton and Ayr United and then came the home fixture against the men from Greenock. This was the first match played in front of the new stand which had cost £350,000 to build. (Small beer compared to current costs!) Two disasters ensued. Kenny Dalglish missed a penalty and then shortly after Morton scored what was the first goal that we had conceded in the tournament and the winner on the night. Rangers had won their match that evening and so leapfrogged us to the top of the section on goal difference. (If goal average had still been in play we would have remained top by 6:5. Funny old game football!) Back to Ibrox for Rangers' home tie and a comprehensive victory 3-1 for the Bhoys. A comfortable 4-1 win against Ayr United sealed top spot.
That final League Cup section match had been brought forward to the Monday to accommodate the official opening of the stand on the Wednesday evening with a fixture against South American Champions Nacional of Uruguay. An excellent performance gave us a 3-0 victory.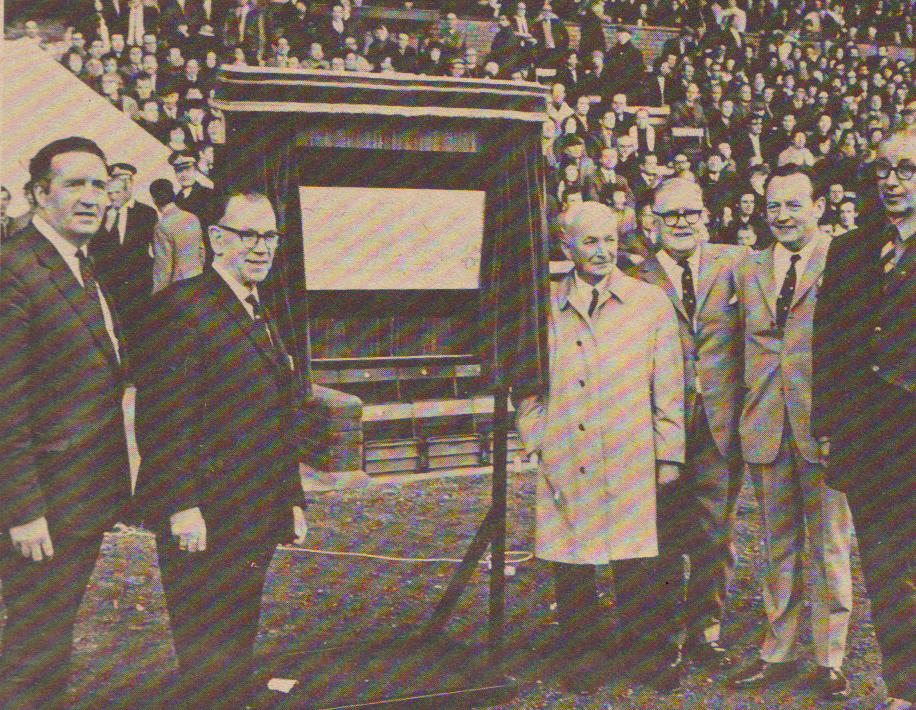 In the League Cup Clydebank and then St Mirren were swept aside to set up a final against Partick Thistle.
Meanwhile the League had kicked off with a 9-1 trouncing of Clyde to be followed by our third visit to Ibrox in four weeks. I was still playing for the office team and so was stuck in Manchester most weekends. From what I could glean from my parents and my mates the thought of our third consecutive victory at Edmiston Drive was not being relished by the fans of the boys in blue.
My mother, God rest her, took great delight in relating that she had read an article in the paper that one Rangers fan had threatened to throw himself out of the window if we beat them again. We certainly did 3-2 and so there were stories going round of the Celtic fans singing (to the tune of "She'll be coming round the mountains" "They'll be jumpin' oot the windaes when we win, …. Oh Ah hope it's multi stories when they jump." Childish? Banter? OK! But the wags win again!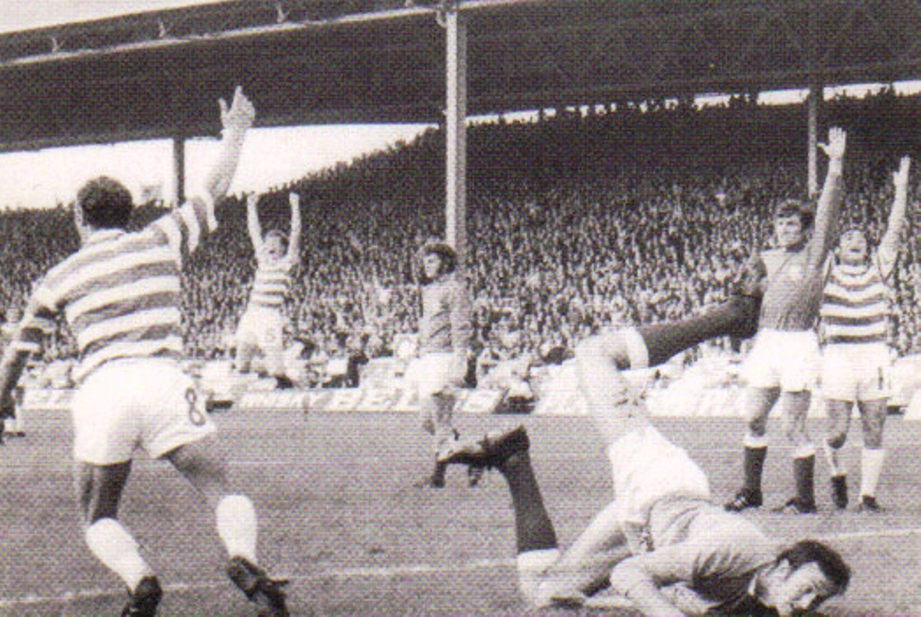 By the end of October we had won eight out of nine league matches with the only blot being a 0-1 loss at home to St Johnstone early that month which had cost us top place. In addition we had let ourselves down in Copenhagen but redeemed ourselves in the second leg and the thumped Sliema Wanderers at home in the next round of the European Cup.
Despite all that the real talking point and the big surprise arrived in the League Cup Final.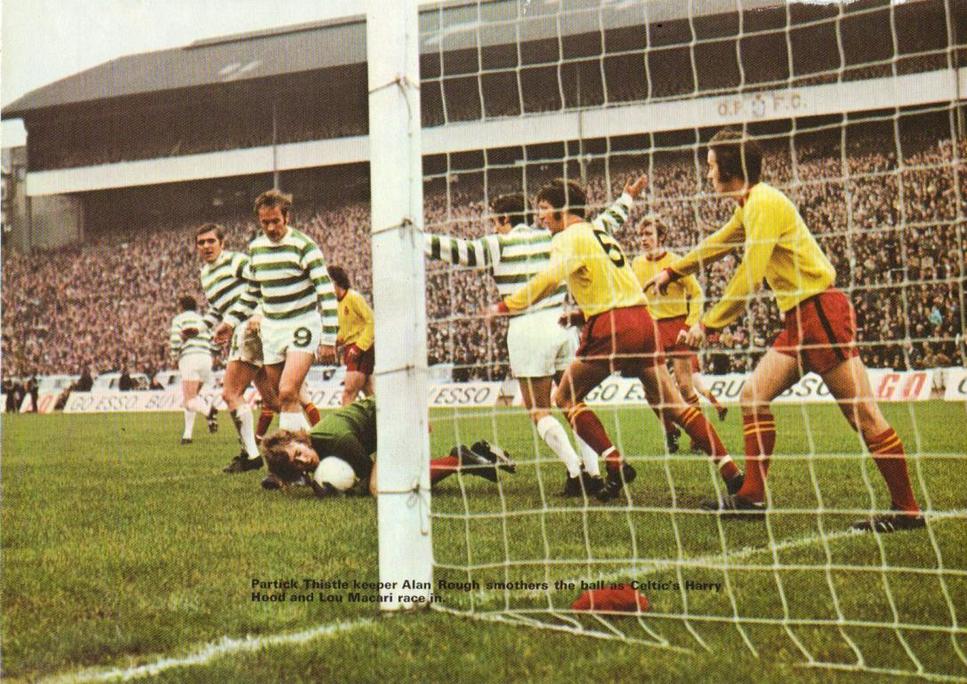 Everyone "knew" that Partick Thistle were only there to make up the numbers. Unfortunately for Celtic no one had told the men from Firhill. I can't remember why but my office team cannot have had a match that weekend because I was in Glasgow and at the game.
Unbelievable! We certainly didn't play well but Thistle produced some good football and deservedly lead at half time. That might not have been too much of a surprise but 4-0! Surely that must be wrong?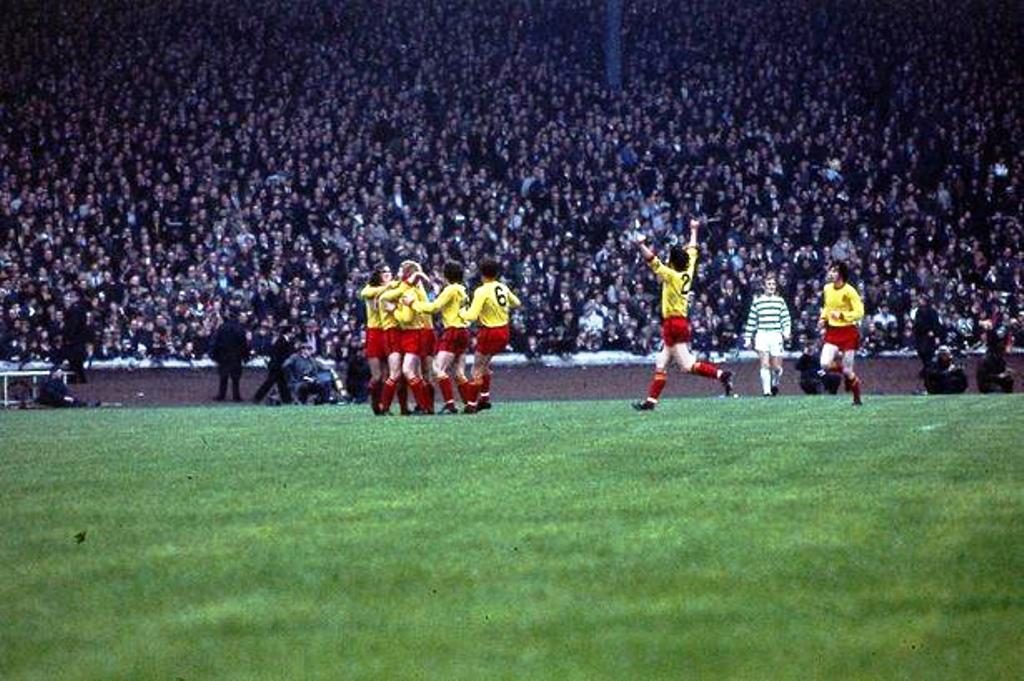 Not a bit of it and yet my mates and I while stunned like every Celtic fan everywhere felt that if we could score early in the second half all was not lost. It was seventy minutes before Kenny Dalglish netted and though we still believed in miracles none were forthcoming that day.
Despite it all Jock Stein was a proud man because of the number of Celtic fans who had stayed for the trophy presentation and to congratulate Partick Thistle on their fully deserved victory.
After the game I went into town with some of my friends but was back at my parents' home around 9:30. Suddenly a thought hit me that if I could find a phone number I would make a call. In an earlier piece I had said that before moving to Manchester I had been one of only a few Celtic supporters working in the Labour Exchange in Parkhead. One lovely man who worked there was a chap called Bill Faulds. A gentleman, a great colleague and a Partick Thistle fan. The sort of man who had done that job for years, had vast experience and the ability to impart it to young guys like me who were keen to learn.
I remembered that he lived in Cranhill, Garthamlock or around there. A quick thumb through the telephone directory produced a W T Faulds in the correct general area and since I knew that his middle initial was "T" I was confident.
His wife answered and as quickly as I could I told her my connection and asked her to give him the phone but not say who was calling. I introduced myself as the secretary of the Manchester branch of the Celtic supporters club and said that I was phoning to congratulate him on his team's fine victory.
It took a second or two for the penny to drop and then we had a chat for a few minutes. He had not gone to the match but his father had. Naturally he was thrilled with the result as was his dad. Despite my disappointment it was good to catch up with him that evening, know that he was happy and recall a few laughs that we had had in the office.
On a more sober note Big Jock reacted as one might expect with a couple of signings (Denis Connaghan who assumed the gloves immediately and John "Dixie" Deans who would make his mark soon) together with some team changes.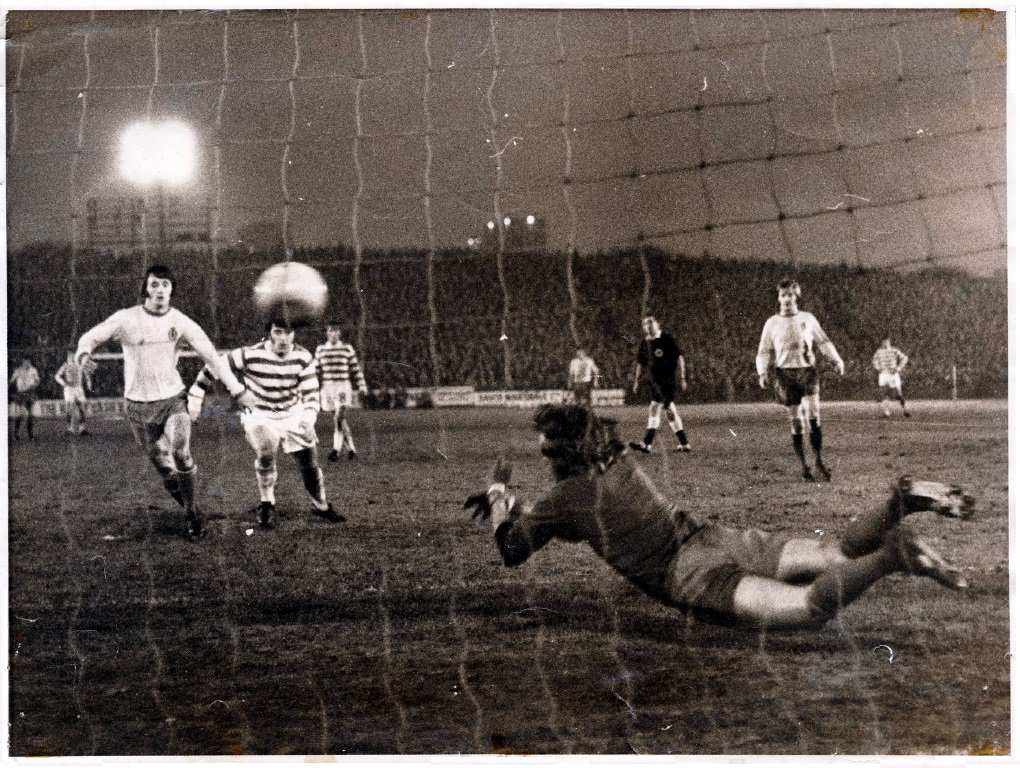 November saw us finish off Sliema Wanderers and in the League miss the chance to regain top spot by drawing 1-1 at home to Aberdeen. Three wins then saw us assume the lead in the table including 5-1 away to Partick Thistle with "Dixie" making his debut and scoring (I keep saying it, "Funny old game football") as the Dons lost at home to Hearts. We closed the calendar year with four league wins.
1972 commenced with another drubbing of Clyde (7-0) and then an amazing match against Rangers. Jinky opened the scoring just after the half hour and with time starting to tick away it looked like four wins in a row against the Ibrox men (five if you count the previous season's Scottish Cup final). Not just yet! With nine or ten minutes left Colin Stein grabbed the equaliser but in a dramatic finish Jim Brogan notched a last gasp winner and provided us with our first league double over Rangers for 60 years.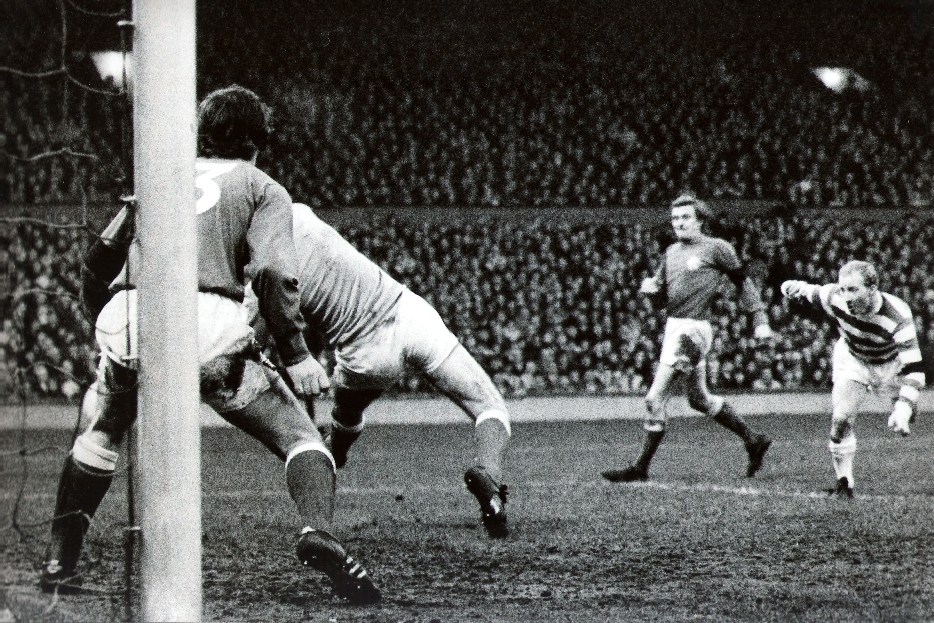 Now the League seemed to be down to a straight fight with Aberdeen but our two point lead was halved when we drew our next match away to Morton. Three further league victories closed the month as we found ourselves four points in front of The Dons both clubs having played 23 matches. The fixture at Pittodrie due on 11 March 1972 looked a little less important now.
For February we had two comfortable Scottish Cup wins but only one League fixture, a 1-0 success at home to Dunfermline. Potentially our position at the top was stronger because while our lead had been cut to three points we had a game in hand.
While March was busy the League Championship was moving very much in our direction. Having opened with a 2-0 home victory against Ayr United we were cheered to see that Aberdeen had succumbed 0-2 at Firhill.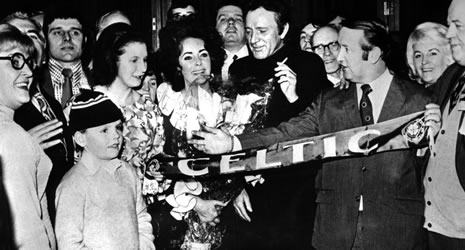 A superb performance in Hungary which delighted Jock saw us beat Ujpest Dosza 2-1. Now to Pittodrie where Bobby Lennox put us in front but Joe Harper cancelled that out eight minutes later. Nonetheless in all the circumstances that draw was excellent because it virtually ensured the title and another record: seven league championships in a row. (As I type this in July 2018 that seems to remind me of something. Must search my old memory!)
Next was a Scottish Cup tie when Hearts came calling. Having fallen behind The Jam Tarts refused to be beaten and we paid the price for trying to protect our lead when the visitors grabbed a late equaliser.
The next visitors were Ujpest Dosza who were determined on revenge and having scored after five minutes really pushed us. The introduction of Jimmy Johnstone about ten minutes into the second half turned the match. Another ten minutes and Lou Macari latched onto a fine George Connelly pass to run in and lob the keeper. Our third 1-1 draw in succession but surely the most important because we were through to the European Cup semi-final.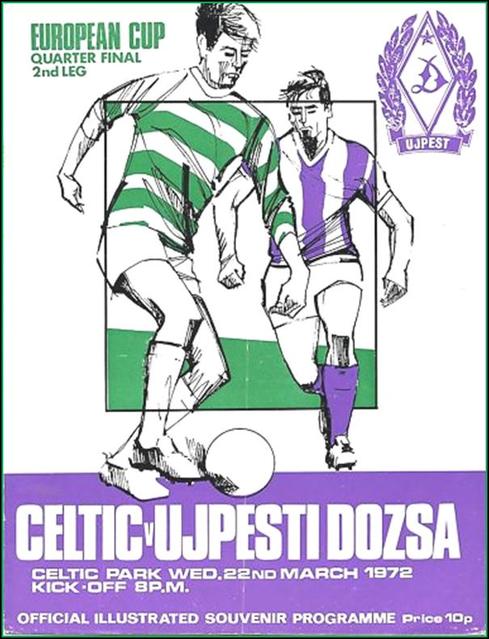 The League fixture at Falkirk gave us two more points via a late Victor Davidson goal but cost us Danny McGrain with a fractured skull in an accidental clash. The last fixture in March was the Scottish Cup replay where a Lou Macari goal in 35 minutes despatched a Hearts side which had started well but in the end was contained by the Celtic defence.
There were nine matches in April. We failed to score in two. Unfortunately those were the home and away legs of the European Cup semi-final against Inter Milan. An excellent performance in Italy gave us a fine chance of reaching another final but we just could not break the Italians down at Paradise and when it came to penalties one miss was enough to eliminate us. Football can be cruel!
Three consecutive 3-1 wins saw us beat Partick Thistle and Kilmarnock in the League and then Killie again in the Scottish Cup. On Saturday 15 April 1972 a 3-0 victory over East Fife at Methil secured seven in a row.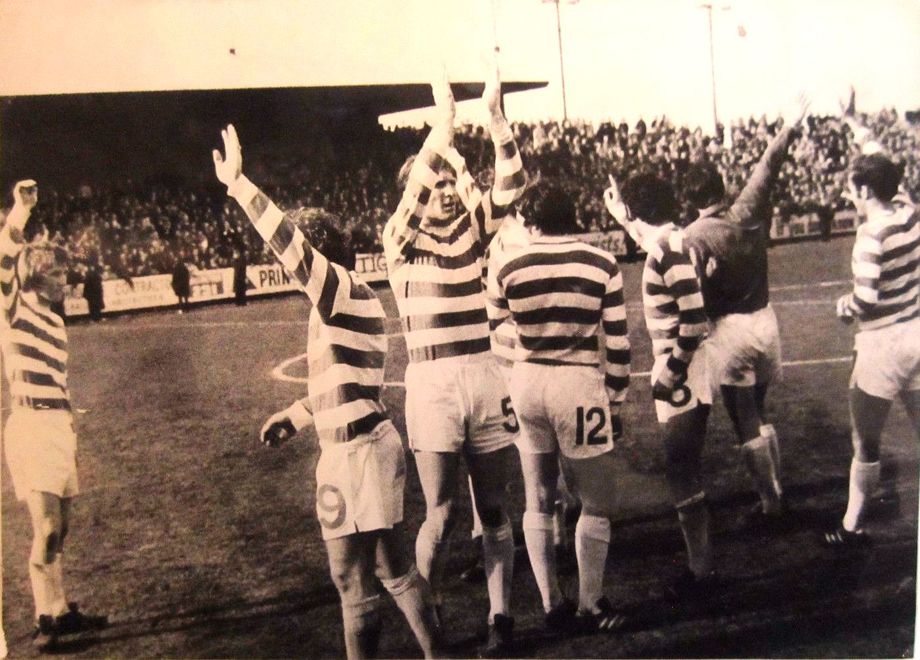 Two home League wins against Motherwell and Dundee United were followed by a 1-4 loss at Tynecastle despite taking the lead.
Two matches left in May. The final League match away to Dundee ended in an anticlimax of a 1-1 draw. The Scottish Cup final against Hibs was a totally different matter. With amateur football in Manchester well finished for the season I was free to come up to witness a superb exhibition and a "Dixie" Deans hat trick. (Watch out for another in a cup final in a couple of years.)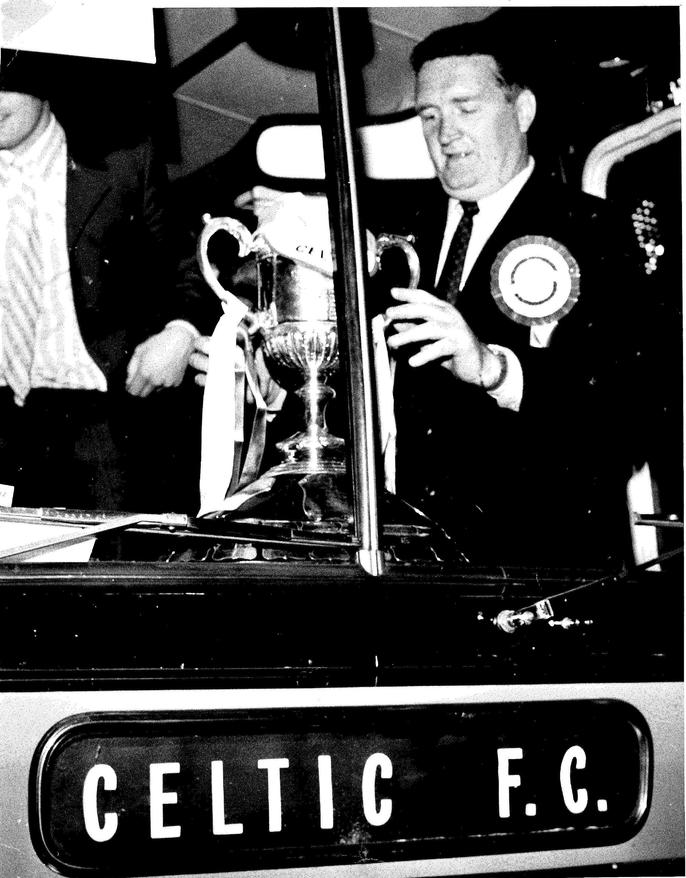 Looking back over the season and lifting this quote from the Celtic Wiki,
Jock's assessment: "Let's take stock of the season, we won the League Championship and the Scottish Cup and we were in the final of the League Cup and were not beaten in any of the European Cup matches. I think we did all right."
DidsburyCelt
IF you would like to write for The Celtic Star on any Celtic related subject of your own choosing then please email editor@thecelticstar.co.uk and we'll get straight back to you….
Check out the new Celtic fans forum Celtic Noise….