1967 was 1967, the greatest year of them all – and we all know why! Something to do with the heat of Lisbon, as the Green Brigade keep telling us. But there was also Wembley on 15 April  – and this was a triumph that had a major Celtic input but which all of Scotland could share. It was Scotland 3 England 2, and it was the first time that England had tasted defeat since they won the World Cup.
Ah yes, that World Cup! How it hurt! Much has been said about the ball that crossed or didn't cross the line and how the Russian linesman, old enough to recall what the Germans did to his country 25 years previously, awarded the goal to the capitalist English who were at least on his side in the 1940s, but the Cup was probably won on that night that Portugal decided to maim Pele, and to knock Brazil out.
Oh, it was sad, but it motivated the Scots. Today at Wembley it was the same England team with the exception of Jimmy Greaves instead of Roger Hunt. Arrogance was their middle name.
The Scottish team contained four current Celts – Ronny Simpson, Tommy Gemmell, Willie Wallace (he was even fighting the English along with Robert the Bruce, was he not?) and Bobby Lennox, two unashamed Celtic supporters in Billy Bremner and Jim McCalliog (McCalliog is still a regular attender at Celtic Park to this day), one chap that I am not sure about in Eddie McCreadie (does anyone know?) and one genuine "neutral" in Denis Law, an Aberdonian who had never played in Scottish domestic football.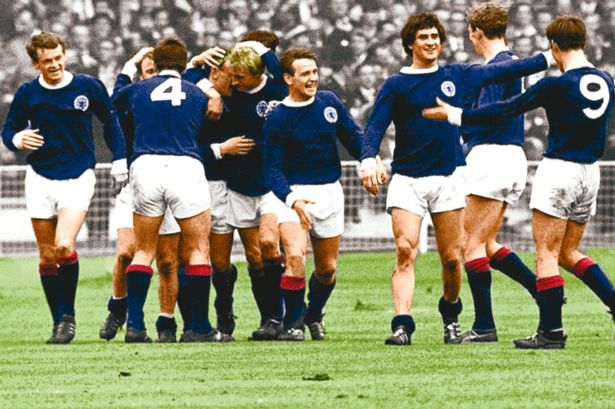 Against that, (no, I'll rephrase, that to "joining us on this occasion") were Greig, McKinnon and Baxter. Baxter was no longer at Ibrox, Greig we had a grudging admiration for, but we would have taken a lot of persuasion before we agreed that Ron McKinnon was in any way the equal of Billy McNeill. Ron was a good and competent centre half; Billy was a classy one.
The Manager was Bobby Brown, ex-Queen's Park and Rangers, but a total gentleman who admitted freely that he talked to and asked the advice of Jock Stein.
And so a couple of nights after Celtic beat Dukla Prague 3-1 in the first leg of the European Cup semi-final, tartan clad hordes climbed into the trains at Glasgow Central for the overnight train to London, the town where lived the well known lady in a palace with the errant husband and the disturbed and neglected children who were about to give her many embarrassments.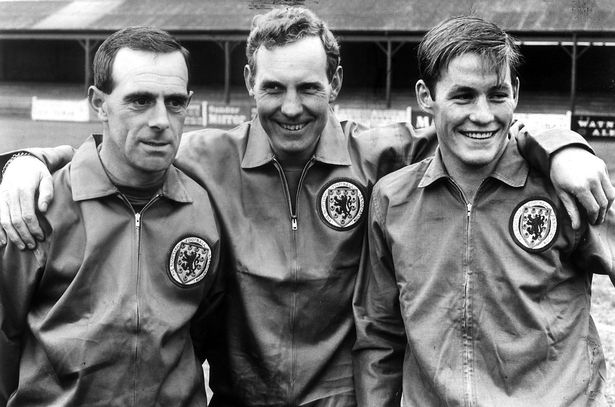 And the Prime Minister was dear old Harold, not necessarily greatly loved at the time, but certainly much appreciated since for his holding up of two fingers when invited by the Americans to join the Vietnam war. And oh yes, there were the Beatles, Carnaby Street, flowers, mini-skirts and silly hairstyles.
There was the usual jumping into fountains in Trafalgar Square and lifting up of kilts to show bare backsides to the shock of young London ladies who had to keep looking to make sure their eyes weren't deceiving them, and to the delight of middle aged ladies who seldom saw anything like that nowadays. There were trips on the Underground and the usual things that one does in London, but then it was time to go the Twin Towers where no Celtic player had ever scored.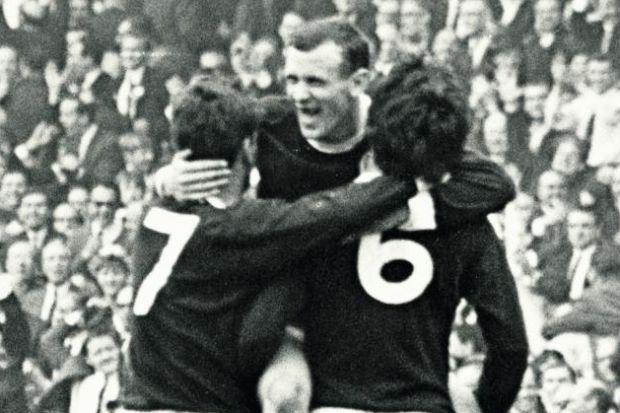 Fortunately, Bobby Lennox put that one right. Denis Law scored first, and it stayed that way for a long time. Then it all happened in the last ten minutes – Bobby Lennox, (hoorah!) Jack Charlton (boo!), Jim McCalliog (hoorah!) and then Geoff Hurst (boo!) – and a long period of added on time until the referee at last blew for time up.
It was probably Scotland's best result at Wembley, on a par with the Wembley Wizards of 1928, but it was buried under other momentous and tumultuous events of 1967.
Oh yes, there were other great events in 1967. Rangers reached the final of the European Cup Winners Cup (and lost)!
David Potter