When Peter met Billy…a tale of two Celts reunited…
Spent the most enjoyable afternoon on Thursday in the company of two men who lived their dream…and ours…by pulling on those famous green and white Hoops to play alongside some of the greatest-ever Celts under Jimmy McGrory. Peter Goldie and Billy Craig were born within a few months of each other in 1934, and so will be entering their 89th year very shortly – in Peter's case next week – but you would never know that as the two old pals meet up again for the first time in 66 years.
The stories, 'patter' and laughter flow as we roll back the decades to a very special time. With the Scottish Cup final this afternoon, I'm particularly interested in hearing their recollections of events around the 1956 showpiece, which pitched Celtic against Hearts and which I know produced bittersweet memories for both men.
First some context.
Peter Goldie was born in Dumbarton on 7 June 1934 and was an 18-year-old defender with junior outfit Duntocher Hibs when Jimmy McGrory offered him a provisional contract in May 1953, just 24 hours after the Celtic manager had brought Neil Mochan to the club from Middlesbrough in an £8,000 deal.
That fee would prove to be money well spent by the end of the month as Celts defied the odds and Hibernian's Famous Five forward-line to win the Coronation Cup. Peter was amongst the 117,000 crowd who enjoyed that unexpected victory at Hampden, and indeed it was he who provided that wonderful photograph of Smiler's shot flashing past Hibs keeper Tommy Younger to give Celtic a first-half lead. Peter would remain for a final campaign at Duntocher, suffering a broken leg in October of that year before recovering to be called up by Double-winners Celtic as the 1954/55 season kicked off.
First image I have of him wearing the famous Hoops was ahead of the match against Rangers at the opening of a new covered enclosure at Petershill Park in Springburn in August 1954.
William Paul Craig was born in Shettleston in the shadow of Celtic Park on 1 November 1934 and was educated at St Joseph's College in Dumfries, the final resting place of Brother Walfrid, where he built up a reputation as a fantastic sprinter.
Billy was playing with St Anthony's when he was given a trial and signed provisionally by Celtic at the end of September 1953, the 18-year-old winger staying with the Govan junior side until the summer of 1955 when he received the call-up to senior football at Parkhead. He would meet Peter for the first time as the squad assembled for pre-season, both young hopefuls captured together in an iconic photo taken before the public trial match at Celtic Park in August 1955.
Billy would receive his first-team debut the following month, as Celts opened up their League campaign against Falkirk at Brockville on Saturday, 10 September 1955. Just seven days earlier a League Cup match between the sides at the same venue had been marred by trouble both on and off the pitch, the resulting fallout from that seeing many official Celtic supporters' clubs boycott the League match.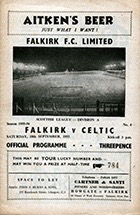 And the previous night, Celtic had defeated Partick Thistle 2-0 at Firhill to knock the holders out of the Glasgow Cup and set up a final with Rangers later that month. Unsurprisingly, Celtic made five changes from the Firhill line-up for the following afternoon's match in Falkirk, the Hoops lining up on Billy's big day as follows.
Dick Beattie, Mike Haughney & Frank Meechan; Bobby Evans, John Jack & Bertie Peacock; Billy Craig, Alex Boden, John McPhail, Eric Smith & Neil Mochan.
Neil Mochan opened the scoring for Celtic, but the Bairns would hit back to win 3-1. In an era of somewhat bizarre selection decisions at Parkhead, defender Alex Boden was Billy's right-wing partner, the first but not the last time that would happen that season.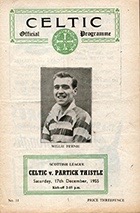 Peter made his senior debut three months later, replacing Frank Meechan at left-back for the visit of Partick Thistle on Saturday, 17 December 1955. This was the League game which saw Jock Stein make his comeback following four months out with an ankle injury and Neil Mochan score a hat-trick, including one directly from a corner kick, in a 5-1 win. The Celtic team that day was as follows.
Dick Beattie, Mike Haughney & Peter Goldie; Bobby Evans, Jock Stein & Bertie Peacock; John Higgins, Willie Fernie, Jim Sharkey, Bobby Collins & Neil Mochan.
Peter's direct opponent that afternoon was Thistle's dashing Scottish international winger, Johnny MacKenzie, the Celt recalling that the Highlander complimented him on some of his early work, "a real touch of class." He must have played well, The Evening Times commenting that "Young Goldie had a considerable debut, but he too will find stronger opposition."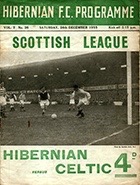 He wouldn't have long to wait. Peter retained his place for the top of the table battle at Easter Road on Christmas Eve, his direct opponent this time being the legendary Hibernian winger Gordon Smith, as Celts won 3-2 to remain top of the League. Sean Fallon returned from injury to claim the left-back slot for the 5-3 Glasgow Cup final victory over Rangers on Boxing Day.
Speaking of Sean brings me nicely to the background of how this meeting came together.
Since the early part of last year, I have been working on a book covering Celtic in the 1930s, with the unmatched combination of triumphs and tragedies that involved. The main block of research and writing is now complete, and I am adding a few touches, one of which involved compiling a list of 'future Celts' who were born in that decade. I picked up on Billy, who was shown as being born in 1936, but cross-checking that it didn't quite fit with the timeline.
I was aware that Billy's sister Myra had married Sean Fallon, so checked with Sean junior, a friend of mine from his time at Celtic FC Foundation. Sure enough, Sean confirmed with his Uncle Billy that his correct date of birth was 1 November 1934 and said he would be up for a chat about his time at Celtic. I'm also friendly with Peter and thought the gents might enjoy a wee catch-up together. A few phone calls and e-mails later, we have a lunch date at Billy's Ayrshire home.
Peter and I are heading across the Erskine Bridge and I'm bombarding him with a thousand questions, one of which was around his favourite memory of his time at Celtic. Without hesitation, he says that was signing for his club all those years ago, then adds that the first-team players were always brilliant to the reserves. "They treated you so well, as equals. From conversations I had with players at other clubs, that wasn't always the case."
It's clear that Peter was particularly fond of Jock Stein, and he reiterated a story he had shared with me previously, about that Christmas Eve game at Easter Road, mentioned above. "I was involved in one of the goals, and Jock made a point of coming over to congratulate me. It was his way of emphasising to the Celtic supporters that 'the new guy' had done well. It was a lovely touch and so typical of him. I never forgot that."
Jock also featured in a more hair-raising anecdote, for those of you for whom that is a thing! We're travelling at pace along the M8 when he recalls a trip to Easter Road back in the 1970s. "We travelled everywhere to follow Celtic once Jock became manager. Special times. One day we're heading to Edinburgh, I think Celtic had the chance to win the title at Easter Road. Anyway, we're driving along and next thing I hear the window of a passing bus being knocked loudly. I look across and there's Big Billy McNeill, chapping and waving furiously to me. He's then obviously shouted down to Jock that Peter Goldie's in the car alongside the team bus, as next thing there's Big Jock standing on the open steps of the bus, gesturing into us. He was so close he could have reached across and cleaned my wing mirrors! Crazy stuff."
I asked Peter when he had last seen Billy Craig, and he thinks for a moment before coming up with "1958. Not since he left Celtic." That actually makes it 1957, so the best part of seven decades ago. I feel like Cilla Black. This is going to be a bit special.
We pull up outside Billy's home just before noon. He's waiting at the window and I guess a thousand emotions are going through his head after so many years. I hang back to let the guys say their hello's then follow them through to the back garden whilst Billy gets the kettle on. I'm expecting an emotional reunion, but the guys are hiding it well. Within minutes of sitting down the good-natured 'banter' is underway. "You were on £3 a week? Ya wee b*gg*r, I was only getting £2!" It's a recurring theme throughout the afternoon, as the two ex-Celts hilariously compare notes from a period so far removed from today's millionaire superstars.
I asked the lads if they recalled playing in the first team together, and there is a pause and a shaking of heads before smug little Swotty McSwot here produces the answer.
Peter and Billy played together four times competitively, the first of those being in a League match against St Mirren at Love Street on Wednesday, 28 March 1956. Four nights earlier, Celtic had taken a degree of revenge for their Scottish Cup final defeat by Clyde the previous season by beating the Bully Wee 2-1 at Hampden to qualify for a third successive final, this time against either Hearts or Raith Rovers. Peter and Billy would step in for injured duo Sean Fallon and Jimmy Walsh as the Celts won 2-0 at Paisley, thanks to goals from Bertie Peacock and Neil Mochan, on the night a young Tommy Bryceland made his St Mirren debut. Hearts beat Raith Rovers 3-0 in their semi-final replay the same evening to set up a clash with Celtic in the final. The Celtic side at Love Street that evening was as follows:
Dick Beattie, Mike Haughney & Peter Goldie; Alex Boden, Bobby Evans & Bertie Peacock; Billy Craig, Bobby Collins, Neil Mochan, Willie Fernie & Charlie Tully.
The duo appeared together again two weeks later, this time against defending champions and League Cup-holders Aberdeen at Celtic Park on Tuesday, 10 April 1956, Billy replacing the injured Bobby Collins at inside-right in the following line-up:
Dick Beattie, Mike Haughney & Sean Fallon; Peter Goldie, Bobby Evans & Bertie Peacock; John McAlindon, Billy Craig, Neil Mochan, Willie Fernie & Charlie Tully.
A disappointing match ended 1-1, John McAlindon having opened the scoring for Celtic early in the second half. Both Peter and Billy would miss out on the trip to Kilmarnock, played on the Friday night with the Scotland v England clash taking place at Hampden the following day. Eric Smith and Jim Sharkey got the nod to make their first-team returns in a goalless draw.
Peter and Billy then appeared together in a very special match on the Monday night before the Scottish Cup final, a 2-2 draw at Celtic Park with the 'Busby Babes' on 16 April. The newly-crowned English champions Manchester United were in Glasgow to play a charity fundraiser, the Hoops lining up as follows:
Dick Beattie, Mike Haughney & Frank Meechan, Peter Goldie, Bobby Evans & Bertie Peacock,
John Higgins, Jim Sharkey, Neil Mochan, Willie Fernie & Charlie Tully.
Peter's direct opponent that evening was the powerful Duncan Edwards, considered the finest young talent in Britain, his physicality in the opening half bringing a warning from referee Jack Mowat. Celtic's plans to use the match as a warm-up for the upcoming Scottish Cup final would be thrown into disarray by the interval, as Dick Beattie and Charlie Tully limped off to join Sean Fallon and Bobby Collins on the doubtful list for the big game.
John Bonnar and Billy Craig were the replacements, as Celtic's 2-0 lead courtesy of Neil Mochan and a Mike Haughney penalty was cancelled out by headers from Albert Scanlon and John Doherty in the closing quarter of the match. Billy recalls making a challenge on Edwards which the Englishman did not take too kindly to, threatening "to break me in half next time."
There would be the saddest of footnotes to that night. Within two years, six of that United team would perish in the aftermath of the tragic air crash at Munich Airport, captain Roger Byrne, the entire half-back line of Eddie Colman, Mark Jones and Edwards, plus forwards Tommy Taylor and David Pegg. First goalscorer Scanlon was one of three players from that evening who miraculously survived the crash, goalkeeper Ray Wood and striker Dennis Viollet being the others. More than 65 years later, the events of 6 February 1958 in Munich still bring a chill to the heart, United legend Bobby Charlton now the sole survivor of that tragedy.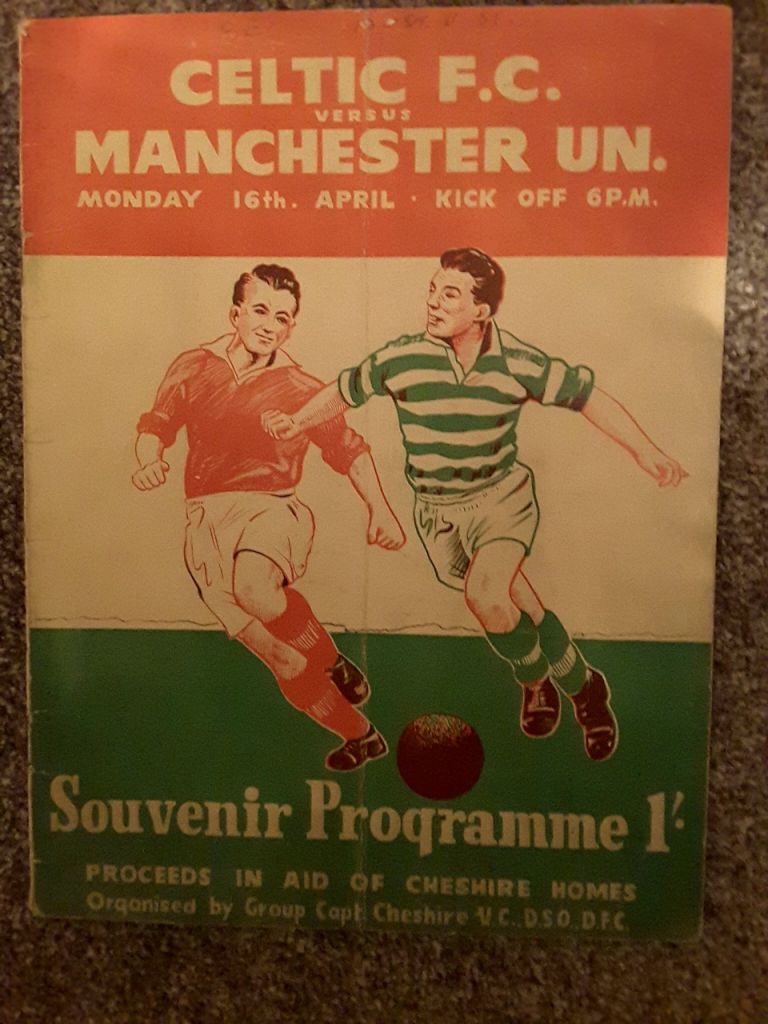 Both men recalled the highly unusual gift they received from that night, a bronze globe which opened out to reveal a beautiful clock. The plinth was engraved with their names and the date of the match, a treasured possession so many years down the line.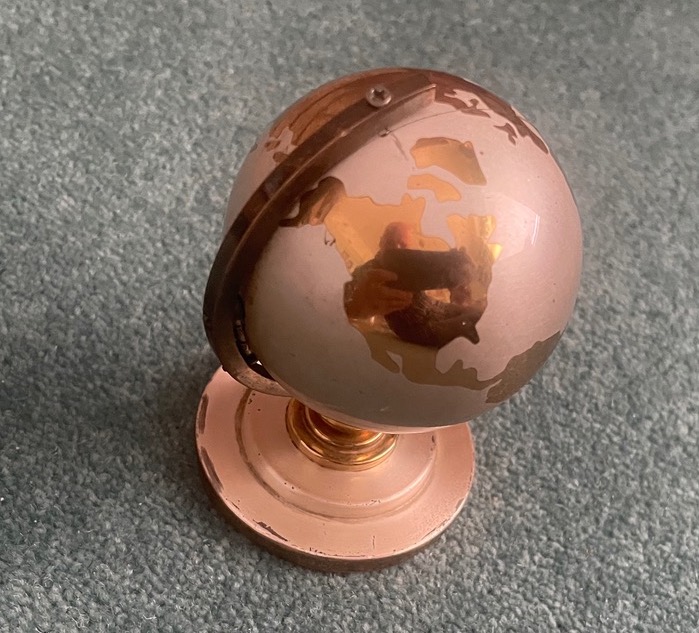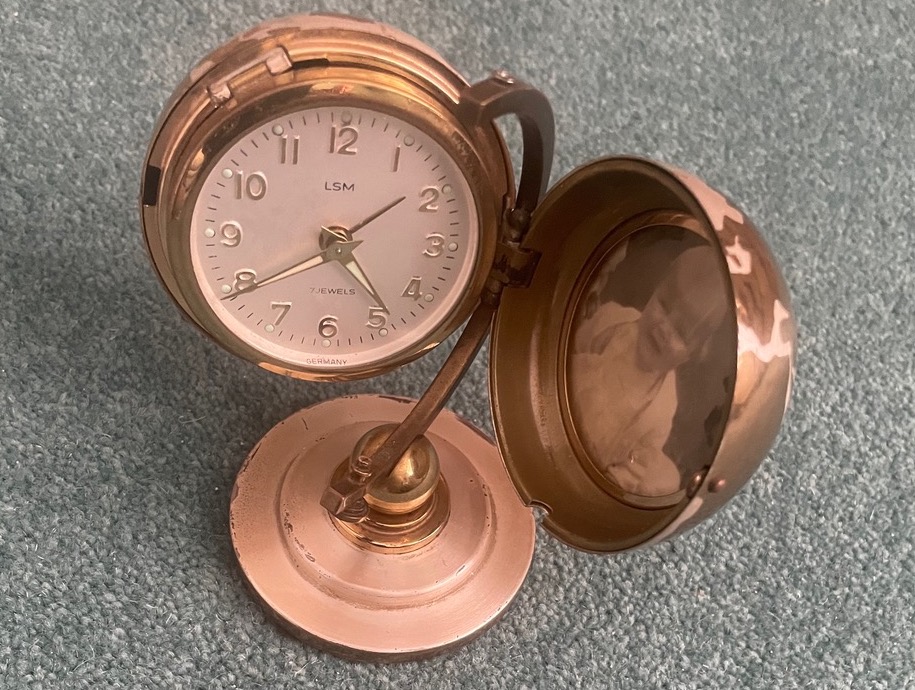 Two nights before the Scottish Cup final, Peter recalled that Parkhead trainer Alex Dowdells advised him that he was in the team for Hampden, and indeed his name was duly printed in the match programme as Celtic's right-half.
Sadly, there was to be huge disappointment for the 21-year-old as the players enjoyed a pre-match lunch in Ferrari's, a Glasgow restaurant, Eric Smith's name on the team list pinned to the wall rather than Peter's. No explanations were ever forthcoming.
One can only imagine his crushing disappointment as Peter sat in the stand with his family to watch his teammates go down 3-1 in front of 133,000 spectators, although a gentleman to the end, he says he would have chosen Smith ahead of himself in that position! Billy was included in the line-up, replacing the injured John Higgins, but another bizarre team selection saw left-back Frank Meechan picked at right-back, whilst the normal occupant of that slot, Mike Haughney, was listed at inside-right to partner Billy on that flank! It was yet another example of the haphazard management style of the era, which would cost Celtic a realistic chance of success.
Billy remembers it well.
"It was a warm, warm day at Hampden but there was no water, and my tongue was hanging out racing up and down that flank. We all expected Jim Sharkey to be playing at inside-right. He was a smashing player. Looking back, presumably Mike Haughney was stuck up front as he had a powerful shot, and perhaps the idea was that I would get to the line to pull the ball back for him to strike, but we didn't really have any tactical discussions or explanations back then. You sort of just went out and got on with it. It was a difficult afternoon."
For completeness, the Celtic team at Hampden on Saturday, 21 April 1956 was as follows.
Dick Beattie, Frank Meechan & Sean Fallon; Eric Smith, Bobby Evans & Bertie Peacock; Billy Craig, Mike Haughney Neil Mochan, Willie Fernie & Charlie Tully.
Billy did receive a pretty special memento from the day, though, a Scottish Cup medal which he brought out to show us. Humble to the end, he preferred not to be photographed with it.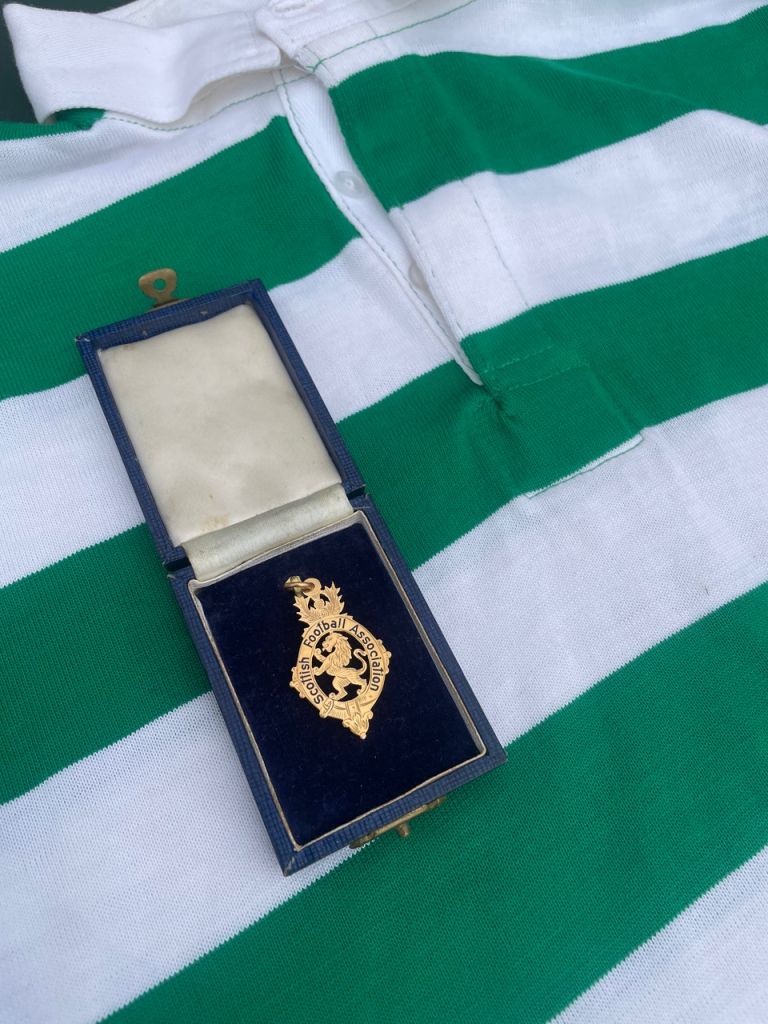 More than six decades on, Peter can at least see the funny side of it.
"At least I'm the subject of a good quiz question, as the only Celtic player to have his name printed in two cup final line-ups in the match programme without kicking a ball. The same thing happened for a Glasgow Cup final against Rangers, which I think we won 5-2 or 5-3."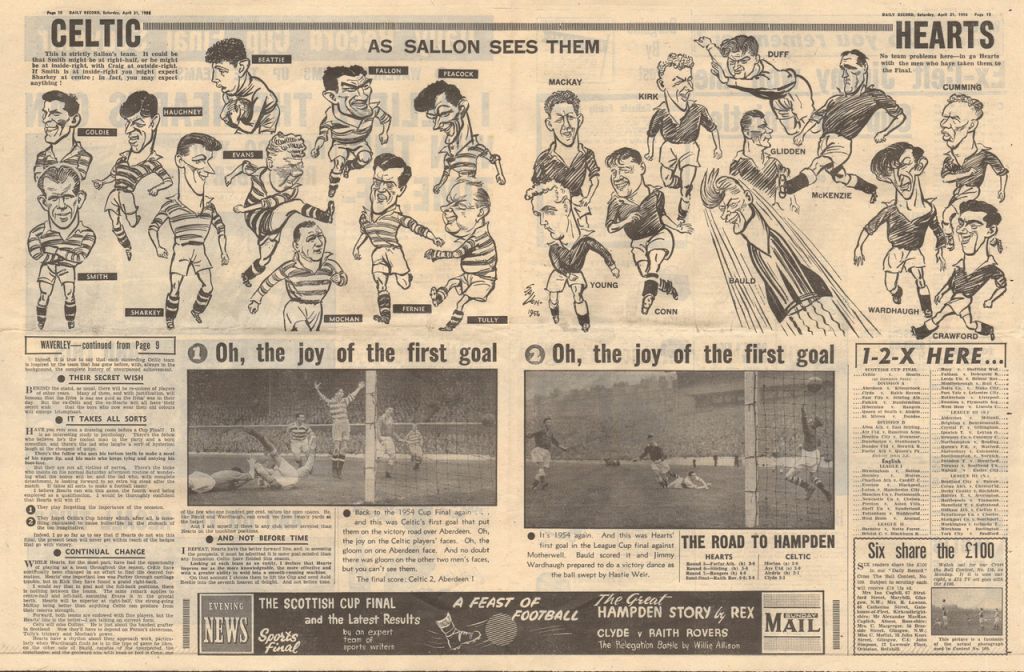 He would need that sense of humour, as to add insult to injury, Celtic's visit to Firhill on League duty two nights later saw Mike Haughney restored to right-back, Eric Smith to inside-right and Peter at right-half! With Sean Fallon and Frank Meechan both hurt at Hampden, former Duntocher Hibs defender Jim Kennedy made his debut at left-back. Haughney sent a passback beyond his own keeper Dick Beattie six minutes from time for Thistle's second goal in a 2-0 defeat, Peter's first as a Celtic player in his ninth competitive game in the Hoops. The Celts team that night was as follows:
Dick Beattie, Mike Haughney & Jim Kennedy; Peter Goldie, Bobby Evans & Bertie Peacock;
Billy Craig, Eric Smith, Neil Mochan, Willie Fernie & Charlie Tully.
A League campaign which had earlier promised so much was concluded with a whimper 48 hours later. John Bonnar made his comeback from injury as Hibernian ensured they would finish above Celtic in the League table by winning 3-0 at Parkhead, 'Last-minute Lawrie' Reilly becoming one of the select group of players to net a hat-trick for a visiting team at the old ground. This would be the last time Peter and Billy appeared in a Celtic first-team together.
John Bonnar, Mike Haughney & Sean Fallon, Peter Goldie, Bobby Evans & Bertie Peacock,
Billy Craig, Willie Fernie, Jim Sharkey, Jimmy Walsh & Neil Mochan.
The 1956/57 campaign would be the last Peter and Billy would spend together at Celtic.
Billy played just two matches, both in October, before being freed in April 1957. Two months earlier, at his sister Myra's 21st birthday party, Billy had brought teammate Sean Fallon along and introduced them. Romance would blossom between the Sligo Celt Fallon and Myra Craig and would lead to the marriage of the couple in 1959. By that time Billy had enjoyed a successful two-year spell with Third Lanark before joining Morton. He would end his senior career at Berwick Rangers before following in his father's footsteps by becoming a bookmaker.
Billy produces a scrap book full of newspaper clippings, many of which cover his spell at Third Lanark. Any special memories from Cathkin?
"I was always blessed with great pace. I remember being up against Sammy Cox, who played for many years at Rangers then moved on to East Fife for a couple of seasons before ending up in Canada. He's about 10 years older than me and I'm having a field day at Ibrox, running past him at will and I'm actually starting to feel sorry for Sammy when I hear a voice from crowd. "Haw, Craig, yer maw's a nun!" I mean, what are you meant to do with that? I just burst out laughing."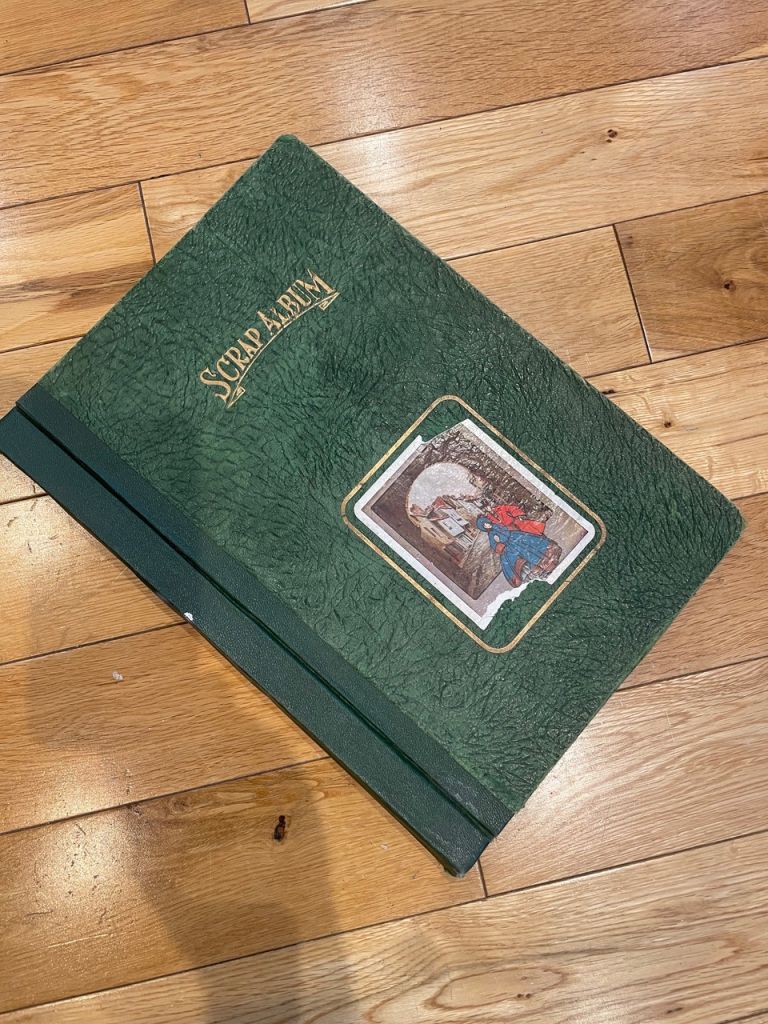 Peter would manage just one Celtic first-team appearance in 1956/57 then two the following campaign, the last of which saw him replace flu-victim John Donnelly and included in an iconic photo with the 10 other Celts from the 7-1 humiliation of Rangers in the League Cup final.
He would then be released by Celtic in the spring of 1958 before heading to Aldershot in the English Fourth Division that June, combining football with a career in the aircraft industry. He would later return to his old school St Patrick's in Dumbarton, this time as a teacher. Peter feels his career suffered following the sudden departure of a great Celt.
"One of my great regrets or disappointments at Celtic was when George Paterson left the club. He had been a great player and had returned to look after the reserves. He was great with us. It just wasn't the same after he left."
Having played alongside so many Celtic legends, I have to get some parting thoughts on those. Billy kicks off with John Bonnar. "He was a great keeper and a real character. He used to call himself 'Tiger' and would make a save before shouting out "Ye cannae beat the Tiger!" He had let in a really soft equaliser direct from a corner-kick in the 1955 Scottish Cup final against Clyde and big John McPhail clearly hadn't forgotten, commenting to us "mibbee someone should take a corner!" Well, that's the polite version!"
A chuckling Peter chipped in with, "Do you remember John's defence when he lost a goal? He would say, "Aye but I touched it," like that made any difference!"
Speaking of John McPhail, both men were agreed on him as their favourite player.
Billy: "I had him on a pedestal."
Peter: "He was my hero. He could have played anywhere."
And Willie Fernie?
Peter: "What a player he was. We used to have five-a-side competitions pre-season, part of annual sports days at various clubs. You would be playing at Ibrox, for example, five of us on a full-size pitch. You could just give the ball to Willie and he would take it for a walk."
Any unusual titbits?
Billy: "Did you know Jock Stein was a terrific singer? What a voice he had, although he wasn't great at returning my records when he borrowed them for house parties! I'm still missing a Harry Nilsson one because Jock and his pals loved it so much!"
The afternoon has flown in and it's time to hit the road. We have to get a photograph of two wonderful men who could have talked Celtic all night, given half a chance. It has been an absolute pleasure to watch them come to life as they laughingly recall incidents from the 1950s as if they happened yesterday, many of which I couldn't possibly publish!
As an author, this brings it home to me yet again how important it is that we cherish and share these memories from our club's past and acknowledge those who created them. Peter and Billy are just two of around 300 Celts who will feature in my forthcoming book on the 1930s, from those who signed for Celtic but perhaps never received a first-team opportunity to the legends we already revere.  Those who were part of the backroom team or served on the board.
It will also include those who came into the world during that time, including the first of the Lisbon Lions, or who sadly bade farewell, either as young men in their prime or as older Celts who had played their part in our incredible history many years earlier.
Hopefully, the research I have done, and have still to do, will allow me to include all those who fit into any of the above categories, so that they receive due acknowledgement. If you have any anecdotes relating to a family member or friend who 'fits the bill' then by all means let me know and we can take it from there.
Hail, Hail in the meantime and enjoy Hampden in the Sun today!
COYBIG
Matt Corr
Follow or contact Matt on Twitter @Boola_vogue