CHARLIE TULLY was born on this day in 1924 in Belfast. He played for Belfast Celtic for a few years – a club now making a very welcome return – and then Charlie traveled to Glasgow in the summer of 1948 to sign for Celtic.
He starred in the Celtic side for eleven seasons and became a huge favourite among the support , entertaining the large Celtic crowds with his skill and trickery.
Charlie made 319 appearances for Celtic and scored 47 goals. He won two Scottish Cup medals in 1951 and 1953, a League winner's medal in 1954, plus two League Cup medals in 1956 and 1957 as well as having an adult fairy tale called 'Tully and the Three Gers' named after him in 1948.
Charlie Tully died in Belfast on 27 July 1971.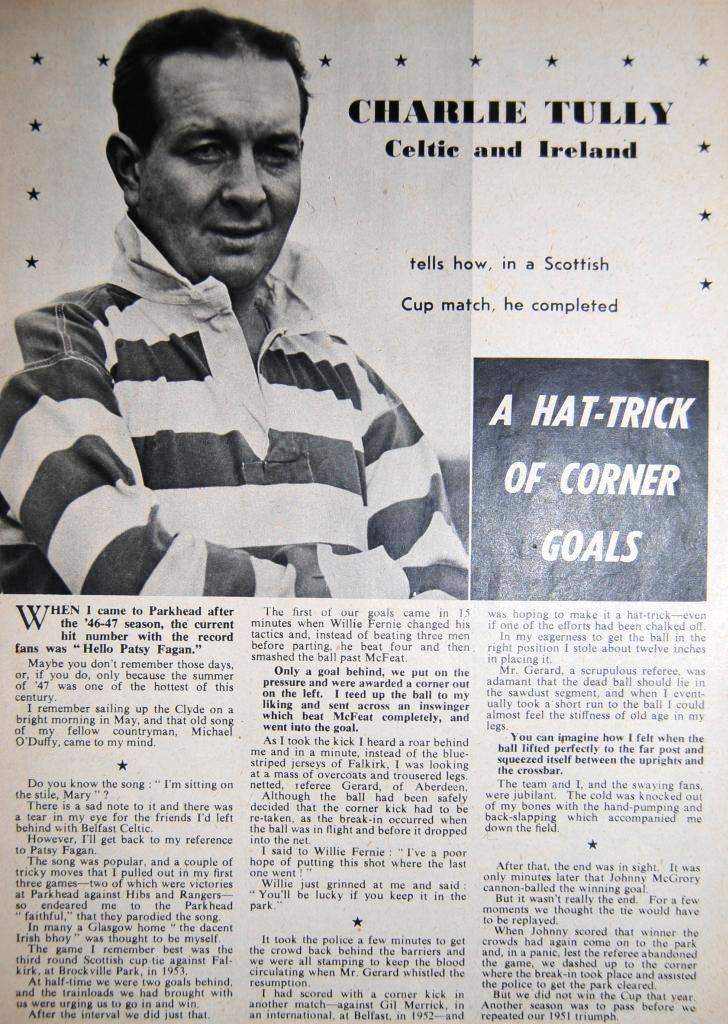 Charlie Tully quotes,
Courtesy of The Celtic Wiki, where you can read much more about The Celtic legend HERE.
"Neilly Mochan was a greyhound enthusiast. I remember he wanted a dog from Ireland, and I put him in touch with an owner that I knew. Neilly bought it for eighty pounds. A few days later it dropped dead! He never forgave me." Charlie Tully
"Who is that fella standing beside Charlie Tully?" Charlie's popularity was such that when Celtic were in Rome in 1950 to play Lazio in a Friendly the team was granted a Papal Visit and when Charlie got his picture taken with the Pope the joke was to ask the question "Who is that fella standing beside Charlie Tully?" – The joke being that Charlie was more well known than the Pope himself.
"At an early age, I discovered that my face and tongue were due to get me into a lot of trouble."
Charlie Tully
"I always wished I was born on the Twelfth of July, just to be awkward, like!" Charlie Tully
"You're the Irish coffee, I'm the cream!" Charlie Tully to Bertie Peacock
"And Charlie Tully! Wonderful player, awfie man. My digs were in Rutherglen, Miss McGuigan's, and Charlie would stay over if he had a drink in him rather than face the wife. I'll never forget the first time he sat on the ball – against Rangers! No-one, as far as I knew, had ever done that before. Their players looked stunned. We all used to get given passes to games, and Charlie always played with them in the pocket of his shorts. If he was playing well he'd hand them out to the opposition: 'Here, you'd be better off watching me from the stand.' In a cup-tie at Falkirk he scored two goals straight from corners." Sean Fallon
Born on this day in 1924, the legendary Charlie Tully. pic.twitter.com/I5JGCSNhZU

— Li'l Ze (@LilZe85) July 10, 2019
????️ #CelticFC legend Charlie Tully was born #OnThisDay 95 years ago! pic.twitter.com/vbZBhPAP8f

— Celtic Football Club (@CelticFC) July 11, 2019
Charlie Tully taking a look at his boots . pic.twitter.com/OsXTyVXLQQ

— Highland__Paddy (@Highland__paddy) July 10, 2019