24 October 1962 – I started the High School a couple of months ago so I reckon I am too big to be holding my father's hand but I make sure I keep close to him as we make our way through the throng of people along Springfield Road and into Janefield Street. It's a brisk autumn night and the Celtic Park Floodlights appear even more dazzling than usual.
We enter the stadium and make our way down the terracing of "the Rangers' End" to find a suitable vantage point. Dad normally likes the wee enclosure in front of the stand but tonight that seems more crowded than usual. My father is not a regular attender these days, he tends to pick and choose the matches he reckons are worth going to. This one is a bit special. It's my first European game. It's also Dad's first European game. In fact, it's the first European game at Celtic Park for everyone in attendance that night. Celtic are at last participating in a European Competition – The Fair Cities Cup.
Celtic had played foreign opposition before of course. Only about a month earlier I had been at Celtic Park to see a game against visitors from Iceland – Throttur F.C. My father had decided that was a game worth going to but it was more out of curiosity, to see what Icelandic football was like. The answer was – not that great. Celtic did not field what would have been reckoned a first eleven but still won comfortably 10-1.
A few weeks before that football royalty in the shape of the majestic Real Madrid had been visitors. Although it was only a Charity Challenge game it was still deemed to be too high profile for me to go to so I had to make do with the highlights on Scotsport that night. Real took a 3-0 lead before Stevie Chalmers netted a late consolation. Like the fans in the 72,000 crowd, we cheered as if it had been a winning goal in a cup final.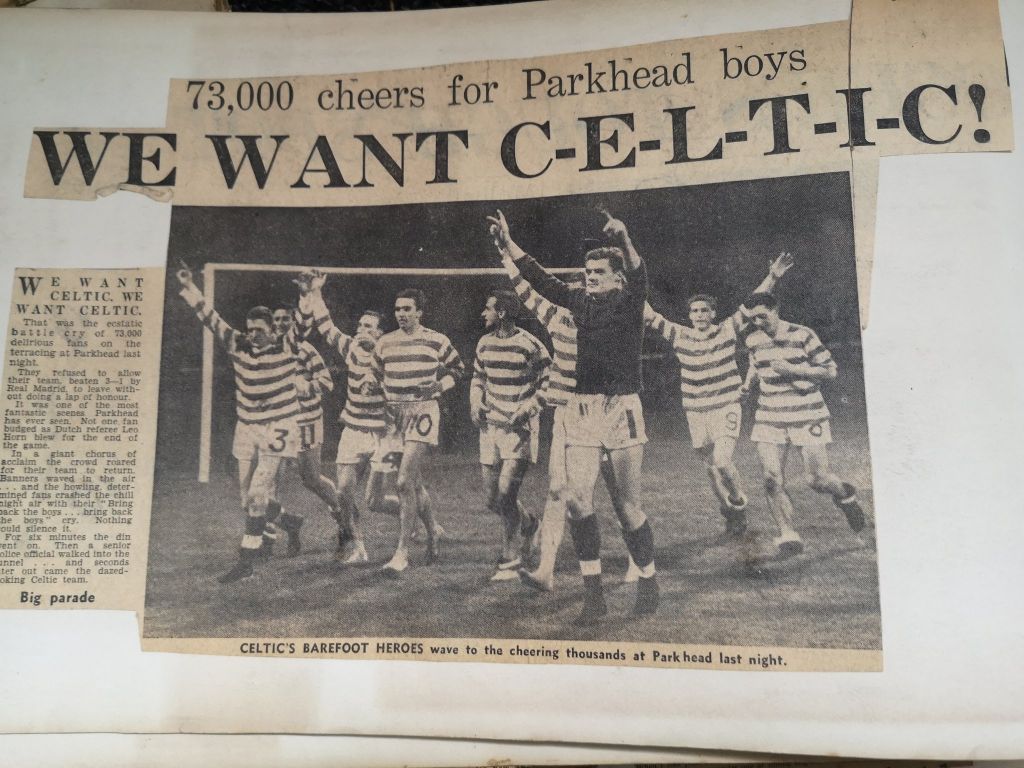 After the final whistle the crowd demanded the players come out for a lap of honour. Possibly the only time a losing team had ever done so. It seems a bit cringeworthy now but it was a reflection of the huge gap between Celtic and Real Madrid at that time. Like thousands of others, I had been mesmerised by the football artistry of the Spaniards in the European Cup Final at Hampden in 1960. Players like Di Stefano, Puskas, Gento were seen more like super heroes than footballers.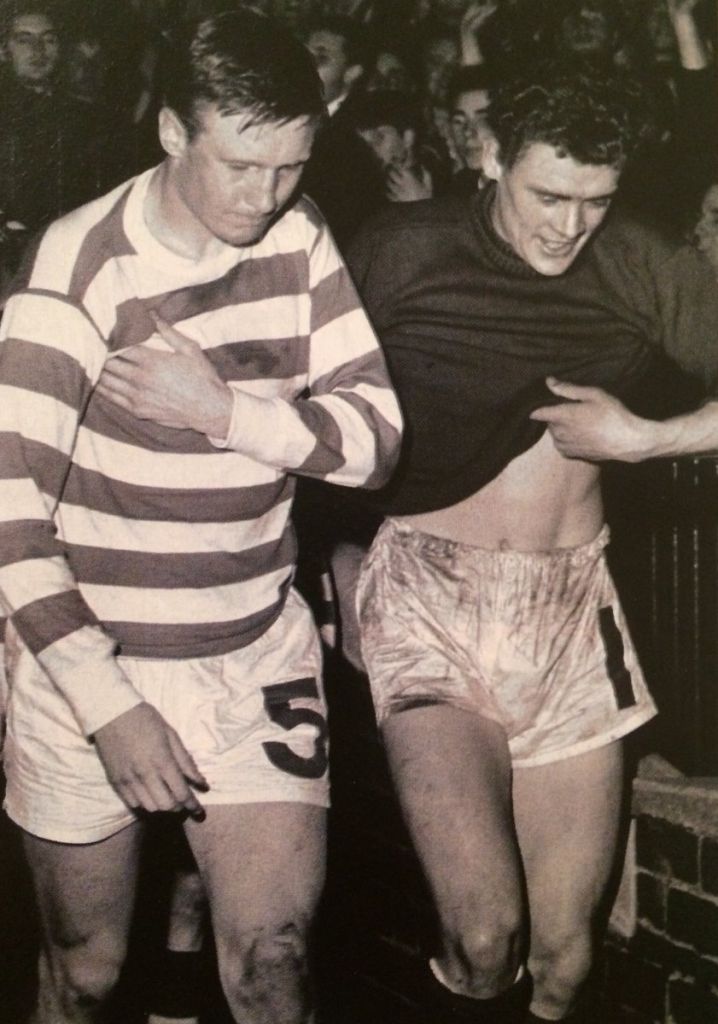 Even though they had surrendered their title as European Champions to Benfica they were still regarded as the epitome of football genius.
In those days live football was much rarer. The European Cup Final itself was the only game in European competitions that was guaranteed to be seen on TV. We had seen highlights of some games involving Scottish clubs, particularly Dunfermline Athletic. At that time Jock Stein was their manager and there seemed to be a good relationship between the clubs and the fans. Certainly, in our house we were always keen to see the Pars do well in Europe. However we really wanted to witness our own team on the European stage.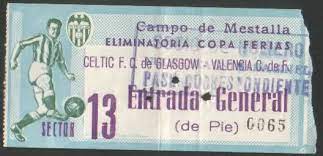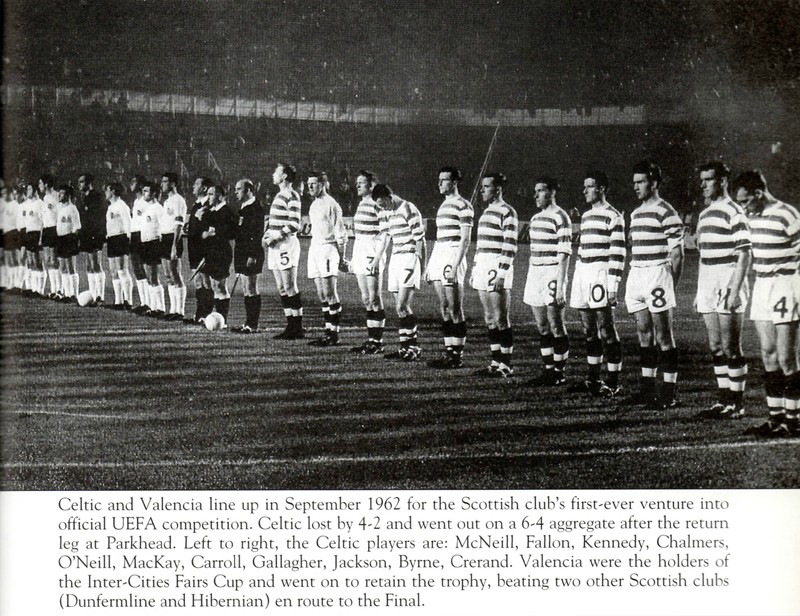 Now it had arrived. The first leg in Spain had been played a month earlier. We had to wait until the following morning to get the score and report on the game which Celtic had lost 4-2. Apparently Celtic had played well enough so there was some hope for the second leg.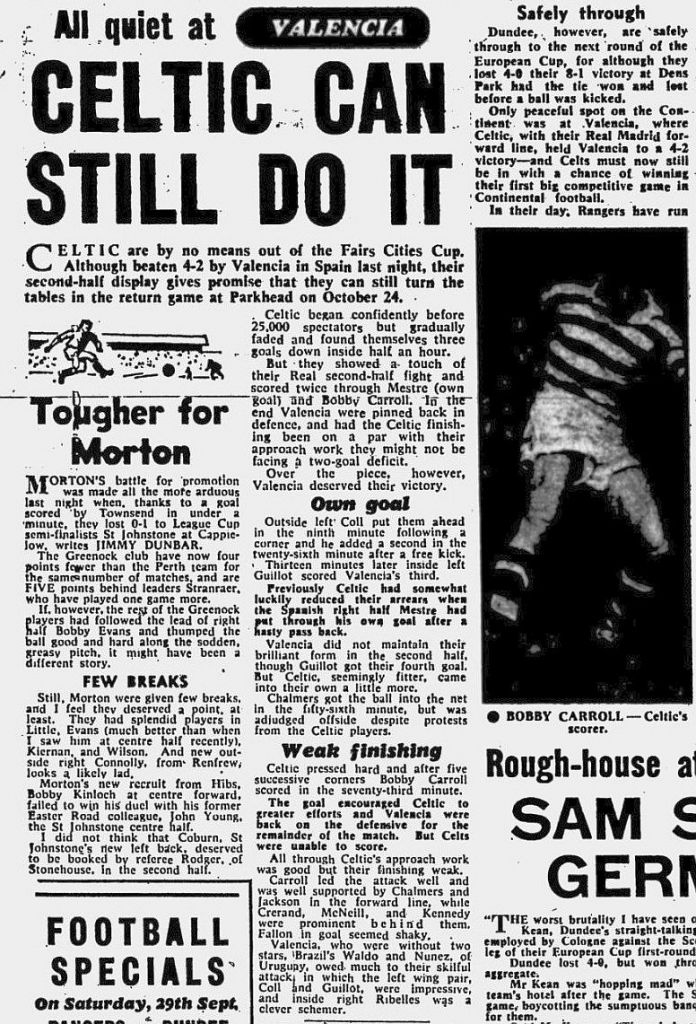 As well as the floodlights seeming brighter, there was a different atmosphere about the place. Even the match programme was different. Instead of the usual 4-page paper effort it was a larger affair, with stiffer card covers and glossy photos inside. It presented me with my first tactical decision in European football. Should I hold onto it during the game or crease it by folding it and putting it in my coat pocket?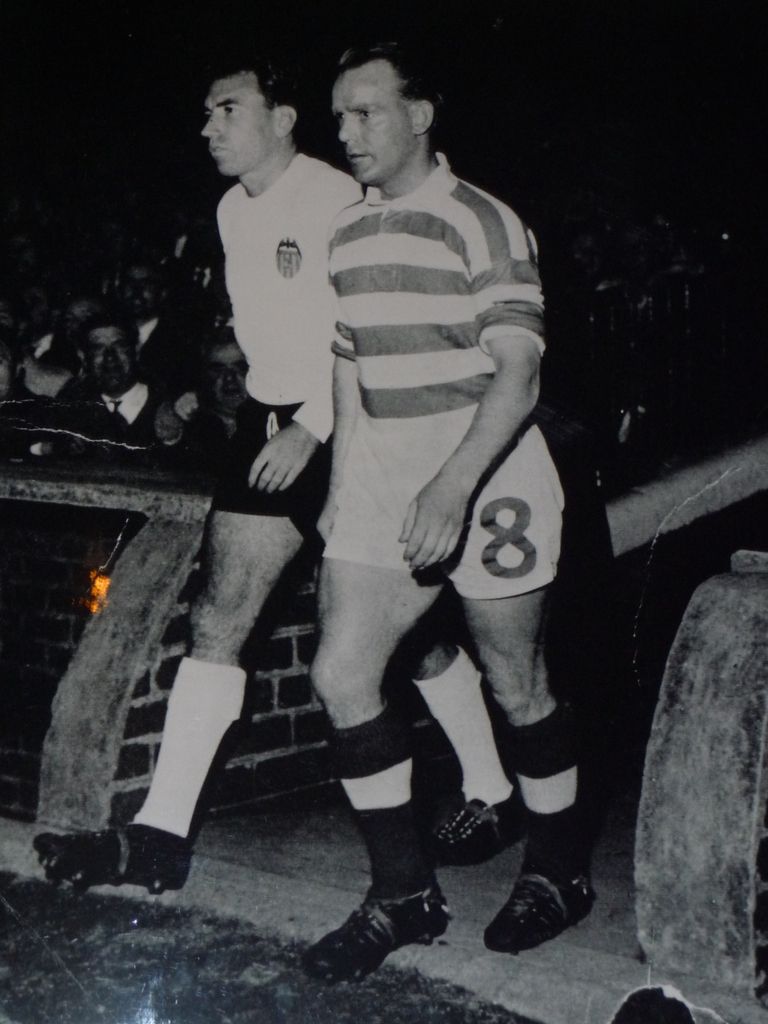 And then the teams came out. Not separately as in domestic matches but side by side. Valencia wore a white shirt. I wondered if that was their normal colours or was it to make us think they were like Real Madrid? Under the dazzling lights the colours seeemed so vivid. In the Celtic line up was a new name to me – Bobby Craig. I wasn't aware he was even a Celtic player. My father explained he had been formerly with Third Lanark and had just been signed that morning from Blackburn Rovers. I thought he must be good if he is going straight into the team for a European game!
The game kicked off and the crowd roared their encouragement, eager to see an early goal. And in 17 minutes we got the chance. A foul in the box saw Celtic awarded a penalty. The Spaniards surrounded the referee in protest. I thought to myself that Real Madrid would not have done that.
Although I was still in my novice days as a Celtic match attender, I was already wary of celebrating a penalty award. In matches I had attended I had seen two Celtic penalties. Billy McNeill had missed one at Dens Park and Pat Crerand had scored in the league cup match against Dundee Utd earlier in this season. (As a youngster I always wondered why forwards never seemed to be regular penalty takers. Not just at Celtic. Most clubs seemed to rely on their captain, who was invariably a defender, taking the kick). Pat Crerand had missed a penalty against Rangers in early September and Celtic had lost by one goal (that statistic and scoreline was not uncommon in that era).
Since then, he had been taken off penalty duty and Billy McNeill had taken over. However, Cesar was injured and not in the side. Instead, the task was handed to John Clark (another defender). Luggy kept my 50% penalty success record going by putting the ball wide.
Celtic kept pushing and took the lead not long after the start of the second half. The Celtic End were in full voice as Alex Byrne swept over a corner which was deflected by a Valencia player into his own net. So far Valencia had not looked particularly great, they were certainly no Real Madrid, but now they did seem to step up a gear. They scored 2 goals, the second of which we had a great view of as it flew into the net from a fierce shot at the edge of the penalty box.
Pat Crerand, who had put in a great shift, scored a late goal to ensure we were at least not beaten on the night. Missed chances had cost us – something that was very much a Celtic trait in those days. Still I was not too disappointed. I had seen Celtic compete in Europe – I just wondered when I would get the chance again.
I didn't have too long to wait for my next European experience. The 1962/63 season was another one of disappointment. We had already exited the League Cup before that Valencia game. Hearts had won our group and went on to lift the trophy. As it happened Valencia went on to win the Fairs Cup, beating Dunfermline and Hibs on the way.
Rangers won the League quite comfortably ahead of Kilmarnock and Partick Thistle with Celtic finishing 4th. We did manage to get to the Scottish Cup Final but that ended in humiliation. In a midweek replay Rangers romped to a 3-0 victory with the Celtic End of the ground being virtually deserted with 20 minutes to go. However there was some consolation. As Rangers had also won the League Celtic gained a place in the 1963/64 European Cup Winners Cup competition.
Our first-round opponents were Basel from Switzerland. Although Celtic were not exactly setting the heather on fire it was reckoned that this tie would prove no great problem. And so it was as we easily ran out 5-1 winners in the first leg despite being away from home.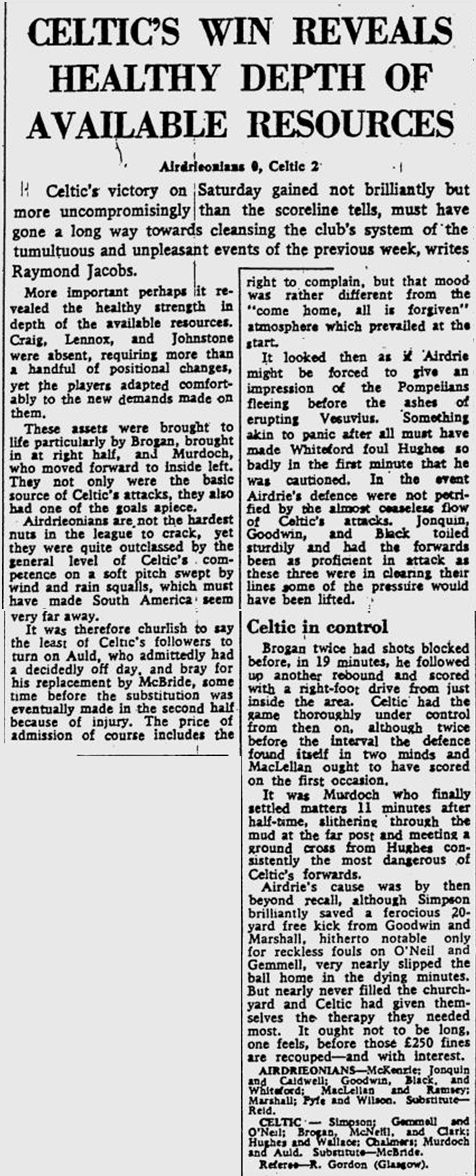 Good as the victory was the Celtic directors probably regretted its emphatic outcome. interest in the second leg was now minimal. And that was not helped by the weather. On the day of the second leg the Glasgow area was hit by a gale and heavy rain. My school mates' attitude was that only an idiot would be going to the game that night. I was that idiot!
While the Celtic directors were bemoaning the cost of participating in Europe, I discovered that European football also had financial implications for me. My parents were reasonably generous with the pocket money but that was mostly exhausted with getting to the game on a Saturday.
Midweek football presented a problem. Also, by this time my family had moved home. A great attraction for me in being a Celtic supporter initially was the proximity of Celtic Park. I was used to a short tram or bus journey for three pence or fourpence. Now we were in Bellshill. It was still relatively easy to get to Parkhead by public transport but the fare was now more than double so I had to save any extra pennies. I still remember the look on the conductress' face as I presented my fare in single penny coins!
As none of my usual companions were going, I opted for the Jungle in order to get some shelter from the incessant heavy rain. There were only about 8000 other idiots there as Celtic had another stroll, winning easily 5-0.
The next round gave us real mystery and intrigue in the shape of Dinamo Zagreb. If information on European teams was limited it was even more minimal for teams from behind the Iron Curtain. There was practically no opportunity to see them on TV, and press reports from those countries tended to be viewed with some suspicion.
So the attraction of seeing these mystery men as much as cheering on the Bhoys brought a crowd in excess of 40,000 to Celtic Park. I was accompanied by a group of my school mates on the terracing, almost directly behind the goal at the "Rangers End" of the ground. The accepted object of these games was for the home team to attack and try and build up a lead for the away leg. The tactic for the away team was to concentrate on defence, keep the opposition out and concentrate on winning the tie in the next leg.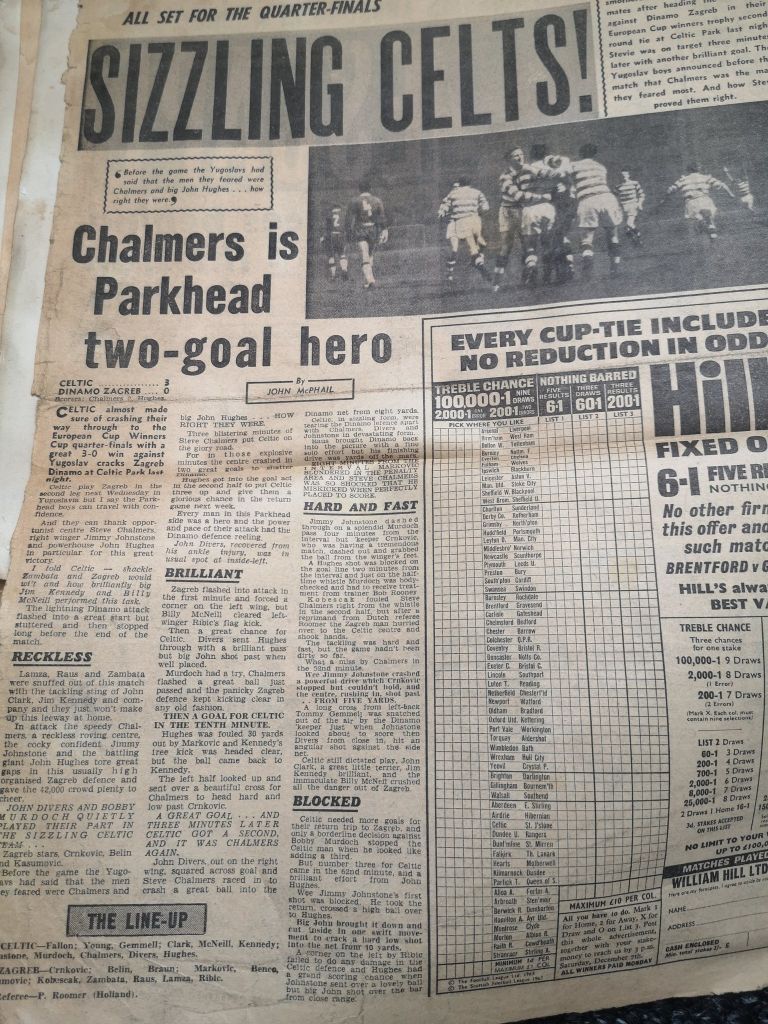 Our group's thinking was that if Celtic could take a two goal lead to the second leg we should be able to get through with a fight in Yugoslavia. A three-goal lead would mean advancing to the next round was pretty much assured. To our great delight Celtic put on one of their best displays in years. We looked on with excited disbelief as a magnificent performance saw Celtic win 3-0. The second leg was played the following week on the Wednesday afternoon during school hours.
The three goal lead meant that I had no great worries about qualifying and I was able to concentrate on class work before finding out that we had lost 2-1 but through on aggregate. Reports on the game were minimal but I do recall reading that the Dinamo fans had lit fires on the terracing to ward off the cold. For a while after that the Celtic fans adopted that idea on winter days at Celtic Park.
The European results also seemed to inspire the players and domestic performances picked up so much that by the end of the year Celtic were in third spot in the table, three points behind Rangers and four behind Kilmarnock. However, on New Year's Day Rangers came to Parkhead and despite Celtic dominating the game the Ibrox men grabbed a fortunate 1-0 win. The following day another point was dropped to lowly Third Lanark at Cathkin in a 1-1 draw and the general opinion was that the League was now a two-horse race and Celtic were not one of the runners.
This was not unusual. I was used to Celtic not being a challenger for the Title. As usual by the time the second half of the season was underway our silverware hopes were resting on a Scottish Cup run, but at least this year we also had Europe to look forward to.
By the time our next European visitors arrived at Celtic Park we were through to the Scottish Cup quarter finals. Our opponents in the Cup WInners Cup quarter final were Slovan Bratislava. At least we had some knowledge of the Czech side. The Czechoslovakian international team had played Scotland in the 1962 World Cup Qualifiers and gone on to reach the Final against Brasil in Chile.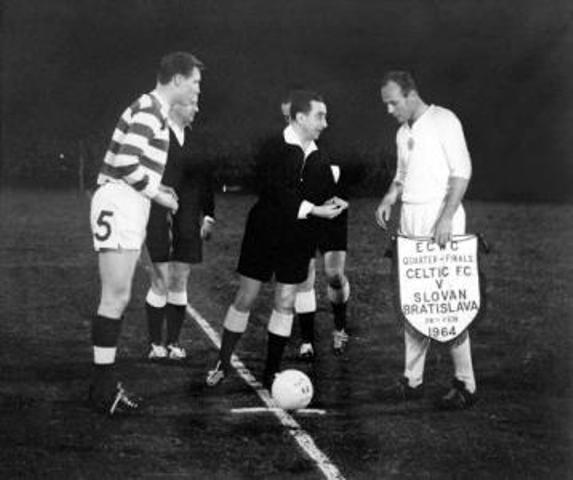 We were certainly aware of their star goalkeeper Schroiff and centre half Popluhar. This would be a tough tie. On this occasion I was accompanied at the game by my mate Peter Dickson and his dad. I always enjoyed having Peter's father at the games. Like my dad he seemed to know a lot more about teams than we did and it was educational listening to their stories and views.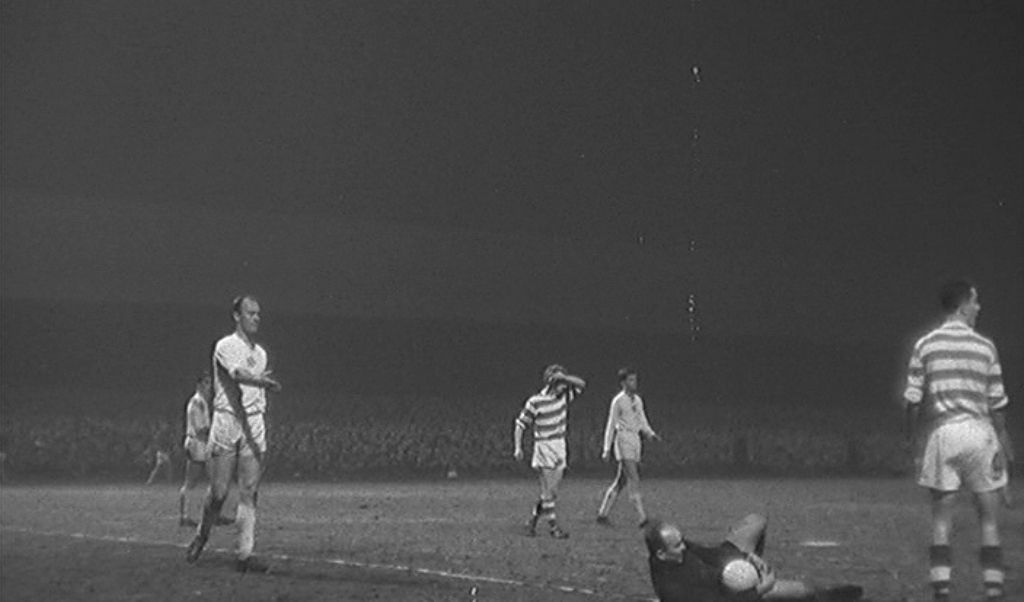 Celtic once again put on a great performance but the old failing of not taking chances once again reared its ugly head. Despite a lot of pressure we could not get the ball in the net. Then, with about 20 minutes to go Stevie Chalmers was fouled in the box and we were awarded a penalty. As Bobby Murdoch stepped up to take the kick at the other end of the ground I could hardly bear to look. I was pinning my hopes on my 50/50 calculation. If Celtic missed every second penalty they were awarded then surely the corollary was that they would also score with every other penalty.
On this occasion too the kick was at the Celtic End. Maybe the passionate fans behind that goal could suck the ball into the goal! I did keep my eyes open but it was my ears hearing the cheers that confirmed we had scored. Would a one goal lead be enough in Bratislava though?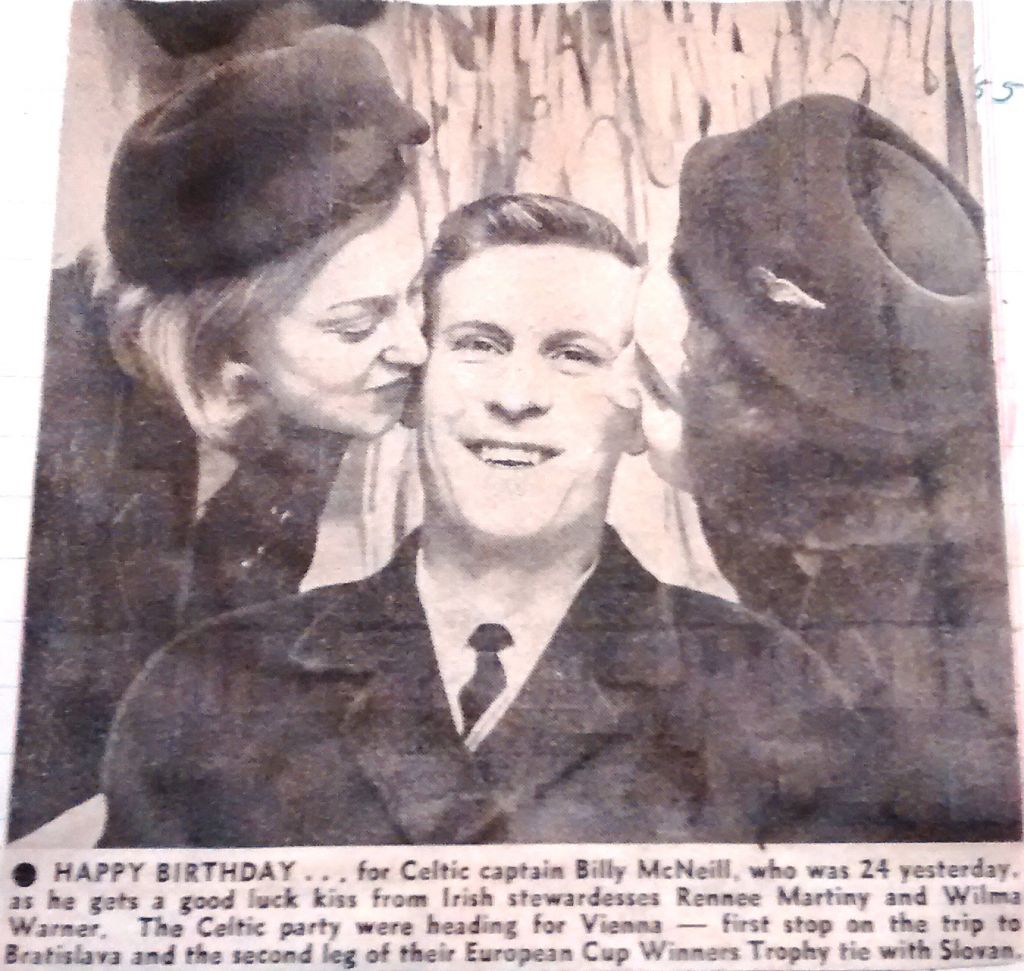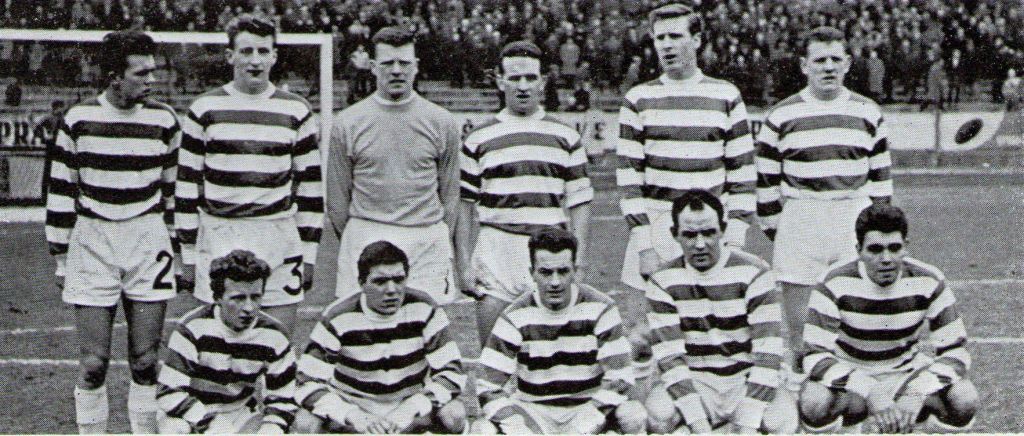 Once again the lack of floodlights behind the Iron Curtain meant an afternoon kick off. This time the nerves were indeed fraught and concentration at school was difficult as we knew the game was being played while we were in class. As we were leaving school at 4pm someone broke the news that Celtic had won.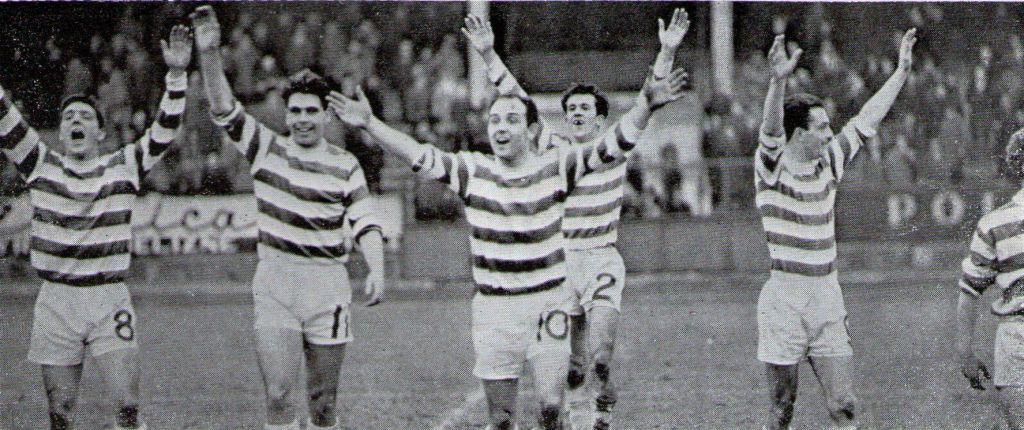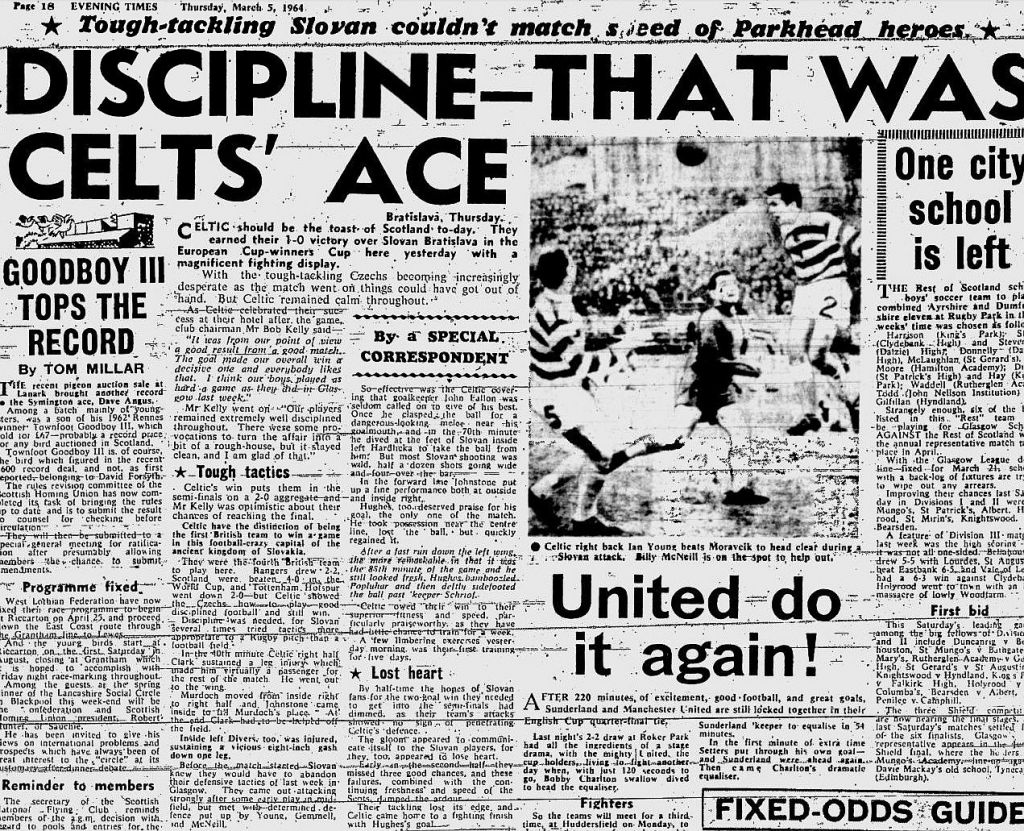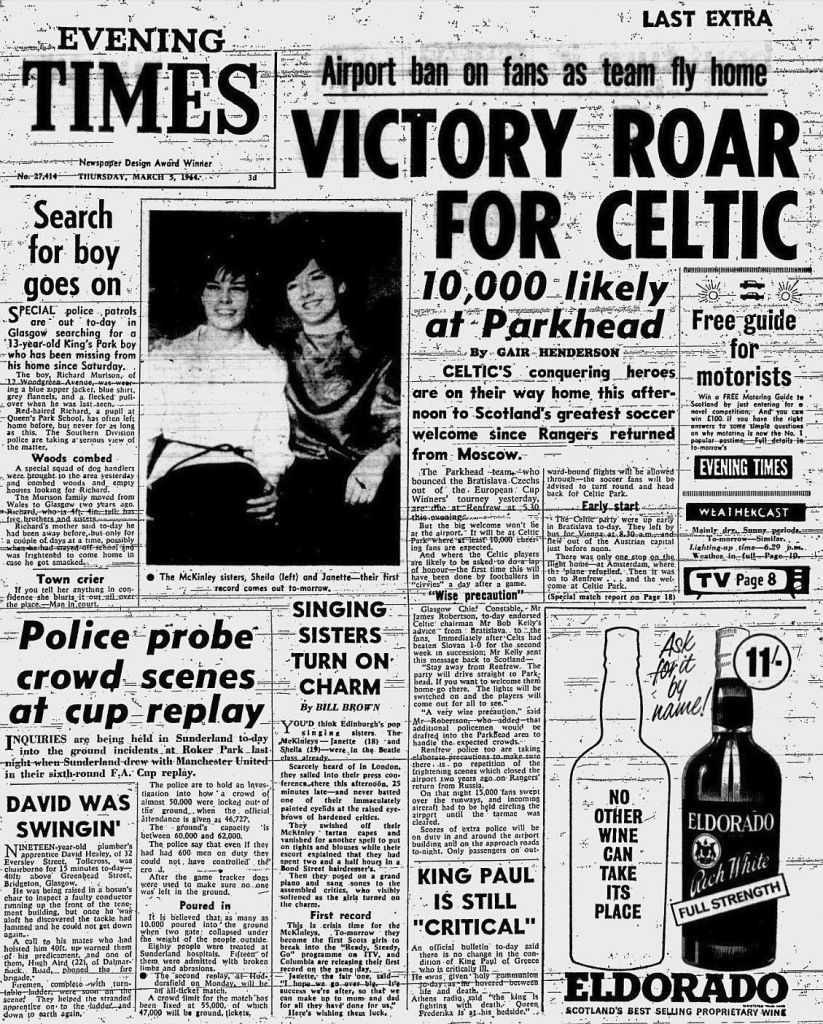 I was still a bit dubious as scoreline rumours were often spread and there was no way of checking their veracity. However when I got home the radio confirmed that Celtic were indeed through to the Semi Finals. A solo goal by big Yogi giving us a 2-0 aggregate win.
There was great excitement among my Celtic supporting mates at school the next day. Here we were a step away from a European Final. The team was now more settled and the line-up was immortalised in song. "Celtic, Celtic, that's the team for me!" We felt a bit more confident too about the Scottish Cup quarter final at Ibrox on the Saturday afernoon.
However, we were back to reality on the Saturday evening. Once again, we could just not put one over Rangers. The home side had applauded Celtic on to the pitch in recognition of the feat in Europe but then normal service as far as these games was concerned resumed. Despite early Celtic pressure no goals were scored. Then a minute before half time Jim Forrest gave Rangers the lead, and one minute into the second half Willie Henderson netted after a solo run through the Celtic defence. That was it and the Celtic fans in the 85,000 crowd were silent for the rest of the game.
Now Europe was our only hope for silverware. Yet again we would be going to Eastern Europe. MTK Budapest awaited us in the semi-finals. I was again with a group of school mates in the Rangers End and all the despair of our defeats to Rangers was dispelled as once again Celtic turned on the style in Europe. A really pacy aggressive performance was rewarded with another 3-0 victory. We hugged each other ecstatically as Stevie Chalmers headed in the third. The magic score line that was a virtual guarantee of victory in the tie.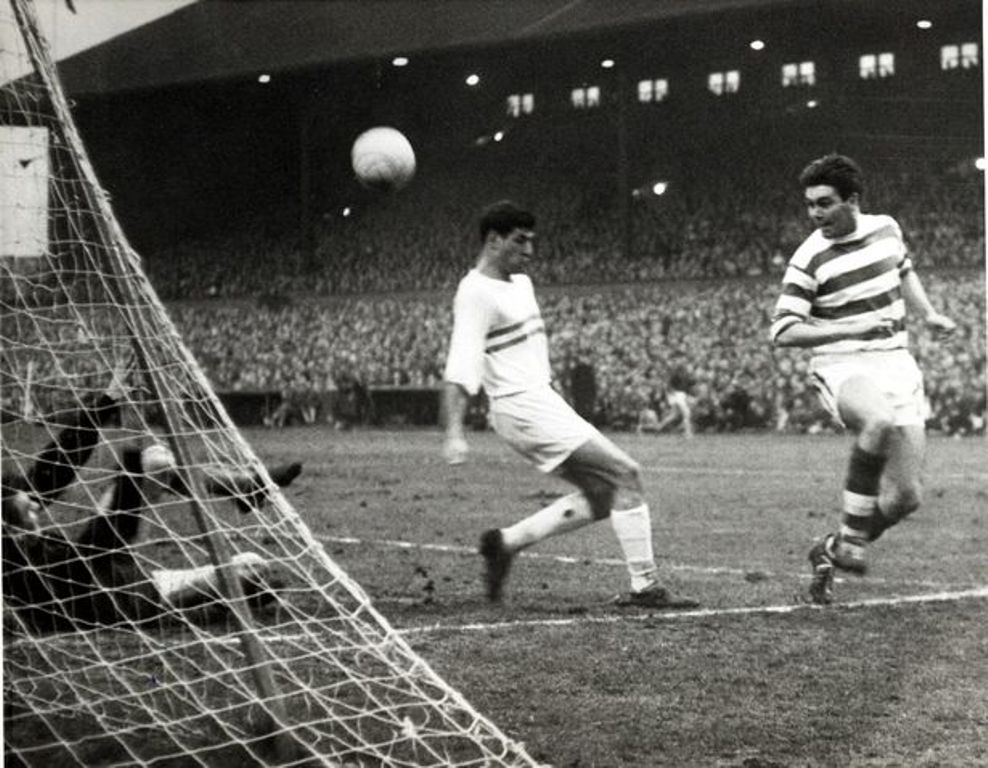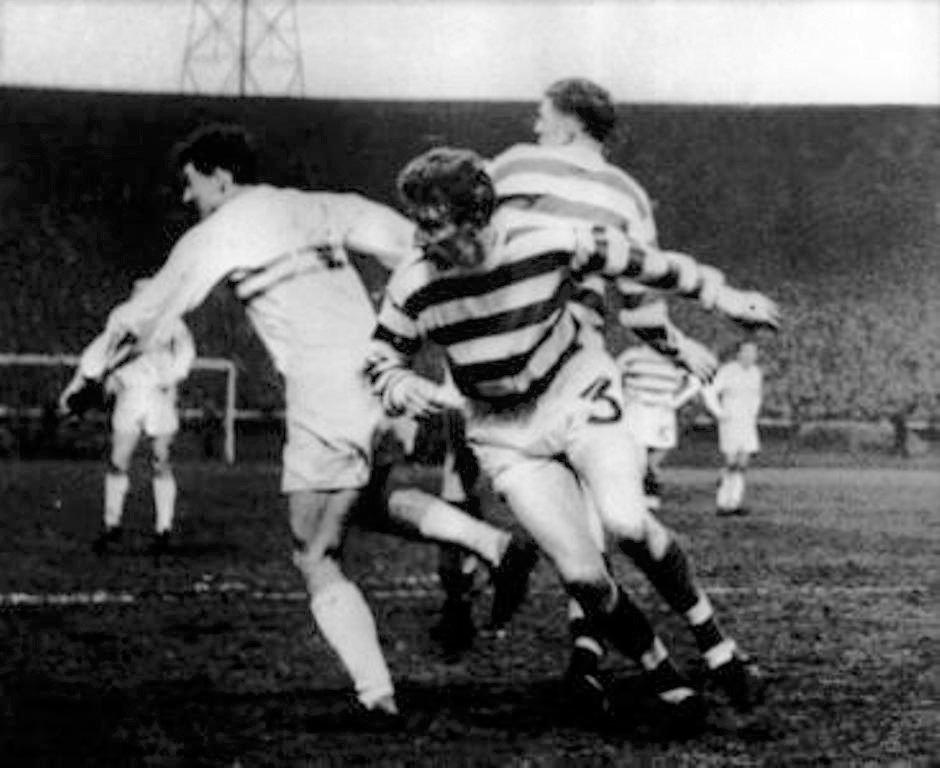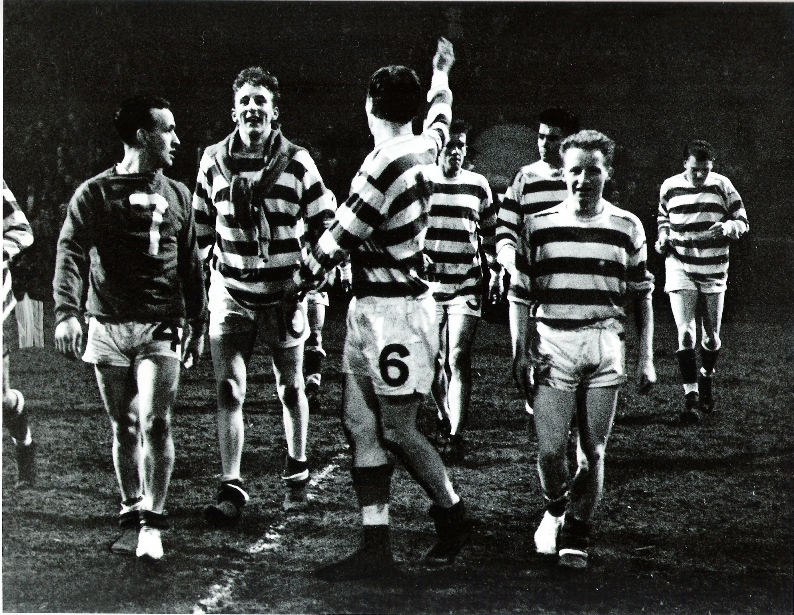 With the first part going to the required script for European success all that was needed now was to follow the second part of the plot and stifle the opposition to restrict their opportunities. Unfortunately, although us schoolboys thought this was a very obvious tactic the idea was not shared by the powers that be at Celtic.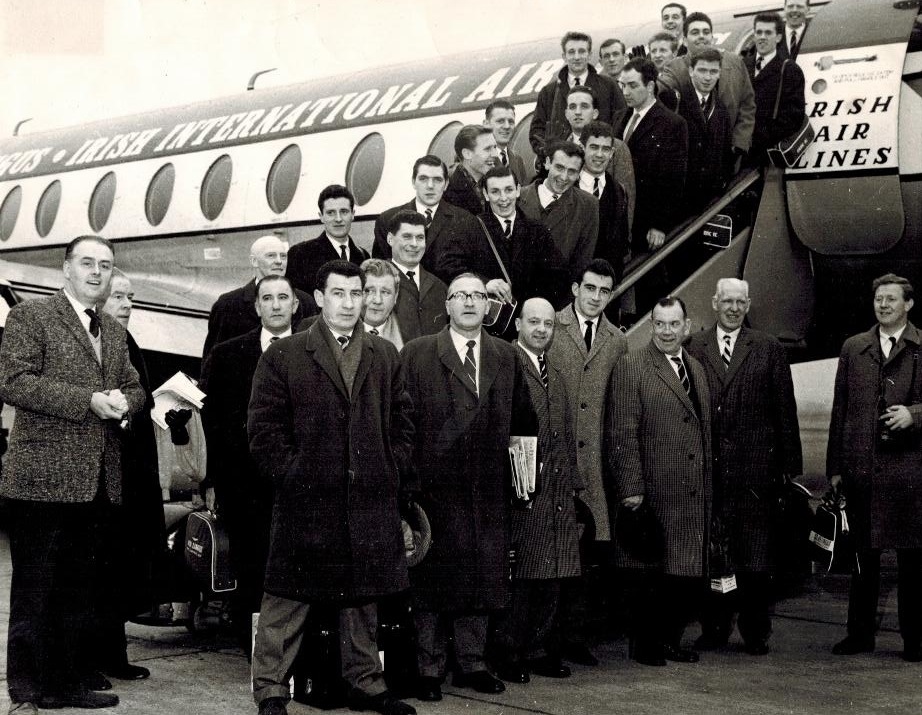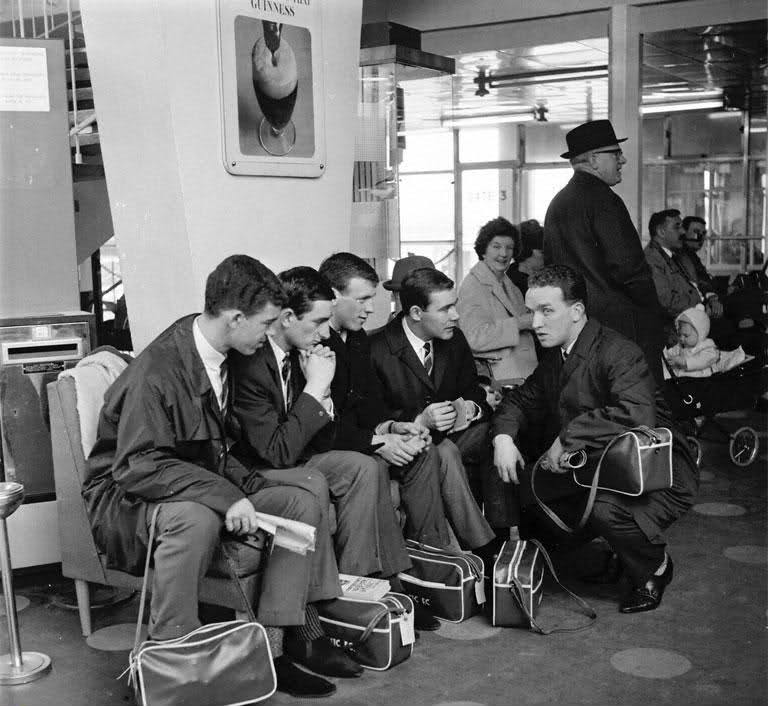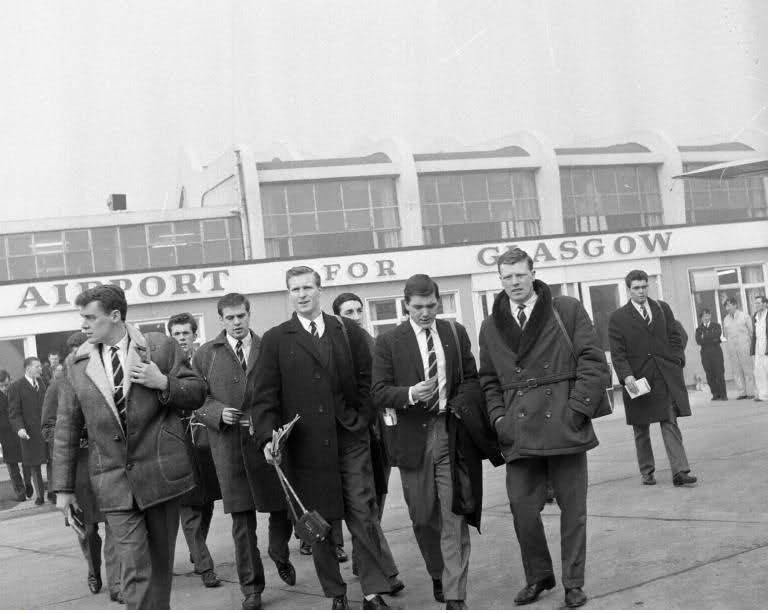 There would be no live pictures but I seem to recall that there was supposed to be some radio coverage. This game did have a later kick off than the previous ones and I was at home with my father and brothers around the radio waiting for the broadcast to begin. There was a delay in getting the feed and when it did come to air about 12 minutes after kick off, we discovered Celtic were already a goal down.
I cannot remember if the commentary was again lost, or if we just could not bear listening to it but I do know my brothers and I went outside to have a kick about. We reckoned (or rather hoped) that no news was good news. If we could not hear any score then we still had hope there wouldn't be any. Alas hopes were dashed when we went in later to be told by a forlorn looking father that we were 4-0 down and out of Europe. Celtic it seemed had been naive and rather than play to protect the lead had taken the game too casually and paid the price.

So near and yet so far. I just could not see Celtic ever getting the opportunity to get so close to a European Final again. Of course, I did not know then what was going to happen in little under a year. As the 1963/64 season was ending an item of non-Celtic news was that Jock Stein would be leaving Dunfermline and taking over at Easter Road.
I had no idea that by this time next year he would be in charge of Celtic and the Scottish Cup would be in the Parkhead Trophy Room. And with that came more European opportunities. Over the next glorious decade, I would not only get the chance to see some great European games at Celtic Park I also got to experience the thrill of watching the green and white hoops perform on fields around Europe. Before emigrating to New Zealand at the very end of 1982 my last European trip was to Amsterdam with the lads from Heraghty's to witness our 2-1 triumph over Ajax.
In my years in Aotearoa I have managed to get back to Scotland on several occasions and get some European football under my belt, including a trip to the Nou Camp and a great night in the Forge in Whifflet after a late 2-1 win against Shaktar Donetsk. By this time my father had passed on but I am always grateful to him for taking me with him that night of 24 October 1962.
24 October 2022. All going well, 60 years to the day of my father taking me to Celtic's first ever European game I will be arriving in Scotland with my son Stephen to accompany me to Paradise for the first time.
The night after our arrival Celtic are hosting Shakhtar Donetsk. What would my father think of the changes that have occurred in European football in the last 6 decades?
And I wonder how many of the 45,000 Bhoys who stood with me on that historical night almost exactly 60 years ago will be at this one? At the moment of writing I am still wondering if I will be there myself!
That is one big change from the times I was a regular attender at Celtic games at home and abroad. In my heyday match tickets for European games were not too much of an issue. Often it was pay at the gate with only the main stand being all ticket. And there were hardly any season ticket holders who needed to be satisfied.
I only knew one person – my Uncle Peter – who had a season ticket. For home European games in the Jock Stein era there was usually a public sale. This would be held on a Sunday morning and my brothers and I would head off to Parkhead early with the newspapers and a "piece" to join the long queues which snaked down from the gates at the Celtic End through the Car Park, along London Road and Springfield Road. Once you picked up your ticket at the turnstile you made your way through the empty stadium and exited by Janefield Street.
I also got to know Phil Cole in Coatbridge who was another good contact for tickets. The biggest ticket scramble I encountered was for the Leeds Utd semi-finals in 1970. Even then through work contacts in Yorkshire as well as having an inkling of an unannounced public sale at Celtic Park meant that I got a few tickets for both legs.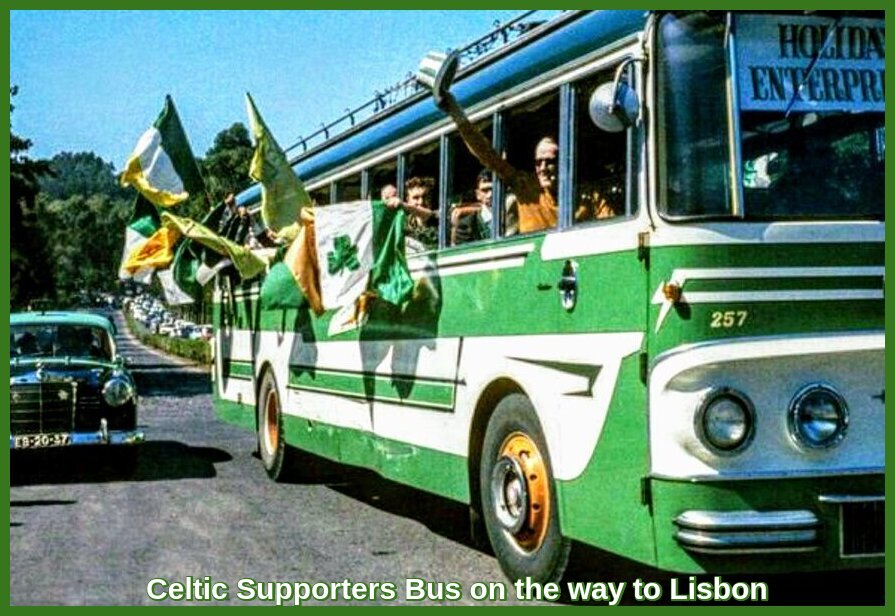 Away games in Europe did not present a problem either. There was always a ticket included in any of the packages that I arranged with Mr. & Mrs. McGinley of Holiday Enterprises. There was no Ryanair or Jetstar in those days so the Celtic away support in Europe was mostly just a planeload or two. Segregation and crowd safety were not as much of a concern then and even at a small stadium such as at Vejle in Denmark tickets were easily obtainable.
That was a long time ago – although it has gone so fast. The planned visits to Scotland over the last 3 years didn't transpire because of Covid so it will be great to get back and catch up with family and friends again. It would also be great to join up with the "Celtic Family" again – this time with my son. So, if anyone can assist with tickets I'd be delighted. I take it getting a "lift over" as per 1962 is out of the question?!!
Mike Maher
REQUEST FOR TWO TICKETS FOR THE CELTIC V SHAKHTAR DONETSK GAME AT CELTIC PARK ON TUESDAY 25 OCTOBER…
Mike Maher is over from New Zealand with his son and is in desperate need of two tickets for the Celtic v Shakhtar Donetsk Champions League match on Tuesday 25 October. If anyone can help could you please email editor@thecelticstar.co.uk and we'll organise things from there so that Mike doesn't miss the game he's travelling from the other side of the world to see. He was one of those fans who 'came in their thousands' in May 1967, 'to see the Bhoys become Champions'…