'Excellence is not a destination it is a continuous journey that never ends' Brian Tracy
In a recent article for The Celtic Star I looked at a few of the possible outgoings from the squad with a view to making us more competitive for a European push next season and hopefully beyond.
It's my genuine belief the likes of Bain, Ajer, Tierney, Ntcham, McGregor, Edouard, Forrest, Rogic and Christie are enough of a core group of young hungry and developing players that should the board show the guts to keep a hold of and, should their own heads not be turned we have the talent to spring into European contention.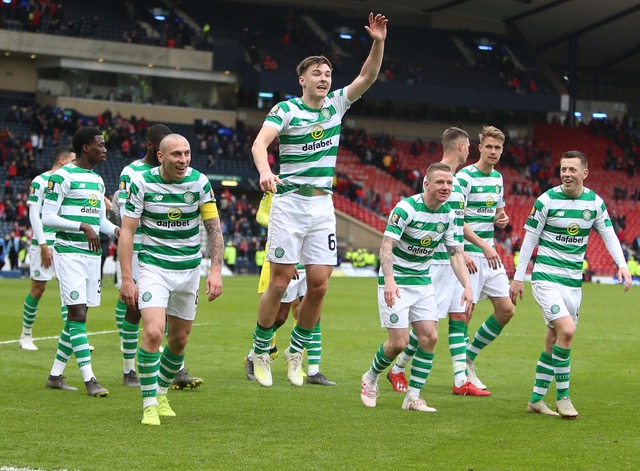 Add to this Mikey Johnston, Anthony Ralston, Karamoko Dembele all due their opportunity to either progress further or burn through we have our own Quality Street kids ready to add to the mix.
For me it is now, or forever wonder, what if?
Our domestic stranglehold has built confidence in a group of young and constantly developing talent and we can only lose this opportunity to take that into the European arena by the short-sightedness of the board either to sell the family silver, or just as importantly not to add to the group now.
I believe this is the best group of young players capable of growing together we have had since Lisbon.
The team that got to Seville were established and certainly better performing on a European stage, but they peaked that very day.
Look at this team now, they are mostly still at that embryonic stage and already on the verge of legendary status.
This band have been held back so far, and as much as it pains me to say it given the success he achieved for the club, it was Brendan Rodgers approach in Europe that stunted that development.
His belief in a game plan he stuck to rigidly and consistently whilst in some way admirable, be it home or away had holes picked in it and confidence rocked as a result. It allowed players who would have up to that point played without fear to suddenly get their backsides well and truly skelped for no other reason than footballing narcissism.
Opposition players who may already have fancied their chances of turning us over comfortably on their own patch now even look forward to visiting Celtic Park. That's right the ground where Javier Saviola allegedly threw up in the tunnel an hour before Alan Thompson volleyed us to a 1-0 win over Barcelona is now a Tourist destination.
Having been clear about the players I'd like to see moved out permanently and on loan which I admit was considerable but necessary to streamline the squad and the wage bill, I also felt we needed six new faces to the squad. Those exiting have either had their chance, gone missing or decided Celtic is not the place for their career progression.
A first choice right back, a left back to allow Kieran Tierney some cover, 2 central defenders and a holding midfielder. I make this leap of faith based on the hope we can keep Benkovic, Burke and Weah. I might add be it permanently or extended loans I don't much care as long as we can do it as this season coming and the one following is where we grow.
Is this realistic? I genuinely don't know but it's built on that premise. Burke and Weah are certainly possible. Benkovic can only ever be a loan extension but given the competition for places in central defence at Leicester this is certainly possible.
If you take the club's business model the players I've highlighted previously could and should be moved on should free up wages for the six we need in.
Also assuming the same model is followed, we're looking for young players who can fit in, where we can develop but already have experience at club level, players we either keep and they kick on or we can sell for a profit should we miss out on the European football as the model relies on.
First up the player to compete with Kieran Tierney at left back. Step forward Rosenberg's Birger Meling.
The Norwegian international has 10 caps and three trophies with his club already. He's an attacking full back, he's strong defensively and at 24 he's just the right age to step into the business model for success or re-sale (or both). He's impressed against us. He has European experience at Europa and Champions league football.
It would give us the opportunity to have genuine competition at left back and a more than able player to step in should Kieran's concerning 'hip' problems arise again. He's even scored against us! He must have good memories of Celtic Park. Anyone remember the last time we had 2 good left backs? If Europe is the next step for me Meling is both achievable and acceptable to both push and cover Kieran.
So on to right back. I've previously said I'm happy to see Lustig have his contract extended and more opportunity given to Anthony Ralston. A Bellshill bias aside I believe there is a good quality full back in there. Assuming Jeremy Toljan is heading back to Dortmund due in the main to his massive wages we need to find an alternative. Personally I'd prefer to look in Scotland but much like when I looked to Meling at left back there simply aren't the Scottish or Irish choices I'd like to leap to first, especially given right back is a priority and must be signed as first choice player capable of hitting the ground running.
Castagne at Atalanta was obviously considered but give the likes of Roma are now making moves around a transfer of their own we need to look elsewhere, the price to buy won't give any sell on value now.
Robert Gumny. 20 years old and Pacey right back for Lech Poznan. I believe we were sniffing around last year and apparently injury cooled our interest. Back playing and now has 60 plus appearances under his belt. More than likely a more palatable price tag (less than €4 million). Now capped 7 times at under 21 level and having previously looked to be on his way to Borussia Monchengladbach the time is now to pounce.
Gumny has admirers already and won't be remaining at Lech Poznan. Of course we are buying potential but he has now over 70 appearances under his belt despite his injury issues this year he had played 33 times the previous season, including 5 European appearances. He also has winning experience having won the Polish Super Cup in 2016. He'll also have clear re-sale value should he show up well for Celtic.
Moving to the most important area we need to address I'm looking to the domestic market initially to cover the centre half position. I've previously said if Felip Benkovic stays we'll need 2 for this position. Ajer, Simunovic and Hendry is not enough depth to go into European competition especially if as likely we'll play a 3 at times.
Personally my hope would be that Leicester would allow Filip Benkovic back on loan for another season. We couldn't compete on a permanent transfer and it may be if Leicester wanted Filip to gain further loan experience it could be they'd prefer an English option. I would however hope we would at least test the waters.
The 2 initial central defenders I'd like us to move for play for Scottish Premiership sides.
Firstly I'd be delighted to see us move for Scott McKenna from Aberdeen. A fine defender, he gets the basics right, isn't fearful of a physical encounter and is comfortable on the ball. He's strode into the Aberdeen first team and already looks their finest asset. He's also getting better. 69 starts for Aberdeen at the age of 22 and now a Scottish International.
He's also something we lack, an actual goal threat in the opposition box. He's not the finished article by any means but he's ready to move to a club with European ambitions and we can offer that. We'd keep his profile front and centre for future international call ups. The big fella won't be short of interest when the season ends and we'd need to move fast. In my opinion he's one of the best defensive prospects to come out of Scotland in many years. When good young Scottish players become available we need to be in the mix to sign them.
Scott McKenna would be perfect for us.
The second defensive domestic option I'd like to see us look at is John Souttar at Hearts. In the last 24 hours some newspapers have linked Steven Gerrard with an interest in Souttar we shouldn't be left behind.
He's a footballing centre half. Comfortable with the ball at his feet and bringing the ball out, indeed he's previously played at both right back and defensive midfield but centre half is his strongest position in my view.
Make no mistake he can defend, he's not just a ball playing centre half at the expense of the basics. He has good positional sense and isn't scared to make a tackle. He started out at Dundee Utd and made the move to Hearts. He's developed the defensive side of his game there.
You don't stay playing centre half under Craig Levein if you don't get stuck in and win your battles. Like McKenna he's 22 and also like his Aberdeen rival he's forced his way into national consideration with 3 caps for Scotland and many more likely to follow. Souttar has 151 first team starts so is some way ahead of McKenna in experience. A different type of defender but again a really good Scottish prospect capable of stepping up to European football. We should be the club to give him that platform.
With the likes of Mulumbu and possibly Bitton moving on this summer I think we'll need another body in the midfield to sit beside Brown. I'd have 2 from 4 of McGregor, Brown, Ntcham and a new signing rotating.
The player I'd like us to move for is perhaps a little controversial given his family's 'Rangers' history. The player is Aberdeen's Lewis Ferguson. What can I say, I like the lad? He certainly doesn't lack for fight as was evident in the Scottish Cup Semi-final on Sunday. In fact he reminds me of a young Scott Brown who used to boot Alan Thompson up and down the park, his tackle on Rogic was even reminiscent of a Thompson tackle at Ibrox a few years back where Thommo saw red.
He'll certainly need disciplining, and that was evident from Sunday but that rawness can be channelled with coaching, but he's young and it would come especially with a bit of guidance from the elder statesman Broony.
That's a man who must have been more than a little worried on his first day at his new work and look how that worked out!
19 years old and capped 3 times at Scotland under 21 level. 55 appearances, 7 goals and 14 assists so far over spells with Hamilton and now under the tutelage of Derek McInnes at Aberdeen he's even already got a couple of European ties in his locker.
A good passer of the ball and a creative eye he's also prepared to put the leg work in and the only way is up. He will be a full Scottish international before long and wealthier clubs will head north cheque books in hand soon.
He'd fit the profile age wise for re-sale value and my belief is he'll end up plying his trade in the top of half of England's Premier league before long. We shouldn't hang about, we should ignore the family history and we should sign him this summer. We do not need to wait we need to test the water now. He clearly believes in his own ability and I don't think the move would phase him.
Would he want to come? It would be a big decision for him but it shouldn't be for us. Would Aberdeen sell him? If the price was right they would and would dad Derek and Uncle Barry be raging? Yup!
Like I said, controversial move yes but again good young Scottish talent cannot be ignored and he's one of the brightest young stars around. Keeping him in Scotland could only be to our advantage. Let's get it done.
I'm sure not everyone would agree with these choices and many will have their own ideas about what we need to progress. I'd prefer when possible to get good Scottish and Irish talent and look abroad only when we don't have the home-grown options available. This summer these players are likely to move. I hope we are involved in offering the deals that give their clubs and the players' food for thought.
I'm fed up hearing we can't compete as that allows an excuse for stagnation. Be it The Premier league noisy neighbours or the other 4 big TV nations. You know what we can compete if we focus on a long term plan, just look at Ajax last night.
We may have to do it slowly, efficiently and certainly with less resources but I'll leave you with a quote that shows Celtic can progress and why we keep having to tell those who hold the purse strings that staying still is going backwards.
We are realistic as to who we can target, cost, age, sell on value the lot, but much like the John McGinn saga last summer, when good young affordable talent is out there we cannot be hesitant. I'd always prefer we start looking in our own backyard but when European talent is around we also need to be sharp.
'If you can't fly then run, if you can't run then walk, if you can't walk then crawl but whatever you do you have to keep moving forward' Martin Luther King
Niall J
If you would like to write for The Celtic Star then why not drop an email to editor@thecelticstar.co.uk and we'll tell you how?