ON SUNDAY, in terms of their tactical approach to the game, we can expect to see a very different Rangers from the one we faced at Hampden last weekend. Then, still reeling from losing to 10 men on Beautiful Sunday they decided to sit in and stand off Celtic and for their club the results were devastating.
They ended up thumped 4-0, humiliated by the club whose coat-tails they want to hang on to. There was anger on their bench as a desperate first half substitution was made. Their players were apparently fighting with each other in the tunnel – it seems certain that there was a major shouting match if nothing else – and something happened between their two most senior players, club captain Lee Wallace and veteran striker Kenny Miller, in the dressing room after the hammering that resulted in these two being suspended by the club pending an internal investigation.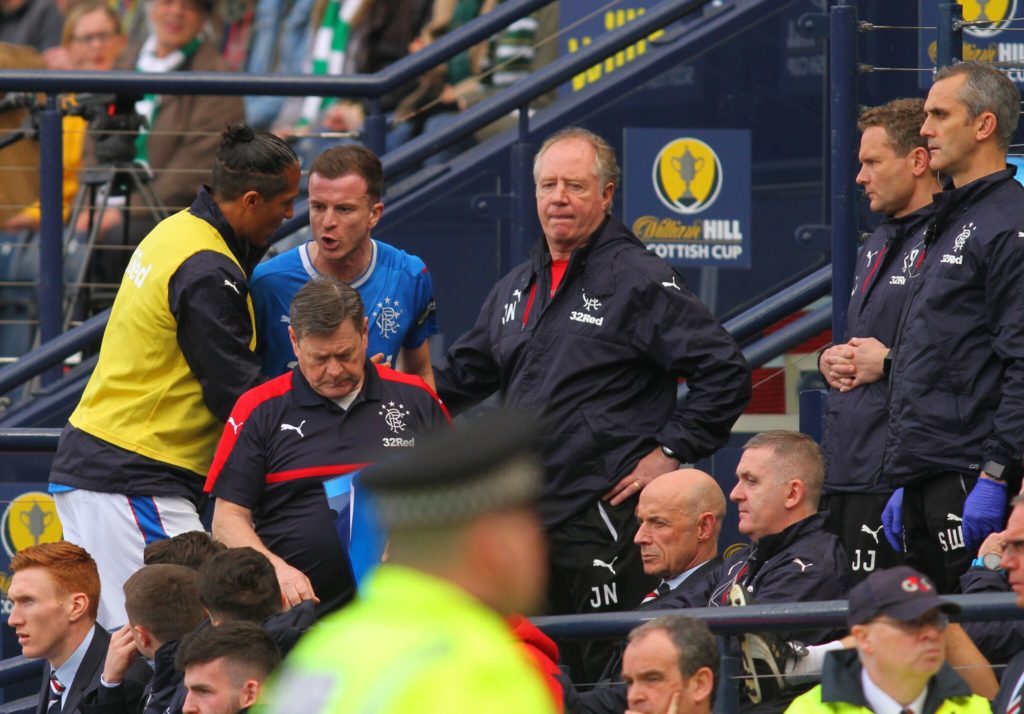 For Miller that effectively ends his career at Ibrox.
Graeme Murty seems to have somehow survived the Hampden aftermath and will lead Rangers into Celtic Park on Sunday. While he has suffered painful defeats to Celtic at both Ibrox and Hampden, he has twice taken the Ibrox side to Parkhead and on both occasions came away with a point.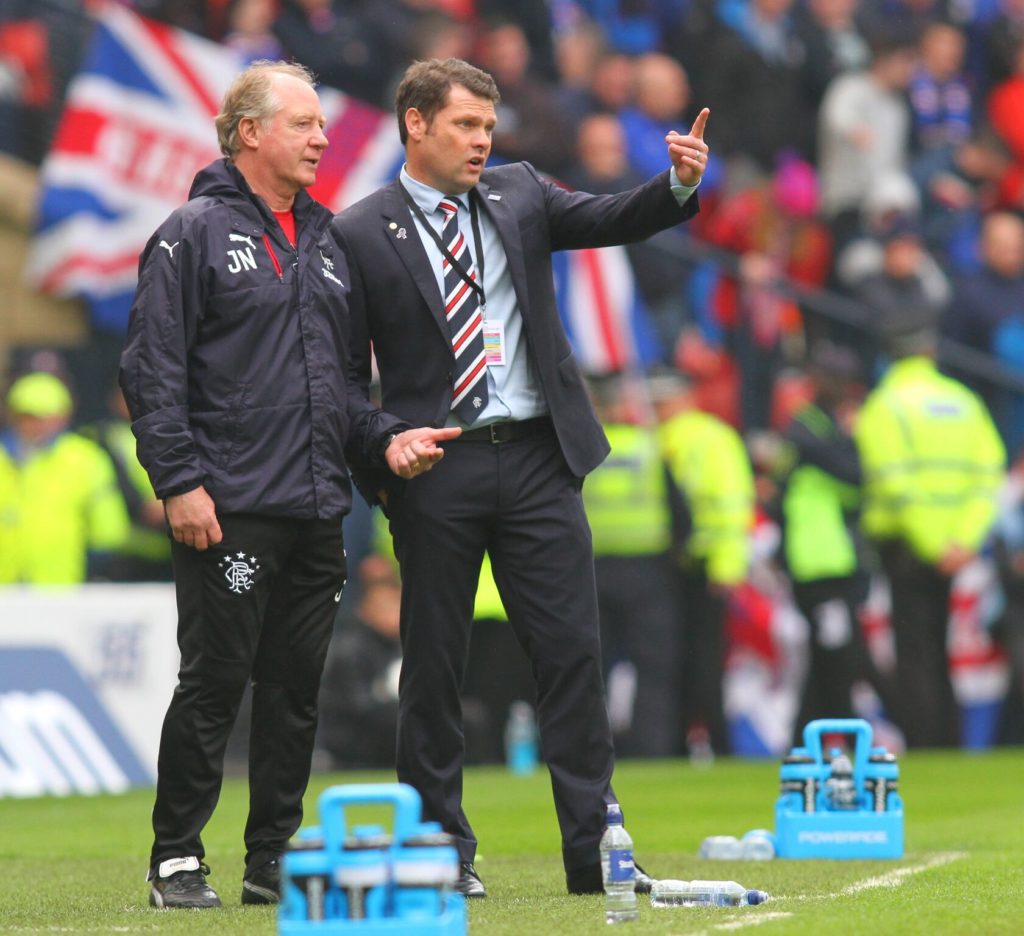 But for him too Sunday will the end, it will be his last game managing Rangers against Celtic.
The next time we play them it will be a very different Rangers, again. It won't be the club that is different though, it will be the players.
Scanning one of their own websites here's a flavour of the stability at the club. This is the club that hopes to stop Celtic winning eight in a row next season, which will be our fiftieth untainted title.
This is how their own support see the turnover in playing staff going, with quite a bit of wishful thinking about getting the ones they regard themselves as complete duds off the wage bill. here goes, and no laughing at the back…the problems they face are huge.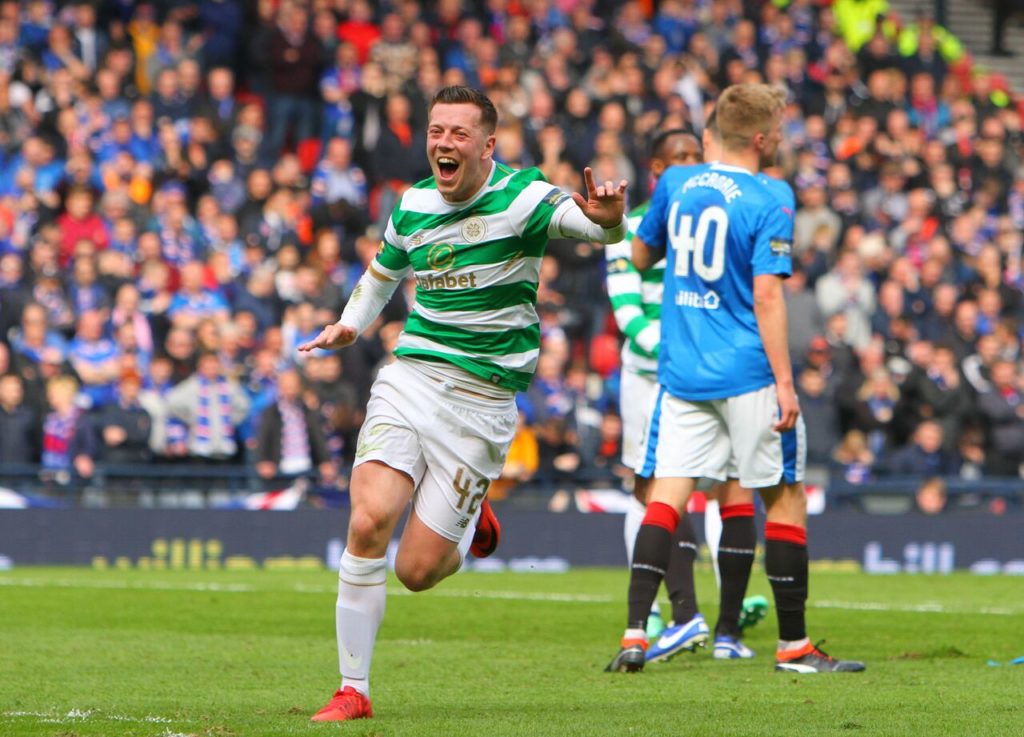 Bates – Gone (Hamburg)
Alves – 1 year left, value for wages not up to standard (Expected Out)
Forrester – Unlikely to come back in the fold (Expected Out)
Halliday – With new CM expected in he will be too far down the pecking order (Expect Out)
O'Halloran (Expected Out if decent money recouped)
Goss – End of Loan (Unlikely to be made permanent)
Martin – End of Loan (Has not impressed, do not expect to pick him up on end of contract release)
Morelos – (Expected Out) – Should a deal already been in place for the summer, or decent money be offered
Herrera – (Expected Out) – May release on free to get him off the wage bill
Pena – (Expected Out) Don't know if anyone will take a punt on him, cut price or negotiate and end deal
Windass – If reasonable fee on offer (Expected Out).
Hodson – Surplus (Expected Out)
Dodoo – Surplus (Expected Out)
Kenny Miller – End of Contract (Expected Out)
Lee Wallace – 50/50 – Reckon new Manager will be the one to make the call, however Wallace may not be as forgiving to any situation and for that reason. Decent fee ( Expected Out).
Dalcio – End of Loan (Expected Out)
Quite a job the new Manager and DOF have ahead, no wonder Allen has already started on the Bosman's.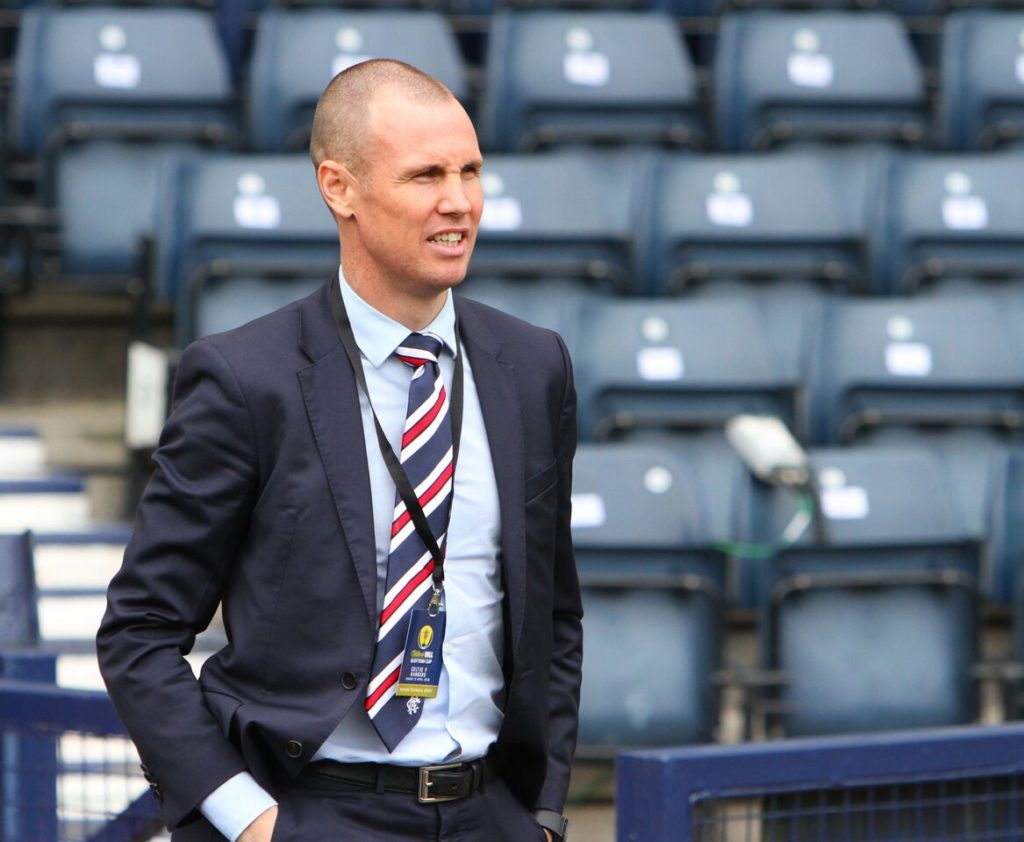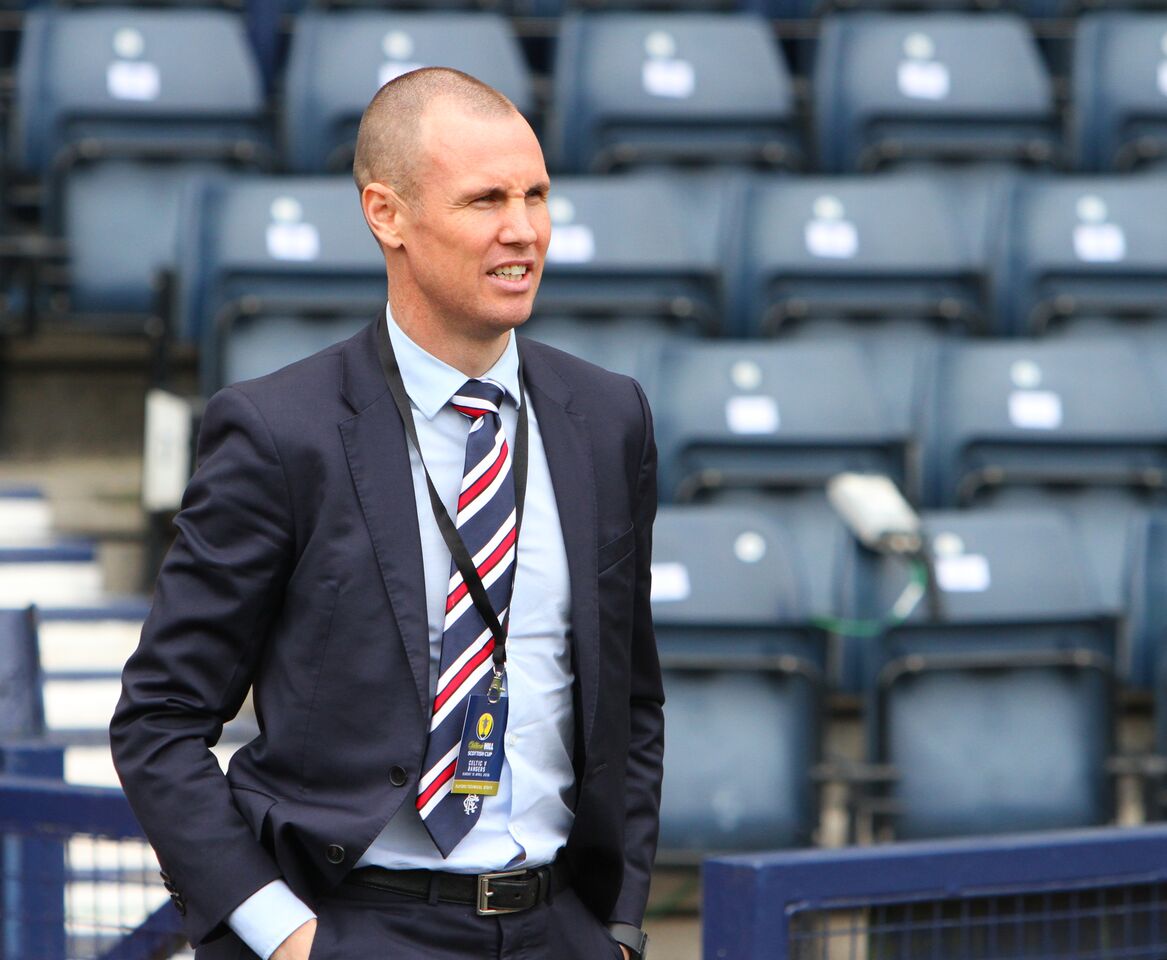 How many of these players will feature on Sunday? How motivated with they be knowing they are on their way out the door?
Are the players behind the caretaker manager who lost the dressing room at Hampden?
Have the wounds from Hampden healed sufficiently after that 2-1 win of a rotten Hearts team (who were a lick of paint away from snatching point)?
Will they revert to the tactics that got them two draws at Celtic Park and press us high up the park? It worked for Hibs on Saturday – they got the win – but can it work for Rangers? Few of their fans think that it will.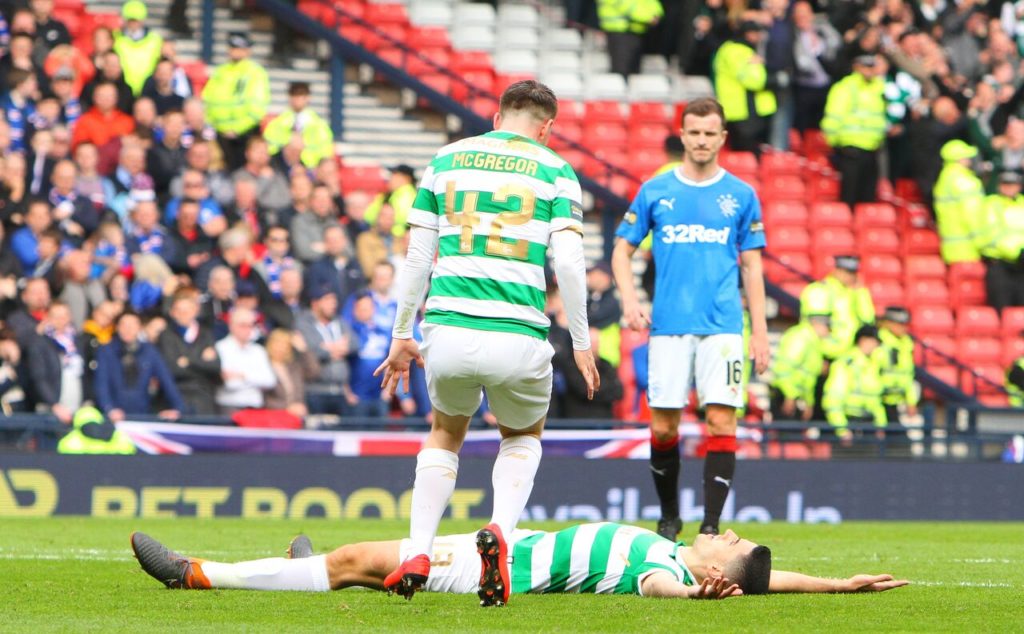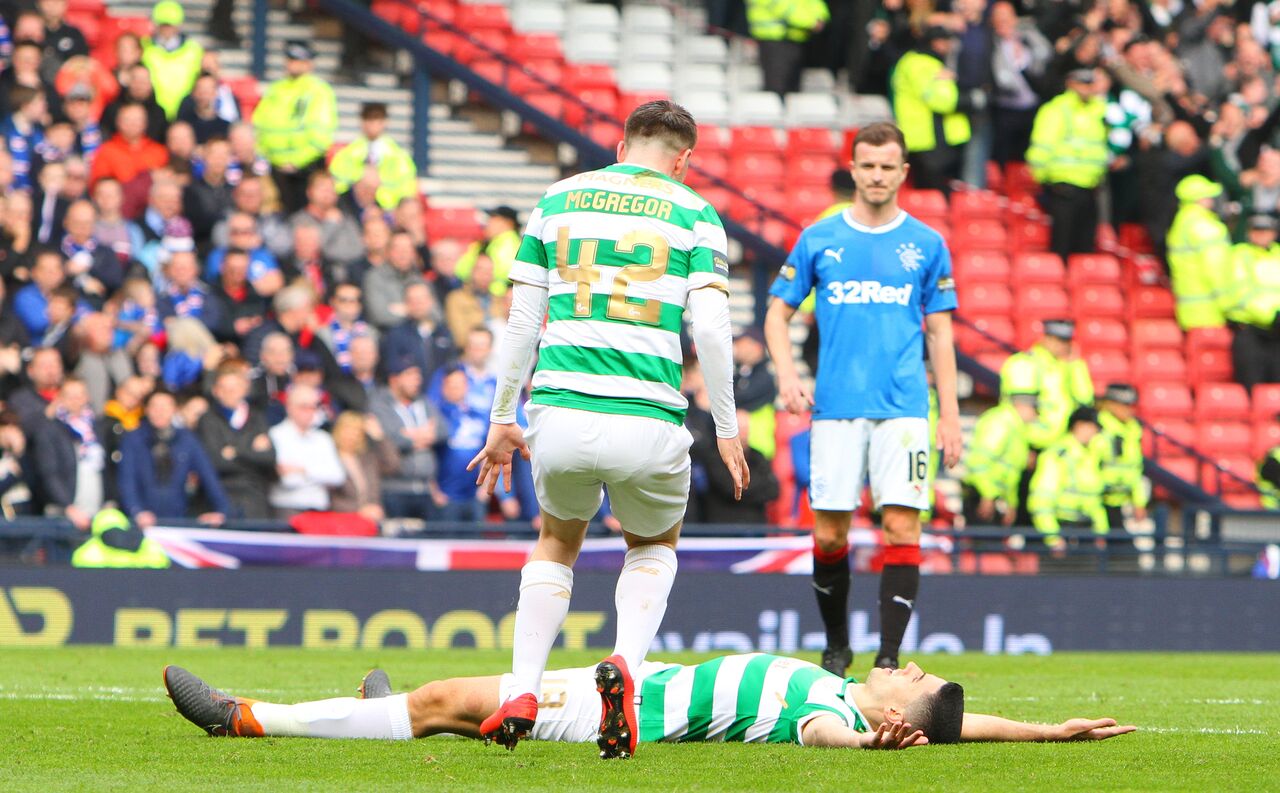 After Hampden are they brave enough to even try?
Celtic are going to be 100% up for this game and have better players all over the park plus a much stronger bench. Scott Brown knew what he was doing yesterday when he trolled them. He knows that their players fear Celtic and he is playing on that fear factor to intimidate them still further. The Celtic support will be at his loudest on Sunday – Paradise will be a hard place for them to play. How can Rangers cope with this?
Before Beautiful Sunday there was huge optimism among their support and in their dressing room – we all remember the cheering – that they were about to mount a league challenge and also win the Scottish Cup. But before the Scottish Cup semi-final that had been replaced by fear and dread.
This Rangers is very different to the one that won 54 league titles. Formed in 2012 it has won only one minor trophy when they defeated the mighty Peterhead in the final. They packed out Hampden and pretended it was important.
But on Sunday they will see the country's top side – by a country mile – going all out to win the Magnificent 7th title. That won't be their version of fantasy football – instead they are going to experience a grim reality check.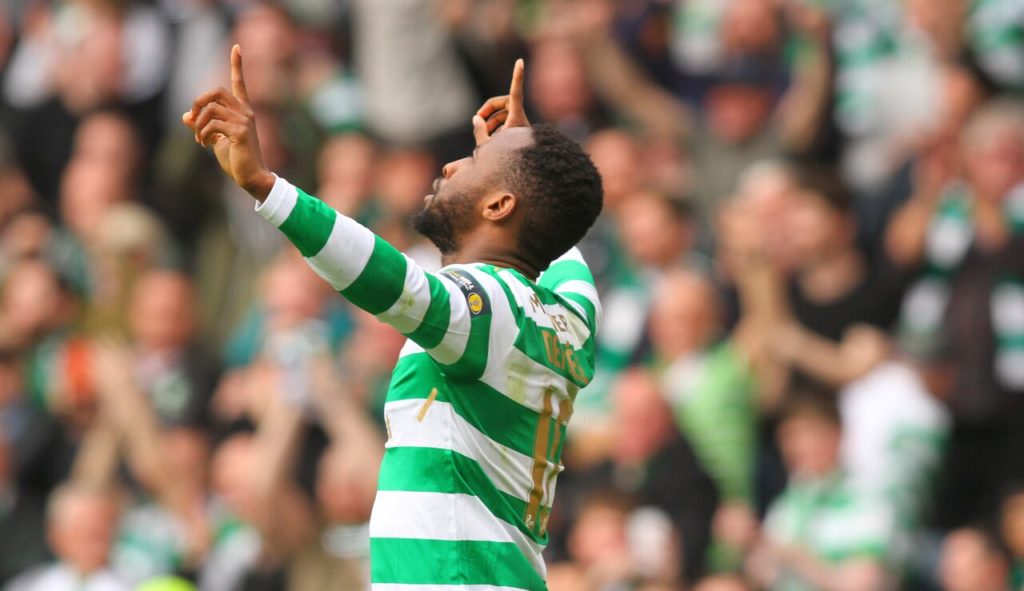 Many of their players on Sunday won't need to worry about stopping ten in a row but for their supporters on Sunday, paying £49 for their tickets, will get a glimpse of their grim future as Celtic home in on another tile and take another step towards 10IAR.
And all the while they'll continue to believe the fantasy, we are all wrong in saying they are a very different Rangers.
But one thing they will discover on Sunday is that the future is bright, but it's green and white.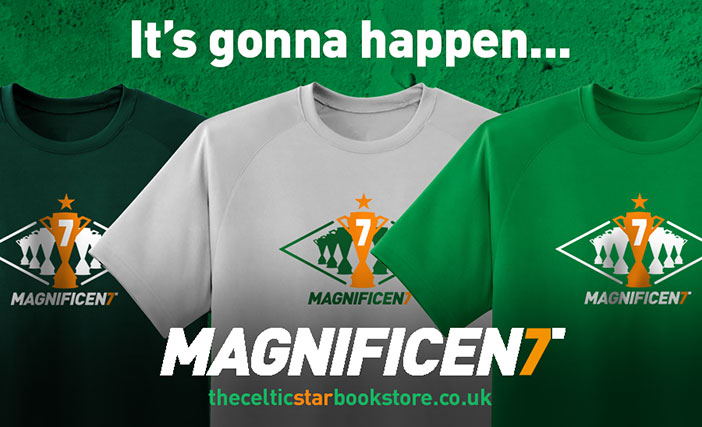 OUR MAGNIFICENT 7 T-SHIRTS ARE SELLING FAST…
ALL orders have been posted out and if you want yours for Sunday there's still time. We have SOLD OUT on there dark green shirts, but have the t-shirts in green and also in gray in sizes large, XL and XXL. You can order yours at www.thecelticstarbookstore.co.uk