It's probably the same at most football stadiums and it's quite remarkable really, but you seldom stop and think about it. For a stadium like Celtic Park on match-day, you get 60,000 supporters making their way from 'every street in Glasgow', around Scotland, and from England Wales and Ireland. There are always plenty of visitors from abroad too and they all get to the East End of Glasgow and are mostly in the ground and in their seats – or standing positions – by the time we're all singing You'll Never Walk Alone.
Literally millions of little personal decisions and preferences join together to make this happen, and nearly all 60,000 supporters will be making assumptions based on their own knowledge of getting into the stadium for the match starting.
European nights are usually tricky as the traffic can be particularly bad and the buses coming from outside Glasgow usually are stuck in pretty bad traffic jams on the motorways as they make their way to Paradise. Recent changes to the roads around Celtic Park, with cycle lanes appearing, has made the driving experience around Celtic Park much worse since the return from the lockdown.
Supporters all have their own routines and habits. Some like to get in nice and early to watch the players warming up, others like to grab a late pint in their favourite boozer and make a last minute dash for Paradise, knowing exactly just how late that they can leave it. Others meet friends and family outside Celtic Park for a chat before going their separate ways to different parts of the stadium to enjoy the game.
This all works, mostly like clockwork but it is a delicate matter with all those personal decisions combining to make it work for us all. When there are changes there are also consequences and sometimes serious ones.
Let's look at two such changes and the consequences – one very trivial and one very dangerous. The first happened earlier this season when we played Jablonec in the Europa League qualifier. The usual traffic jam situation meant that our supporters bus – The Dunblane Tommy Gemmell CSC – arrived at Paradise much closer to kick-off than is the case for a weekend game. But our routine in these situations is the same, head to ground grab a coffee and a pie, head up to the back of the North Stand.
But one little thing had changed. Celtic had announced that payment at the food kiosks inside the stadium would be by card payment only. So when we got into the stadium – bought our Paradise Windfall tickets – and headed up the stairs we discovered that…the pies had sold out. Apparently the queue was going down quicker, so more people joined, more pies were sold before the game as a result and therefore by the time we got there, no pies.
Just a little, insignificant but valid example on how there are consequences when you make these changes. Of course the catering people running these kiosks will have adapted by having more pies going forward so no big deal.
What was almost a much bigger deal was the second example. When as a result of the decision by theRangers to restrict the Celtic support at Ibrox from the full vocal celebratory Free Broomloan to that wee corner at the side, Celtic decided to respond and the consequences could have been deadly.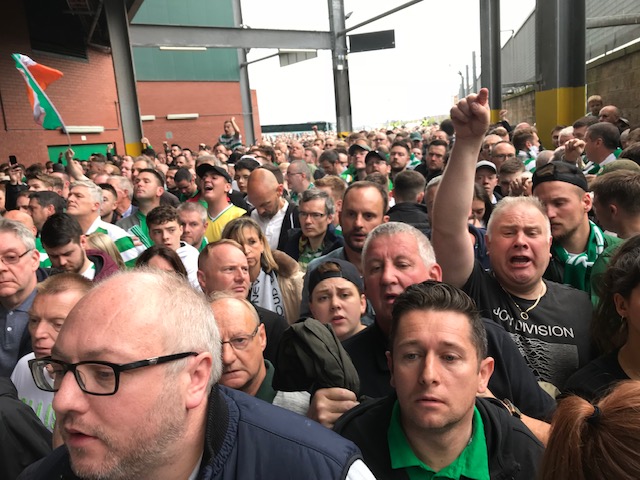 The usual habits that most supporters adopt on match-day was changed as access routes were closed and fans were forced to avoid the corner of the ground where the 750 visiting fans would be using to approach the stadium. The result was a dangerous – and frightening – crush in the under passage behind the North Stand.
The efforts these days to keep fans travelling in opposite directions to one side of the passage and the gates being locked after the game in the centre of this underpass is as a direct result of that crush. Supporters were climbing up onto the graveyard fence to escape the danger and neither the stewards or the Police seemed able or interested in trying to sort out the problem that was growing worse by the minute as more people arrived looking to get in for kick-off.
It was only the self-policing and the sensible approach by Celtic Supporters themselves that day – and yes I was in the crush (missed YNWA, and again no pie) – that prevented a major incident, possibly a tragedy.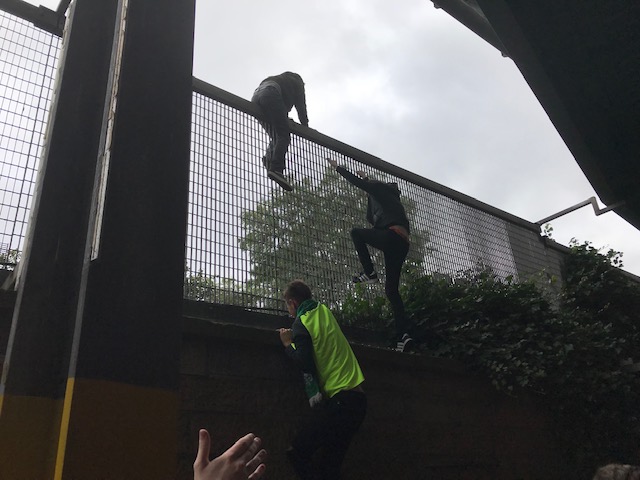 Lessons were learnt and by the next time theRangers came calling their fans were forced to arrive very early and were escorted by police from the Emirates and put inside the stadium ahead of the Celtic support getting to the ground.
The point is that these changes to the routine rippled through and had consequences – at the pie stalls in the first instance and outside the stadium where the crush happened in the other. And those situations must serve as a major warning to anyone thinking that asking 60,000 Celtic Supporters to turn up at Celtic Park and scan vaccine passports before getting through the turnstiles is a sensible idea.
This will lead to delays – probably huge delays – and if there is no alternative but to have two scans of a QR-code – then this is an accident waiting to happen.
My sister and brother in law drove to France last weekend, using the Eurotunnel. As a senior solicitor (she's the one who has helped so many Celtic Supporters get their Irish passports, without charging any of them incidentally) she was well equipped to understand the guidelines and to have all the necessary paperwork and vaccine codes etc in place.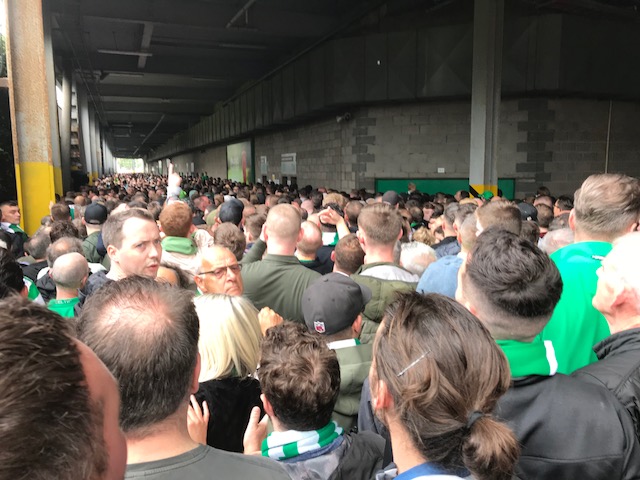 When arriving in France they discovered that everything was in order but unfortunately the French system could not read the Scottish QR codes so not data was showing. They were advised that the could enter France but they couldn't go to any bars, restaurants or shops! Beware Celts heading to Seville!
That took a while to get past the customs officer and there was a delay as others where having similar problems. Imagine 60,000 Celtic Supporters trying to enter Paradise on a cold and wet winter's night being forced to wait in line to show these QR codes before gaining admission.
Yesterday the Scottish Parliament voted to make that the situation we will be facing from 1 October and looking at our fixture list thankfully we play Bayer Leverkusen on the day before this well meaning but  ill-considered plan was approved by Holyrood.
The decision forced on Celtic to move the kick-off time for the game against Ferencvaros on 19 October to 3.30pm might just be a blessing in disguise as this will be the first time that this new entry protocol will apply at Celtic Park.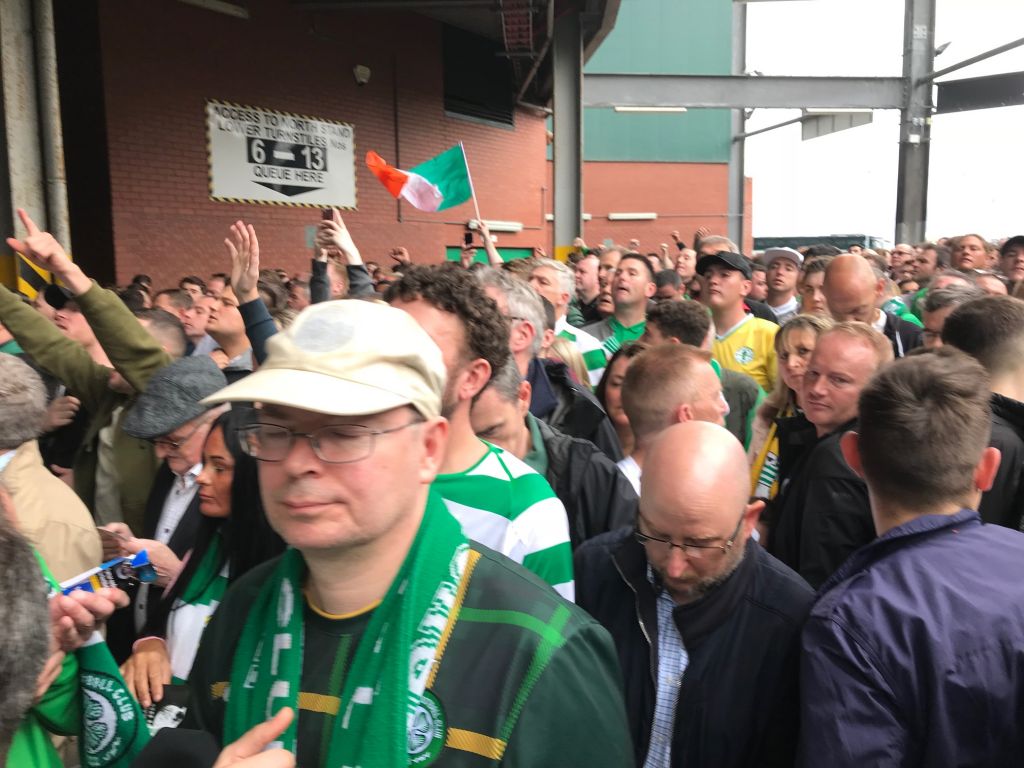 Yesterday's news from the Scottish Parliament was followed by a statement being issued by Scottish football's Joint Response Group who plan to continue discussions with the Scottish Government on this decision that means that people over the 18 of age will now need to prove that they have received two doses of a Covid vaccination prior to entry to many venues across Scotland from 1 October 2021.
Spectators attending unseated outdoor events with more than 4,000 people or any event with more than 10,000 people will now be required to show proof of their vaccine status.
A spokesperson for the Joint Response Group said: "Both the Scottish FA and the SPFL wholeheartedly support the national effort to eradicate COVID-19.
"We have been in discussions with Scottish Government officials regarding the practical implications of vaccine passports for major events, and in particular the risk of health and safety issues and crowd disorder if fans are delayed getting into stadiums, which everyone naturally wants to avoid.
"With only three weeks before the 1st October deadline, we are committed to working hard to develop an effective and workable solution.
"With that in mind, we are keen to explore whether any vaccine passport regime can include spot-checks, rather than blanket inspections of everyone attending games."