EBOUE KOUASSI knows all about playing in Russia and the 20 year old Ivorian midfielder has certainly no fear ahead of the most important match in Celtic's season on Thursday night in an ice cold St Petersburg.
Kouassi played in the Russian league for Krasnodar after signing from the Armenian side Shirak in 2014. Celtic paid £2.8million for him in January 2017 and Brendan Rodgers has been patient in allowing the player who was called 'The Lion' when playing in Russia, time to settle in Scotland.
Kouassi was a stand-out last week in the 1-0 win over Zenit, as indeed all the midfielders were in the diamond formation that Rodgers employed for the match. It completely outfoxed Roberto Mancini who will have had plenty of time at his training camp just outside of Rome to consider his options for countering this Celtic formation.
The Ivorian Celt reckons he will struggle with that.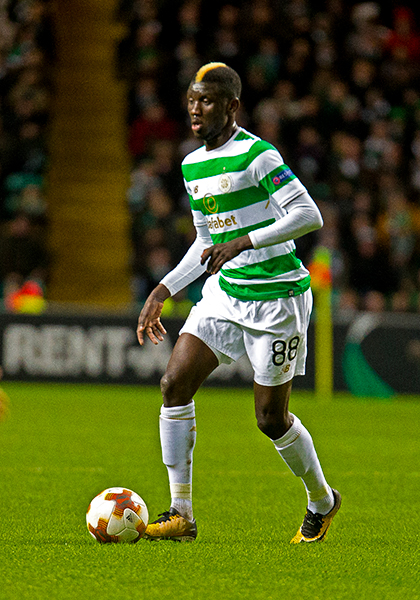 "I don't think Zenit will be much better than they were in Glasgow. I believe we will see the same team," Kouassi said in his media briefing yesterday.
"Am I confident of winning? Yes, I am hopeful. We will fight, we will play our best to get through.
"The key for us to progress is to fight, as we did in the first leg. We need to keep pressing and pushing. We must attack as we did last week.
"We have to play our normal game. We won't go there to defend, we will play like we did on Thursday.
"Of course, we must try to score a goal."
Kouassi is the only Celtic player with experience of playing at Zenit's new stadium. Even the management team, when they played Zenit when in charge at Liverpool, played that game at the old stadium.
"It's a good stadium with one of the best atmospheres in the country," Kouassi stated.
"Zenit are always dangerous at home, they don't lose a lot of games there, but we know what to do, we know how we have to play.
"However, I would not say it is difficult for us to go there. If we play as we can do, then we will qualify for the next round.
"Last week was a great win for us, a great night for Celtic. It was important we got the win at home."
Also on The Celtic Star today…In praise of Scott Brown, Celtic's omnipresent anchorman – read HERE
Plus – 'Difficult for Zenit to play against a big and strong striker like Moussa,' Ntcham…read HERE
And – 'On this day in 1925 our visitors to play in the Scottish Cup, was Solway Star,' Jim Craig..read HERE
And there's much more to come! Make The Celtic Star your daily destination for the best Celtic news and features.
Podcast extra below…