And so Celtic won the Glasgow Charity Cup. The Coronation Cup would be an entirely different matter, for there was hardly enough time to draw breath, as it began on the Monday immediately after the Charity Cup final when Celtic returned to Hampden to take on Arsenal. Jokes were made about Hampden being Celtic's "other home ground" and indeed there was a curious point here involving Neil Mochan who actually won two medals for Celtic before playing a game for them at Celtic Park!
But Fernie was not playing in the first game against Arsenal on Monday, 11 May 1953. It is hardly to be believed that he was dropped, and so we must assume that he had picked up an injury against Queen's Park. Thus it was that the forward line read Collins, Walsh, Mochan, Peacock and Tully for a game that in some ways was one of the best in the club's history, as a huge crowd of 59,500 saw Celtic beat the English League champions 1-0 thanks to a goal scored by Bobby Collins.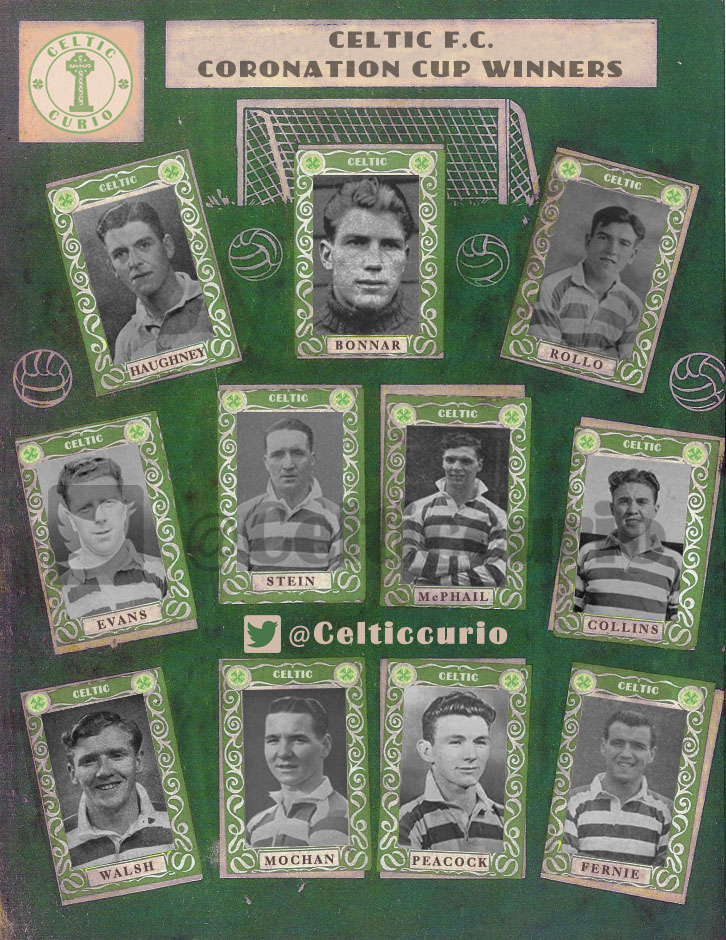 It was a tough game, and Arsenal were visibly taken aback by the passion of the crowd and the sheer enthusiasm (which did not exclude some robust tackling) of the Celtic players.
Already there was an indication that things were not going to plan if the idea was to have the two champions of Scotland and England, Rangers and Arsenal, the two rich, royalist, establishment teams of Great Britain playing in the final of the Coronation Cup. And more discomfiture came to the establishment when Manchester United got the better of Rangers, thus setting up a semi-final with Celtic on Saturday, 16 May.
Once again, Fernie was not in the team and once again Celtic beat top class English opposition in Manchester United. This time it was a sterner sort of game when Celtic had to work hard to get their 2-1 result on a windy day. They scored twice through Peacock and Mochan but then when Manchester United pulled one back, Celtic had to defend desperately…. but held out to the delight of the 73,000 crowd.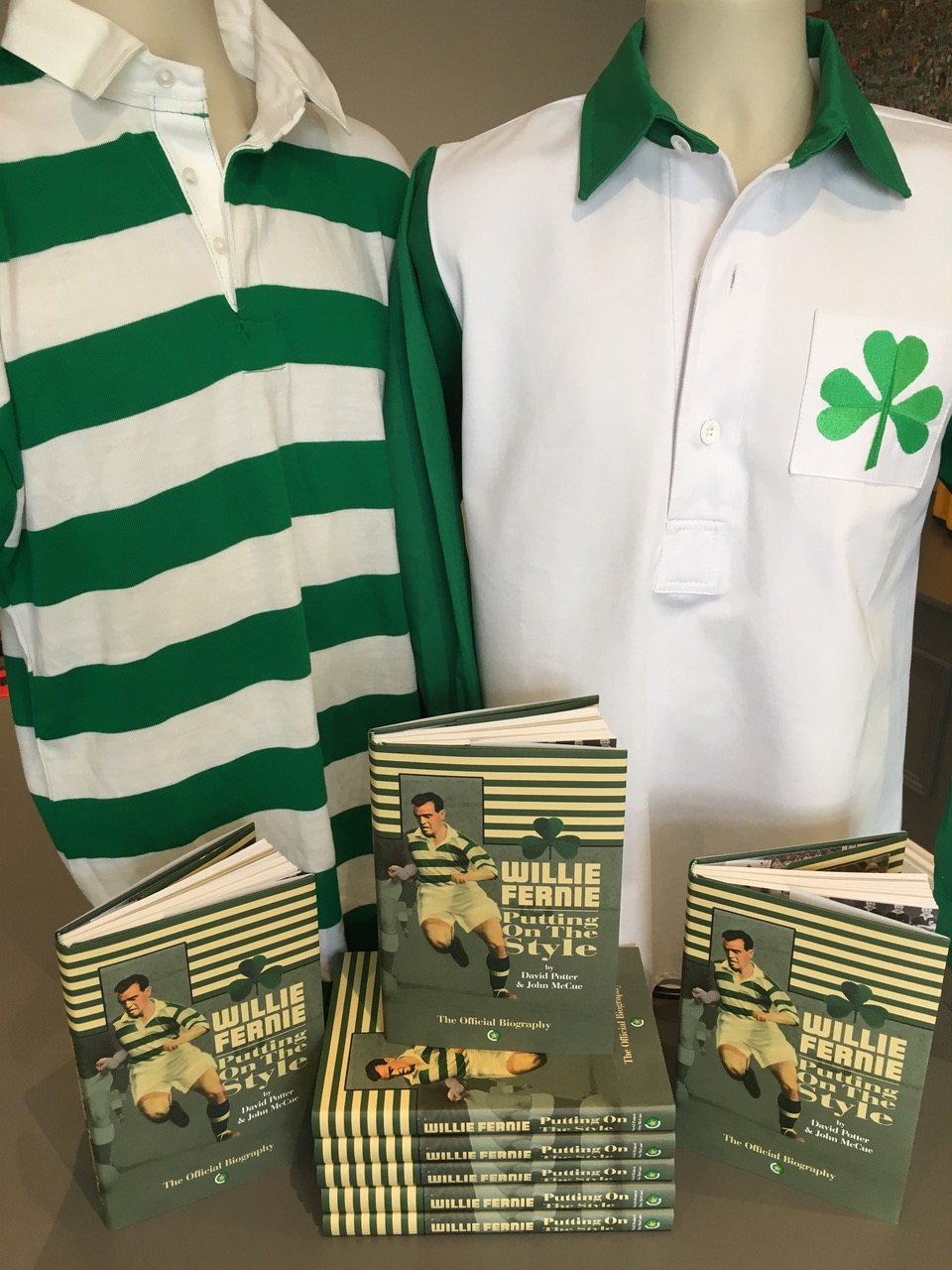 And so, it was Hibs in the final for they had defeated Tottenham Hotspur and Newcastle United. The irony was terrific. It was possibly just as well that the young and as yet uncrowned Queen was not invited to present the trophy. (Would she have been if the final had indeed been between Rangers and Arsenal?) Jokes went around that it might have been better to invite Eamon De Valera of the Irish Republic to do the honours! He would have been quite at home amongst 117,000 people wearing green and white and quite a few of them waving the flags that the SFA and the Chairman of Hibs, Harry Swan, had tried to proscribe less than 18 months ago!
The song of the time reports how the Royal Family themselves were, allegedly, disappointed at this turn of events
"But, alas for the hopes of our two Royal blues
The Celtic beat Arsenal and Manchester too
Then Hibs in the final, all lo and behold!
All Hampden was covered with green, white and gold!"
Most newspapers tipped Hibs to win. Frankly, they were a splendid side with their Famous Five forward line of Smith, Johnstone, Reilly, Turnbull and Ormond and a good defence into the bargain.  Several trains brought their fans in large numbers from Edinburgh confident that they could win the Coronation Cup to make up for their narrow miss in the Scottish League where Rangers pipped them at the post and prevented them from winning three Championships in a row.
They did however seem to have a problem with Cup ties. They were aware that now 51 years had passed since they last won the Scottish Cup in 1902, and, like Celtic, they had never won the Scottish League Cup, although they had lost to Motherwell in the final of 1950.
Celtic had an injury problem in that Charlie Tully had pulled a muscle. He would be much missed and Tully himself was totally devastated, but this did at least solve a selection problem for Celtic. Willie Fernie might have played instead of Jimmy Walsh at inside right – and that would have been hard on the sparkling Jimmy Walsh – but now, there was no choice. The versatile Fifer came in at outside left while Bertie Peacock stayed at inside left where he had excelled so far in the competition.
It had rained quite a great deal during the day of Wednesday, 20 May, but it cleared up spectacularly at around teatime and it became a very fine night for a very fine game of football. Television had not quite arrived in sufficient strength and quality for the game to be televised live, so, for the fans, it was either go to the game or listen to it on the radio, as indeed the great Patsy Gallacher, reputed to be the best of them all but now with only weeks to live, did.
The teams were:
Celtic:
Bonnar, Haughney and Rollo; Evans, Stein and McPhail;
Collins, Walsh, Mochan, Peacock and Fernie.
Hibs:
Younger, Govan and Paterson; Buchanan, Howie and Combe;
Smith, Johnstone, Reilly, Turnbull and Ormond.

Referee: Mr H Phillips, Motherwell
Those who congregated at the King's Park or "Celtic" end of the ground saw most of the action, for Celtic were marginally the better team in the first half and Hibs were overwhelmingly superior in the second. It was 1-0 at half time, and Fernie played a part in the goal. A long clearance from Stein came to him, and seeing some Hibs defenders converging, Fernie deftly flicked the ball on to Mochan who ran on and scored a marvellous goal from about 30 yards, giving goalkeeper Younger no chance. It was a goal fit enough to win any Cup, let alone this one, but it was not the major talking point of this game
It was only the second half which was broadcast on the radio – the Scottish Home Service – so, the game having kicked off at 7.00 pm, it was 7.45 when radios were switched on all over the country – and the next hour was excruciatingly anxious for all concerned as the talented Hibs side piled on the pressure in search of that elusive equaliser.
On This Day 1953 – Coronation Cup Winners 🏆

Celtic 2 Hibernian 0

Mock up Sticker Album page i did of the Celtic team that day 🍀 pic.twitter.com/MyTLM0KqKs

— Celtic Curio (@Celticcurio) May 20, 2022
Wave after wave of Hibs attacks hurled themselves on that Celtic goal and it seemed that the goal must yield to the concerted attacks of that superbly able forward line. But the Celts were organised with Haughney and Rollo dealing with the wingers as best they could, and crucially Stein getting the better of Lawrie Reilly more often than not while behind them all, Johnnie Bonnar played, quite literally, the game of his life. Fernie found himself playing further back than he would have liked – not quite an out-and-out defender, but needed to help out his defenders and to be ready to create something at the other end when required.
Hibs best and most unlucky player that night was Bobby Johnstone who rejoiced in the unlikely nickname of "Nicker" and on at least three occasions he was "through" and a goal seemed inevitable until Bonnar once again saved the day.
Three minutes remained when once again, Fernie was responsible for a Celtic goal when he picked up a somewhat desperate clearance from Evans and charged up the left wing with no other intention than to use up time by "taking the dog for a walk" to the corner flag, when he suddenly noticed that Jimmy Walsh was available.
He slipped the ball across the Walsh who scored at the second attempt.
There was now no way back for Hibs and minutes later the full time whistle went, and soon after that Jock Stein was receiving the Coronation Cup from Lord McGowan. Words cannot really describe the scenes of ecstasy in the Celtic support, and for Willie Fernie, the recollection of that lovely early summer night, would stay with him the rest of his life. Once again, there was dancing in the streets of the Gorbals that night.
David Potter
This second part of an extract from David Potter's new book Willie Fernie – Putting on the Style to follow shortly. You can read part one HERE. The book is available now from Celtic Star Books, see below.