WILLIE GARNER looked back on his short but eventful Celtic career earlier this evening on The Celtic Star. Certainly anyone who was at Celtic Park for his debut back in August 1981 will never forget Willie! You need to read his Celtic story though – here is a real Celtic man talking about our club. We loved the story about playing his part in Celtic winning the 5-a-sides at Wembley – that used to be a Jungle song!
Read Willie's Celtic story HERE.
Below Willie lists his own personal Celtic heroes. It's another great read on The Celtic Star…over to Willie!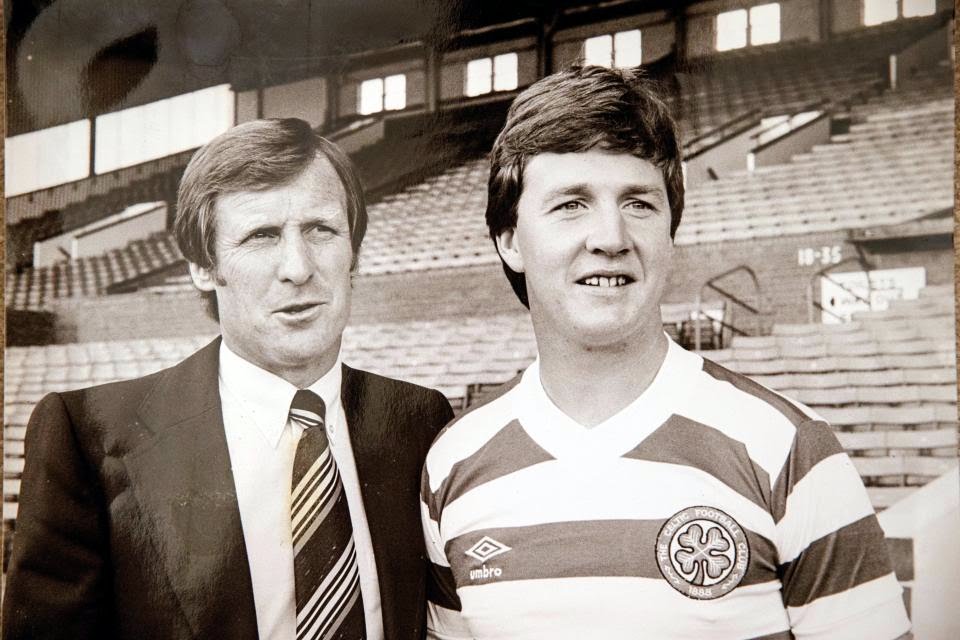 When I look back at the Celtic side that I played in, I still think that we had an excellent team: Packie Bonner, Danny McGrain, Mark Reid, Roy Aitken, Tam McAdam, Murdo MacLeod, Davie Provan, Dom Sullivan, Frank McGarvey, Charlie Nicholas and Tommy Burns.
It would be difficult for me to pick a 'Greatest XI' of players I played alongside, as I only started three first-team games! However, here is a selection of players, all of whom I regard as great Celts. Some I watched from the terraces, some I was lucky to have played with, and some I played under: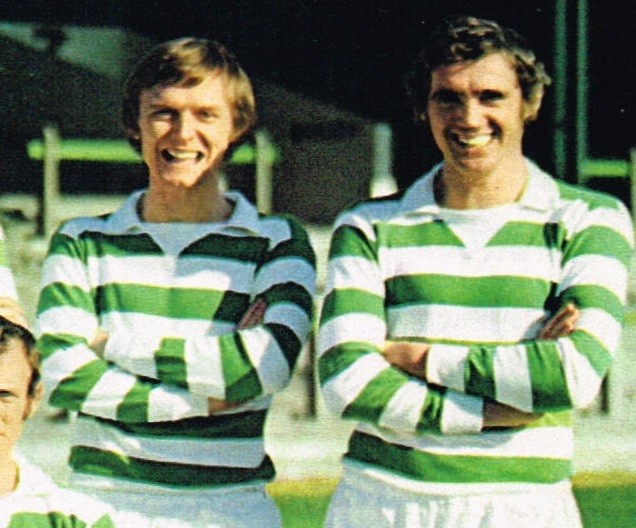 GEORGE CONNELLY
As a supporter, I remember going to Celtic Park one night in 1966 for a European tie against Dynamo Kyiv. This young player came on to the park and kept the ball up in front of a full house. He went around all the lines on the pitch, keeping this ball up. I later found out that it was George Connelly.
George's downfall has since been well documented, but at the time that he left Celtic it was as though he suddenly vanished from the game. Celtic fans naturally wanted to know where he went because he really was a brilliant talent.
Many years later, I was managing Alloa Athletic when I went to watch a Sauchie Juniors player. It was someone else on the pitch, however, who caught my eye that day. He was slightly overweight, and the Sauchie goalie was just rolling the ball to him at the edge of the box. This big defender never ran all day, but he sprayed 60-yard passes all over the park. That was George Connelly in 1983.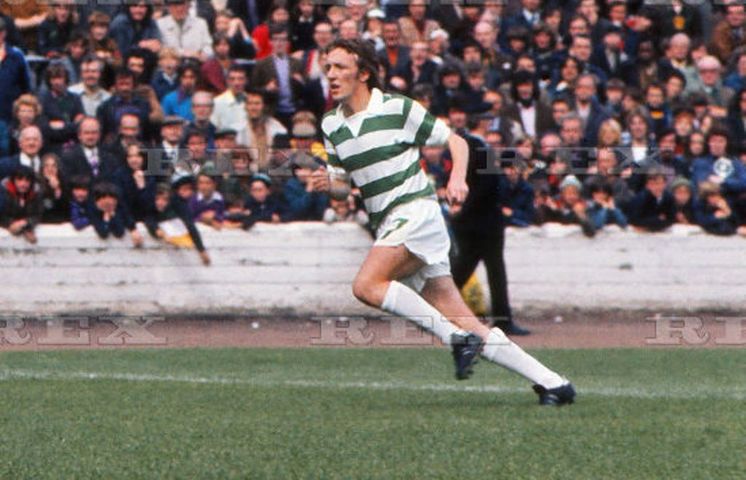 BRIAN McLAUGHLIN
There was a boy in the year above me at St Mungo's High School in Falkirk called Brian McLaughlin, who was a really good friend of mine.
Brian was at an age that allowed him to play for my year's school football team, and he also played the year above himself – he was that good.
One of the weekly comics we read around that time was called The Rover, and they did a feature where readers were asked to write in and nominate someone who was an excellent sportsman.
At the annual county sports, Brian would win the 100, 200 and 400-metre sprints, as well as the long jump, and everything else that he entered. He really was an incredible athlete. So much so, that I wrote to The Rover about him, and I told him this story a hundred times over the years, God rest him. My article was published and we both got a sports watch as a prize.
Brian and I played for our school teams in the morning, and then we'd play together for Denny Boys' Club in the afternoon. We had an excellent side, which also included future Hibs' players John Hazel and Mikey Wilson.
The janitor at our school was a guy called Tom Harvey, who was also a Celtic scout. Brian McLaughlin and a boy from Camelon called Michael Fagan were soon signed for Celtic, and it didn't take Brian long to sign senior forms for them.
We called Brian McLaughlin 'Super', and he really was the greatest all-round player I have ever seen in my football career. He had everything, and I know that Jock Stein also thought very highly of him. Brian was like a quicker version of Kenny Dalglish; he couldn't half run.
Sadly, Brian suffered a horrendous injury playing for Celtic's first team, and it really set him back in his career. A Clyde hatchet man nearly snapped him in two. It was such a waste of an incredible talent.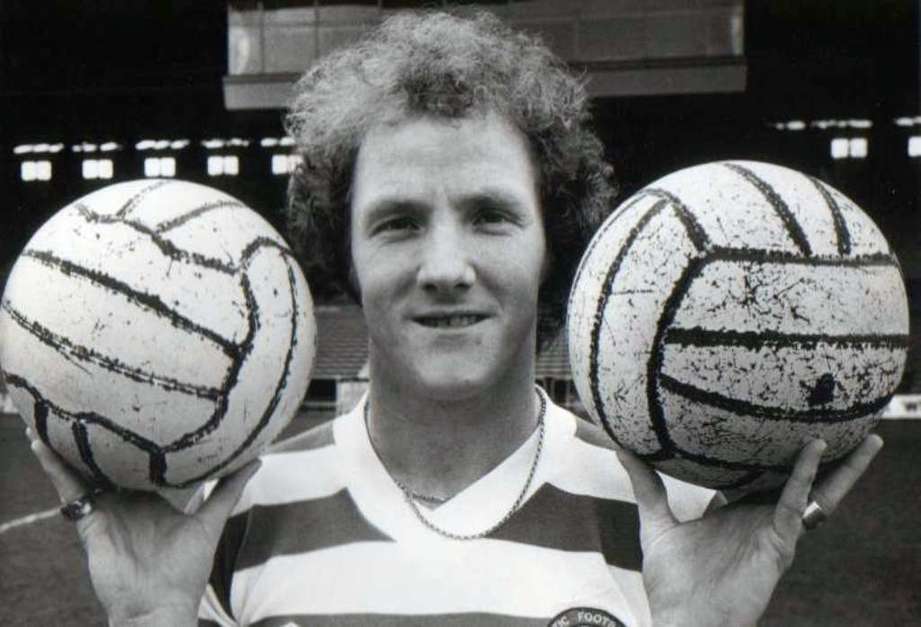 JOHNNY DOYLE
When I arrived at Celtic in July 1981, Billy McNeill told me that I was rooming with Johnny Doyle for our pre-season trips to the States, Germany and the Netherlands.
Doyley was the life and soul of that dressing room. He was a nutcase, and used to wear this massive crucifix, which he taped to his body before matches.
On one occasion, the first-team were playing at Ibrox, and the reserves had an early kick-off at Paisley. Johnny and I were with the reserves that day, and as we were travelling back to Celtic Park on the team coach after our match, we got stuck behind a Rangers supporters' bus in traffic. The Rangers fans quickly spotted Bobby Lennox at the front of our bus and started hurling abuse at us.
Further along the road, we drew up alongside this same bus on the motorway, and we stopped moving due to the heavy traffic. Wee Doyley suddenly said, "Watch this… Count how many bare arses you see." The wee man then took his crucifix out and put it up to the window. You could see the Rangers fans' faces turning red with anger. Then they started dropping their jeans and sticking their hairy arses up against the window. We were saying, "John, I hope this bus gets moving sharpish!"
Wee Doyley used to torture the young players at Celtic too. If it was their birthday, he'd take them into the boot-room and batter them. All the boys on the groundstaff at that time – Willie McStay, John Halpin, John Sludden – were absolutely petrified of him.
In saying that, Johnny was also one of the players – along with Tommy Burns and Roy Aitken – who told the young boys the Celtic story. They made sure that the next generation knew what it meant to be part of Celtic Football Club.
The day Johnny died was just terrible. The management team had all been given a list of players to call, so that they could break the news to us at roughly the same time. Brian Scott phoned me and said, "Really bad news, big man…" He then told me what had happened.
We were asked to report to training at the usual time the following morning. That was the hardest day's training I've ever done in my life. We didn't go up to Barrowfield that morning, we just went out on the track at Celtic Park and ran, and ran, and ran, for what seemed like hours.
Johnny was really close to Tommy Burns, Danny McGrain, Davie Provan and Frank McGarvey. It was such a sad time for us all, and the whole club had to try to recover from our terrible loss.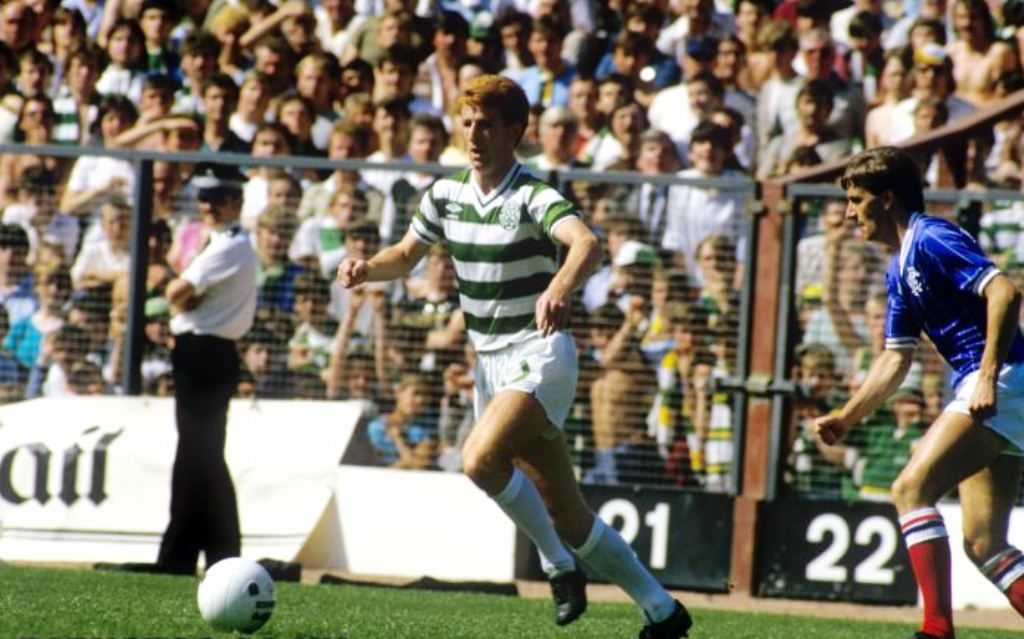 TOMMY BURNS
My son was born whilst the club were in America for the 1981-82 pre-season. The first time I actually seen him was when a supporter handed me a Daily Record, and there was a picture of my wee boy in the paper.
Tam Burns put me on a guilt trip straight away, and said to me, "Right, we're going to Macy's to get the biggest cuddly toy we can find." There was no way I could take this giant teddy back on the flight, and I ended up having to send it back to Scotland in the mail.
Tam loved the club, and he made sure that anyone who came in knew exactly what Celtic was all about. I used to watch him at work. He would go and sit with players on the team bus, talk to them, and make them understand what they were representing when they pulled on that strip. It was fantastic, and he probably did that his whole life.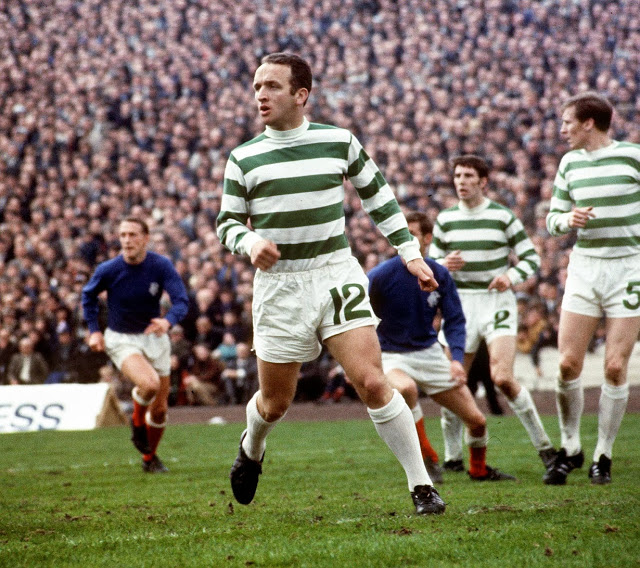 JOHN CLARK
On the same American trip in 1981, we were staying at a hotel called Inn on the Park. We trained on a small part of ground in the park across the road, and the young boys carried the kit over, set the cones up, and we just trained in public.
Celtic have a huge support in New York, and it didn't take long for word to spread amongst the locals. Before we knew it, the supporters were turning up to watch us in decent numbers, and it was great to be part of that.
After training, it was a case of walking across the road to go for a shower in the hotel. On this particular day, I was with Roy Aitken, John Clark and Davie Provan in the lift when Pele walked in. Unknown to us, his movie Escape to Victory was being previewed in the top floor of our New York hotel.
We were all standing there star-struck, when Pele said to John Clark, "Number six, Hampden 1966." Wee John calmly replied, "Correct."
When we got out of the lift, John turned around to us and said, "What do you think of that, boys?"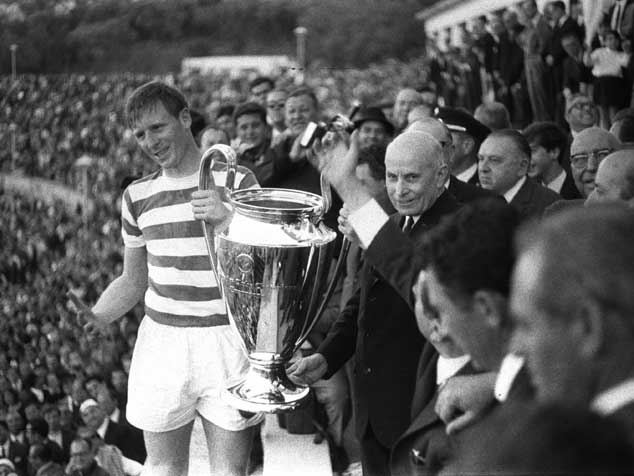 BILLY MCNEILL
I worked under Billy McNeill and John Clark at both Aberdeen and Celtic, and I felt that they were a great match as a managerial partnership. Billy was very headstrong, and John would get in close to the players, as a good assistant does.
We were doing a simple shooting drill up at Barrowfield one day. Billy and John were on opposite sides of the 18-yard line, and there were two lines of players. Billy and John were laying the balls off to us, and we were shooting into Packie Bonner and Peter Latchford.
The players started to get restless after about 20 minutes, and someone asked John if we could change it a bit. John agreed and told us to dribble around him before shooting, and we added that into the drill.
After a couple of the boys did this, Billy shouted, "Hold on a minute. What are you doing?"
"We've been doing that drill for ages, boss," answered John. "Can we not just change it?"
"We'll change it when I tell you to," came Billy's incessant reply.
This was like a red rag to a bull for John. Before we knew it, they were both walking along the 18-yard line towards each other. Billy's got the chest out, and John's shouting, "Who the f*** do you think you're talking to?" Danny and Roy had to split them up. I honestly thought there was going to be a fight.
Billy told John that he'd speak to him back at the park, and John left Barrowfield with the reply: "I'll not be f***ing there when you come back to the park!"
The Celtic job must have been extremely difficult for Billy. Not only was he a supporter, he was the club's most successful captain, and his standards had been so high throughout his career. The level of expectation on Billy when he went back to Celtic Park was exceptional.
I felt at times that his man-management could have been better. I remember sitting on the bench when we played Ajax at Celtic Park in 1982. Billy instructed Tam Burns to man-mark Johan Cruyff. He told Tam to follow Cruyff wherever he went. Tam argued that he was one of our most creative players, but Billy's reply was, "Just do what you're told."
At the start of the game, Celtic were hitting towards the Rangers end and Cruyff was playing outside-right, next to the Jungle, which suited Tam because that was his side of the park. 15 minutes into the game and Cruyff had already sussed out what we were up to. He wandered right across the halfway line, and Tam duly followed him, as instructed, completely out of position. Cruyff stood in front of the dugout and shrugged his shoulders, as if to say, "What's this all about?"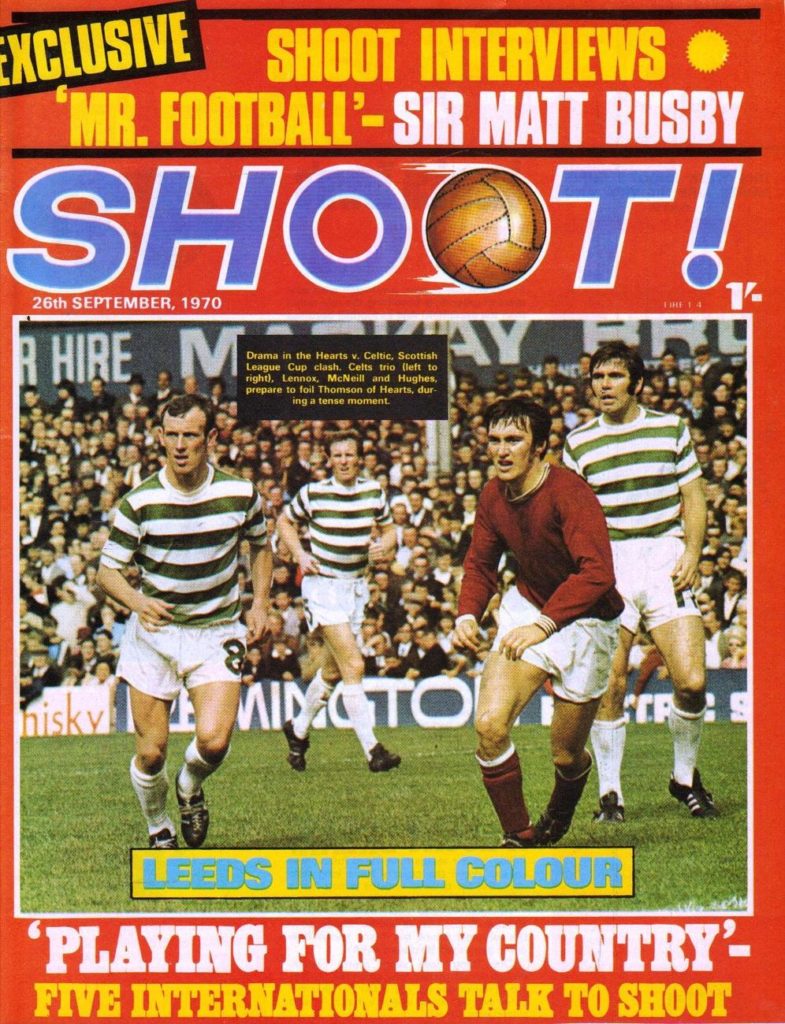 BOBBY LENNOX
After my first two games, Billy told me he was taking me out of the team to do a bit of fitness work with Bobby Lennox, who was the reserve team coach at that time.
Lemon took me running every afternoon around Queen's Park. We did it four days a week for about six weeks, and I've never been so fit in my life. What a fitness level he had, even at the age of 38.
He was still a fantastic player as well. We used to train on a plastic park at Helenvale, and Bobby hadn't lost the pace, and would score goals for fun. I had played against him when I was with Aberdeen, but it was only when I saw him in training everyday that I realised just how incredible he was. He could still have been playing competitively when I was at Celtic Park.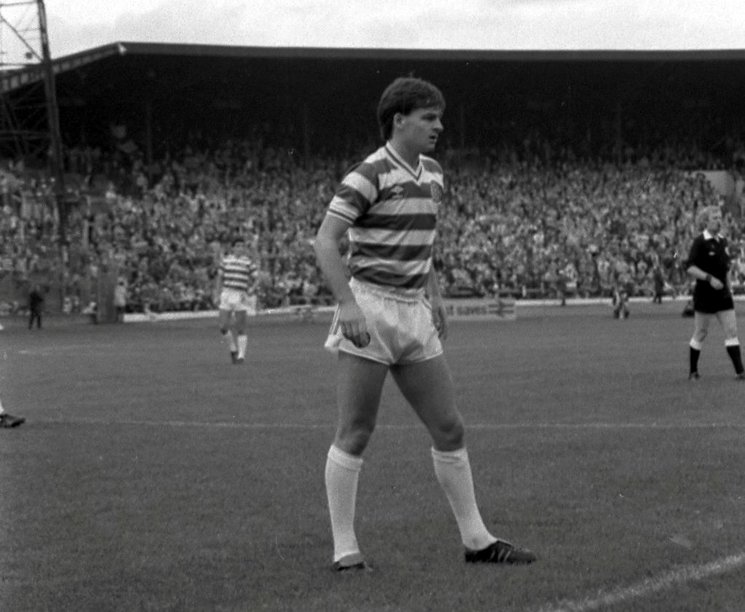 CHARLIE NICHOLAS
Charlie was a real 'Jack-the-lad'. I would say that Danny McGrain had a massive influence on his career, because he could quite easily have gone off the rails with everything that surrounded him outside of the game.
Charlie would pitch up at training with no socks on, and Billy McNeill would fine him for it. Charlie would then turn up without socks on the following day, and get fined again.
He used to sit on the team bus and listen to Duran Duran on his earphones. All of a sudden, he would sit upright and sing, "Girls on Film!" and then he'd settle down again. We were all looking at each other saying, "What is this boy all about?"
But what a phenomenal talent Charlie Nicholas was on the football field. One of the best I've ever seen.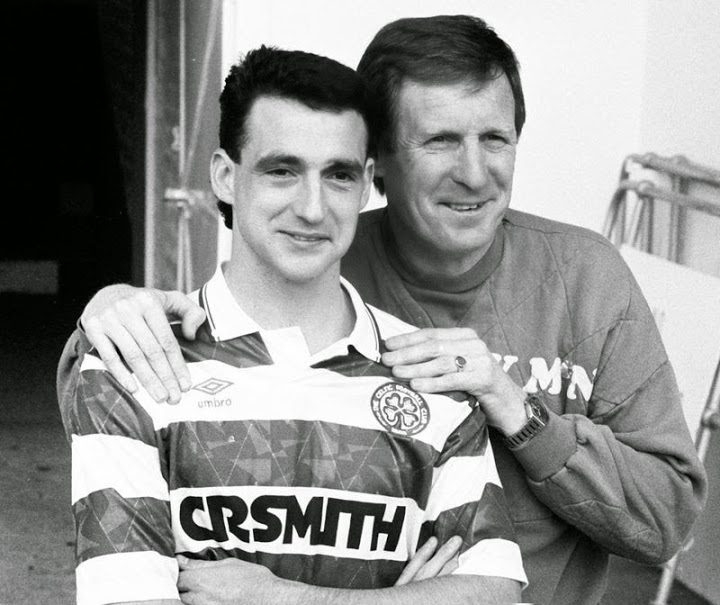 PAUL MCSTAY
Paul McStay was another youngster who broke through during my first season at Celtic Park. He was a superb player, and a really strong runner. McStay had played in a magnificent Scottish schoolboys' team alongside another young Celt, John Sludden.
Wee Sluddy just seemed to lack that vital burst of pace. He had great technique on the ball, but he didn't have that spark that Charlie had.
There were many like him – players like Jim McInally and Jim Dobbin – who simply didn't get a look-in at Celtic around about that time. Jim Duffy was another right good player, but he was never given a chance by Billy. Duff was a better defender than Roy Aitken, and he used to put me in mind of my old Aberdeen team-mate, Willie Miller. I played a lot of reserve games with Duff, and I think a lack of pace might also have held him back from reaching the very top.
READ Willie Garner's own Celtic story HERE.