From 1900 onwards there had been advertisements in Glasgow newspapers trying to persuade people that they should eat "Force" cereal for their breakfast.
In these poverty-stricken, hunger-haunted days (the Boer War recruiting campaign of a few years previously had foundered because so many young men in big cities like Glasgow and Liverpool were malnourished and unfit for military service!) Force needed an advertising campaign to persuade people that their product would make them healthy.
Not only that, but it would make them cheerful as well in the metamorphosis that changed Jim Dumps (as in "down in the dumps", presumably) to "Sunny" Jim.
Jim Dumps was a most unfriendly man
Who lived his life on the hermit plain
In his gloomy way he had gone through life
And made the most of woe and strife
Till Force was one day served to him
Since then they've called him Sunny Jim!
Sunny Jim was portrayed as striding along, or jumping over a fence
High o'er the fence leaps Sunny Jim
"Force" is the "force" that makes him!
To what extent, "Sunny Jim" helped the sale of Force cereal among Celtic supporters over the next 20 years is not certain, but Force of course still exists today, and there could hardly be a more appropriate nickname for the young, strapping, genial, hard-working and totally dedicated man from Ayrshire who became a Parkhead hero in astonishingly quick time!
But hero though Sunny was, Maley was very aware that there were some parts of his play that needed attention, and Maley used him sparingly in the first half of the season as he tried to find the best combination. The best team in Scotland in autumn 1903 was Third Lanark who, having defeated Celtic at Parkhead, proceeded to do the same at Cathkin on the Holiday Monday in late September, winning 3-1 and repeating the score of Parkhead a month ago. They would win the Scottish League for the first and only time in 1904.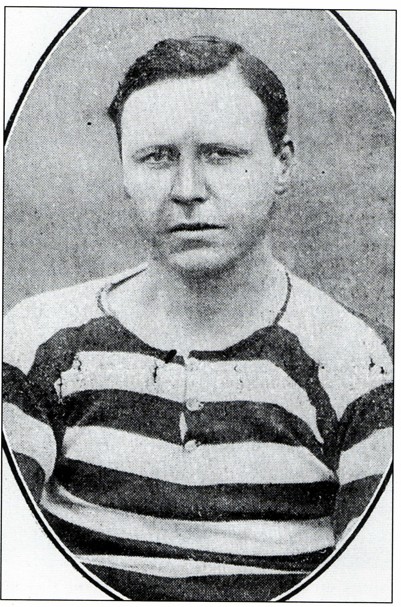 Young had a poor game that day against the fine Thirds' side now managed by a man with the unlikely name of Frank Heaven, and containing ex-Celtic Johnny Campbell who had a point to prove against what he may have seen as a premature departure from Parkhead. Maley decided that perhaps Young was due a rest after his good start, for he wanted to see how Willie Loney might fare in the centre half spot. So Young now disappeared for a spell from the Celtic team. In any case he had a domestic matter to attend to.
Early in the morning of November 3 1903 at 14 Barbadoes Road, Kilmarnock, Florence gave birth to a baby girl to be called Alice Maud Young. The Birth Certificate is interesting in two ways. One is that Sunny is called James Gilmore Young, (whereas his own Birth Certificate of 1882 merely says James Young) and he signs himself James G Young, and the other thing is that he is described as an Iron Turner (Journeyman) rather than Professional Footballer – something that makes one think that at this stage of his career at least, he was still playing part-time football for Celtic, probably training at Kilmarnock and going to Glasgow only on a Saturday and match days.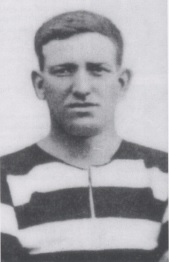 On the other hand, very few football players would want to be described as a "Professional Footballer" on an official document – there still remained, as a relic from the Victorian age, a strong horror of professional sport in polite society – and would described themselves as something else, as if playing football professionally was only a temporary thing – as indeed it was.
Four days after Alice was born, Sunny played for Celtic in the Glasgow Cup semi-final against Clyde in an impressive 2-0 victory, but it was the only game that he would play for a spell. He played that day only because of an injury to Willie Loney, whom Maley now seemed to think was a better centre half than Jimmy Young. Young thus missed playing in the first ever game at New Hampden (on 31 October 1903) and also both the Glasgow Cup final and its replay against Third Lanark.
In the replay the very fine Third Lanark side, the "sodgers" (as they were called, because they were the Third Lanark Rifle Volunteers originally) edged home with a shot from Johnny Campbell which squeezed under goalkeeper Davie Adams' gloves on the wet ground. Adams then in desperation joined the attack as Celtic pressed for an equaliser, but Thirds held out to win the Glasgow Cup to the despair of the huge Celtic crowd at Ibrox, and of Young who was sitting powerless in the stand.
He had rather hoped to get the nod for this important game (the Glasgow Cup was a mighty tournament in those days) but accepted his disappointment with equanimity when Maley patted him on the back and told him that "your day will come".
Indeed, Maley was in a quandry. Young was too good a player to leave out. He was hard-working, earnest and, importantly for Maley, genial and cheerful without in any way diminishing his will to win. He was also, Maley noticed, a great team man, the broad Ayrshire accent being heard from the stand roaring on the team when he wasn't playing.
Other players took the huff when they were dropped and secretly hoped that the team would lose, but Sunny was always seen talking to supporters and speaking about little other than Celtic's chances of winning the game.
Sunny played two games in early December, both of them impressive wins against Morton and Airdrie, but then Loney returned and played so well that he could not be dropped. New Year 1904 arrived with Maley reasonably happy about the form of his side. There were inconsistent performances but that is always likely to happen with a raw "developing" (as Maley kept saying) side.
He was also faced with the difficult problem of keeping so many talented young men happy. There were simply so many good youngsters around at that time – in particular he had two centre halves of immense talent in Willie Loney and Jimmy Young. He hated disappointing one of them (as he had to do every week) but 1904 was to bring the solution to this problem which would also re-establish Celtic as undeniably the greatest team in Scotland and possibly the greatest on earth.
Centre half is a position that has changed over the years. Now there is possibly not such a thing a centre half, for he is usually one of two in the back four called a "central defender". In the 1950s and 1960s he was very definitely a defender who would come up for a corner kick often with devastating effect (Billy McNeill was an excellent example of that!) but before that he was possibly even more of an attacker and in his frequent forays upfield, the two wing halves would be expected to cover for his absence.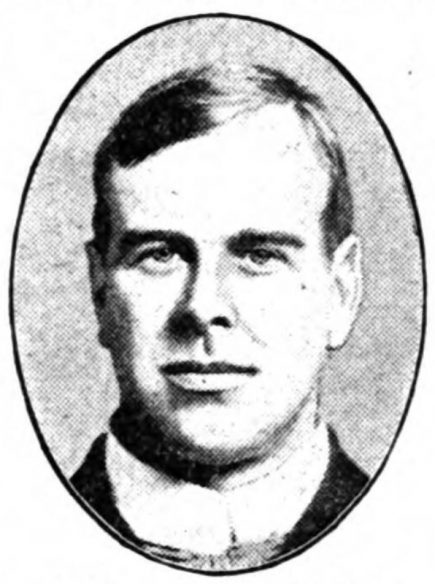 Maley's philosophy for Celtic was one of attacking, fast football with everyone able to pass to each other and if possible to interchange with each other. He certainly expected his five forwards to do that and he would expect his centre half and centre forward to do that on occasion as well.
None of this really solved his conundrum of what to do with Jimmy Young and Willie Loney. In the event it was a combination of injuries, whims and sudden impulses which released on Scottish football the mightiest half back line with the key factor possibly being Maley's conversion to the idea that he should play his best players regardless and allow abstract ideas about team formation to take second place.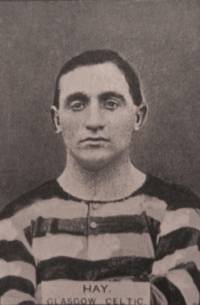 Young did not play in the New Year Day fixture against Rangers, a 2-2 draw in which a late lapse of concentration in the Celtic defence allowed Rangers an undeserved equaliser. Willie Orr who had played right half that day was given a rest the next day, 2 January for the friendly against Corinthians, the London amateur club who usually played their Scottish counterparts Queen' Park on New Year's Day.
Sunny Jim was brought in at centre half and Willie Loney moved to right half, so that the half-back line read Loney, Young and Hay. On a frosty day, Celtic had few problems with the hard pitch and defeated the Corinthians 5-0.
Then on Wednesday 6 January in a friendly against Clyde (which Celtic won 2-1) with Loney given a rest, a fellow called Thomson was given a game at centre half and Sunny Jim moved to right half. He impressed there, but Thomson apparently didn't and in any case, Loney was available again, and thus it was that on 9 January 1904, Young, Loney and Hay took their place for the first time in a competitive match against Airdrie in what was Celtic's first ever visit to Broomfield.
To be continued…
David Potter