THE transfer rumours started again yesterday after a curiously quiet period as Celtic focused on the action on the pitch and of course dealt with the trauma of the Kieran Tierney sale to Arsenal.
The narrative for the post KT era in this transfer window started with Neil Lennon warning clubs that Celtic will not be paying "silly money" for players but the days of bargain hunting are clearly going to be tougher to achieve given that any selling clubs – be they in Norway, Poland or East Ayrshire – all know that Peter Lawwell pocketed twenty five big ones for a home grown academy last week, and will figure that he needs to bring in one or more replacements – and that's where they'll see their opportunity.
Celtic PLC formally advised the London Stock Exchange of the incoming 'single payment' of £25million for the sale of Kieran Tierney to Arsenal this morning.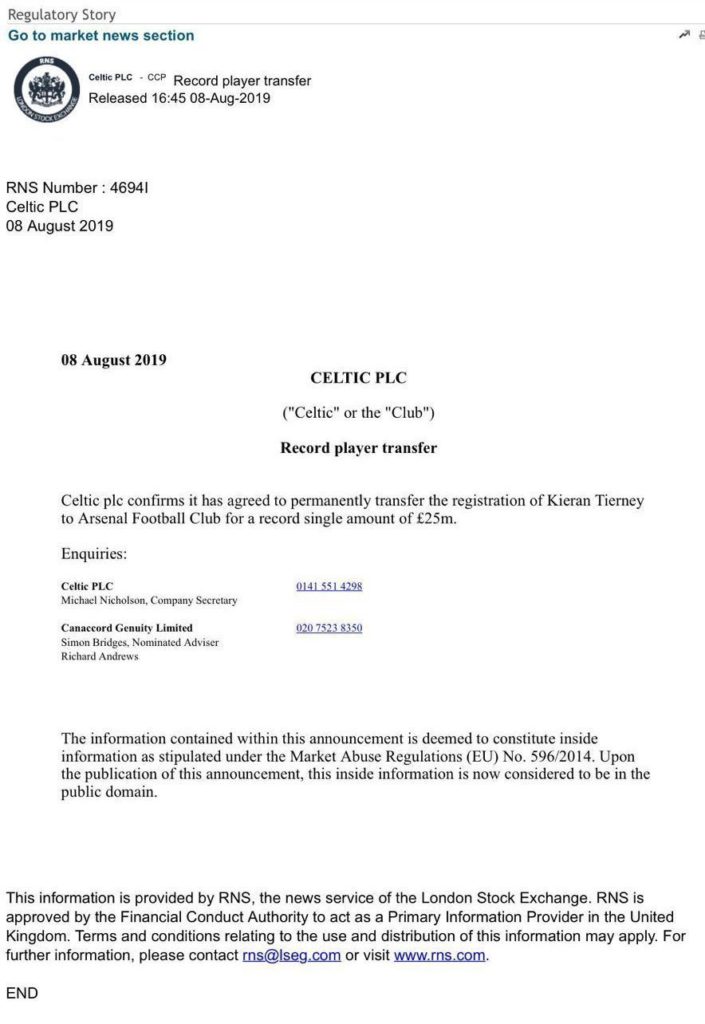 You can't blame them either but Lawwell is a tough negotiator and we'll all just have to buckle ourselves in for the bumpy ride until the window closes and hope that he'll manage to get the player or players that Neil Lennon wants.
There have been three possible signings mentioned yesterday, two based on media comments in Norway and Poland and the other based on Tosh McKinlay attending the Hamilton v Kilmarnock match at the weekend allegedly to scout Greg Taylor. The papers reckoned Celtic were looking at a £900k deal with Kilmarnock for their Scottish international left back who is in the final year of his contract and is keen on a move.
Taylor would be a decent signing for Celtic, he knows the league, has performed well against all the clubs, particularly the Rangers and is likely to be involved with Scotland going forward given that his old boss Steve Clarke is now the national manager.
We reported yesterday – see HERE – that Neil Lennon refused to answer questions on Celtic interest in Taylor as the player is under contract at another club. He has been quick to shoot down other media links, like the Brentford full back last week, so this appears to indicate that there is Celtic interest.
Killie boss Steve Clarke and defender Greg Taylor in running for @scottishfwa prizes

???? https://t.co/c2aHHujiod pic.twitter.com/1yUcoqs9hr

— Kilmarnock FC (@KilmarnockFC) May 9, 2019
The £900k isn't going to wash though with Billy Bowie at Kilmarnock ready to slap a £2million price tag on his star man. Expect though that his resolve will be tested with Celtic being prepared to meet him somewhere in the middle.
Then there's the alternative – Birger Meling at our old friends Rosenborg. Twenty-four year old Meling was the most impressive Rosenborg player in the four recent Champions League qualifiers against Celtic over the last few seasons and he's also going into the final year of his contract and is keen on moving abroad. Niall J was pushing for Celtic to sign him at the start of the transfer window on The Celtic Star and you would imagine he'd also do just fine at Celtic.
Celtic are hunting Norwegian international Birger Meling as a replacement for Kieran TIerney – according to TV2 pundit and former player Jesper Mathisen.

— CelticBible (@CelticBible) August 12, 2019
Over at the right back position, a player that The Celtic fans – including Niall on The Celtic Star – have been pushing to sign is 21 year old Polish right back Robert Gumny who is also in the final year of his contract att his club Lech Pozna .
All three clubs – Kilmarnock, Rosenborg and Lech Pozna will not want to see their star asset 'Do a Boyata' and their chances of interesting the English Premier League are over.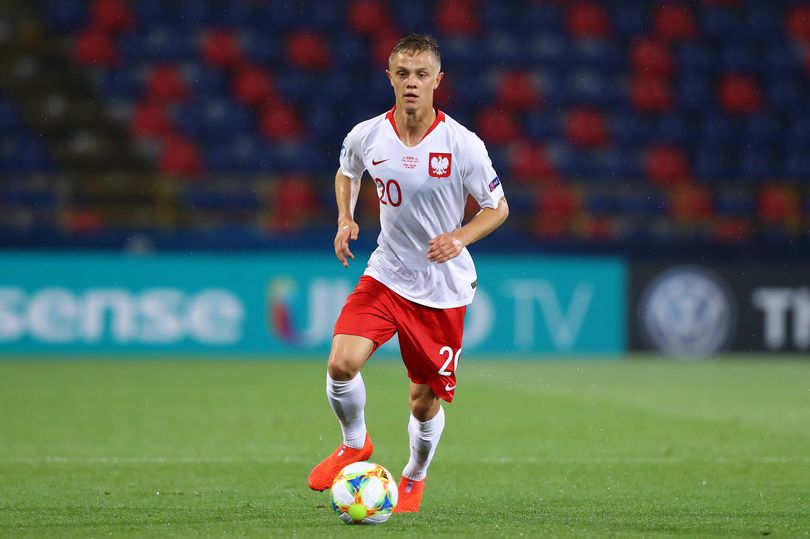 The problem with Gumny though is that Lech Pozna are apparently looking for around £6million for the 21 year old. Last week the reports were that he was heading to Italy but it appears that the clubs that were interested are from the lower end of Seria A and have not been willing or able to see the Polish asking price.  The Daily Mail is running with the story of Celtic's emerging interest in making a late move for Gumny, who is a player that Celtic are more than well away of. Whether that's based on ITK information from Glasgow or he speculation from the Polish media is unclear.
This from 16 hours ago…
Robert Gumny to Celtic?
https://t.co/pdCqv9TQnH

— CelticBible (@CelticBible) August 12, 2019
Then this this morning…
Celtic are preparing a £6million move for Robert Gumny – according to the Daily Mail.

— CelticBible (@CelticBible) August 13, 2019
The problem with both the Gumny and Meling stories is that they both emerged yesterday on pretty flimsy news snippets – perhaps one more reliable than the other – in Norway and Poland.  That's not to say that there's not anything in it  – all three players mentioned would be decent signings for Celtic on their own merits – but don't expect Neil Lennon to buy two left backs, and at the moment Taylor looks the most likely.
Polish media outlet Glos Wielkopolski yesterday reported  on Celtic's interest in Gumny, who has made 72 for Lech Poznan. The 21 year old right back was set to  join Borussia Moenchengladbach in January 2018 but failed a medical and Celtic were credited with an interest at that time too.
Celtic still need a right back and Gumny would certainly be a popular signing among the support.