Jimmy McMenemy: The Napoleon who never met his Waterloo. On World Book Day, an Extract from David Potter's Early Stars section in our best-seller Walfrid & The Bould Bhoys…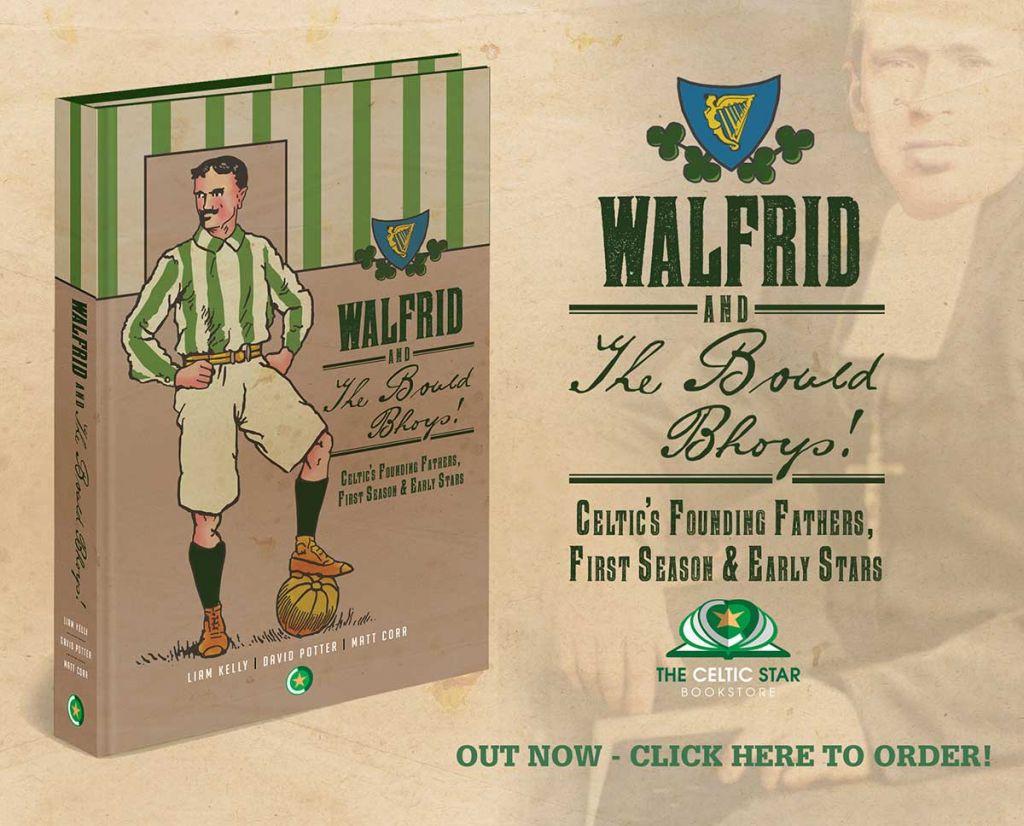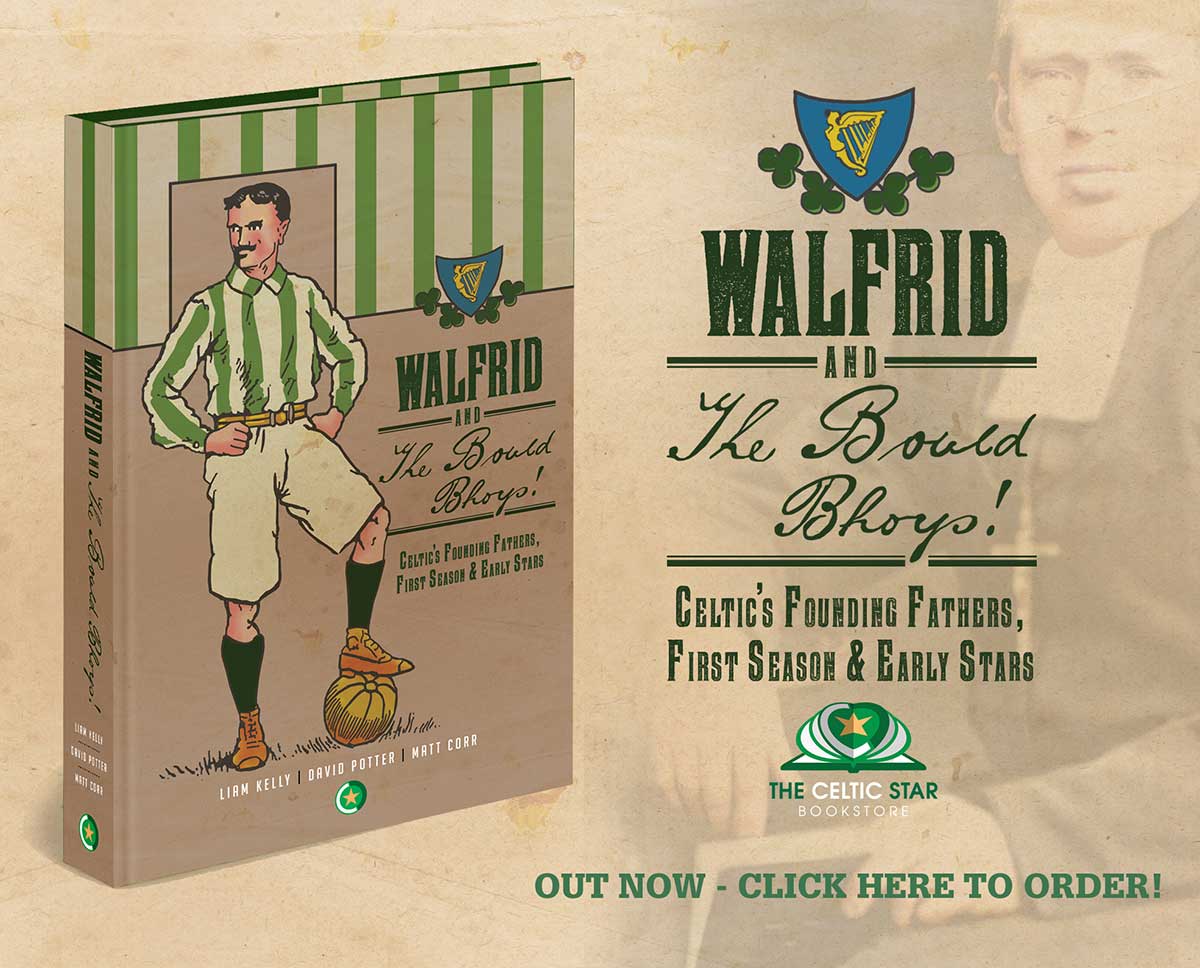 The problem with Jimmy McMenemy is that you don't know where to start, nor where to finish. His contribution to the Celtic cause is huge, and, indeed, there is a strong case for saying that, if one allows for his work as a trainer and tactician in the late 1930s, he was the greatest Celt of all time. Possibly, Jimmy was marginally less brilliant than Patsy Gallacher, and maybe lacked the strong personality of someone like Billy McNeill, but he is certainly in with a shout for the ultimate accolade.
He played for the team between 1902 and 1920, won 11 League titles, 6 Scottish Cups (plus another with Partick Thistle in 1921) and played 12 times for Scotland, at least twice being the hero of Scotland when they beat England, in 1910 and 1914, and was never on the losing side!
But even these statistics do not do anything like justice to this man, who was a prince among players for so long. He was blessed with longevity, dying in 1965 having been born in 1880. He attended Celtic games at Parkhead almost to the end, and it was difficult to reconcile his prolifically productive footballing career with the image of the smallish, well-dressed, dapper old man with a soft hat who talked to everyone who recognised him and greeted him with "Hello, Jimmy," or "Hello, Nap." In Homer's Odyssey, Odysseus at one point says, "I have heard it said that sometimes Gods walk among men." This was surely one such example.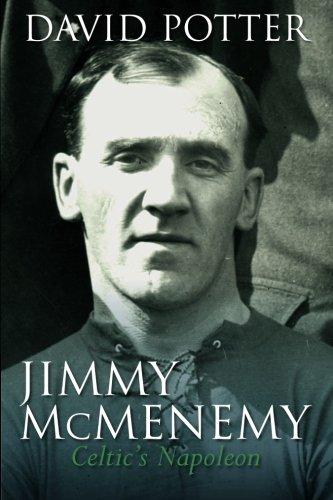 Why was he called 'Napoleon?'
Some say that there was a slight facial resemblance (and certainly they were of similar build) to the little Corsican, but it was more because, even after Waterloo, the British remained in awe of Napoleon for his tactical knowledge and versatility. This was McMenemy's forte as well. Maley said that, to McMenemy, the football field was like a chess board, and that all moves were worked out well in advance. There was nothing casual or lucky about him.
Jimmy's early years were spent in Rutherglen, and he signed for Celtic, it was said, "up a close in Union Street," in May 1902. While the actual location is a matter of some doubt, the reason for his recruitment was obvious, not least his performance in the Scottish Junior Cup final, when Rutherglen Glencairn beat Maryhill.
He scored on his debut, against Port Glasgow Athletic in November 1902, and was in and out of the team for the rest of the 1902/03 season, but by the time the triumphant Scottish Cup campaign for 1904 began, Jimmy McMenemy was the regular Celtic inside-right. He had all that was necessary. He was a tricky dribbler, a visionary passer of a ball and the ability to 'read' a game, knowing who was having a good or a bad game and acting accordingly. He was not particularly fast, but he did have a great turn of speed and, for a small man, he had powerful shoulders and could not be easily be pushed off the ball. He also had a great shot. He could score goals, and how Celtic Park would reverberate to a McMenemy individual goal!
But he was also a success as a human being. The attitude was always right. He was, on occasion, rather too self-effacing and there was never any of the wrong type of arrogance. He was confident, however, in his own ability. He was never insecure enough to make any problems for a teammate. He knew that Quinn, for all his extraordinary and prodigious ability and achievements, occasionally needed to be picked up and encouraged. Somers, on the other hand, occasionally needed a gentle 'put down' now and again, and 'Sunny Jim' said a lot of things in the heat of the moment that weren't really all that well thought out.
Sadly, 'Napoleon' was not able to dissuade his old friend Alec Bennett from going to Rangers in 1908, but he did 'read' another situation very well in 1912, when he realised that Patsy Gallacher was at least as good an inside-right as he himself was, and in agreement with Maley, McMenemy agreed to move to inside-left to accommodate the diminutive but awesome Irishman. Thus, the forward line of McAtee, Gallacher, McColl, McMenemy & Browning became almost as good a forward line as Bennett, McMenemy, Quinn, Somers & Hamilton had been, and that is saying something!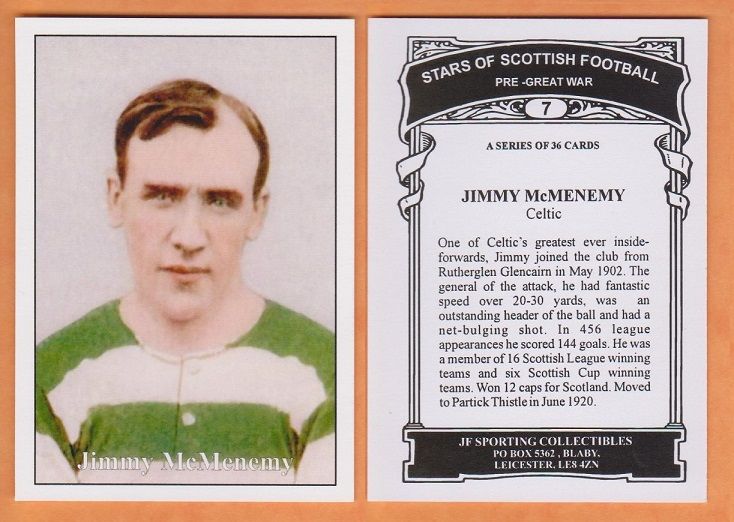 A feature of McMenemy's play was that he took every game seriously. He would approach and prepare for the visit of Port Glasgow Athletic or Morton to Celtic Park with the same calm determination as he would a Scottish Cup final at Hampden, or a visit to the difficult grounds of Ibrox, Brockville and Dens Park (Falkirk and Dundee were frequent thorns in Celtic's flesh in McMenemy's time), or indeed an international for Scotland. Every opposition was worthy of respect. It was a lesson that many people forgot.
McMenemy played in the 'double' season in 1907, the 'clean sweep' season of 1908 and the season of 1909 which was defamed by the Hampden riot at the Scottish Cup final but glorified by the eight games in 12 days which won Celtic the Scottish League. He played in seven of these eight games and was very unhappy when an injury ruled him out of the other one, never complaining, always the consummate professional and always driven by the desire to win.
Jimmy was always known by his famous war cry, "Keep the Heid, Celtic." He was a man who was never likely to be bullied because he could hold his own, but he was also very seldom in any trouble with referees. He appreciated that football was an emotional, passionate sort of game, but he had also come to see that the game was usually won by those who remained calm, who did not rise to provocation (whether about religion, nationality or anything else) and who realised that, no matter how grim things could look, there were some ways in which the day could still be saved.
One occasion where he could not save Celtic, however, came in March 1910. He had played for Scotland against Wales, on March 5, and had been brutally targeted by the Welsh defenders, who quite rightly identified him as Scotland's key man. He was thus unable to play the next week in the Scottish Cup semi-final against Clyde, and as Celtic were also short of 'Sunny Jim' Young, who was suspended, and goalkeeper Davie Adams, who had pneumonia, they went down 3-1, the first Scottish Cup tie they had lost since 1906.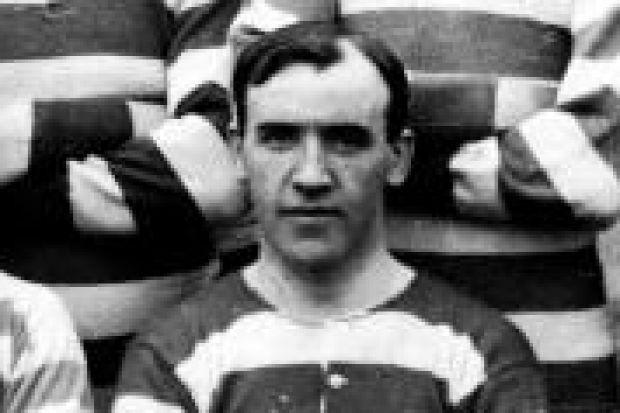 'Napoleon' was back, however, to lead them to their sixth successive Scottish League title in April, and that was after he had become one of the goalscoring heroes of Scotland for his part in the 1910 international against England. The other hero, we are not surprised to discover, was Jimmy Quinn!
A surprising thing about McMenemy was that he matured with age. A strong case could be made for saying that his best year was 1914, when he was 34! He opened it with a great goal against Rangers at Parkhead on New Year's Day, beating five men before hammering home. He scored for Scotland against England in April and was the star of the Celtic side which won a League and Cup double later on that month. Later that spring, he played his part in dazzling them all in Europe as well.
Although the dark war days descended, they were not completely dark for McMenemy, for Celtic won the League in 1915, 1916 and 1917, and one particular occasion in October 1915, McMenemy revealed his courage. It was the Glasgow Cup final, played at the same time as the horrendous Battle of Loos. Both McMenemy and Joe Dodds had lost a brother in this engagement, and Maley put it to them that if they wanted to miss this game, they could. To Maley's delight, both insisted on playing, and Celtic beat Rangers 2-0. It didn't bring his brother back, but it eased the family pain.
Jimmy worked in the shipyards in the war years (full time football was not allowed) and took part in the 'two games in a day' in 1916 which won the Scottish League that year. He won the League in 1917 as well, but not in 1918, when a bad knee injury began to cause trouble. He also had reason to believe that he was about to be 'combed out,' and compelled to enlist as a soldier, a job that would never have suited the peaceful and kindly Jimmy. He, therefore, announced that he was retiring from football. He was 38, and it would have been no great surprise. But there was still a little bit to go yet!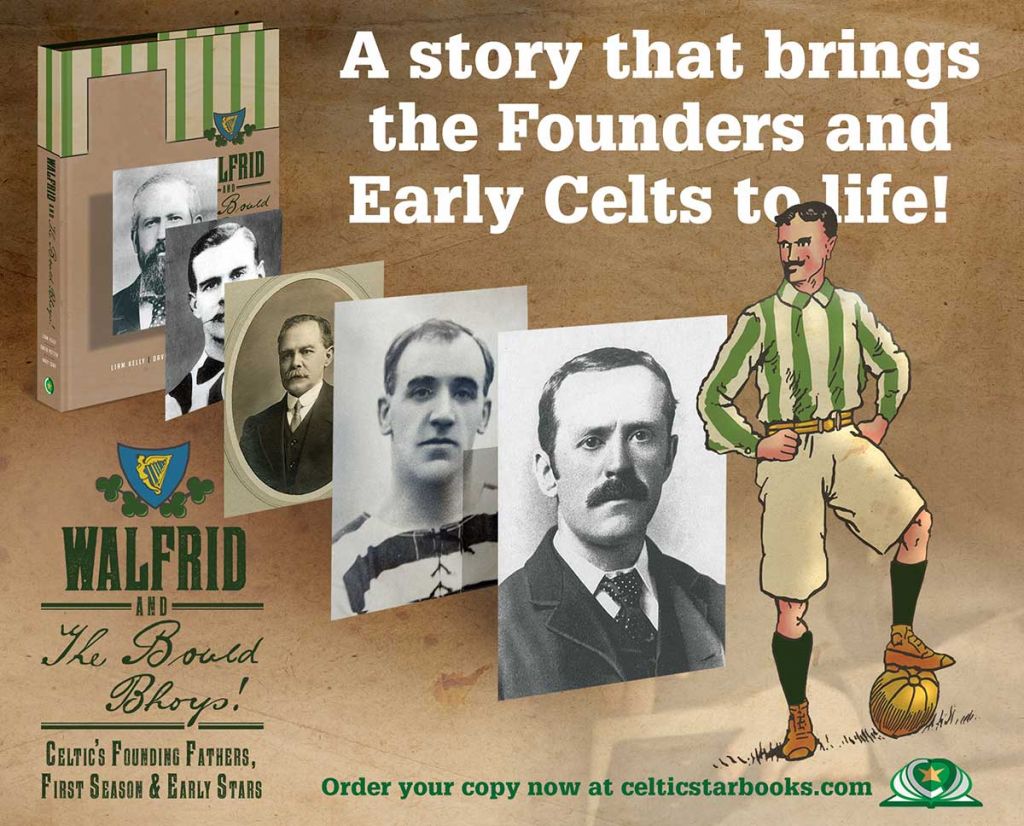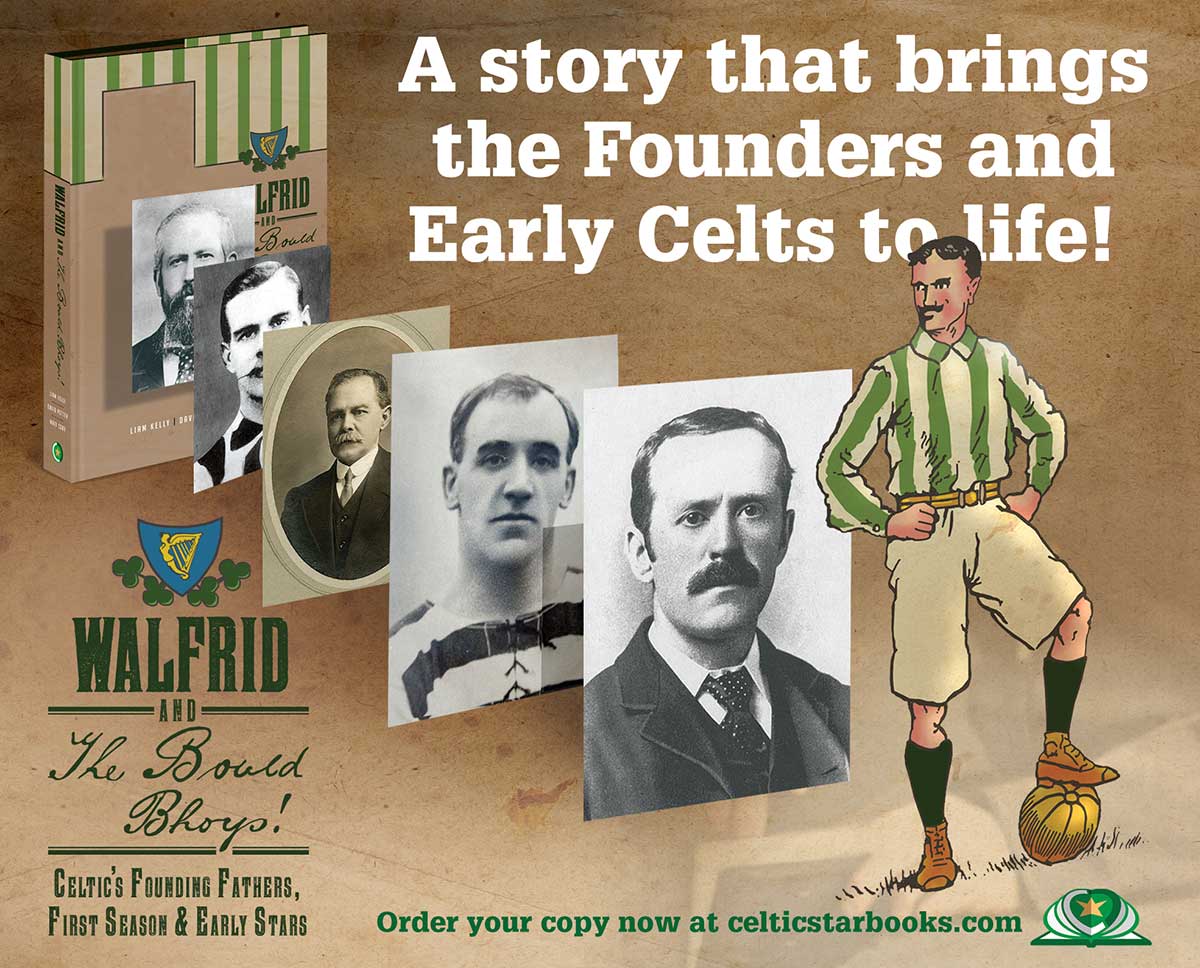 For some reason, the call-up papers never came. McMenemy had been working in the shipyards in Belfast for a spell, and more or less as the war fizzled out in November, announced that he was now returning to Celtic Park. Except, he did not, and there was a sinister reason for that. Jimmy was one of the victims of the 'Spanish flu.' He had a particularly virulent dose of it and for a while it was "touch and go," according to The Glasgow Observer but the 'Parkhead Foch,' (a change from Napoleon! Foch was the current French General who had dictated the Armistice terms!) pulled through. On 14 December 1918, the Parkhead crowd rose as a man, some of them with unashamed tears in their eyes, to greet the return of Jimmy McMenemy redivivus (returned to life) as he ran out of the Parkhead pavilion. Willie McStay arrived back from the forces the same day and Andy McAtee returned early in the New Year (required for his work as a miner). These were the first steps to the recapture of the Scottish League in May 1919.
Jimmy played for Celtic until 1920. He earned his last Scottish cap at the age of 39 years 154 days in March 1920, something that stood as a record for 90 years, but to the disappointment of many, he parted company with Celtic that summer. It was felt that he still had quite a lot to offer, and he proved that point quite conclusively by going to Partick Thistle and winning their only Scottish Cup for them in 1921, beating, of all people, Rangers at, of all places, Celtic Park! It was an extraordinary achievement enjoyed by Thistle and Celtic fans alike.
His playing career now fizzled out, but he still had a glorious sunset to come, and that was in the years of the late 1930s, when he became the Celtic trainer. The other Napoleon returned from Elba, now this one was back as well. It was a rare brainwave from those who ran Celtic in those days. Maley was now depressive, frequently ill and not always easy to deal with, prone to talk about his great "Celts of old," when he should have been paying more attention to the Celts of today. But what a great idea to get one of his "Celts of old," arguably even the best of them, to run the Celts of today. Technically the 'trainer,' 'Napoleon,' in fact, was in charge of the team.
And could there have been a better man?
Friendly, knowledgeable, sympathetic, understanding, kindly, hard-working, modest, a tactical genius, and a man whom Maley and the Board could trust, Jimmy McMenemy was successful in at least one particular area. Delaney, MacDonald, Crum, Divers & Murphy were famous for their ability to interchange position at will and at speed with almost telepathic understanding of each other, and to make it very difficult for the opposition to mark them.
And why could they do that so slickly?
Why, for no other reason than that Bennett, McMenemy, Quinn, Somers & Hamilton could do the same!
So, perhaps he was the greatest Celt of them all!
Years after he retired, Jimmy and his old friend Dave McLean went to the famous 7-1 game in October 1957. After the game was over, and the Scottish League Cup presented, the two warriors went down to the Celtic dressing-room to congratulate them. They were immediately recognised and admitted, and great men like Peacock, Evans, Tully, Fernie and Collins, at the greatest moment of their lives, listened in respectful silence to the sincere congratulations of, yes, the greatest Celt of them all!
David Potter
An extract from Walfrid & The Bould Bhoys by Liam Kelly, Matt Corr and David Potter. To celebrate World Book Day we have a great offer available this evening, see below…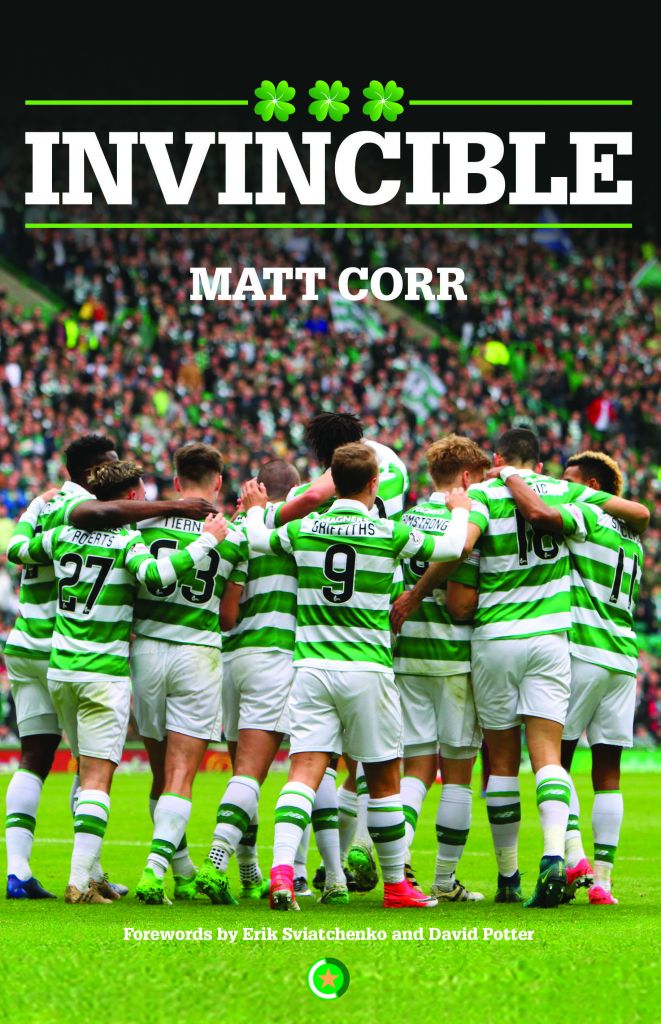 World Book Day special offer…

Order INVINCIBLE🍀🍀🍀 at https://t.co/g3nyj3qDtI or on Amazon TODAY…

…and we'll throw in one of the remaining copies of WALFRID & THE BOULD BHOYS FREE, whilst stocks last.

I'd also be happy to sign, dedicate or personalise either or both. pic.twitter.com/9M58Cbzhkp

— Matt Corr (@Boola_vogue) March 4, 2021