THE crowd was given as 147,365 but in fact there were a lot more than that at Hampden to see Celtic beat Aberdeen 2-1 to win the Cup for the 15th time on this day, 24 April 1937. This was a European club record for the highest attendance ever at a football match.
Watch this video which shows the supporters making their way to Hampden.
24th April 1937, Celtic beat Aberdeen 2:1 to win the Scottish Cup in front of a world record attendance: 147,365 spectators.

Willie Buchan with the winner. pic.twitter.com/rnELxIX2pJ

— Li'l Ze (@LilZe8) April 23, 2019
It was Aberdeen's first Scottish Cup final and the black and golds were well supported (before they played in red), but it was Celtic with goals from Johnny Crum and Willie Buchan who won the day. The veteran Jimmy McGrory in his last Cup final did not, unfortunately, find the net.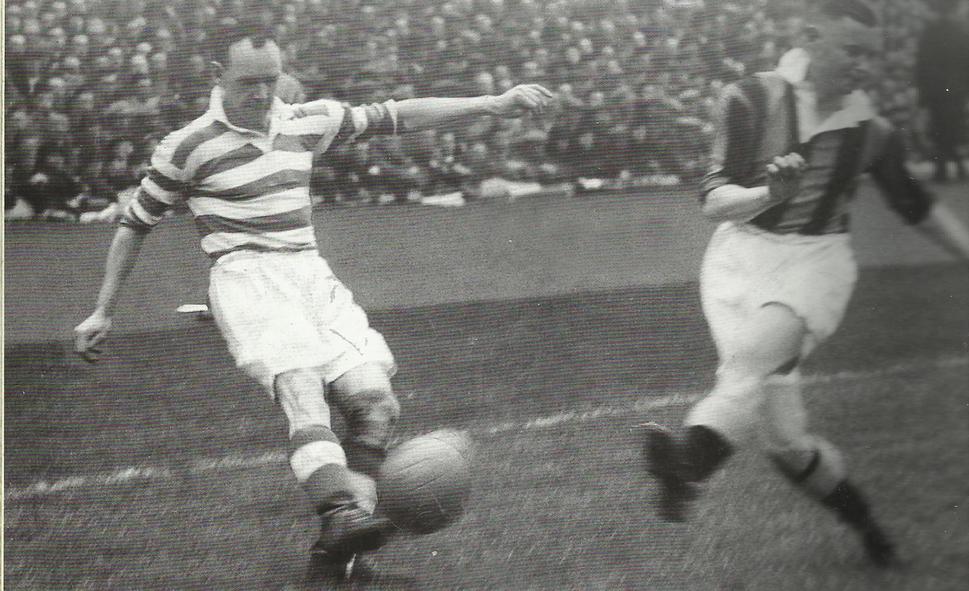 Here's how The Celtic Wiki described the 1937 Scottish Cup Final…
"Something very special about this day and this game. It was just the vast scale of it that amazes all who look back on it. Forever it will be recorded to be a record attendance in the UK for a match and possibly forever in Europe.
"One day some egomaniac somewhere will demand his country to create a white elephant of a stadium which can hold even more and the club world record attendance will be broken, however until then it will never diminish the day and keep Celtic in the limelight. There were actually even more outside trying to get in! The actual world record for all football was recorded only days before at 149,000 for Scotland v England held again at the same stadium (Hampden).
"People travelled from all over Scotland to this game, and in the days before car ownership was a common thing, that was some achievement, and the atmosphere could definitely be said to be packed and raucous…it was to be a glorious day for both sides.
"The Aberdeen manager himself was an-Celtic player (Travers) and so there was a bit of Celtic in both camps. For Aberdeen, they were challenging for their first Scottish Cup title (then the most prestigious cup in the land (although the league was most coveted)) whilst for Celtic it was their 15th! An incredible achievement for the time."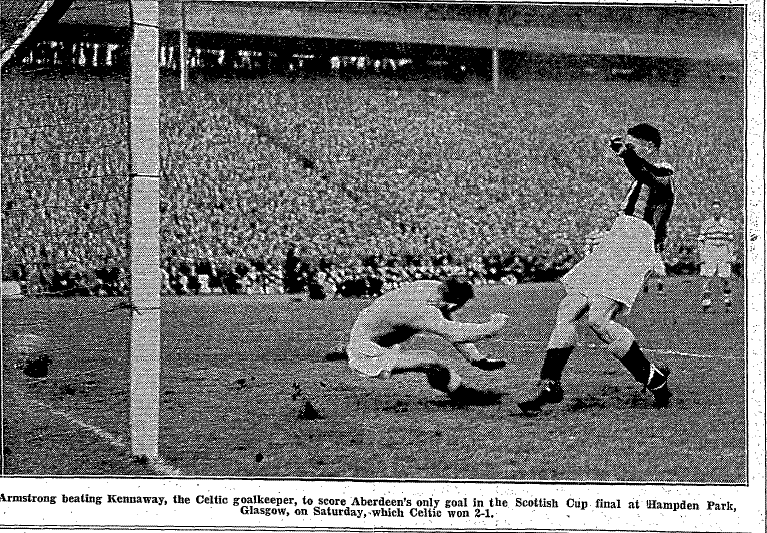 In the match, Celtic had a strong start which saw us take a 1-0 lead after just 12 minutes when a shot by Buchan was slotted into the back of the net by Crum after the goalkeeper had to parry the shot. However, the lead was very short-lived and Aberdeen equalized soon after in just one minute!
For much of the second half, it was mostly all Celtic with the midfield in control stifling their Aberdeen counterparts. Chic Geaton's was said to have been the gem in our midfield, controlling it magnificently. However, as much as our strikers were creating the opposition problems, it required the intervention of the legendary Jimmy McGrory to create the opportunity that won us the cup, freeing up Willie Buchan to shoot past the opposition goalkeeper with 20mins to go. Aberdeen claimed a handball from McGrory in the move to the goal, but not given or substantiated.
Full-time whistle went, and a landmark in the club game was complete.
Celtic were winners of the Scottish cup for the 15th time. Aberdeen had to wait a bit longer for their first time to get their hands on the cup but a new giant of the Scottish game was born.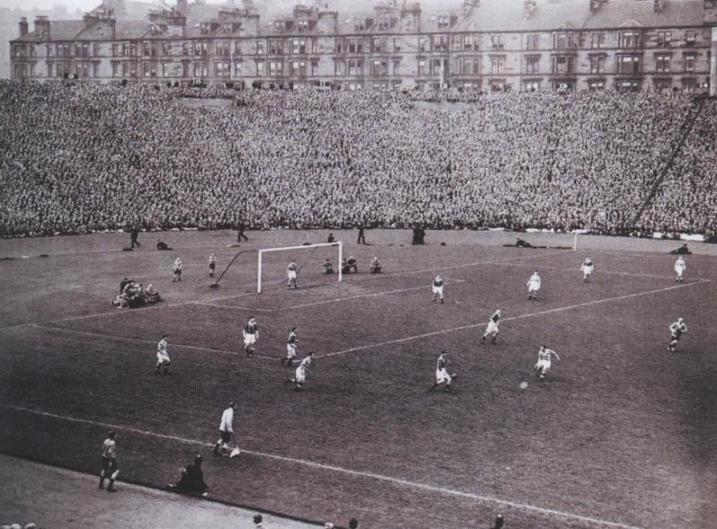 The Celtic side was Kennaway; Hogg and Morrison; Geatons. Lyon, and Paterson; Delaney, Buchan, McGrory, Crum, and Murphy.
Incidentally how not to celebrate winning the Scottish Cup in front of the biggest crowd ever at a match between two club sides?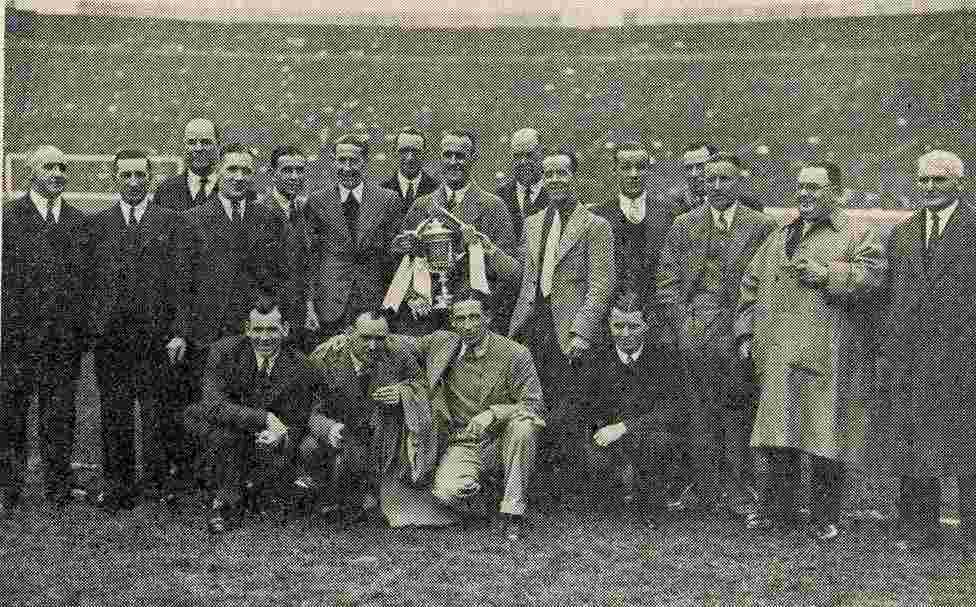 Celtic had one more league fixture to play, away to Motherwell, and that took place on 30 April 1937. Celtic lined up with the 11 cup winners all playing and the final score was a bit of a shocker.
Motherwell 8 – 0 Celtic – to this day that remains Celtic's record defeat.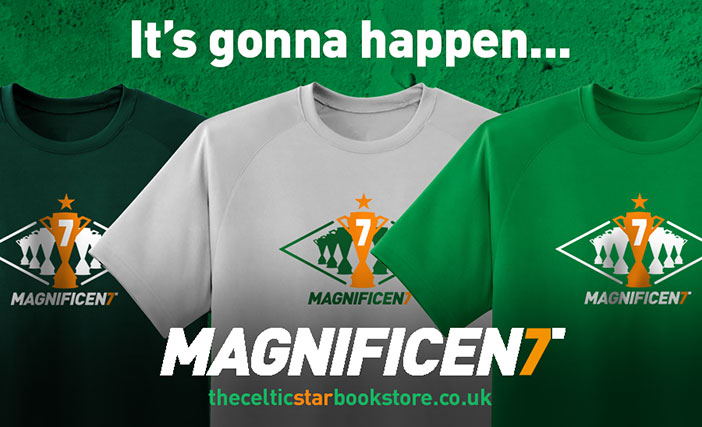 And there was Matt Corr talking to me earlier saying that Black Sunday at Fir Park was as bad as it could get!
EIGHT FLAMING NIL???!!!