The reaction and analysis from yesterday has been done to death already. So much was awful, but now that it's done, I'm more concerned about how we move forward and actually get this league title over the line.
Firstly, I think we need to find a settled starting XI and stick to it. That way we build an identity and understanding amongst the team, which breeds confidence. Rangers have that; an 11 which almost picks itself. Obviously we can't help injuries and covid but as far as possible we need a settled team, not numerous changes week after week.
Another issue that needs addressed is the attitude of players. The dressing room seems to have been a messy place this season. From the three who didn't want to be here according to Neil Lennon after the Ferencvaros game, to headlines suggesting that Callum McGregor admitted that the team had a lack of belief going into the game yesterday. It's not good at all.
My first decision would be to get someone like David Turnbull into the midfield – a player who is hungry and has something to prove. Although rumoured to be wanting a move, Ryan Christie also plays with purpose and energy, giving maximum effort, even if he hasn't been at his best. I'd have those two in ahead of Olivier Ntcham any day of the week.
In truth, I'm sick of hearing Ntcham has talent but it's whether or not he can be bothered to turn it on. Well that's not good enough and frankly he struts around so slow and casual on the ball that he may as well be having a Sunday stroll. There's been many calling for him to get a chance and he's yet to influence a single match. Once again, he was anonymous yesterday.
The shape needs to be reviewed too. 3-5-2 worked well last season, but it hasn't looked right this time around. For a start it's not really a 3-5-2 when you play one striker, it's more of a 3-6-1, which is nowhere near as effective as having Griffiths and Edouard together last season. If we're going to play 3-5-2 then I would play it with the proper personnel, meaning two strikers!
On the other hand, our best performance this season was against Hamilton on the opening day. That afternoon we played 4-2-3-1:
Barkas

Frimpong Ajer Jullien Taylor

Brown McGregor

Forrest Christie Elyounoussi

Edouard
That is almost the same team that beat Lazio away (apart from Hayes in place of Taylor and  Barkas in for Forster). I think it makes us defensively solid, by not leaving us exposed out wide, it gets the best out of Taylor by adopting him in his proper position and it offers great attacking threat down the right through James Forrest and the overlapping runs of Frimpong. When all players are available this would be my starting team.
READ THIS...
Finally, I'd say that it's crucial to play your most dangerous players otherwise you completely nullify your own threat. That team yesterday had Ajeti and Griffiths on the bench, meanwhile Klimala played up front with a midfielder. As a Rangers defender you'd be rubbing your hands at that. Half each from our dangerous players would likely be more effective and actually give the opposition defence something to think about. Right from the start it sent the wrong message and put Rangers on the front foot psychologically.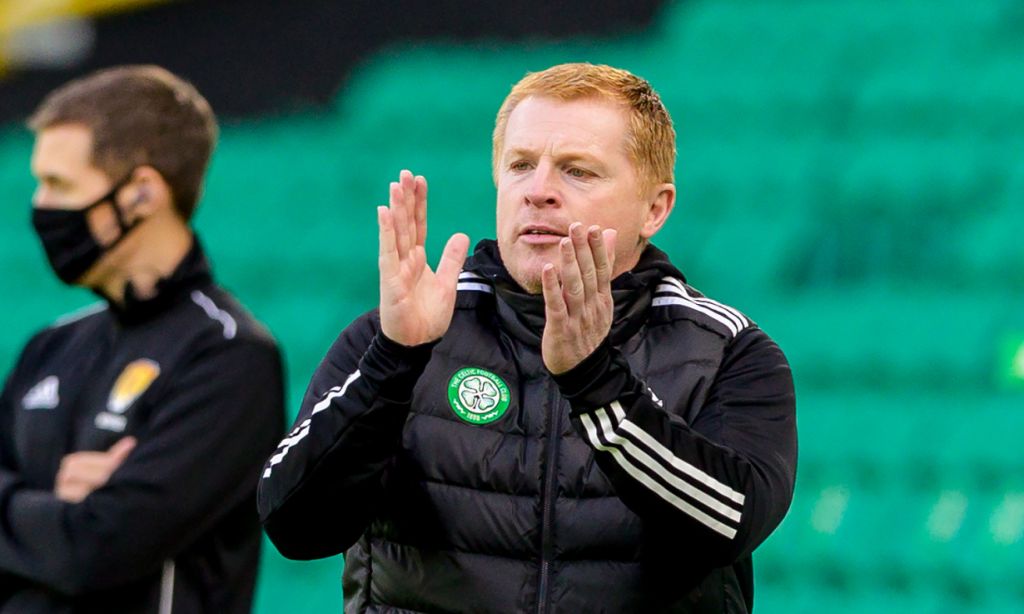 Of course Neil Lennon knows more about football than me. However, a blind man can see that there has been problems this season. Thus to change nothing would be foolish, and probably lead to us continuing to stumble from game to game, hoping to magically rediscover our mojo and picking up results to mask the performance.
It's not time for sulking and giving up because of a bit of adversity, nor is it time for panic. If we win our game in hand then we are only one point behind, the league is more than winnable. It's a time for character, to be winners and show some balls – from fans and players alike. I want to see us show some steel and determination to bounce back and get the job done. Lennon and this Celtic team of the last few years have done that every time, but this is probably the first occasion that our challengers actually have the capability of winning the title for a decade, so we can't wilt under the first genuine challenge during our quest for Ten- in-a-Row.
Having played football semi-professionally, I feel I have a little bit of knowledge of the game through playing in a fairly decent standard. Neil Lennon has played in a different stratosphere to me, with top Celtic teams and EPL sides. He and his coaches know more about football than I ever will, therefore they probably have different ideas about the changes that need to be made. The above is just my opinion, which people can debate, but one thing that is for sure is that we cannot just ignore the game yesterday and continue as we are without altering something.
The league is still on, let's go and get it!
Liam Kelly