On the back of losing to East Stirlingshire last week, Tommy McIntyre's Celtic B side suffered a second consecutive home defeat in midweek going down to an injury time winner for Spartans in a match that Celtic could have scored four tor five goals.. Both matches could have gone the way of the young Celts who will be absolutely desperate to get the Lowland League points this afternoon at the Penny Cars Stadium in Airdrie agains visitors Gretna 2008.
This of course is the new club established in – you've guessed it – 2008 and following the rules they are a new club and even make the point by adding the year they were founded to their title. Had they wanted to claim they were the same club and all that nonsense we're currently being asked to believe on a daily basis by the media and the hoaxed followers of the club Charles Green founded in 20212, they would not have been allowed to do so.
Warming up under the lights ✨ #CELSPA | #COYBIG🍀 | #CelticFC pic.twitter.com/hCyGeDiw2x

— Celtic FC B (@CelticFCB) October 6, 2021
Rangers didn't cheat death, they are simply cheating in death. Anyway back to today's match in the Lowland League between Celtic B and Gretna 2008. Tommy McIntyre was disappointed after losing that late goal in midweek but revealed that his young players can't wait for today to put things right. Remember many of the regular starters, including the captain Bosun Lawal who yesterday captained Ireland Under 19s against Sweden, have been away on International duty for their Under 17/19 or 21 levels so it's a very young team that McIntyre is currently playing.
Half-a-dozen of his squad – Bosun Lawal, Dane Murray, Tobi Oluwayemi, Adam Brooks, Mackenzie Carse and Rocco Vata are all away on international duty so will once again be missing today.
LINE-UP | 🇮🇪 v 🇸🇪

Tom Mohan's #IRLU19 team kick off the first of two friendly games in Marbella#COYBIG | #WeAreOne pic.twitter.com/z2xvApNHxT

— FAIreland ⚽️🇮🇪 (@FAIreland) October 8, 2021
"We had a back four of under-18s, but I thought they were outstanding. They came in and really stuck to their task," the Celtic manager said after the defeat to Spartans, as reported by the official Celtic FC website.
"They started the game well and deserved so much more from the match, but that's the cruel part of it," McIntyre said. "We can certainly be glad of their performance and move on to the next game."
Watch the short highlights clip from Celtic TV from the midweek defeat to Spartans below…
🎥📺 Celtic FC B Highlights

Watch the action from The Penny Cars Stadium in Airdrie as the young Celts faced @spartansfc in the @OfficialSLFL ⤵️https://t.co/o1T6Jhxt0W#CelticFCB pic.twitter.com/7kCeIhIbeR

— Celtic TV (@CelticTV) October 7, 2021
Here's Tommy speaking to Celtic TV after the midweek match which Celtic should have won…
Today's visitors from the Borders are currently sitting in 17th place in the Lowland League table – just one spot off bottom, and also suffered a midweek defeat, losing 3-0 to Gala Fairydean Rovers.
McIntyre plans to go with much the same side as midweek and that means the team should look overmuch like this: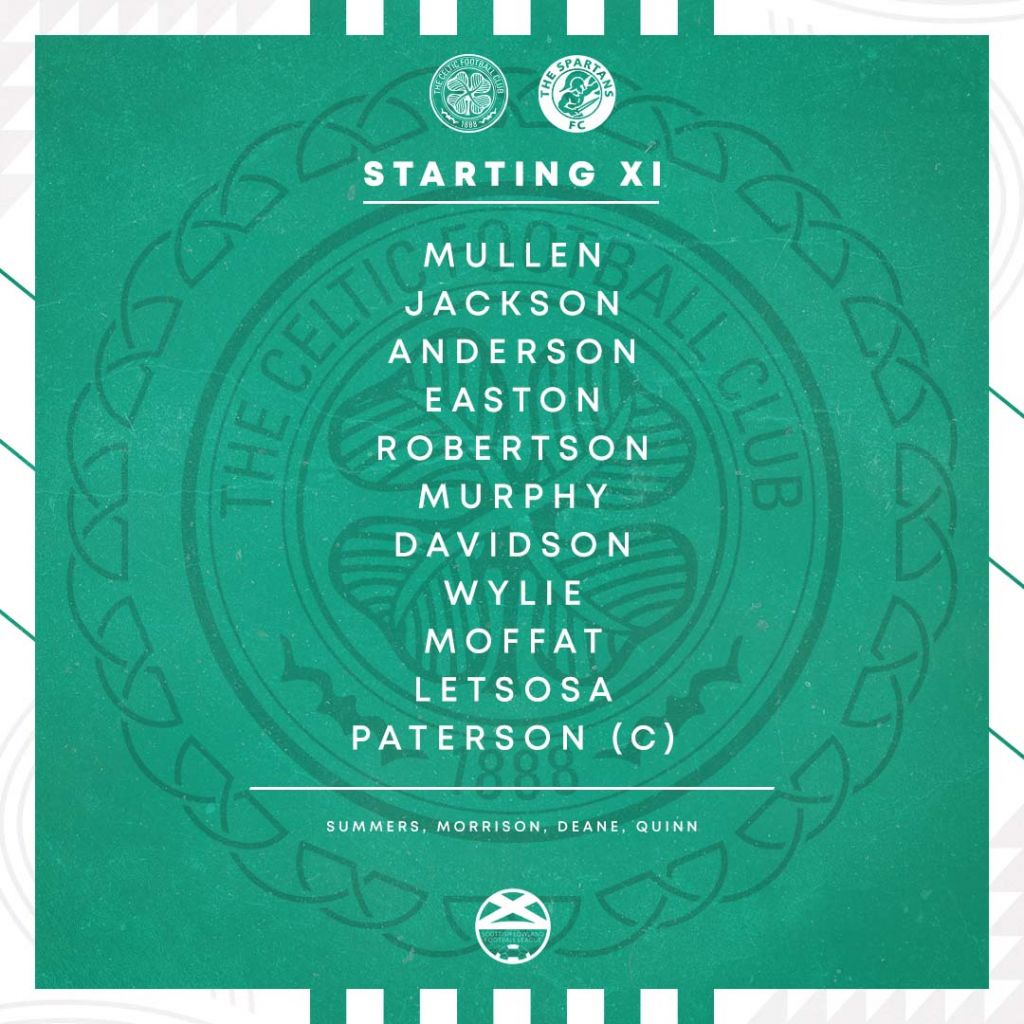 "Once they get over that, the good thing is the game can't come quickly enough on Saturday and sometimes that's the best time to have the next game," Tommy said. His side are currently looking to improve on their 10th place in the Lowland league so will be desperate for the points today after two consecutive 1-0 defeats.
But the manager says after a strong attacking performance and overall control of the game, he hopes a good result will follow this time.
If you fancy some Celtic action today why not head along to the Penny Cars Stadium in Airdrie and roar the young Hoops on to victory?  Kick-off is at 3pm and you can get tickets HERE priced at £8 for adults and £4 for under-16s. There is a £2 fee on matchday for use of the Airdrie official car park.
🍀 𝐈𝐭'𝐬 𝐌𝐀𝐓𝐂𝐇𝐃𝐀𝐘 🍀

🆚 @GretnaFC2008
🏆 @OfficialSLFL
🏟️ Penny Cars Stadium
🕒 3pm KO
🎟️ Come and support the young #Celts ⤵️https://t.co/v9s3K0akgo………#CELGRE | #COYBIG | @CelticFC pic.twitter.com/wigr88Mg2W

— Celtic FC B (@CelticFCB) October 9, 2021
COYBIG