Credit it where it's due this is starting to look like a genuine title challenge from the other side of the city, it's now down to Celtic to ramp that pressure back up, to turn the screw – starting today at a sold out Celtic Park for the visit of Aberdeen.
Last night's 3-0 win at Easter road may just signify that 'the' Rangers are starting to cope with the pressure of the chase. To score two goals in the first ten minutes and have the game over as a contest was impressive (although the opener was fortuitous to say the least), to remain the only unbeaten side away from home in the Scottish Premiership is a sign of their intent.
Celtic remain the only unbeaten side at home and that run must continue as we look to see out 2019 with three wins that will guarantee an eight point lead to take into the new decade.
It is one thing to do the chasing, it's something else entirely to get there and stay there when the gauntlet has been thrown down.
Elf on the… floor 🤕 pic.twitter.com/13wC1yOo1Z

— Football on BT Sport (@btsportfootball) December 20, 2019
Celtic once again will have to transfer the pressure back to the blue half of the City with three points against The Dons this afternoon. The fact this game is sold out completely only four days before Christmas is a sign the supporters know just how big a role they'll face in this title fight. The players will be expected to deliver and restore a five point cushion at the top of the Scottish Premiership and keep 'the' Rangers playing catch up as Celtic pile on the frustration.
Today's opponents would have been expected to be part of this year's challenge, that they aren't is testament to the ruthless and cut throat nature of this year's title race. There has been little or no room for error since August and Aberdeen's slow start to proceedings has been their undoing in that regard. It doesn't mean however three points should be taken for granted.
Celtic's last encounter with Aberdeen resulted in a 4-0 win at Pittodrie for The Hoops. It was one of the most enjoyable and comprehensive victories Celtic have ever had in the Granite City. The fact Celtic did so in a lunchtime kick off on the back of an energy sapping game, with a last minute winner against Lazio three days previously, made it even more special. It must be noted Aberdeen were struggling for form and decimated by injuries in defence and midfield. We can't allow that result to breed complacency ahead of todays head to head. I'm certain we won't.
"Tactically, she has got it all wrong."

"You CANNOT put ketchup on a pizza!"

Ally McCoist is not happy with events at Easter Road 😂

Massive talking point before kick-off! pic.twitter.com/kZ3ZPGFznx

— Football on BT Sport (@btsportfootball) December 20, 2019
Celtic are a winning machine this season. Home and away Celtic play have been scoring goals for fun. With 50 goals scored in only 27 games to date, you wouldn't fancy being the Aberdeen rear-guard facing up to stats like that, especially when you consider in these games we've conceded only nine.
Taking the home record on its own, Celtic are even more impressive with 31 goals scored and a measly three shipped to the opposition. Sleepless night last night for Derek McInnes then, facing a Celtic side averaging 3.4 goals per game at home.
It would have been more tossing and turning last night when Aberdeen's own recent form can be picked through as being average at best. Their last away game resulted in a 3-0 reverse to Hibs at Easter Road and of the two wins they have had in their last 5 matches they've defeated St Mirren and Hamilton, not exactly top notch opposition.
Although Nick Walsh took action during the match would be interesting to see if the Compliance Officer issues any further Notice of Complaints to both clubs for breach of Disciplinary Rule 204 of JPP as clearly multiple occupants of both technical involved in misconduct. pic.twitter.com/yDqrGynoXw

— Derek Crothers (@deaks1ey) December 20, 2019
When it comes to previous encounters between the sides there is comfort for Neil Lennon and further concern for McInnes. Out of seven head to heads since the beginning of last season, Celtic have emerged victorious in six with the other drawn. Six of those seven games have seen Celtic keep a clean sheet.
The league table says Aberdeen are the nearest challengers to Celtic and 'the' rangers but only positionally. The stats point to a chasm between Glasgow and the rest of the Country. Aberdeen trail the Rangers and Celtic by 12 and 14 points respectively, despite having played one more game than both clubs. Considering we are still in December it's no wonder there has been a fair bit of discontent from the Aberdeen fans towards their manager. Possibly for the first time in his tenure as boss of The Dons he's under genuine pressure.
They were beaten out of sight by half time last time out in October, despite their home advantage, while their two previous encounters both saw Celtic triumph 3-0. Aberdeen fans don't take kindly to such meek performances when they play Celtic. It's not something that can continue without repercussions.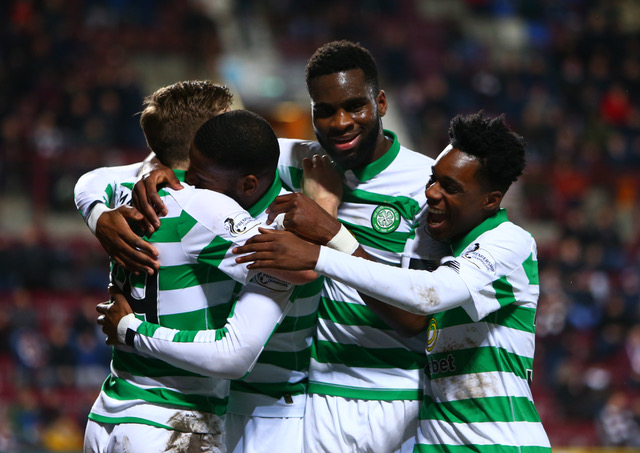 Celtic are in the midst of a congested Christmas schedule but it's been of no concern to Neil Lennon, who must be delighted with his team's consistency as was shown with that fine 2-0 win at Tynecastle on Wednesday night.
After that match Lennon talked of ramping up the pressure on their opponents. It's no stretch to conclude who he was directing his comments at when Lennon said post-match – "It puts pressure on the teams around us to win their games, I can't ask any more. That's what we set out to do – win the game." He was clearly putting the ball firmly in the court of 'the' Rangers ahead of their visit to Easter Road. The Ibrox club have responded and once again the ball is back with Celtic this afternoon.
The stats say the Celts should win by three clear goals but for Lennon and Celtic it's just about winning the game.
A five point cushion would mean a very Merry Christmas for Celtic, while 'the' Rangers continue to worry about the gap.
Niall J