This was one of the best Celtic performances of the season (and that is saying something because there have been loads of good ones) as Celtic dismissed Kilmarnock, one of the title challengers according to the media, 5-1 – and it should have been a lot more!
The first half was 45 minutes that we didn't want to end, and the second half was also full of good football – and a lot of hard luck with hitting woodwork at least twice.
The first goal was my favourite.
Its merit lay in its simplicity. Emilio (who was excellent today) banged the ball across for Jamesie, and Jamesie did not hang about. No teeing the ball up to get a better position and conceding the advantage. He simply belted it and it was 1-0.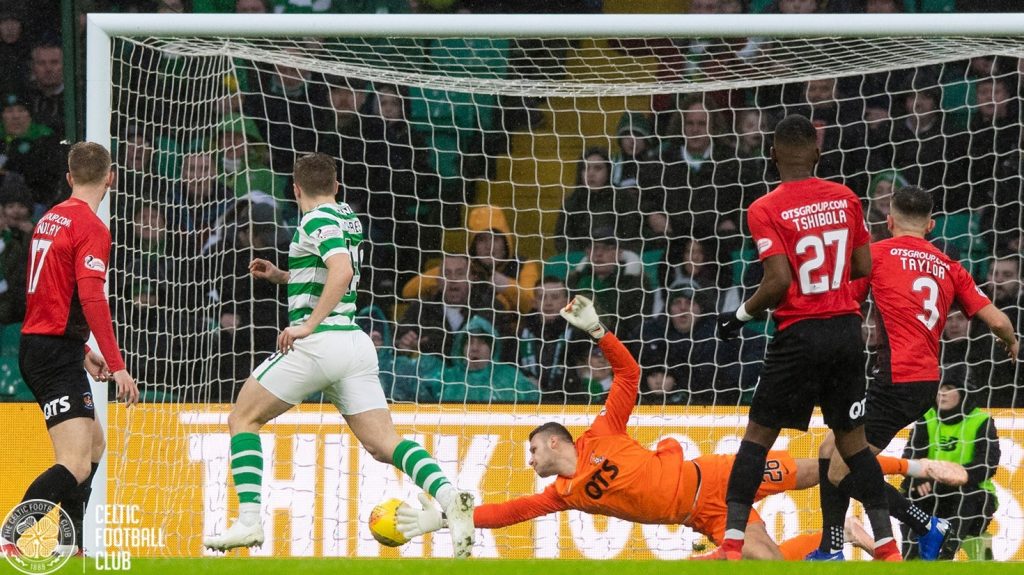 Football can be a very simple game sometimes!
Then nice to see Eddy getting involved. I was beginning to worry about him, but today he picked up that fine ball from Rogic and scored well.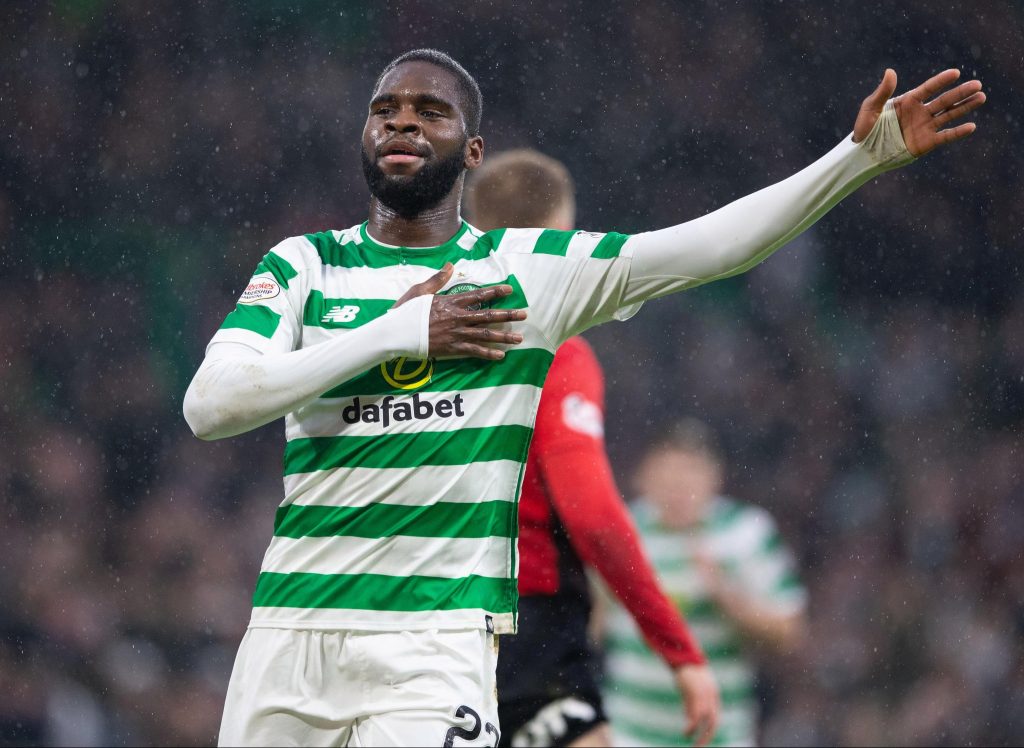 Mikael Lustiig is possibly not as "finished" as some people think he is, for the third goal needed some athleticism, and didn't you just know that Ryan Christie was going to score with that free kick for the fourth?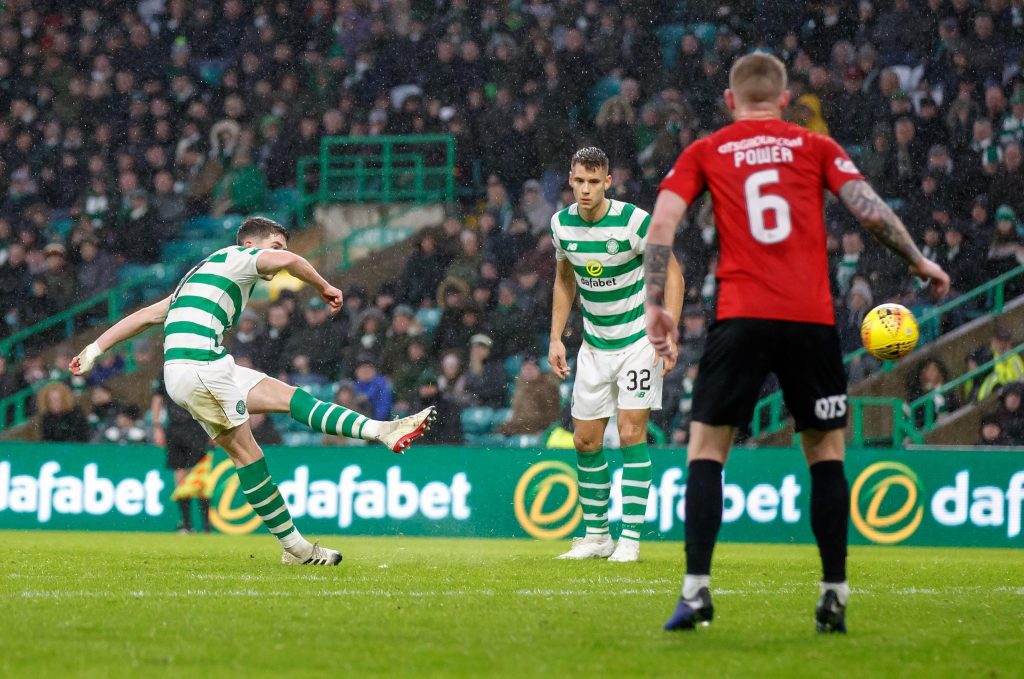 So 4-0 at half time and game over.
But then a penalty was awarded, and to be as kind as possible, it was "dubious". There didn't seem to be a lot of contact, and in any case, was it not outside the box? But philosophically speaking, it was no worse than that shocker we got in the League Cup final, but it was still a shame not to get a clean sheet.
I was off my seat shouting for a penalty just before the fifth one went in, but Jamesie saved us all the bother.
So any negatives to take from this game?
Yes, the rain! We were all drookit before we got in.
Apart from that, not really much to complain about. Kilmarnock may well be one of the better teams in the League, and to give them credit, they never "parked the team bus" as so many teams do at Parkhead.
They will be a different team when we meet them on the artificial pitch in February, but that is a long time away. The referee, Nick Walsh, is unfamiliar to me. He certainly missed a pass back in the first half, and the penalty was also a mistake, but neither of these could be said the change the game, and I felt he got most of his other calls right.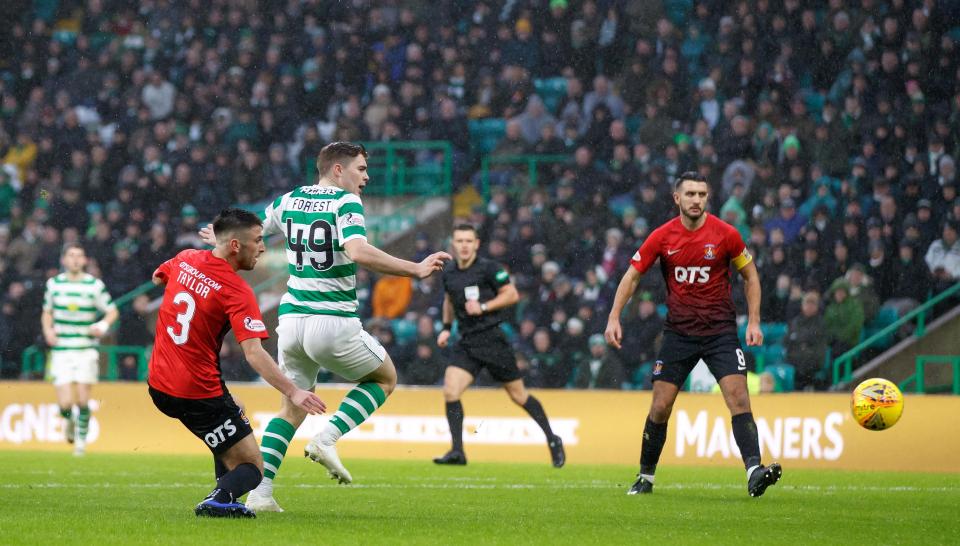 It brings back to mind what Jock Stein used to say, namely that if you are several goals up, refereeing mistakes don't really matter.
Good things were Scott Sinclair – one of his best games for a while, although he is no great finisher these days, is he? – and seeing Izaguirre again. He was good today, but my own man of the match was Callum McGregor who was constructive, creative and controlling.And that is not to criticise anyone else, for I don't think we had a single weakness today.
The atmosphere was splendid throughout, and the players clearly responded.
I felt that Celtic may have missed a trick here in not having the League Cup on show at half-time, perhaps shown off by some of our disabled supporters, for example, but it was nice to see the video on the screen for the Celtic Charity, and all the collectors standing in the rain before the start.
It is comforting to know that there is at least one organisation that doesn't turn the other cheek! It as after all what Celtic are, and must be all about. The Government talking about "deals" and "Brexit" when there are people with not enough food to eat, Christmas or no Christmas, is simply unacceptable!
So whither now? Back to Celtic Park to see Salzburg on Thursday. I know that a draw will suffice, but we must not make the mistake of going for a draw.
It is time that Europe saw Celtic's attacking football for itself. I am not advocating gung-ho tactics, but simply solid play in the defence (Benkovic and Simunovic were brilliant today) and controlled aggression up front with a desire to shoot for goal from the edge of the box.
Let's show Europe the way that Celtic can play, and what playing in the Celtic style actually means.
David Potter