IT was an incredible thought that since the Empire Exhibition Trophy of 1938, Celtic had won nothing at all other than the odd Glasgow Cup or Glasgow Charity Cup. During these 13 years, (admittedly many of them played when other far more important things were going on), the club had shown every sign of sinking into a perpetual decline.
Mother nature, they tell me, abhors a vacuum and Celtic's place in Scottish football was showing every sign of being taken by Hibernian. They had some fine players – their "famous five" forward line of Smith, Johnstone, Reilly, Turnbull and Ormond was not quite there yet, but fast developing, and the men from Easter Road had won the Scottish League in 1948 and 1951, and were showing every sign of attracting support from Celtic.
In terms of support, of course, Celtic's real rivals are not Rangers, they are Hibs. Celtic fans will seldom, if ever, (although I would have to admit that I have known one or two) do a Maurice Johnston and jump ship from Celtic to Rangers. They might conceivably, however, be attracted to Hibs. In the same way that Dundee United in the late 1950s and early 1960s grew because Celtic had a poor team, and the Dundee Irish now had something else to rally to, so too did many Celtic supporters based in Edinburgh, the Lothians and Fife turn towards Hibs in the early 1950s instead of sticking with Celtic. It was therefore all the more imperative that Celtic won something and soon.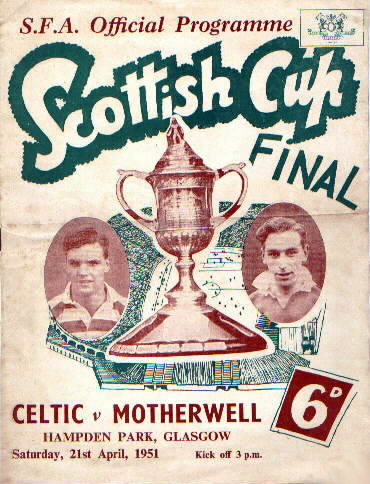 To digress, this was what was behind what history calls the Great Flag Flutter of 1952, when the SFA tried to stop Celtic flying the Irish flag. Amazingly, Celtic found themselves supported by Rangers, The Glasgow Herald and public opinion which enjoyed the ridiculous spectacle of the SFA trying to insist on something that it could not enforce, but they were opposed by George Graham, the unashamedly Freemasonic Secretary of the SFA – and Harry Swan, the Chairman of Hibs!
Harry Swan was a loose cannon at the best of times and never a popular man with his players or supporters, but he failed to appreciate the illogicality of his position as Chairman of a club whose very name means "men of Ireland", and whose supporters waved and carried emblems of harps and shamrocks!
Swan's real motive of course was the destruction of Celtic – something that Rangers certainly did not want! – so that he could have all the Irish support in Scotland to himself! Yes, these were strange times.
But to return to 1951, Celtic's League form was dire. They finished 7th, having lost 13 games out of 30. To an extent, one can say that there were many good teams in Scotland at that time, and that may just explain some of it, but to the still huge Celtic support, it was simply not good enough. The month of January was a particular shocker with four defeats in a row until they drew with East Fife (a formidable outfit in 1951) at Methil in the Scottish Cup, then on the last day of the month, a Wednesday afternoon, Celtic recorded their first win of 1951 in the replay.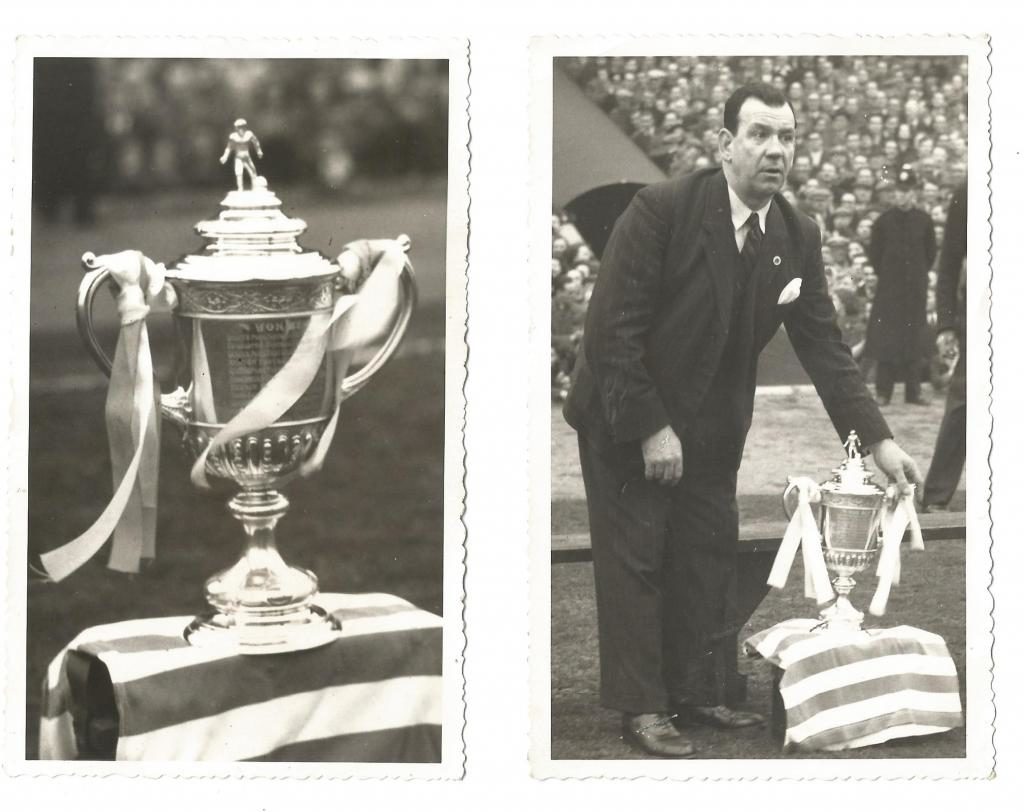 It is important also to realise that this was not just one bad season. There had not been a good season since 1938. The war seasons have been deservedly relegated to obscurity because times were extraordinary and difficult, but historians find it difficult to lake excuses for the fact that Celtic failed to rise when hostilities stopped.
They were not quite so close to relegation in 1948 as the hysterical press would have had one believe (Scottish football, after all, was not quite so stupid as to want to kill a goose that laid a golden egg!) but Celtic were dreadful nevertheless. The new competition, the Scottish League Cup, had yet to see Celtic in the later stages, and League form was a predictable and regular disappointment. And this was in spite of a few good players now beginning to emerge like Bobby Evans, Charlie Tully, Bertie Peacock and Bobby Collins.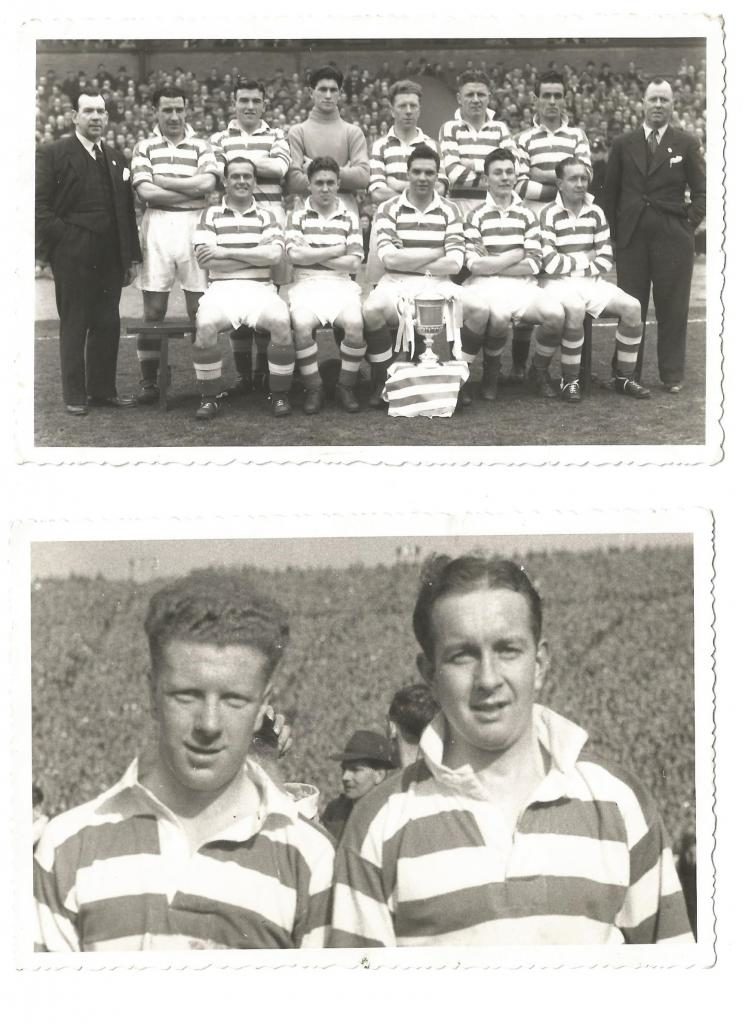 So in 1951, it was the Scottish Cup or another barren season and possibly the resignation of the great Jimmy McGrory. Willie Maley who had departed the club in mysterious circumstances in 1940 was still alive but never seen at Celtic Park. He did however write or "ghost" a column in a few newspapers and lost no opportunity to compare those who were wearing the green today with his "Celts of old".
There was even a hint or two that he took a perverse satisfaction in the fortunes of the club. Indeed he was frequently seen at Cathkin, Shawfield and even Ibrox where he would fulminate at those who were running the club today. In recent months however there had been a few signs of rapprochement and a desire to reconcile the club with the man who was still called "Mr Celtic".
Form slowly began to improve in February and March. There was an epic game at Tynecastle in the Scottish Cup in front of 48,000 (at Tynecastle!) in which Celtic won 2-1 with George "Sonny" Hunter the young goalkeeper keeping the Hearts forwards at bay when he had fans more or less sitting on his net and along the by-line, such was the crush!
Then 75,000 came to see Celtic beat Aberdeen 3-0 in the quarter final with Alec Rollo's leap in the air at full time a more abiding image with those who were there than the two goals scored by John McPhail and the one by Charlie Tully. It had been a worthy performance, for Aberdeen were a team against whom Celtic seldom performed well in those days.
The strong going Raith Rovers came next in the semi-final. 84,327 were at Hampden to see a tight 3-2 win, with at least one of Celtic's goals looking like a foul by Tully on the Raith goalkeeper. Nevertheless the team had battled through to play Motherwell in the final on 21 April 1951, and, frankly, to Celtic fans everywhere, nothing else really mattered than to win this game.
131,943 were there on a bright but breezy day, and millions more listened to the game on the radio, including the BBC World Service relaying the game to most parts of the world, not least Korea where there was a war going on but where loads of Celtic supporting soldiers (some of them doing compulsory National Service) were listening. John McPhail scored in the first half, and the second half was little other than a long 45 minute wait for the final whistle.
But the defence was organised – Evans, Boden and Baillie were a mighty half back line, and famously it was said that the two full backs Sean Fallon and Alec Rollo, their hair brushed back 1950s' style, "kicked a'thing that cam ower the halfway line". It was tight, but "Sonny" Hunter was in good form, and the full time whistle brought no end of joy to the supporters who had suffered so much.
No-one could say that Hunter, Fallon and Rollo; Evans, Boden and Baillie; Weir, Collins, McPhail, Peacock and Tully were Celtic's best ever team – but oh, how they put a smile on the faces of everyone in that dire year of 1951! The important thing was that Celtic were back!
Dvid Potter