The late, great Celtic Historian David Potter's Celtic Diary looks back at key Celtic events and matches on this day starting on 21st November 1945…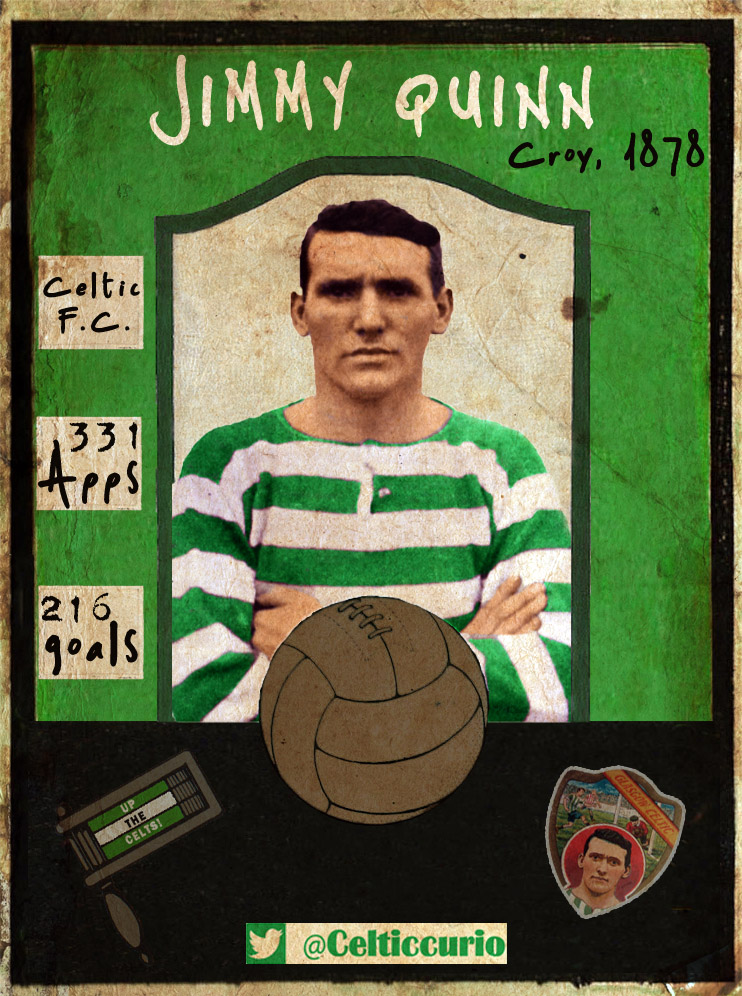 WEDNESDAY  21 NOVEMBER  1945 – At 45 Cuilmuir Terrace, Croy, the great Jimmy Quinn dies. He is 67, and much lamented by Celtic supporters and indeed football supporters everywhere. At his funeral in Kilsyth Cemetery two days later,  almost every club in Scotland is represented and a surprise mourner is his old opponent but great friend, Billy Meredith of Manchester United, Manchester City and Wales. Willie Maley described Quinn as "definitely the club's greatest centre forward and perhaps the greatest centre Scotland ever had". He is certainly the man who defined an era of football for Celtic – and it was the era when they were phenomenally successful, the 1900s – and he also immortalised the otherwise insignificant mining village of Croy.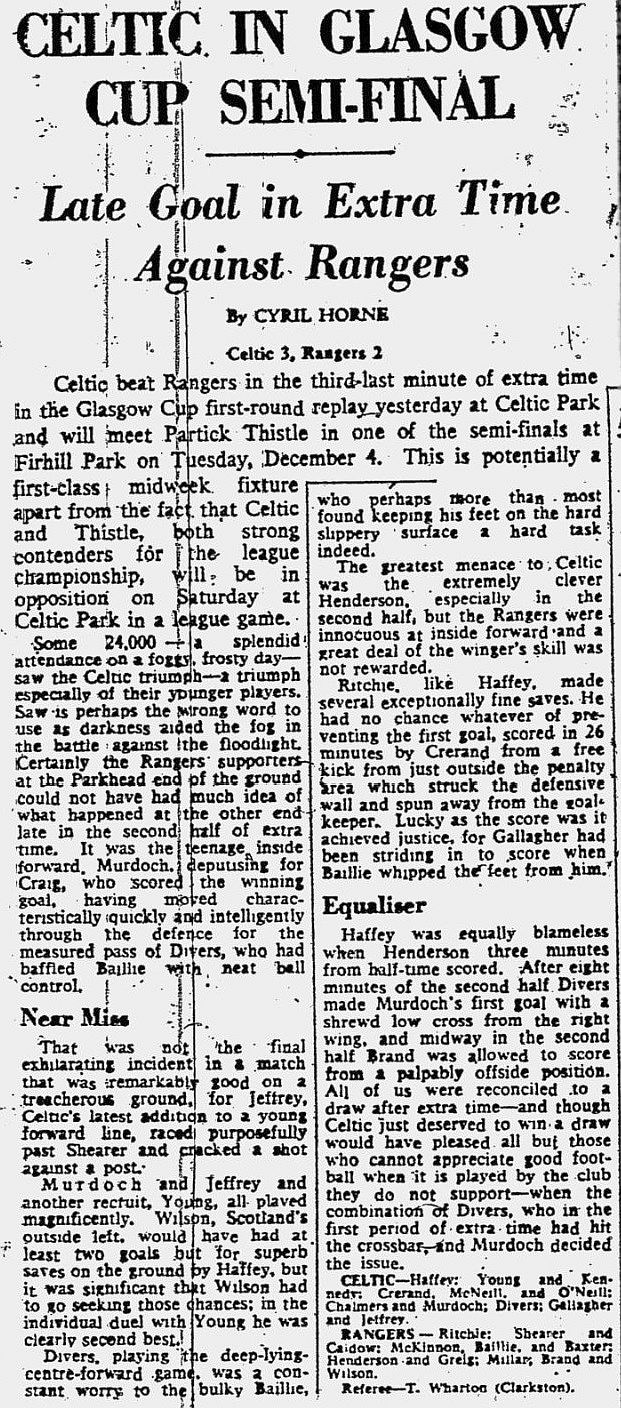 WEDNESDAY  21  NOVEMBER  1962 – On a foggy, frosty Wednesday afternoon Celtic beat Rangers 3-2 after extra-time in the first round replay of the Glasgow Cup at Parkhead before 24,000 fans. Two goals are scored by Bobby Murdoch (one of them at the very end) and the other a free kick by Pat Crerand. A Celtic victory over Rangers being a rare event in 1962, this result is celebrated long and loud.
21st November 1962, Celtic beat Rangers 3:2 in the Glasgow Cup.

Crerand and a double from a young Bobby Murdoch after extra-time.https://t.co/3H6dm1cMHh pic.twitter.com/A4oDBE1pKY

— Li'l Ze (@LilZe785) November 21, 2023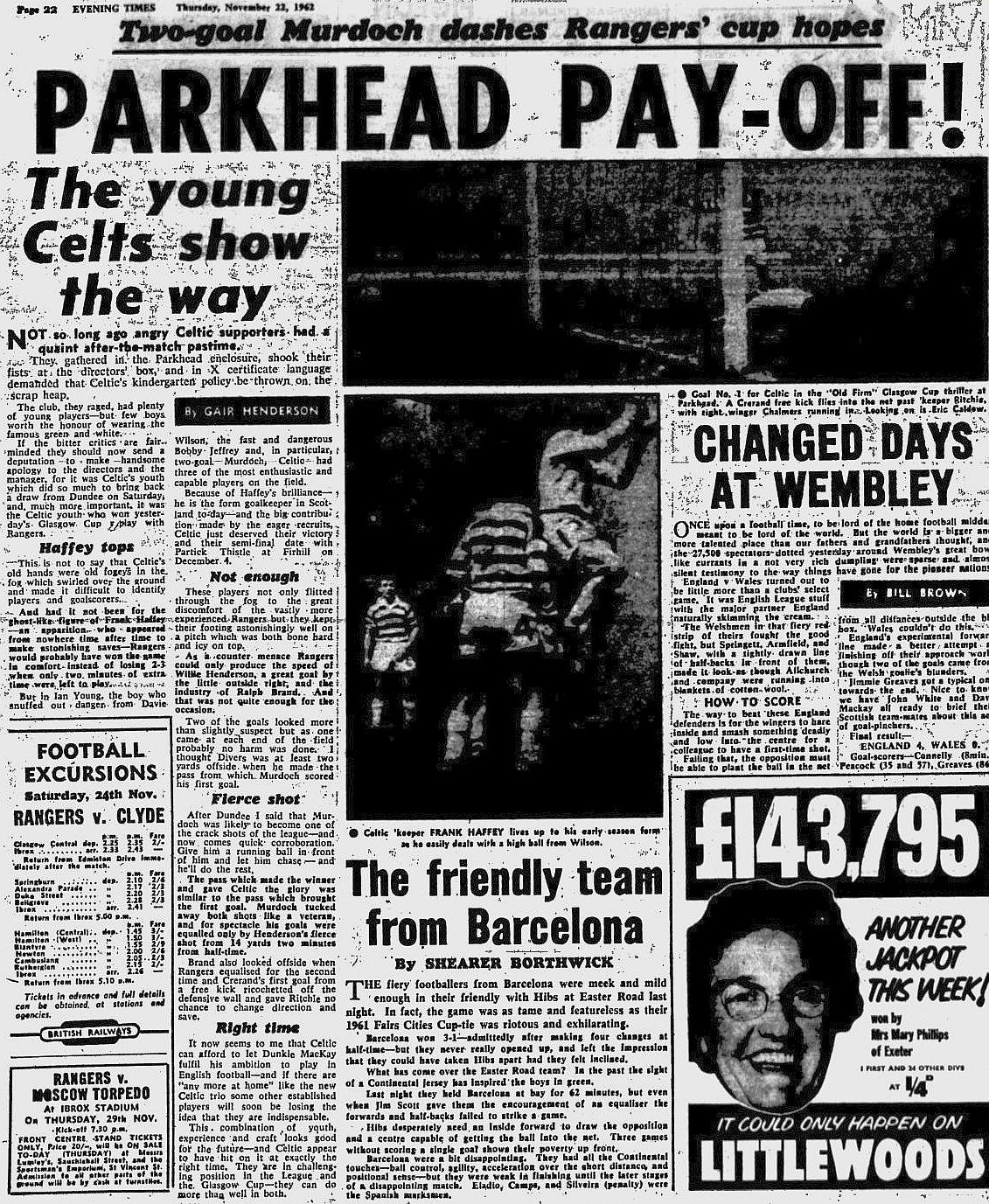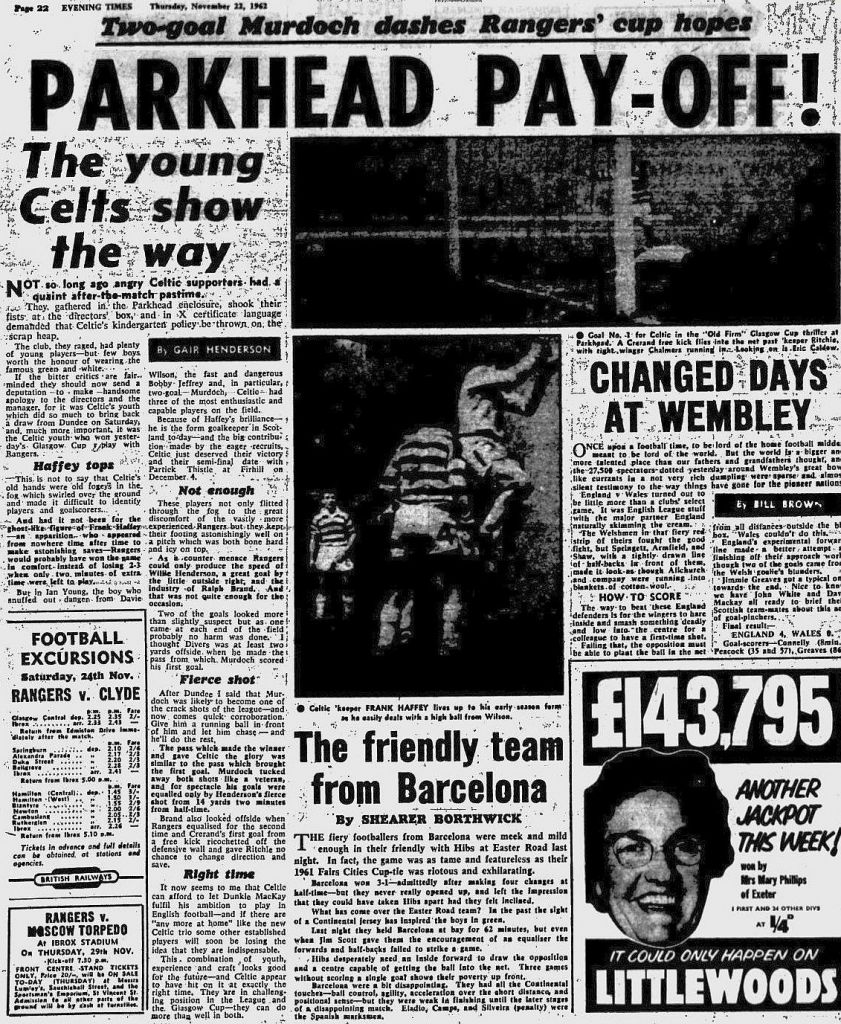 SATURDAY  21 NOVEMBER  1964 – New signing Hugh Maxwell scores one of the earliest goals ever scored at Parkhead as Celtic beat Falkirk 3-0 at Celtic Park. It is timed at 10 seconds, but is probably the only highlight of Hugh Maxwell's unfortunate Parkhead career. John Hughes scores the other two goals, but the 16,000 crowd are far from impressed by Celtic's general performance.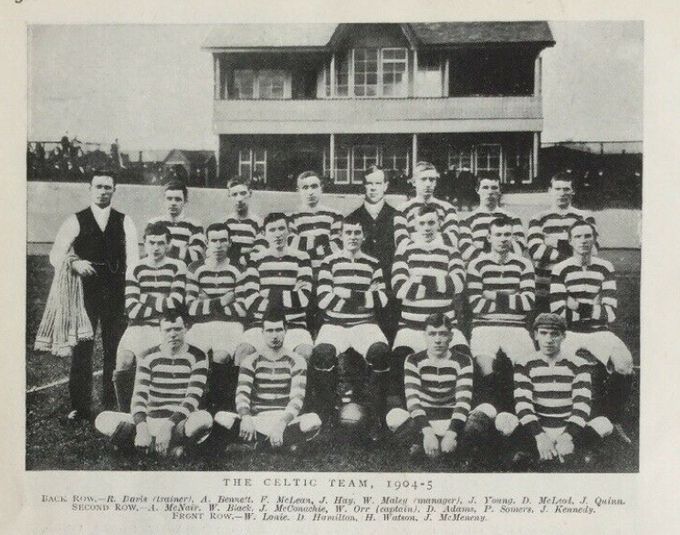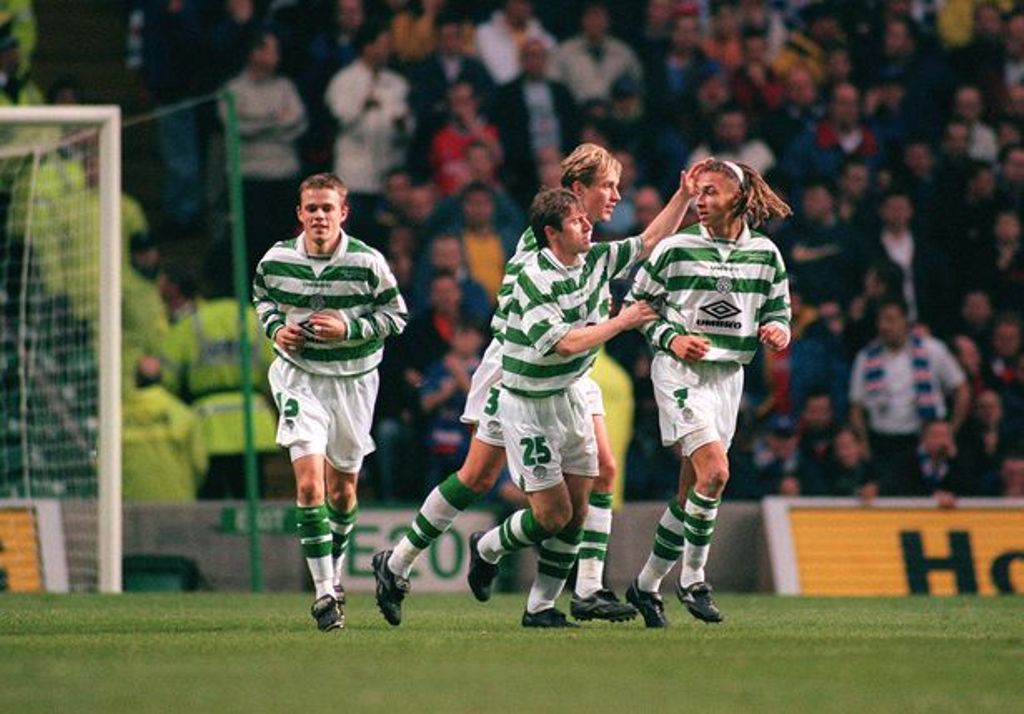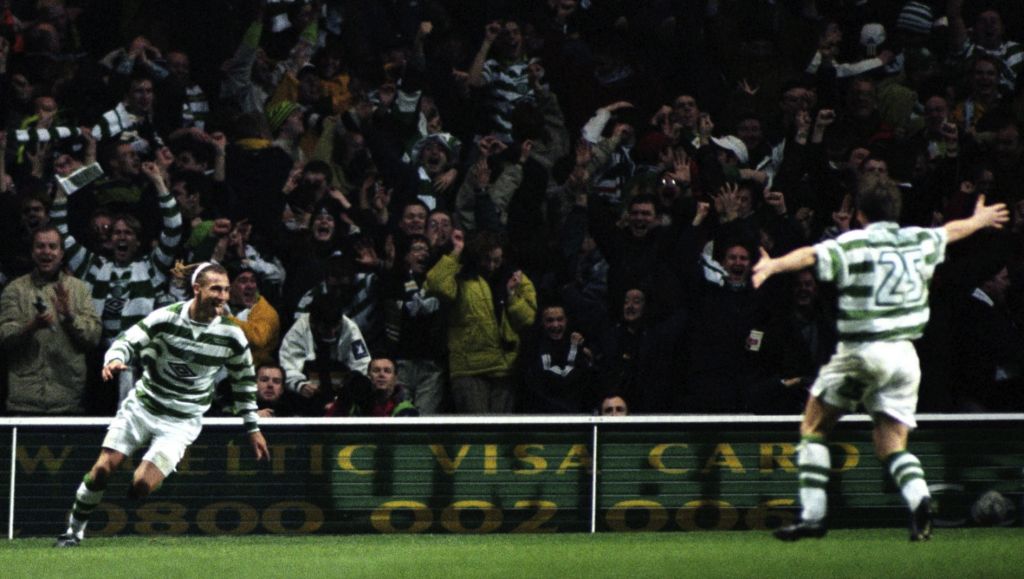 SATURDAY  21 NOVEMBER  1998 – In a triumph as total as it is unexpected, Celtic delight their fans by turning it on and thrashing Rangers 5-1. Lubo Moravcik is splendid throughout the game and scores two of the goals, Henrik Larsson scores another two and Mark Burchill scores the other. 59,783 enjoy this game at Celtic Park.
25 years ago today, Celtic 5:1 Rangers.

Lubo(2), Larsson(2) and Burchill. @Burchyboy27 pic.twitter.com/eU2syYhggR

— Li'l Ze (@LilZe785) November 21, 2023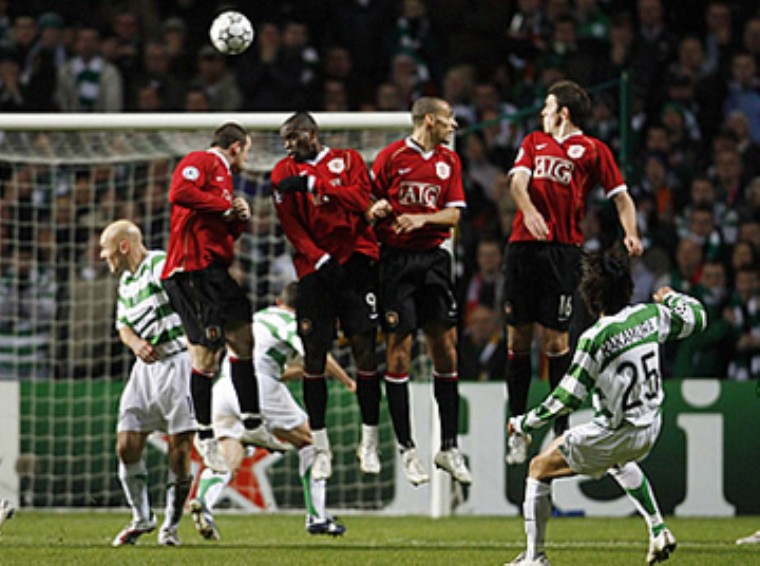 TUESDAY  21 NOVEMBER  2006 – Celtic qualify for the next stages of the European Champions' League by beating Manchester United 1-0 at Celtic Park.  60,632 see Shunsuke Nakamura's wonderful free kick which separates the teams in what is one of Celtic's best ever European performances.
21st November 2006, Celtic 1:0 Man Utd.

Nakamura and Boruc the heroes to send Celtic into the last 16 of the Champions League. @ArturBoruc pic.twitter.com/2VBOXBQGHr

— Li'l Ze (@LilZe785) November 21, 2023
David Potter
Happy Birthday Matt O'Riley. @mattoriley8 pic.twitter.com/7aWFMYPeV4

— Li'l Ze (@LilZe785) November 21, 2023
Happy 26th birthday to Hatate🎉 I miss your magic. Hope you recover well & come back in 100% condition. Reo Reo Hatate, The Celtic get exited when they see you play. It's strange that this feeling grows more and more. But we've never had a player like you before🇯🇵🍀 @CelticFC pic.twitter.com/94Ysrsu8eG

— Yatao (@yataoda4) November 21, 2023
Happy Birthday Reo Hatate. pic.twitter.com/HQiBoOU91Y

— Li'l Ze (@LilZe785) November 21, 2023
21st November 1981, Celtic 3:3 Rangers.

McAdam, McGarvey and Murdo. @murdomacleod06 pic.twitter.com/IlQemGoCGA

— Li'l Ze (@LilZe785) November 21, 2023
21st November 1987, Celtic 4:0 Dunfermline.

Walker(2), Stark and McAvennie. @MaccaFrank pic.twitter.com/6CZW7NWG1i

— Li'l Ze (@LilZe785) November 21, 2023
21st November 1992, Celtic come from 2 down to beat Falkirk 3:2.

Mowbray, Creaney and O'Neil. @brianoneil1972 pic.twitter.com/Vg0ZdWSOMj

— Li'l Ze (@LilZe785) November 21, 2023