The Celtic team would now go on to greater things starting the Wednesday night after the 1965 League Cup final when they team went to Dens Park, Dundee. This venue was never easy for Celtic, and tonight they had to work hard for their 2-1 victory against a team inspired by Scotland internationalist Charlie Cooke. Celtic scored twice in the first half, but Dundee scored from a free kick early in the second half and it was only "inspired teamwork" which saw Celtic through, and made people realise that this Celtic team had the important ability to win games, even when you are under the cosh for long periods of the game. This is the quality which wins League titles.
Charlie was now a regular in this very fine side, as Celtic mounted their first realistic challenge for the Scottish League flag for over a decade. Until Christmas, Gallagher missed only one game, against Kilmarnock in late
November, as they team began to impress. Only one point was dropped – a feckless 1-1 draw against Partick Thistle on a typically dull November day at Parkhead – but on the other hand, there were some very good performances indeed with away victories at difficult places like Dundee (as we have seen), St Johnstone and on the Saturday before Christmas, Dunfermline Athletic, a team who had been in great form.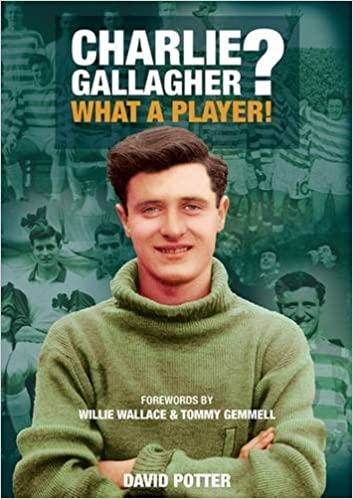 Progress was made in Europe with the defeat both home and away of Aarhus of Denmark. Joe McBride was scoring prolifically, but it was the consistent opinion of those who watched Celtic in those days that it was a team performance every week. And most of this good run came when captain McNeill was out injured, but there was an excellent depute in John Cushley.
Charlie was one of those who made the team tick with his skilful passing. He was now playing with the confidence that sustained success brings, and it was little wonder that the Celtic crowds were now soaring.
Christmas Day brought a good crowd to Parkhead to see Celtic beat the luckless Morton 8-1 as Celtic finished the remarkable year of 1965 on a high note. But the New Year clash with Rangers on Monday 3 January 1966 was now looming.
Gallagher had missed the game on New Year's day itself – a 3-1 win at Shawfield – but was back for this game against Rangers, arguably his best game for the club. The game had an early kick-off at 2.00 which was just as well, for the game might not have been completed in the fog which fell late in the second half. Rangers had gone ahead, but this was no longer a Celtic team that was intimidated or would accept setbacks every easily.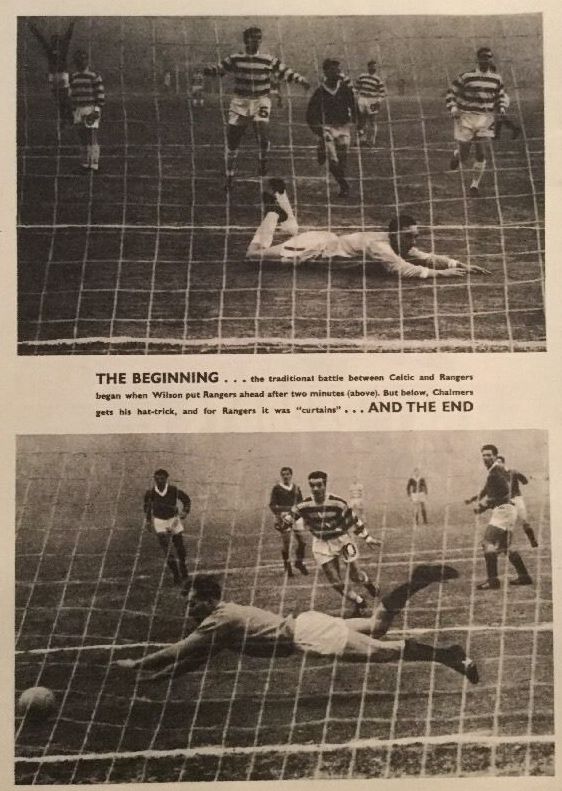 The second half saw some tremendous Celtic pressure, and the 5-1 win might have been a lot more. Steve Chalmers scored a hat-trick, the first from a well taken Gallagher corner kick, and Gallagher was very much involved in the other two.
One was a tremendous drive from Charlie at the edge of the penalty box after some fine work from John Hughes on the left wing. John Hughes himself describes this goal "I…saw Charlie Gallagher taking up a great position about twenty-five yards out. Charlie could strike a beautiful ball and that was undoubtedly his forte… I beat another couple of defenders before looking up to make sure Charlie was still unmarked and slipped the ball as expertly as I could in front of him".
Charlie met the ball cleanly and the ball was in the net via the underside of the crossbar, virtually before anyone realised that he had hit it. It was a great goal, but the other one involved the referee Mr Tom Wharton. Mr Wharton was huge, and earned the nickname "Tiny" simply because he wasn't! He was a real character on the field, and although widely believed by Celtic supporters of being a Rangers supporter (Celtic supporters always think that, don't they?) he was always strictly fair.
If he had any fault, it was that he tended to show off rather too much. One recalls the sight of Wharton and Stein, both huge men, discussing the prospects of play on the field that very day before the start. The gates had been opened and the crowd had begun to trickle in. They were by no means friends and both of them in their heavy overcoats did a great deal of finger wagging at each other with Stein at one point waving his arm round the ground and pointing out that the spectators were already there and would be mightily disappointed if the game did not go ahead.
Interestingly, there was no representative from Rangers there, but the two big men eventually agreed that the game was on, and shook hands in mutual respect.
Mr Wharton was very middle class and polite, and always called the players Mr Gallagher and Mr Gemmell and Mr Johnstone etc. On this occasion, Celtic had won a free kick on the edge of the box, to be taken by Charlie. "Wait for the whistle, Mr Gallagher" was the instruction.
Charlie slipped the ball to Jimmy Johnstone, got it back immediately and then passed it the other way to the incoming Bobby Murdoch. But the referee was in the way! And Mr Wharton was big! But calmly he simply opened his legs, allowed the ball to run through and Bobby did the rest.
It was a remarkable goal, and curiously there was no protest from the Rangers players who might have felt aggrieved at this. Charlie suffered for this because he left the field at the end having received a none too subtle kick on the ankle from a Rangers defender.
He cannot recall who it was, but there were several likely suspects. He recovered though and Celtic were now in dream land, having defeated their rivals by that massive score of 5-1. At the end of that week, following intensive treatment on his ankle, Charlie further proved his worth to the team by scoring the only goal of the game against Dundee United at Parkhead. The arrival of the Tannadice Terrors to Celtic Park was by no means one of Glasgow's greatest touring attractions, for they were always predictably defensive. Gallagher scored the only goal of the game. It was a mundane, ordinary goal when he was on hand to sweep in a rebound off the goalkeeper after some fine work by Jimmy Johnstone, but it earned Celtic two points in what was otherwise a rather dull game.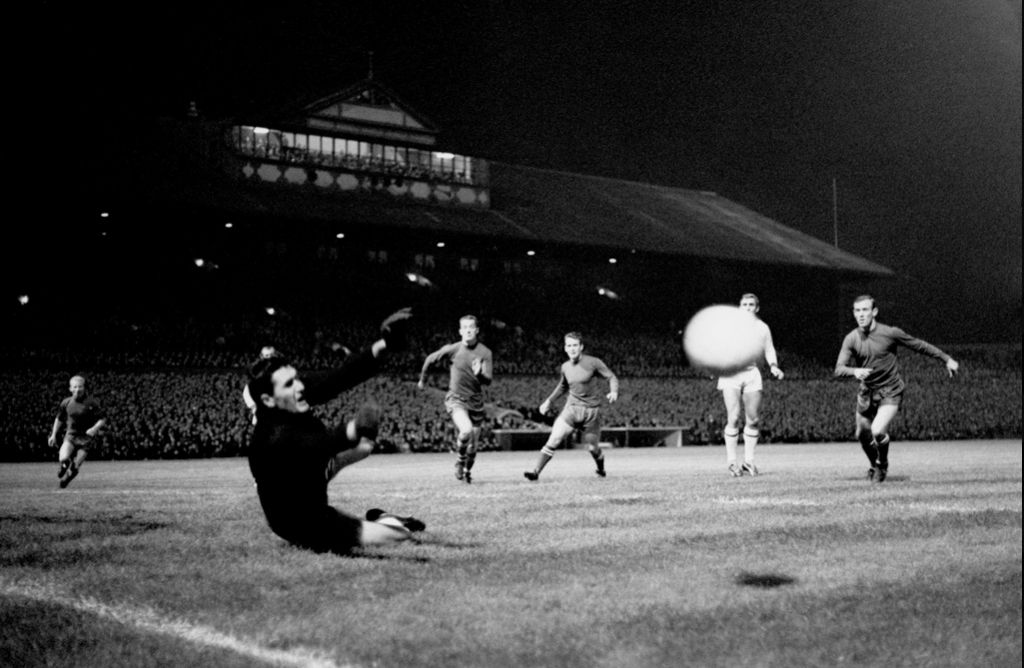 But now things became complicated with Dinamo Kiev coming to Parkhead to play in the Cup Winners' Cup. January was an odd time to play a European tie, but in these days, clubs could arrange it between themselves, and Dinamo would not play their return tie in their home city of Kiev but in Tblisi Georgia where the weather at this time of the year would be considerably milder.
The game in Glasgow was played on 12 January, and it had been hoped that the return match could be played on the following Wednesday of 19 January, but Soviet intransigence and bloody-mindedness made this impossible, and the game was played a week later – but with major problems of travel, caused to a very large extent by a prickly dictatorship which was unimpressed by the great Glasgow Celtic and did not take kindly to Westerners coming to their country!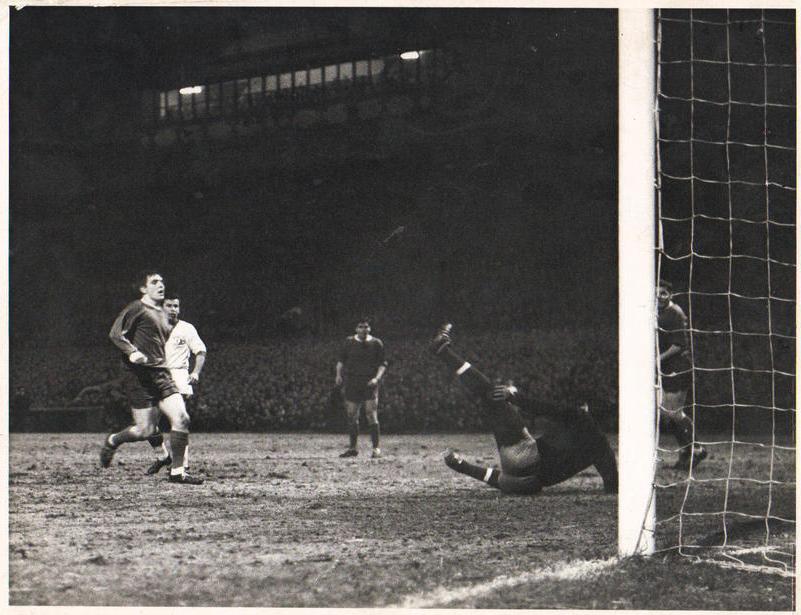 But the Celtic performance on 12 January when the Ukrainians were simply torn apart was something which made all Europe sit up and take notice. Gallagher played his part in this as well, although the hero of the night was two goal Bobby Murdoch, and 64,000 left the ground marvelling at their team's performance (with an added cameo being the display of keepie-uppie and ball control by young reserve George Connelly at half time) while the Kiev coach was left fulminating unconvincingly about the German referee – something that had its origins, perhaps, in the dark days of 25 years previously when so many Kiev players and supporters were murdered by the Germans.
The next game was at Pittodrie on Saturday 15 January. Scotland was frozen and it might have been better for Celtic if the game had been called off, but thanks to their proximity to the North Sea, Aberdeen was a fraction milder than other parts of the country and the game went ahead on a snow-covered pitch. Celtic supporters were there in great numbers, marching along Union Street and up King Street with a huge banner on which ran the legend "7-1 5-1 The Untouchables" linking the New Year triumph against Rangers with the 7-1 of blessed memory.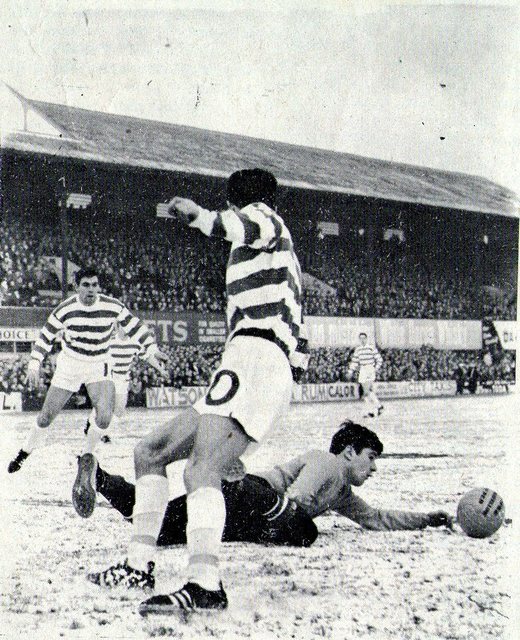 Such optimism was praiseworthy, but it was a little premature. In-fact the game turned out to be a good one, but alas for Celtic it brought an end to their undefeated run which had lasted 24 games since their defeat at Ibrox in September. Celtic went ahead, but a few defensive errors lead to a 3-1 defeat, an indication too of the fact that Aberdeen were slowly beginning to come back after a decade of mediocrity and under-achievement.
They had frankly been a very poor team in the early 1960s and it was Celtic's first defeat there since 1960. Charlie had little to reproach himself for, although he suffered with the difficult surface. For no real accountable reason he found himself out of the team for the next two games – a 1-0 win over Motherwell at Parkhead then the return game against Dinamo Kiev in Tblisi.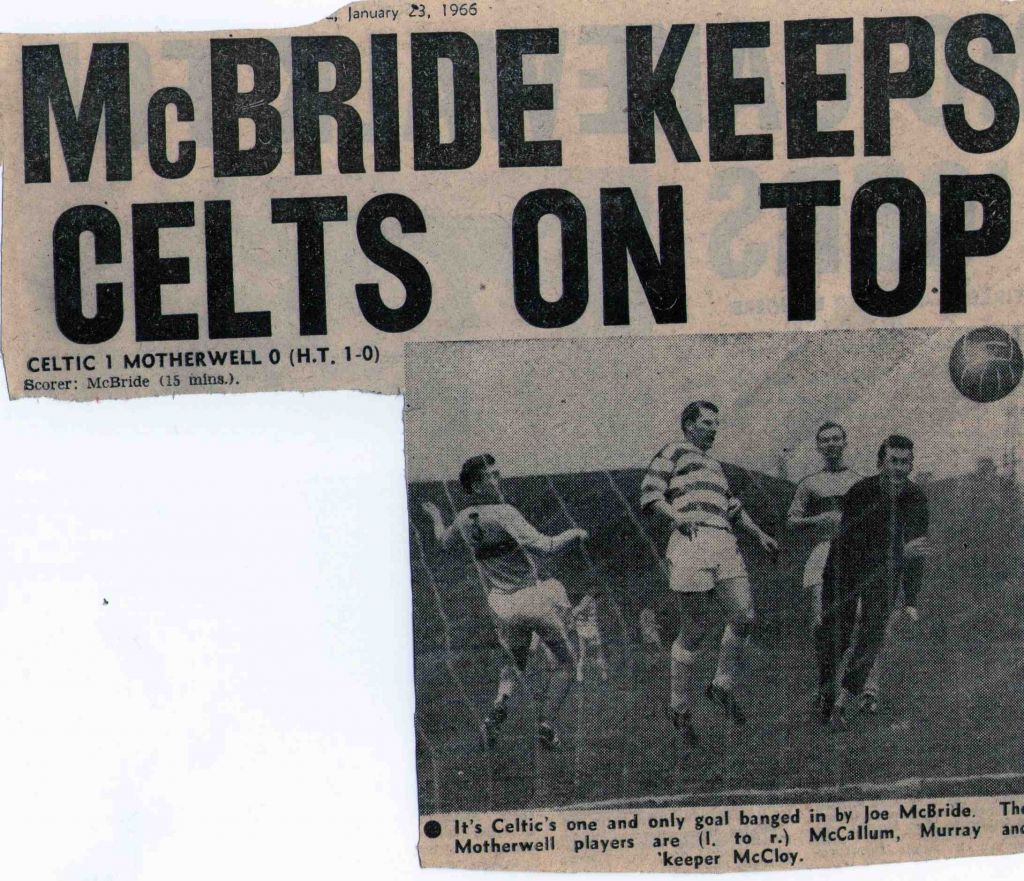 Bobby Lennox got an outing in his place against Motherwell, something that seemed strange to the supporters for Lennox and Gallagher were totally different types of players, but he appreciated why he didn't play in Georgia. Stein on this occasion, opted to play a double centre half in McNeill and Cushley and had Murdoch in the inside right position. It was successful as well, for the game finished 1-1 and Celtic were through to the next round.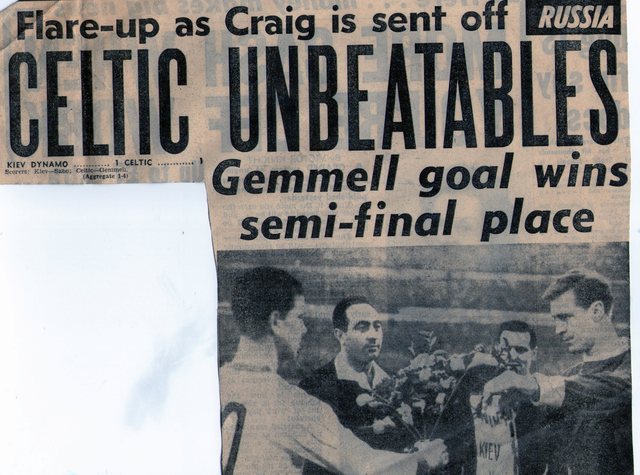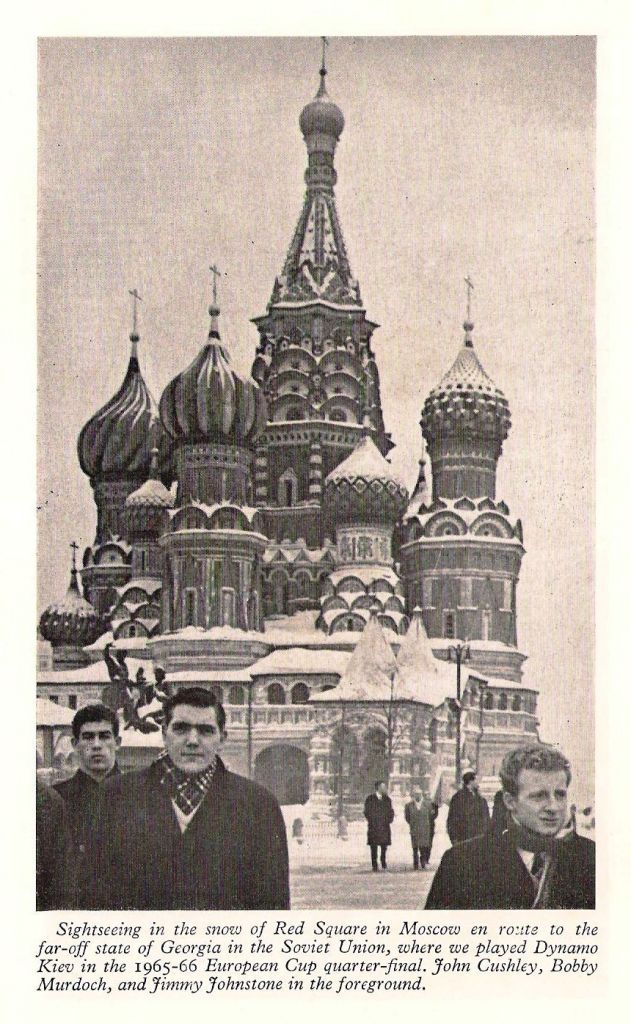 But it took them a while to get home. In circumstances reminding a Classical scholar of Odysseus' return from Troy. Ten years it took the "god-like, much-enduring Odysseus" to reach Ithaca and his worthy wife Penelope. Celtic were a little quicker than that, but certainly would have deserved the epithet "much-enduring". (They always had been god-like!) They were delayed by a combination of bureaucratic Soviet stubbornness and then bad weather at Stockholm Airport when they were diverted there, and the result was that it was nearly midnight on Friday night before they got home – and they had to play Hearts at Tynecastle the next day! A wise course of events would have been to phone the Scottish League from Stockholm and ask for a postponement.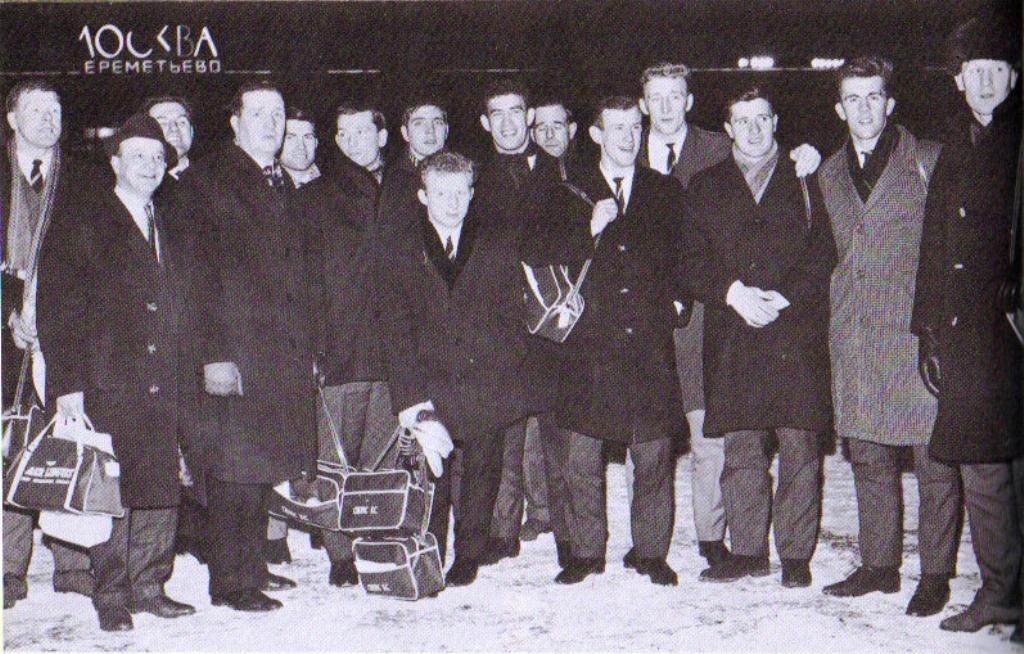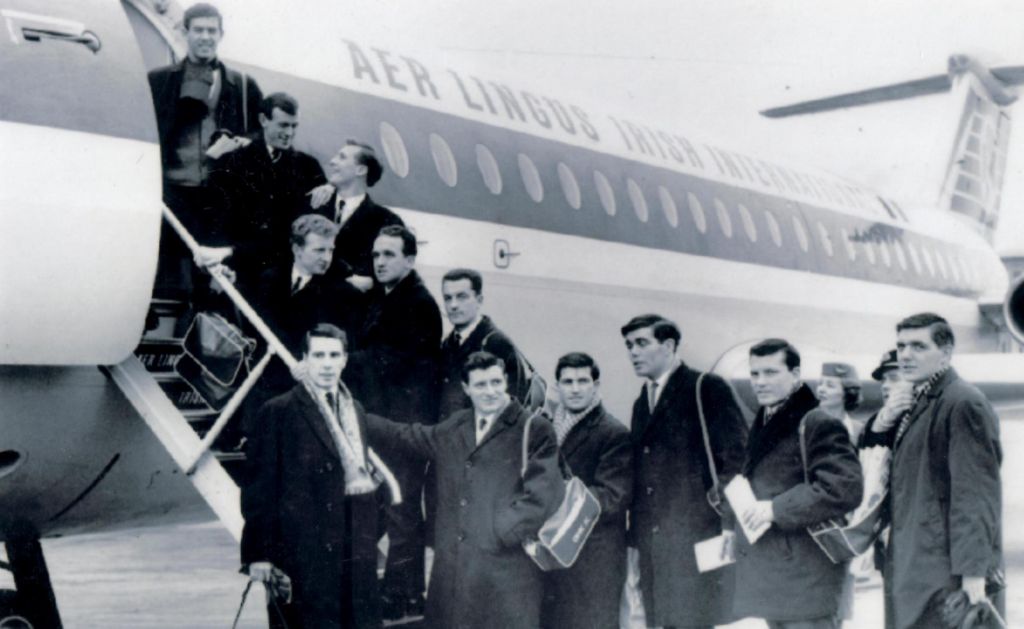 As it was, they were in touch with Tommy Maule, the Secretary, but for some reason did not ask officially for the game to be postponed. Nor did Mr Maule offer.
It was then, when they eventually got home that Jock Stein showed that he could be as pig headed as any Soviet bureaucrat, for he ordered a training session at Parkhead late on the Friday night immediately after they touched down at Glasgow Airport! This was understandably resented by the players, including Gallagher, and it would surely have made more sense to let the exhausted and stressed players back to their homes and families and then bring them in for a light training session at 10.00 am on the Saturday before the trip to Edinburgh.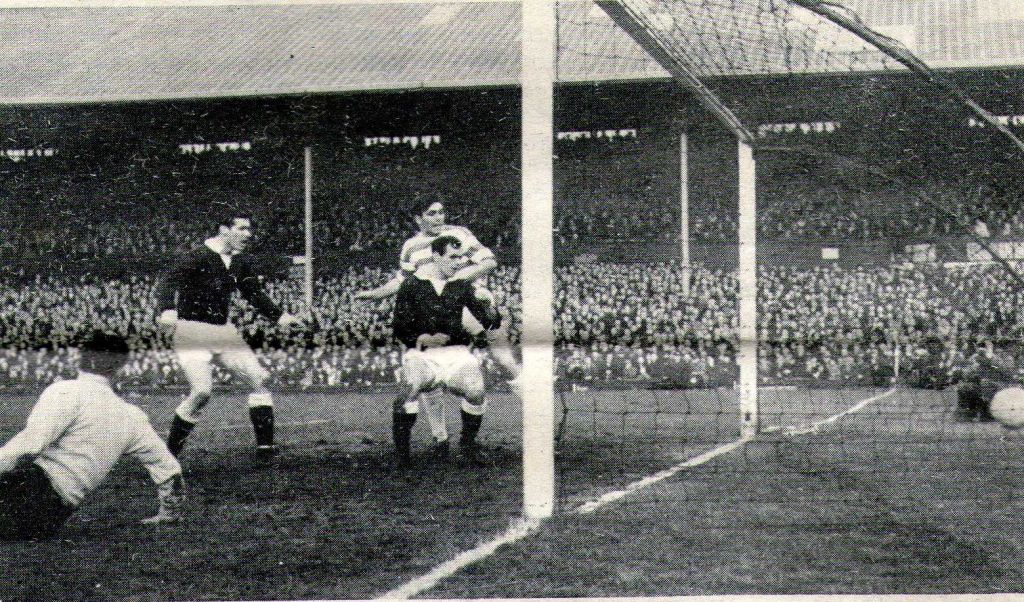 It was not all that surprising, therefore, that Celtic then lost their second game in a fortnight. There were other factors. Hearts indeed played well to the delight of their supporters, and Celtic shot themselves in the foot to a certain extent by dropping Jim Craig. Craig had been sent off in the Soviet Union, and, although there was no automatic suspension, Celtic opted not to play him, Bob Kelly having leaned on Jock Stein to teach Craig a lesson.
Thus McNeill was at right back and John Cushley at centre half. It was a move that did not work that day against a nippy Hearts attack which contained Willie Wallace. But the main thing was the exhaustion of the players. Even Gallagher who had not played at Tblisi was well below par, although things might have been different if his first minute shot had gone in rather than skimmed the bar. Celtic lost 3-2. They had seemed virtually impregnable after the 5-1 defeat of Rangers but having lost two games in January since then, now began to look decidedly vulnerable.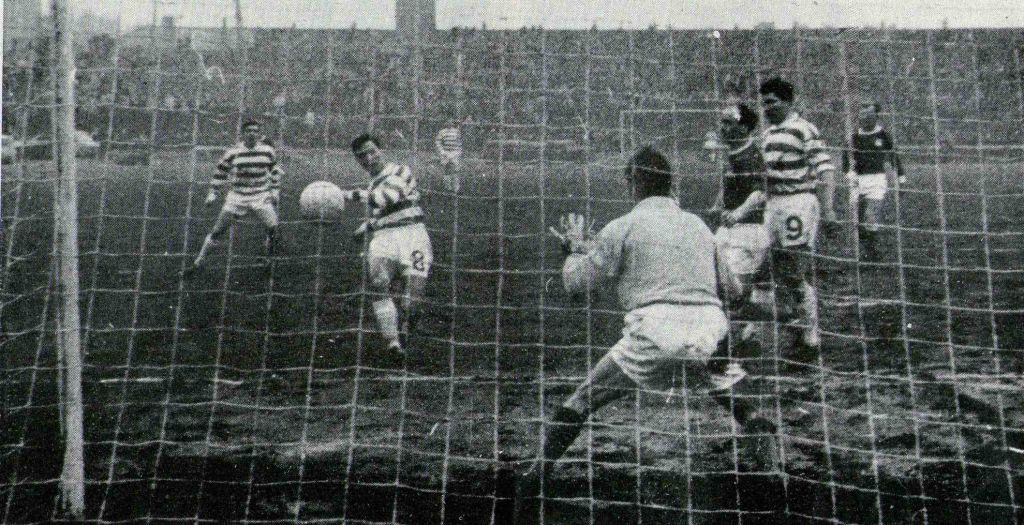 A Scottish Cup game now followed in early February against Stranraer – apparently the first time these teams had ever met! – easily won 4-0 before a small crowd at Parkhead, a feature of the game being the first goal scored on the volley by Gallagher following a Johnstone cross, but then Gallagher lost his place in the team for a spell. Indeed, he only played another 6 games that season, but they were all significant.
He did not really deserve to be dropped, but in mid-February Bertie Auld who had been injured came back to play at inside left and Joe McBride was moved to inside right allowing Steve Chalmers to play in the middle. Gallagher accepted all this phlegmatically, and watched as the team beat Falkirk, advanced in the Scottish Cup at the expense of Dundee on a cold frosty midweek at Dens Park (the game having been postponed on the Saturday) and then alarming their fans by going down to Stirling Albion at Annfield (an old bogey ground in the past).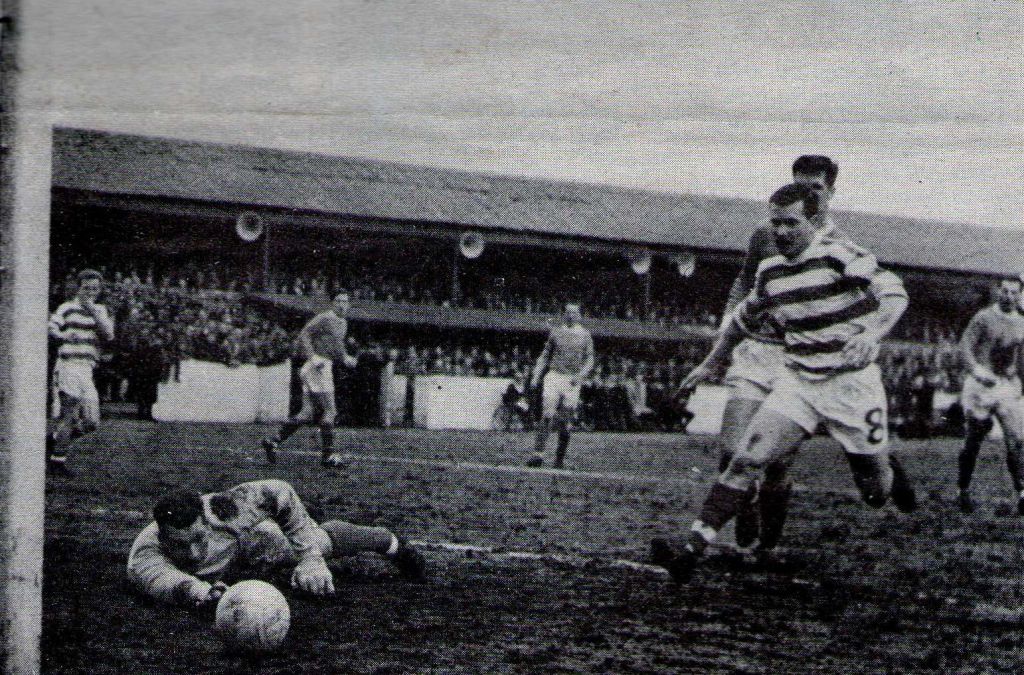 Quite a few of the disgruntled supporters expressed the view that Gallagher might have made a difference to that dysfunctional forward line which, quite simply, just seemed to have an off day – or perhaps they were upset
by the orange jerseys worn by Stirling Albion quite deliberately at the behest of their Manager, ex-Ranger Sammy Baird!
But then a great Scottish Cup tie appeared on the horizon at Tynecastle. Hearts had, of course, beaten Celtic little more than a month earlier and the tie was all ticket. By this time winter had given way to spring, and although Gallagher was in the party, Stein decided to go for Bertie Auld for this game.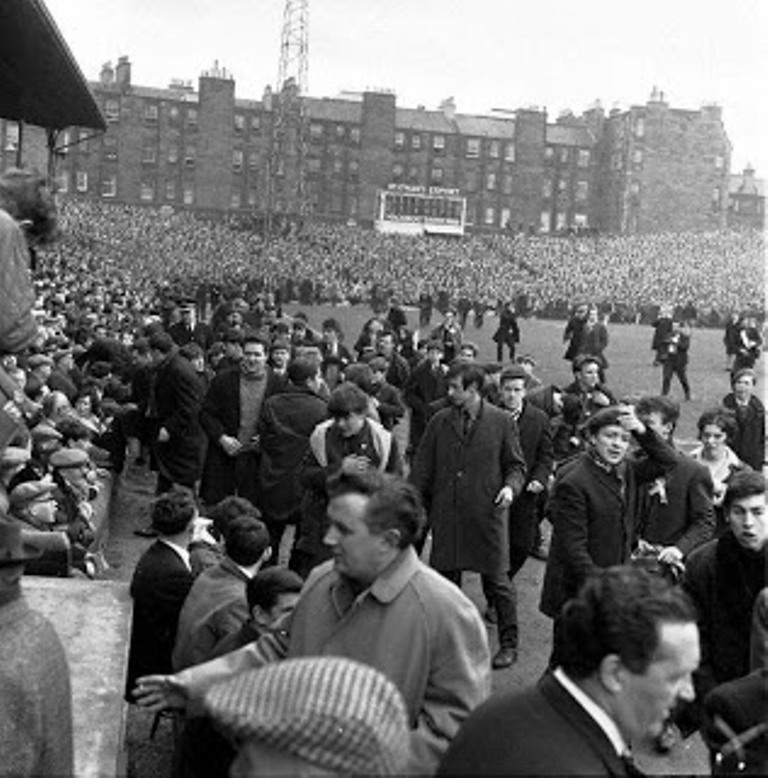 It was a game marred by serious overcrowding at the Gorgie Road end requiring suspension of play for a few minutes as the crowd spilled on to the track and a few luckless fans were seen to be carried away on stetchers. The problem had arisen out of a well constructed plot by some ticketless fans to get in. One of their number did have a ticket and duly entered the ground. He then loosened the bolt of one of the exit gates left criminally unguarded by stewards and police who were in any case distracted by other problems caused by the huge crowd. Hundreds of fans then rushed in through the exit gates. Some indeed had tickets, but it was a lot easier in any case to walk in through the exit gate than it was to queue at the inadequate turnstiles which clearly were not coping with the huge crowd.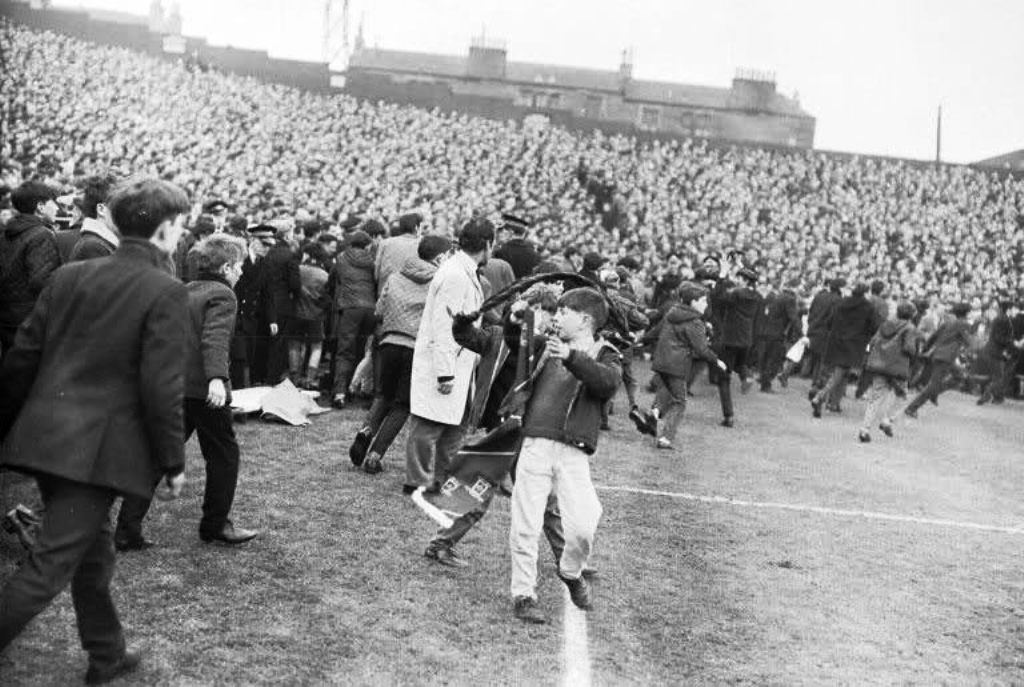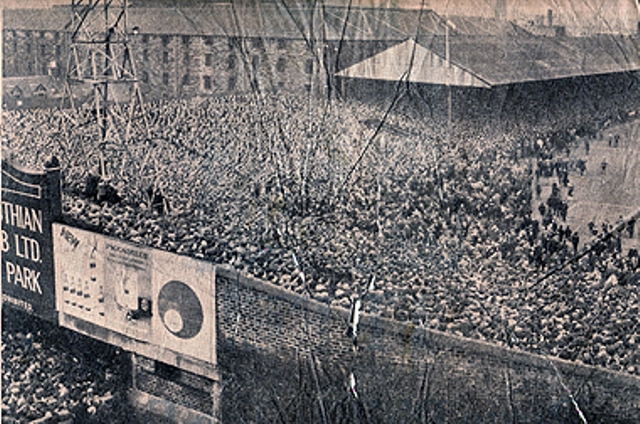 Mercifully and miraculously no-one was killed or seriously injured in this surge of humanity, and eventually the police were able to direct fans to less crowded parts of the ground. It was frightening, though, for all concerned and Gallagher from his seat in the stand was as concerned as anyone. The players then rewarded the crowd for their patience and bravery with a great game which ended 3-3. Willie Wallace again starred for Hearts, but Celtic showed great skill and composure for twice coming from behind. Indeed they were 3-2 up late in the game, until Hearts scored a late equaliser to earn a replay through the detested Johnny Hamilton whose ability to wind up Celtic fans was legendary.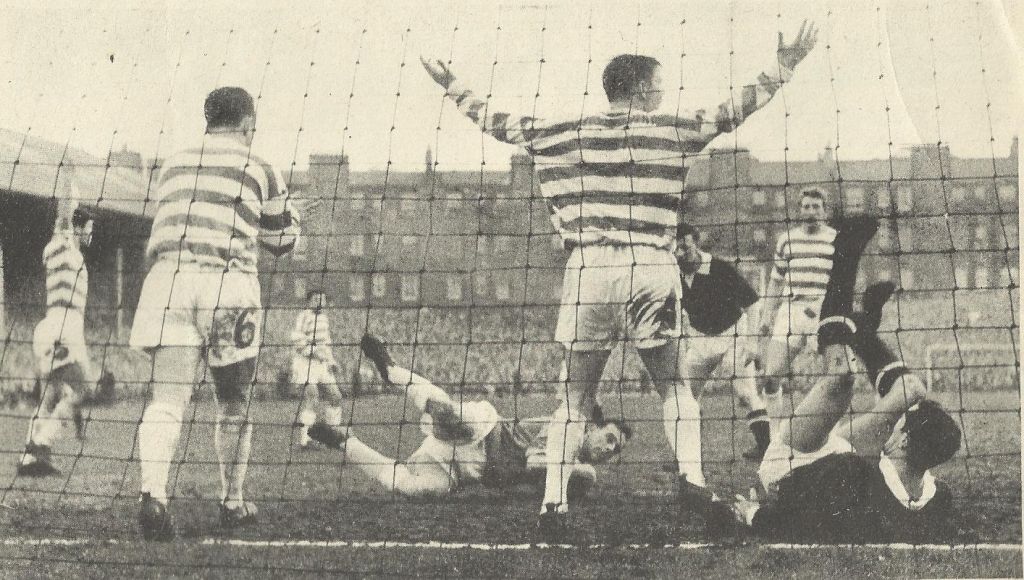 Crucially for Gallagher, both McBride and Auld were injured – McBride's arm injury compelling him to play with his arm as if in a sling, a curious sight! – and opportunity beckoned for him in the Wednesday night replay. McBride recovered, but Auld didn't and Charlie was in, as an astonishing 72,000 appeared at Parkhead for the replay. It showed, apart from anything, just what a huge sleeping giant Jock Stein had awakened.
Long after the game started, and even allowing for a ten-minute delay, crowds were still trickling in, most of them Hearts supporters thwarted by virtually unprecedented traffic jams all along London Road and its environs. This time Celtic made no mistake and Gallagher played his part in the convincing 3-1 victory. In particular, he made the first crucial goal when he picked up a loose ball, fed Joe McBride who in turn fed Jimmy Johnstone. Celtic's very convincing win – Hearts scored their consolation goal very late when the game was virtually over – was much lauded by the fans, particularly when they heard that Rangers had gone down to Falkirk in the Scottish League, and that Celtic were now back on top on goal average.
David Potter
To be continued…