Will Celtic win the coveted Treble? Probably. Have we the squad, the coach and the fanpower to do it? Absolutely. Is the Treble a stick-on? Absolutely not. Why?
Just because we're playing a side from a lower division does not guarantee us anything, and we have no right to believe otherwise. Here's why.
A game of football is 11 v 11 and history proves that the odd freak result can occur. Ange will have his team ready and motivated but Inverness won't come to Hampden to roll over so we need to be at It. Jock reminds us that success always needs to be earned… pic.twitter.com/1ZKmtSm8Bp

— Lisbon Lion (@tirnaog_09) June 2, 2023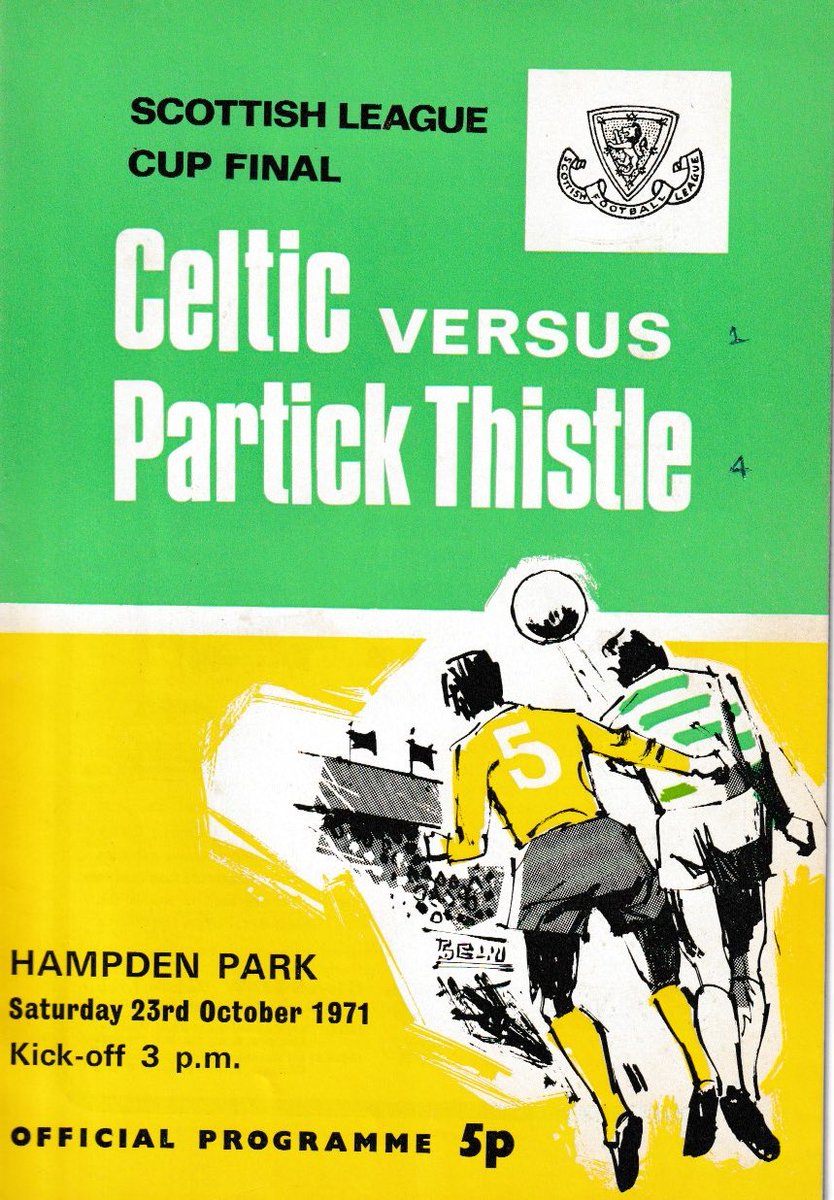 As a wide-eyed 12 year-old kid, I stood with my dad in the middle of the 'Celtic End' way back on Saturday 23 October 1971. My eyes widened with increasing regularity as first, Alex Rae, then Bobby Lawrie swiftly followed by Denis McQuade and Jimmy Bone stuck four daggers into the hearts of our support in the first 37 minutes of the Scottish League Cup Final.
'This was impossible', we said. This is Partick Thistle, our newly promoted little sister here in Glasgow, outplaying, outscoring, outsmarting us and assuredly on their way to a major trophy, at our expense.
Who were we? Mighty Celtic, just one year on from competing against Feyenoord of Holland in the European Cup Final in Milan's cavernous San Siro, and on our way to yet another semi-final in that same competition versus Inter Milan.
Who did we have? We had, Williams, Hay and Gemmell, Murdoch, Connolly and Brogan. Up front we had Johnstone, Hood, Dalglish, Macari and Callaghan.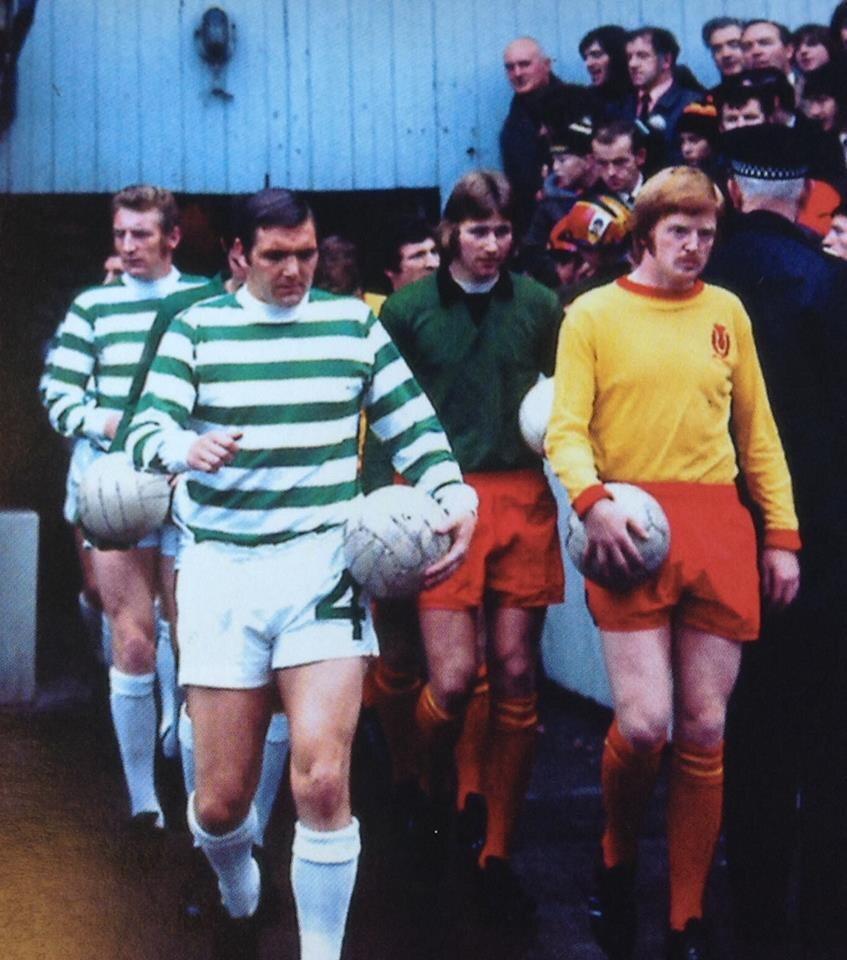 All names to conjure memories of glittering trophies medals and raucous celebrations in the vast Celtic ranks. All winners, all greats, yet here we were losing 4-0 to this new First Division club in the first showpiece occasion of the season.
One of the highlights of those non-digital days was Grandstand, Frank Bough, Sam Leitch etc, who would dissect these grand occasions much in the same way Kris Boyd doesn't. Leading his charge on our big day, Leitch famously outed, "In Scotland, it's League Cup final day at Hampden Park, where Celtic meet Partick Thistle, who have no chance."
At half-time, it was Celtic who had "no chance," despite a riposte from the brilliant, Kenny Dalglish on 70 minutes. Yes, we'd all seen Celtic score three goals in twenty minutes, (I'd seen them famously score four), but on this day we all sensed it was all over by half-time.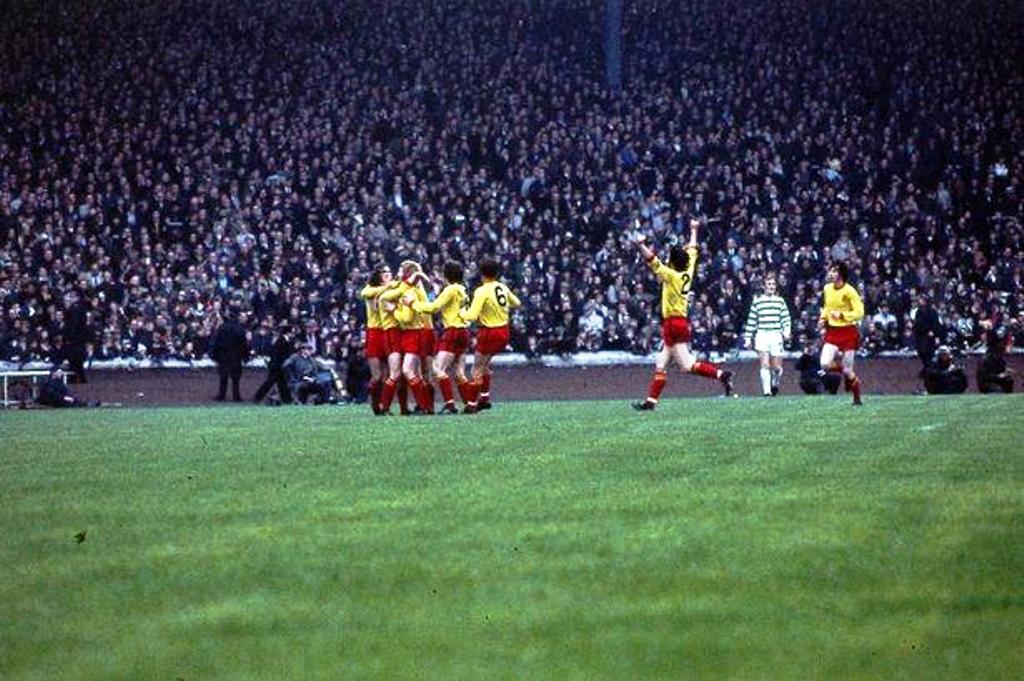 The late, great Arthur Montford, a commentator of note who was not shy in showing an emotion or two during big games, most notably Scotland, was heard to shriek his famous and most common line, "It's a goal. What a sensation!"
I vividly remember the numbness and shock as the Celtic net bulged again, and again, and again. Then once more for Firhill fun! I remember constantly staring up and tugging at dad's coat sleeve, appealing for some semblance of hope. "We can come back, Dad, eh? Jinky and Kenny will score, eh?"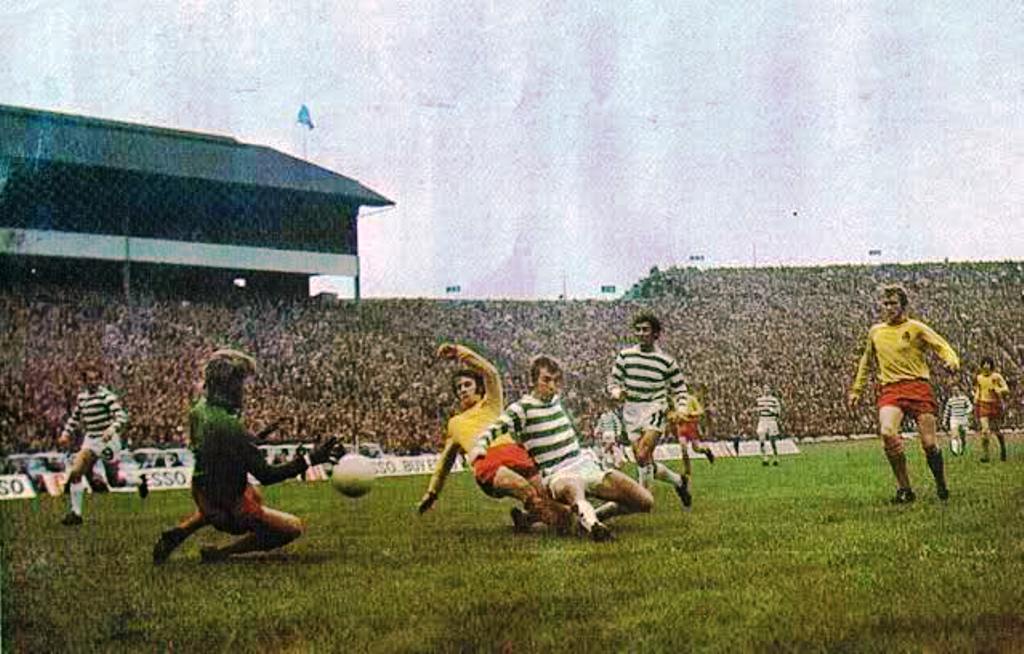 At the first goal, he nodded, winked and smiled. After the second, he shrugged. Then, after McQuade made it unlikely, he screwed up his face in a 'mibbes naw' kind of way, but when Bone ran away, arms aloft, golden shirts cavorting around Hampden, he refused to return my gaze, and I knew then the Cup was lost. Dad was always right.
Grandstand's Frank Bough was intrigued enough to do a double take as he read out the result on national television. He looked around the room and said to the audience, "No, I think that is wrong. I'll check that."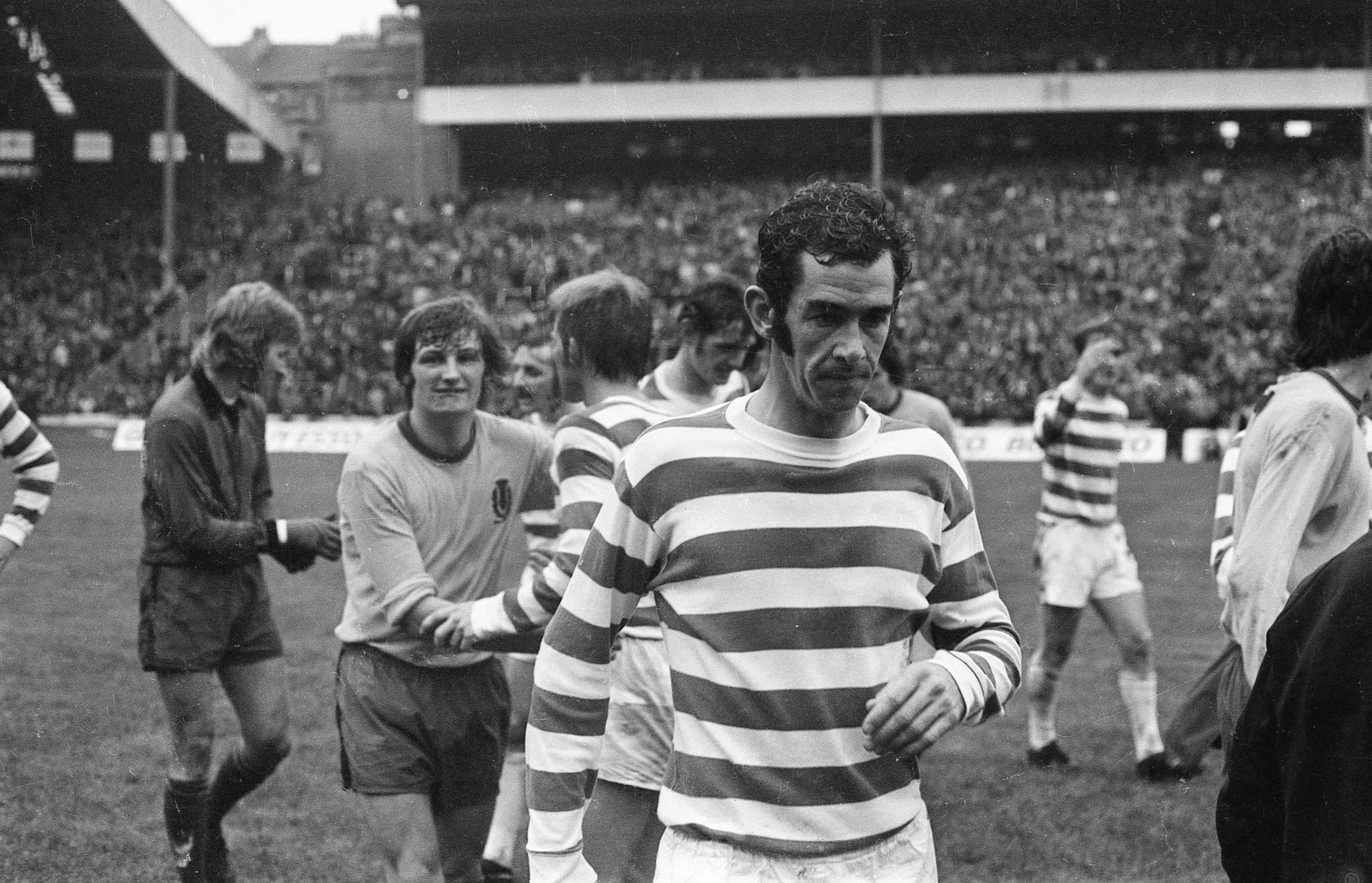 It was rumoured that Rangers fans exited Ibrox en-masse when the tranny (radio!) blared out the half-time score, having to repeat it to incredulous audiences all over Britain who could not believe their ears. Apparently, the boys in blue, despite their side being in the throes of beating Motherwell 5-1, streamed towards Hampden to join the Thistle supporters who had taken to mocking the Celtic support in the 62,470 crowd.
Of course they did. I distinctly remember the 'Rangers End' which hosted the majority of Thistle fans becoming more animated and swelling as the day went on, and I remember my dad's mates pointing it out to me. Would we have done the same? Of course we would, but it was galling to see blue, white and red scarves being held aloft as Alex Rae mounted the Hampden steps to lift the League Cup.
Now, I said, who were we, but who were they? Let's give them credit for what they achieved that day, and who they became.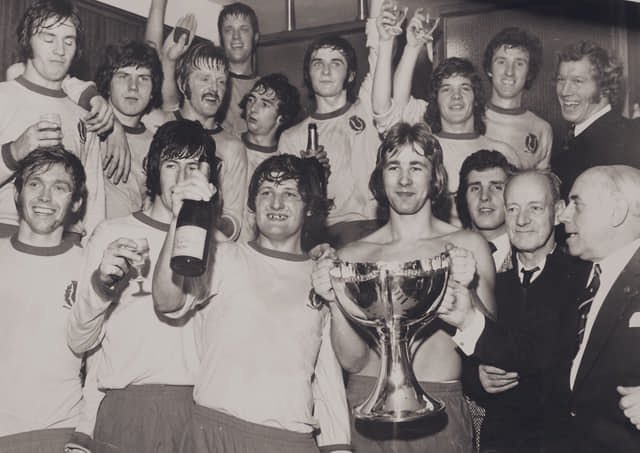 Alan Rough. 53 Scotland caps, three World Cups, turned down both Spurs and Middlesbrough whilst at Thistle. Played for Celtic (his team) and Hibernian. Got the bus to meet his buddies before the Cup Final! Humble?
John Hansen. Played all his life at Thistle and would never have a better day than this. Older brother of the more illustrious and celebrated, Alan, he of Liverpool and Scotland.
Alex Forsyth. After leaving the Jags, the Scotland cap played for Manchester United and Rangers, Motherwell and their lifelong rivals, Hamilton Academical.
Ronnie Glavin. A player who needs no introduction from me. Brilliant at Parkhead before going to Barnsley and Belenenses among others before retiring at St. Louis Streamers. Only one Scotland cap? Surely not. At Barnsley they sang, "People say that football's borin', Ronnie Glavin's always scorin', can you hear the Ponty roarin', Ronnie is our King!"
Jackie Campbell. An enormous 578 games for Partick Thistle as central defender. Great one-club man.
Hugh Strachan. Like our Tony Ralston, a brickie, but one who played for Motherwell, Morton and Kilmarnock. Solid defender.
Denis McQuade. Having exited Firhill, the lanky winger starred for Hearts and Hamilton Accies. After retiring, he wanted to become a priest, but having exhausted all his miracles at Hampden, he moved to Sydney instead. Bless him!
Frank Coulson. Went onto Stranraer and Stenhousemuir – Lisbon Lion, Willie Wallace's favourite other team, but don't tell him I told you!
Jimmy Bone. This multi-club wonder foraged a career with, apart from Celtic, Norwich City, Sheffield United, Arbroath, St. Mirren, Hong Kong Rangers and Hearts. Became player-manager at Arbroath before sensationally, as No.2 at St. Mirren, guided the Buddies to a famous Scottish Cup victory in 1987, starring Frank McGarvey. I was there!
Alex Rae. Before his shock Cup win over Celtic, Rae played at East Fife and Bury, before leaving Firhill to join Cowdenbeath and Forfar, whom he subsequently managed.
Bobby Lawrie. A 60s and 70s player, Bobby played for Stranraer as well as Thistle.
So you see, Jock Stein's Celtic took Davie McParland's Partick Thistle for granted in 1971. The Jags players openly admitted this in post-match interviews. Some of those players went on to have sterling careers at, not only domestic and European level, but internationally.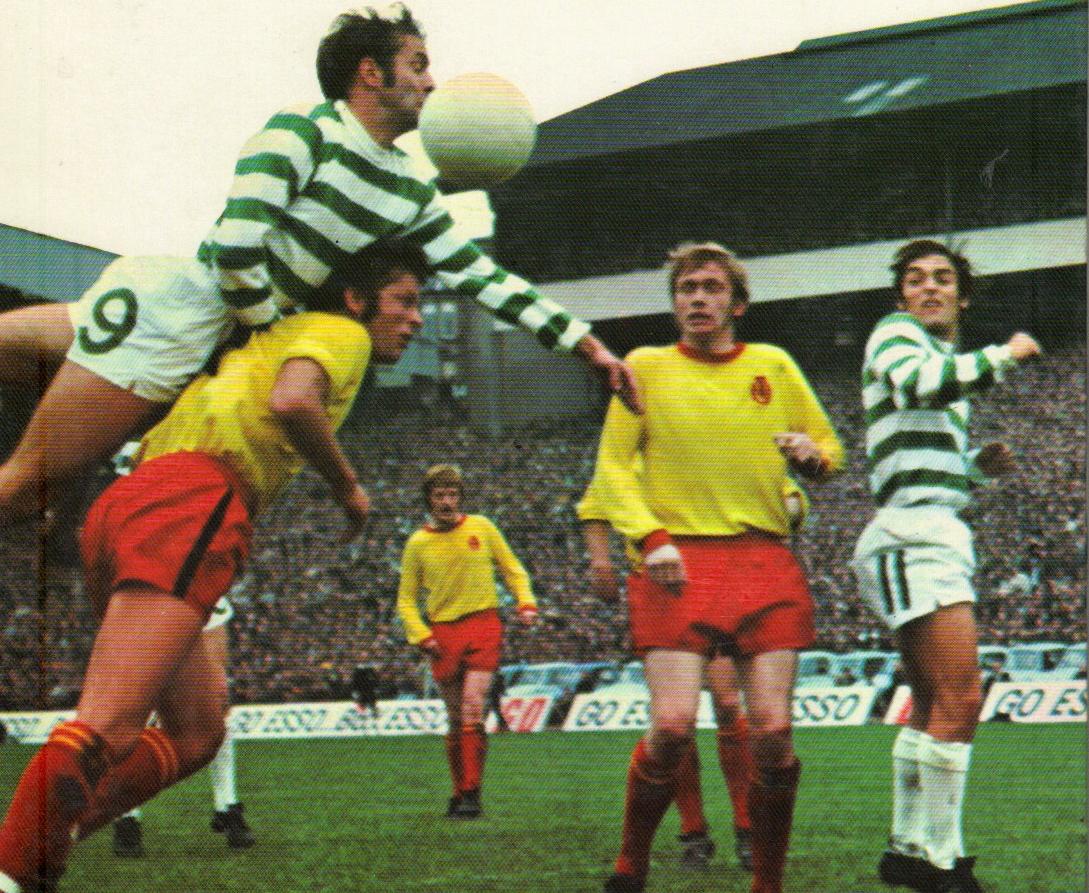 This Inverness Caledonian Thistle side who will turn up at Hampden 2023 will have exactly the same ambitions, pray Celtic think it's already won and knock them off their perch. They will do so if we turn up flashing our cream Armani suits, as Liverpool foolishly did once before King Eric Cantona sent them back to the dry cleaners, soiled and trophyless.
Caley are a team of grafters, and with no little skill. They will do their utmost to win this Cup, and spend the next fifty-odd years celebrating, showing off their winners medals at functions and hoping guys like me write their story.
Everybody loves an underdog, and everyone barring Celtic fans will be hoping and praying for an upset of epic proportions this coming Saturday. If we go in unprepared, the worst will happen. If we go in cocky, we will be kicked from pillar to post by a squad of men fighting for they and their families' shot at glory.
I don't for one second believe that Ange Postecoglou will allow any of his squad to feel complacent, superior, or that the Cup is in the bag.
The referee for the Scottish Cup Final is theRangers fan, John Beaton. We know his motives and intentions, and it would give our global Celtic support no greater pleasure than for him to blow his whistle around 7:15pm on Saturday evening and watch on as Callum McGregor raises that famous old trophy into the night sky to a cacophony of cheers and flares from 50,000 bhoyant green and white clad celebrants.
No complacency, no superiority, just skill, passion and goals. Lots of goals. Please Celtic, give us the Treble.
Hail Hail!
Eddie Murray