Celtic are history makers once again, it's a wonderful and weird time to be a fan I'm sure we will all agree.
The weird thing is, winning this Scottish Cup at this stage of the season, to clinch the treble for last season – stop me if you're confused here – could actually be hugely beneficial. How often have we seen the team clinching the League Cup, just like last season against theRangers by 1-0, and then go on to win the league? It's often felt that winning the first trophy of the year breeds confidence for the crucial second half of the season.
While that is true, I want to look at one issue we have that is raising more questions than answers. You might say 'which issue, there are many'? My concern is that we have a real problem in our goalkeeping situation. Conor Hazard has emerged as a 'zero to hero' figure after his very shaky performance during the 120 minutes, to then pulling off 2 great saves in the penalty shootout which turned the game in Celtic's favour just when it looked like all hope was lost.
As the Daily Record's player ratings show, he was given a 7 out of ten – which is quite incredible for a keeper who conceded 3 goals and looked very nervous throughout. Will be interested to see what mark Sandman hands out when his Definitive Ratings appear on The Celtic Star.
This young man, who has been loaned out to Falkirk, Partick Thistle, and Dundee in recent years, has now played 3 games in a row for the Hoops. He was brought in for the Lille game, along with Ismaila Soro and David Turnbull, and has kept his place ahead of Vasilis Barkas and Scott Bain for the subsequent games against Kilmarnock last weekend and now today.
This is our 3rd choice goalkeeper – and Neil Lennon has now changed his mind 4 TIMES already this season about who should play this most important position. Watching this kid today, he was very nervous, in the first half he made a terrible error which Steven Naismith almost capitalised on. The second half and through to extra time he flapped at crosses which ultimately led to throwing away the lead twice before the game went to penalties – when he redeemed himself.
People are worried about the team, myself included, Scott Brown is the man in focus but it seems that Neil Lennon is trying to phase him out of the team – I would be very surprised if he plays on Wednesday night. I am very concerned that we are now placing this young man in goals for the most important run of games in years – surely this isn't right? While Barkas is not showing form, he just hasn't been given the chance to show us why the club paid all that money for him.
Take a bow, @ConorHazard1 – penalty shootout hero 🙌#ScottishCupFinal pic.twitter.com/ulEuGtcadi

— William Hill Scottish Cup (@ScottishCup) December 20, 2020
Plus points are – Hazard is 22 years old and has so much to learn so we could be looking at a very good keeper in years to come. Barkas is 25 and further down the road in his development so I would say that he should come in and stake his claim as the permanent choice.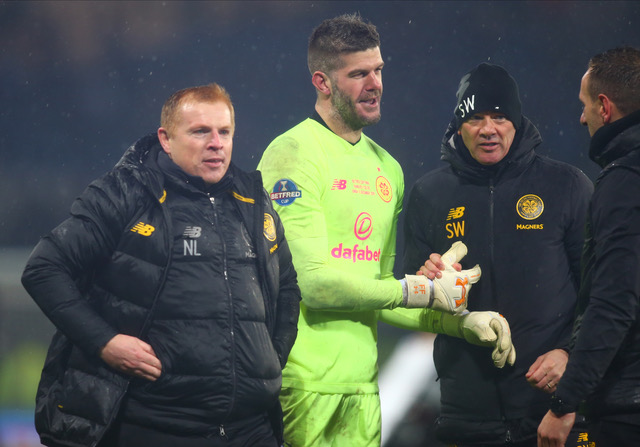 Or maybe Neil Lennon has seen enough to convince him to go back into the transfer market in early January, especially if Fraser Forster is going to be available?
Brain McVeigh