If you know the history – Celtic at birth, 50 & 100: Part 13 – September 1888
September 1888 was a memorable month in the short history of Celtic Football Club, as we entered the Scottish Cup for the first time and took part in our first cup final. The first day of the month saw 166 clubs across the country play in the first round of the major Scottish football competition at that time, two years before the inaugural League championship kicked in. Celtic had gained entry to the SFA just ten days earlier, on 21 August 1888, together with another seven clubs, whose names make interesting reading some 130 years later.
From Glasgow came the wonderfully-named Temperance Athletic, whilst the Irish community in Coatbridge would now be represented by Whifflet Shamrock. Further east, Champfleurie hailed from Linlithgow, Adventurers were from Edinburgh and Leith Harp would provide local competition for the original Edinburgh Hibernians, Scottish Cup-winners in 1887. Over on the west coast, any 19th-century Oban ultras could support Balaclava Rangers, whilst down in Ayrshire, Darconner Britannia would deliver Scottish Cup football to the banjo-playing goatherds of Auchinleck.
Of the eight new entrants, only Celtic and Adventurers would survive the first round, with some severe maulings dished out. Just three years earlier, Arbroath and Dundee Harp had managed 71 goals between them in defeating their respective opponents from Aberdeen, Bon Accord and Rovers. Whilst those staggering performances were not quite repeated, there was some serious scoring taking place that Autumn day, with many of the new clubs on the receiving end of that.

The draw was heavily regionalised, producing a number of local derbies. Britannia were definitely not ruling in Ayrshire, beaten 5-1 at Annbank, whilst Whifflet Shamrock lost 6-1 to their Carfin namesakes. Leith Harp also shipped six, this time without reply at Bathgate to Erin Rovers. Three of the others lost by double-figures. Champfleurie were beaten 12-0 by Armadale, whilst Balaclava Rangers would have been thankful for their headgear on the way home from Lochgilphead, having lost 15-1. Faring worst of all were the good folk of Temperance Athletic. I suspect a few may have fallen off the wagon in need of a stiff drink after a 18-2 defeat at Gourlay Park from Cowlairs.
Celtic and Adventurers did strike a blow for the new guys, the Edinburgh side beating Linlithgow Athletic 6-2 away from home in their first foray in the senior competition. At Celtic Park, the fledging club played its initial Scottish Cup tie against a side from just along the road, Shettleston. The Celtic team lined up for this momentous occasion as follows:
Willie Dunning
James Coleman
Mick McKeown
Paddy Gallagher
James Kelly
James McLaren
Neil McCallum
Johnny Coleman
Willie Groves
Mick Dunbar
John O'Connor
Five of the team had been plundered from Hibernians, allegedly due to the promptings of their former teammate, Tom Maley, whilst a further two, Kelly and McCallum, had joined from Renton having previously promised their services to the Edinburgh club. These sides had won the previous two competitions and so there was plenty of Scottish Cup experience in that Celtic eleven, indeed Willie Groves had scored the winner for Hibs against Dumbarton at Cathkin in the 1887 final whilst Neil McCallum had netted his customary double in Renton's 6-1 rout of Cambuslang at the same venue twelve months later.
The resentment felt by Hibernian towards Celtic for more than a century can almost certainly be traced back to these events of 1888, the fortunes of the Edinburgh side plummeting whilst the Celts went from strength to strength, thanks to the input from many of their former stars.
There was a humorous nod to this almost 120 years later, in the Gordon Strachan era, when the Celtic manager, himself a boyhood Hibs supporter, took his charges to play at Easter Road on 23 September 2007. This would mark Scott Brown's first return there since his summer transfer, the midfielder one of five Celts involved that day who had previously plied their trade in the green and white of the capital side, Gary Caldwell, Paul Hartley, Derek Riordan and Chris Killen being the others.
The visiting fans displayed a banner proclaiming Hibs as 'Celtic's feeder club since 1888!' Sadly, the joke would be on us that day as the Hibernian player I always felt we should have signed, striker Steven Fletcher, was on target in a 3-2 home victory.
The match with Shettleston on Saturday, 1 September 1888, was one-sided, Celts two goals ahead at the interval and eventually running out 5-1 winners. Curiously, some records assign all five goals to left-winger, John O'Connor (sometimes known as Connor), although newspaper reports of the time would appear to have ignored that feat and Celtic themselves have not acknowledged this to the best of my knowledge and there is no reference to it in either the Maley or Handley history books.
There were a number of other ties of interest in that first round played on the same day.
Dundee Our Boys beat Dundee East End 5-4. These two clubs would amalgamate five years later, in 1893, to form the present Dundee FC. Within another two years, on 26 October 1895, they would lose 11-0 to Celtic in a Scottish League game at the new Celtic Park, still our record win to this day.
Dumbarton's 13-1 win over Kirkintilloch Central at Boghead featured a goal from Johnny Madden. He had featured for Celtic the previous month in the Glasgow Exhibition Cup match against Abercorn and would later star at Parkhead before making his name as the Father of Czech football in the new century with Slavia Prague.
Perhaps the biggest shock was the 2-1 defeat of '87 winners, Hibernian, by Mossend Swifts at West Calder, whilst holders Renton, minus Kelly and McCallum, were still far too strong for neighbours Bowling, victorious by 8-0, and eight-time Scottish Cup-winners Queen's Park, won a five-goal thriller in Springburn, edging out Northern at Hyde Park.
Two nights later, on Monday, 3 September 1888, a strong Celtic side travelled to Copeland Park in Govan, recovering from the loss of an early goal to win the friendly with Whitefield by the same 5-1 scoreline as the weekend fixture.
The following Thursday marked another key date in the history of the club, as the Bhoys faced Cowlairs in our first-ever Final, to contest the Glasgow Exhibition Cup at Kelvingrove. In the absence of most of the leading clubs of the day, the 'Irishmen' were favourites in the eyes of many observers. However, in front of 6,000 spectators, many taunting the Celtic players throughout, two second-half goals from Stewart and Bishop without reply saw the trophy heading for Springburn.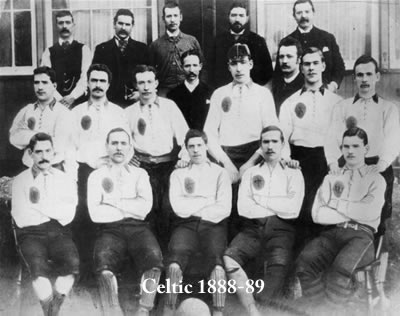 At a reception afterwards, legendary chairman and co-founder, John Glass, vowed that those who had abused his representatives would be 'taught a lesson they would not forget'. Perhaps, this was the occasion when his oft-quoted speech, now appearing on the new storyboard at Celtic Park, was first aired.
'Let them scoff and jeer. Celtic will yet win to their proper position by their merits and those who scoff today will one day have to applaud.'
He would not have long to wait.
Two days later, Celtic hosted Dumbarton Athletic in a friendly, winning 3-0 thanks to goals from Willie Groves, Mick Dunbar and John O'Connor. Celtic featured another Hibernian Cup-winner, goalkeeper John Tobin, on this occasion, whilst James Coleman represented the visitors, having played for Celts in the Scottish Cup-tie against Shettleston the previous Saturday!
The following Saturday, Celts travelled through to face Dumbarton in another friendly, a first-ever visit to Boghead Park. (Dumbarton and Dumbarton Athletic would later amalgamate to form the club who would go on to win the first two Scottish League championships in 1891 and 1892).
With Johnny Madden in the home ranks, it was winger Neil McCallum who headed the opener in the first-half, with Chapman equalising for the hosts (referred to as the 'ground side' in the language of the day) after the break. With ten minutes remaining, McCallum scored his second off the post, Dumbarton by this time reduced to ten men due to injury.
Seven days later, the second round of the Scottish Cup took place, with 39 ties played across the country. Cowlairs' reward for the slaughter of Temperance Athletic was a trip to Celtic Park, just 16 days after the ill-natured encounter at Kelvingrove in the final of the Glasgow Exhibition Cup.
With feelings running high, a large crowd of over 7,000 packed into the Dalmarnock St ground. There was revenge in the air, and it was served cold for Cowlairs, Celts scoring four goals in each half for a resounding 8-0 victory. The Maley brothers played with the elder, Tom, on the scoresheet, Mick Dunbar scoring Celtic's first competitive hat-trick )in the absence of confirmation of John O'Connor's performance against Shettleston), Neil McCallum with yet another double and strikes from Willie Groves and James Kelly. John Glass would have been a satisfied man that particular Saturday night, as his Celts, described as 'the wearers of the green' in one newspaper report, ran riot.
The final Saturday of the month featured a lower-key friendly, this time against Airdrieonians in front of around 1,000 spectators. A brace from – yes, you've guessed it, McCallum, set Celts up for a 4-1 win, Groves and O'Connor also getting in on the act sad the month ended with another win.
Thoughts and dreams fore those of a Celtic persuasion could now turn to the next round of the Scottish Cup.
Hail Hail,
Matt Corr
Follow Matt on Twitter @Boola_vogue
Thanks and credit as always to the folk behind the wonderful Celtic Wiki, an invaluable resource for Celtic writers and historians. A special mention also for Brendan Sweeney, whose excellent book, 'Celtic: The Early Years', provides an unique insight into the opening chapters of Celtic's history.