The roaring 20s were in danger of passing Celtic by.
There was no total failure – the League had been won in 1922 and the Cup in 1923, for example, but the sustained success of the War years and of the Edwardian era was far away with Rangers having won the Scottish League for the past three years and having beaten Celtic twice in League games in season 1924/25 and also in the Glasgow Cup final.
Rangers were, undeniably a good side and increasingly determined to put an end to their Scottish Cup hoodoo which had now lasted since 1903.
At Celtic Park, Willie Maley was struggling.
The Great War had changed an awful lot, and Maley was not good at coping with the new breed of young man who were less willing to do instantly what he (Maley) said than the pre-war generation. Johnny Gilchrist, Willie Cringan, Tommy McInally and several others had fallen out with Maley.
Maley was aware that he was getting older, although he was not yet 60, his marriage had broken up – a serious matter to the strictly Catholic Maley – and a motorcycle accident had robbed him of the man who might have been a great Assistant Manager for him, Sunny Jim Young, killed on September 4 1922. As it was, of his old bhoys, Quinn and McMenemy were around for him to talk to, but neither had any official position, although Quinn in particular was often at games seen shaking his head at the performance of some of his successors.
1925 was an awful year. There had been a short lived Labour Government in 1924 in which Celtic-supporting John Wheatley, as Minister of Health and Housing, had done a great deal to encourage municipal housing and to remove control of housing from evil landlords.
Ramsay MacDonald's Government however had been a minority one and did not last long, and government-driven fiscal poverty and exploitation of the poor was back.
Ireland had at least settled for a spell. No-one was really happy with what had happened in the establishment of the Irish Free State, but at least people could live their lives without the murders, the explosions and the assassinations. The Black and Tans had now passed into permanent and deserved demonology.
In such circumstances, the people looked to their football team. Celtic were capable of some great performances, but also some shockers. They managed to lose to Cowdenbeath for example on 14 March, but then on the Monday eventually won their Scottish Cup quarter final tie (by the skin of their teeth) against St Mirren to reach the semi-final against Rangers on Saturday 21 March.
Frankly, Celtic were not given much of a chance by anyone, but as if to prove that there was still some Celtic Scottish Cup magic left, they beat Rangers 5-0 to the astonishment of the 101,000 crowd (the first ever six figure crowd in Scotland, other than International games).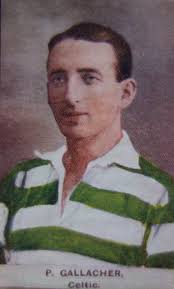 Inspired by Patsy Gallacher, they absorbed all the early Rangers pressure keeping Morton and Cairns quiet, then struck ruthlessly before and after half time, and latterly running through a shaken and traumatised Ibrox defence at will. Much praise was given to the forward line, particularly young Jimmy McGrory who scored twice. Adam McLean also scored twice and Alec Thomson scored the other.
Celtic supporters do not like the "Hello! Hello!" song. That is a shame because we had it first!
"Hello! Hello! We are the *** Malloys
Hello! Hello! You'll know us by the noise
We f***ed the Rangers in the Cup, twas great to be alive
No one, not two, not three, not four, but FIVE!"
As late as 1963, that song was sung, although after 1957, we added "not six but SEVEN"…
So exit Rangers for another season of wondering if they were ever going to win the precious Scottish Cup. Celtic had won the trophy ten times, the same as Queen's Park, and another win would make them the record winners. The opponents were Dundee, no mean performers in 1925, and winners of the Scottish Cup in 1910 (more recently than Rangers).
The city of Dundee always has been a law unto itself. In 1925, it was possibly not too much of an exaggeration to say that half of the city supported Dundee, and the other half (the extensive Irish enclave centred in Lochee) supported Celtic. It was often said that they went to Glasgow to see Celtic when they could afford the train fare, otherwise they settled for watching "the Hibs" – Dundee Hibs who had recently changed their name to Dundee United – but "the Hibs" were a poverty stricken Second Division outfit, and the real team of the Irish in Dundee was "the Celtic". This state of affairs incidentally prevailed until the early 1960s when Dundee United established themselves as a team worth supporting in their own right.
No one in Dundee liked Rangers, (something that remains true to this day), and of course they all hated Winston Churchill, famously voting in 1922 for a Prohibitionist to remove him! But until fairly recently, the Dundee support was free from sectarianism. When Ian Ure and Alan Gilzean reigned supreme, one never heard a word about religion. Now the cancer is sadly all too prevalent in their diminishing support with Union Jacks and nonsense like "the Dundee Derry" – something that is frankly ludicrous!
Be all that as it may, Dundee virtually emptied on 11 April 1925 and Dundonians, on both sides, made up a large part of the 75,137 crowd which was just a little short of the record Scottish Cup final attendance, that honour belonging (incredibly!) to Albion Rovers v Kilmarnock in 1920!
It turned out to be Celtic's most famous Cup final, and one which continued the Celtic tradition of fighting back in a Scottish Cup final established in 1904 and subsequently copied in 1931, 1965, 1985, 1988, 2004, 2017 and 2019.
Dundee were 1-0 up at half time, a goal scored by ex-Celt Davie McLean (who had left Celtic in 1909, some 16 years previously!) and were looking good.
But Celtic, inspired by men like Peter Wilson and Alec Thomson, piled the pressure on that King's Park goal in the second half, and it was Patsy Gallagher who scored his famous goal with the somersault and the ball between his feet to score! What a shame we have no photographic evidence of this goal, although there is certainly a great deal of cartoon evidence and drawings, not least about him having to be disentangled from the back of the net after the goal was scored.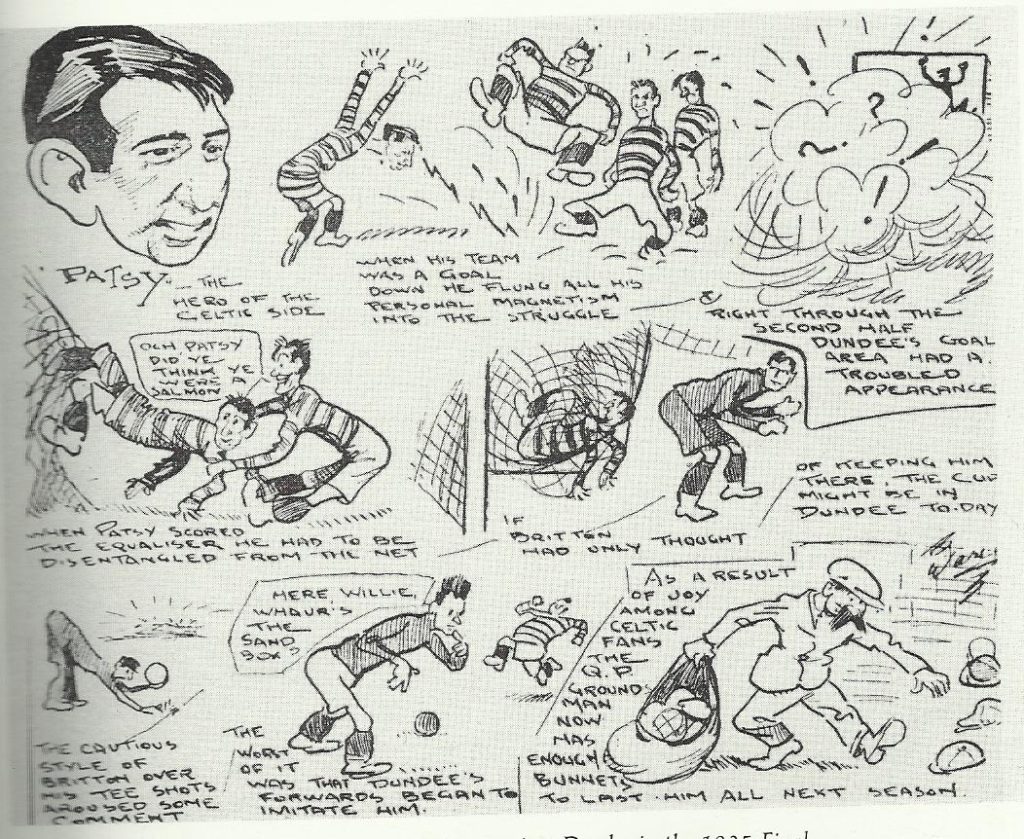 1-1, and (this being the 1920s) the growing cynicism that it was all a fix for another big gate, but no-one told the young McGrory about that.
A free kick as full time approached, taken by "Jean" (the French name for John, rather than the Scottish girl's name) McFarlane, who famously pulled up both stockings before he took the kick. Just behind the defensive wall, and the defenders momentarily relaxed feeling that goalkeeper Britton would gather it comfortably, but then in the words of an eye-witness (my late father) "a green and white figure catapulted forth" to head the ball like a bullet into the net. Momentarily stunned after he hit the ground, he thought he heard thunder. In fact it was the cheers of the green and white hordes.
Minutes later, the full time whistle went, and Celtic had won the Scottish Cup for the eleventh time, a record. Celtic had a new young hero to rival the great Patsy in their affections. The charabanc (the 1920s equivalent of an open topped bus) was heading home through the Gorbals as the "risen people" – the women with shawls and their ill clad urchins, the injured war veterans, the old men and women who had suffered from landlords and gombeen men but now with something to smile about – massed to greet them.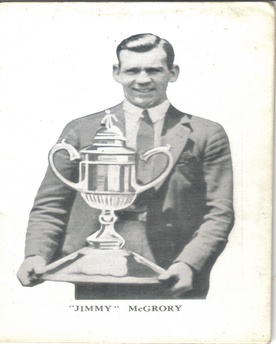 Maley judged the moment brilliantly. Knowing that McGrory's father had died recently and feeling very paternal to the earnest young man, he gave the instructions "Give young McGrory the Cup".
And thus summer 1925 was passed in glorious recollection of the end of the season. News continued to be upbeat from Celtic Park with the news that Tommy McInally was on his way back from his reluctant exile at Third Lanark. "I always had a soft spot for the boy" said Maley, and "We knew he was pining for home". Everything looked so good in that glorious summer of 1925.
David Potter