Auldheid got in touch last night asking us to share an Open Letter from the Celts for Change 2021 Group to the incoming CEO at Celtic, Dominic McKay.
"Celts for Change 2021 have produced an interesting Open Letter for the incoming CEO Dominic McKay that covers quite a lot of bases," he advised. "You might want to feature this in coming days."
From Auldheid, that's code for please help get this out there. So without further ado here's the open letter to Dominic McKay who will be in an extremely good mood this morning after signing off from 6 Nations Rugby with a fabulous Scottish victory in Paris to deny the French the title and crown the Welsh as this year's Six Nations Champions. What a game of rugby it was last night!
The final moments in Paris… pic.twitter.com/mcRuN4x912

— Scottish Rugby (@Scotlandteam) March 26, 2021
Utterly outstanding from @Scotlandteam led by @gregortownsend and @StuartWHOGG_ wonderful win in Paris. Congratulations lads!! After 147 tests and 13 years I leave with the biggest smile. Well done 👍 #AsOne.

— Dom McKay (@dom_mckay1) March 26, 2021
Open letter to the next Celtic CEO Dominic McKay from Celts for Change 2021…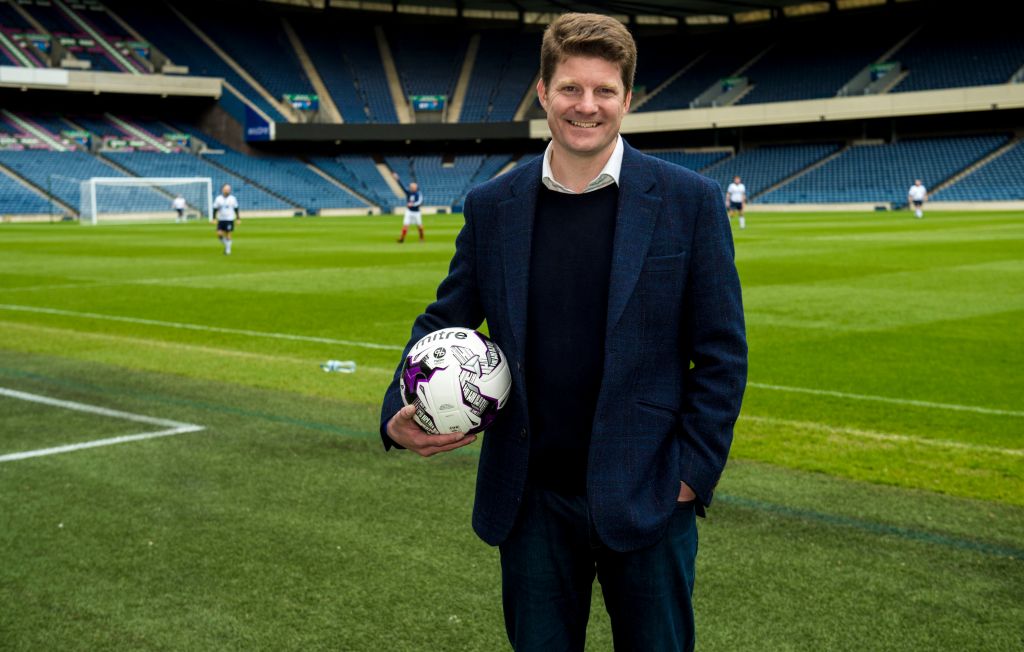 Dear Mr McKay,

We would like to take this opportunity to welcome you to the Celtic Football Club and congratulate you on your new post of CEO, we sincerely hope your time with the club will be full of success both on and off the park, as we could not wish for anything more, all we supporters ever want is the very best for our club.

We at Celts for Change 2021 are not special supporters, our views are no more valid than anyone else's, but we believe there are many thousands who feel like we do, but all our views are not reaching or being heard by the board.

Therefore, we are going to be as frank as we can be, and put all the views of the support to you, as with most clubs there are good and bad times, and looking from the outside, you would be forgiven for thinking what could be wrong with our club, but the club have lost a lot of fans over the last few years. And will continue to lose more, as they lose faith in their club and the game in general.

This is because of the inaction and failures of the club on and off the park under the tenure of the present CEO, as supporters of any sport will not continue to support a game that is rigged. The disconnect between the board and fans is reminiscent of 1994, something that we never thought would happen again.

You will have objectives set for you by the PLC, but the fans have some of their own, that have been ignored, which we will list for you under the following categories – football operations, football governance, and club persona. We will set out the failings as we see them first, and then the solutions for you.

FOOTBALL OPERATIONS

There has been no balance in the quality and experience of some of our managers in the past, to highlight this look at the average revenue over 2 full seasons that these two managers had, Ronny Delia £51 million compared to Brendan Rodgers £96 million, nearly £50million of a difference per season.

We have missed out on players because of numerous bungled transfers for small amounts of money that if signed, would have made an impact at the club, e.g. John McGinn, Fletcher, Toney, etc, etc.

We have on the other hand signed players for big fees that have contributed nothing to the team e.g. Marvin Compper £1million for 80 minutes, one alarming statistic is that from the beginning of the 9 in a row, we have spent over £34 million on players who never managed a full season of 38 games.

There has been an abandonment of the sports science, diet, data, and all round professionalism on the football side of the club, with key posts coming and going with whatever manager we have at that time.

FOOTBALL GOVERNANCE

There are historical failures that have been festering away like an open sore since 2008 and 2011, all from your predecessor's time, we have listed them below.

The secret 5-way agreement, which Celtic accepted, but for some reason UEFA have had no knowledge of.
Failure to take RES 12 forward, now RES 11.
Evidence ignored that could have had the LNS Commission that legitimized EBT titles set aside.
The Traverso letter in 2016 calling Sevco a NEW club/company ignored including taking up UEFA's offer to investigate.
No robust challenging of the SFA, SPFL about numerous referees not applying the rules of the game when it suits them, and acceptance that they can do this without any repercussions.
The speedy, and on the hoof sanctioning of our club and players, this season over Covid breaches, that have not been applied consistently at other clubs.

CLUB PERSONA, IDENTITY

Some of the actions and public statements from the club have been nothing short of embarrassing to the ordinary fan, and not in keeping with a large PLC.

Some examples are, hiring the last manager in a shower, not looking at any of the CV's that were submitted for the same job; these were left in a drawer unopened.

Briefing the press against the club manager, and using a paper that mocked dead football supporters at Hillsborough, as its main PR outlet, is frankly obscene and deeply offensive to any human being.

Being seen to aid and abet the reappearance of a brand that thrives on hatred of our club, our ancestry and religious beliefs and all it stands for, as its core function.

Our club has given a casual nod of acceptance to all the crimes on the other side of the river, from tax dodging, to racism, to cheating, and the biggest crime of all, acknowledging that the liquidation in 2012 didn't happen.

The use of Parks of Hamilton while its owner mocks our club, perhaps a small example, but it again just underlines the disconnect the club has with its fan base.

And finally but not least Dubai, well words fail us while the fan base were in lockdown trying to stay safe, someone at the club thought that it would be appropriate to jet across the globe just baffled us.

Solutions

FOOTBALL OPERATIONS

We supporters see Celtic as a football club not a balance sheet, and all we want is the club to hire the best available at that time in all departments.

Going forward your first remit should be a Director of Football, who will have full control over what happens on the football side, they should have vision and always be prepared for change, and open to innovation in the modern football world.

Secondly remit will be for the DOF to recruit a first team manager who has the quality and experience of O'Neill, Strachan and Rodgers, no more projects to save money are acceptable for a club the size of ours.

Equally important is the support network, this is inclusive of youth system, scouting, analytics, medical facilities, fitness and diet. This has to be a separate internal department, therefore it will not be affected by managers coming and going. That will mean it will be able to maintain a constant professional standard, and in the first instance a option could be a partnership with some of the Scottish University departments that specialise in these fields to help build up the knowledge base.

FOOTBALL GOVERNANCE

The club has to pursue all of the failings listed above, and make public statements about the secret agreement, rule breaking, tax evasion, tainted titles and new club status. This will encourage a greater take up of Season Tickets than would otherwise be the case if the club remain silent.

The club, to keep its undertaking to shareholders under Resolution 11 at last AGM, to engage with the relevant authorities and pursue and be seen to be doing so.

If this is not done it will haunt your tenure as CEO, and the sport will continue to be rigged, and what appeal will that have for anyone who has played the game, or wants to pay to watch the game.

VAR and FFP must be introduced, and its implementation monitored.

Please don't forget the hero's of the club that have fought the SFA,SPFL, during our history, Bob Kelly the right to fly the flag of Eire in 1952, Fergus McCann proving cheating by Jim Farry the SFA CEO over the registration of Jorge Cadete in 1996, and don't forget the lying referee's with Dougie-gate in 2010.

CLUB PERSONA, IDENTITY

Being a Celtic supporter means that you are likely to face resentment, discrimination, bigotry and racism in your everyday life, this in turn inspires strong and passionate commitment to this club; some even bleed green and white.

It also means that you join an estimated 9 million fellow fans worldwide, so we know that we never walk alone, and are part of something bigger; we have a communal identity and a common cause. Every time Celtic wins a game our suffering is eased a little and we can look on the bright side of life at that moment in time.

The club needs to understand that it is the only powerful champion of that community, and a focal point of their everyday life. The public statements from the club therefore have to reflect that, and stand up for them and the club itself, and call out any wrong doing, misconduct, and discrimination against it, because a lot of our community has no other outlet to do this in certain countries.

The review and cancellation, of all contracts with companies, who mock and despise our club and its fan base.

Our chairman Ian Bankier position is now totally toxic with the support and will remain so until he is gone, the other members of the board, some being there for a great numbers of years, are as complicit in the failings by their silence, and not holding each other to account.

There must be a reconnection with the fan base all season long and not just during season ticket renewal time.
The fans have invested £750 million since the club became a PLC and have post Fergus McCann's era, had a growing lack of connection with the club, this has to be reversed and can be done so by doing the following,

Actively start updating current shareholder records to find nonvoting shareholders.

In addition, season ticket holders can be offered the chance to add say £50 to their annual renewal each year this will be combined and converted into shares and given to the Celtic Trust, this in time will lead to a reconnection with the club, which was always part of Fergus McCann's original vision.

—————————————————-

If you can achieve all of this you will remove all the barriers, that are reducing the fan base, and you can maximise the clubs potential with 100% support from all fan groups.

With all this achieved, it will also give all the fans a vision to buy into and believe in. The revenue will increase, the share price will increase, which will lead on to some of the projects that have been shelved during the downsizing to be realised, a 80,000 seated Celtic Park, the Hotel, the indoor training centre at Barrowfield, and the shopping centre.

This will in turn sustain and define the club for our Children and Grandchildren and many generations to come thereafter.

If you are unable or are not allowed to fix all of the above, it means that the game in Scotland will remain rigged, and there will be no way to achieve maximum support from us and many other supporter groups going forward, and this would be a heartbreaking waste of our clubs future potential.

Best wishes

Celts for Change 2021