On This Day in 2001, Celtic hosted Italian giants Juventus at Celtic Park with a place in the next round of the Champions League at stake. After a controversial penalty did Celtic out of a result in Turin, Martin O'Neill's side had it all to do against the side.
A heroic victory over Juventus was not enough to see Celtic qualify for the second group stage but will be remembered for an inspiring performance from veteran Lubo Moravcik and a cracking brace from Chris Sutton.
Juve took the lead through Del Piero before Joos Valgaeren and Sutton took the Hoops ahead at the break. It was David Trezeguet that pulled the Old Lady level but Henrik Larsson and Sutton. It set up a nervy finish as Trezeguet pulled one back. However, Porto broke Celtic hearts as they won in Trondheim meaning Celtic would fall into the UEFA Cup.
Celtic: Douglas, Balde, Mjallby, Valgaeren, Agathe, Lennon, Lambert, Moravcik, Petta, Larsson, Sutton. Subs: Kharine, Sylla, McNamara, Thompson, Hartson, Tebily, Petrov.
Juventus: Carini, Iuliano, Ferrara, Zenoni, Paramatti, Birindelli, Nedved, Maresca, Davids, Del Piero, Amoruso. Subs: Buffon, Pessotto, Trezeguet, Tacchinardi, Frara, Piccolo, Luca Rondinella.
The Celtic Star Editor's Verdict – Superb win, a brilliant performance from both sides but ultimately frustrating in that we were eliminated despite perfect home form. This result though, against one of the giants of world football, gave Celtic re-found confidence after a long period of European inadequacy. Martin O'Neill was having none of that. What a pleasure that Celtic team was to watch.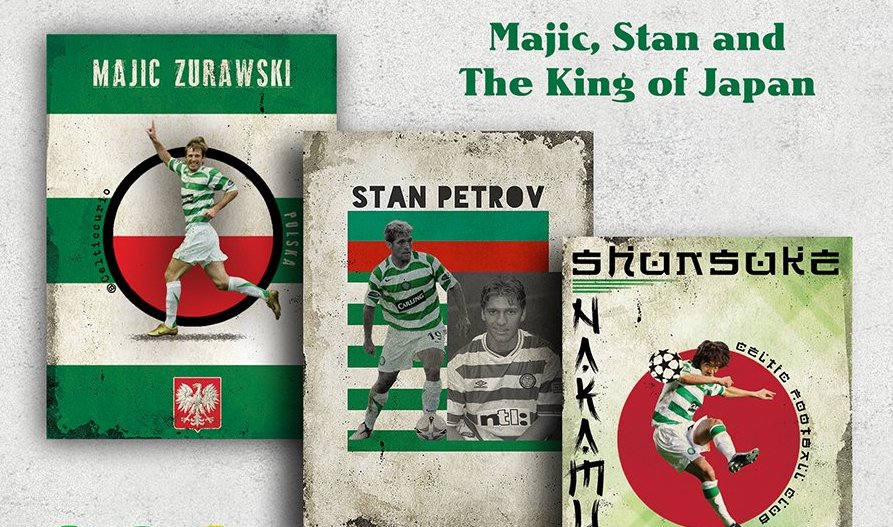 Matt Corr's new book Majic, Stan and the King of Japan is out now and Neil Lennon, the Celtic captain that season, has written the foreword for us.
You can get a signed copy of the hardback version direct from Celtic Star Books by clicking on the image below. It's also available an an e-book via Amazon Kindle and please note that all colour photographs that appear in the beautifully presented printed hardback book are also available in the Kindle version of Majic, Stan and the King of Japan…