Celtic FC Women's head coach Fran Alonso will let the Police know he doesn't wish to press charges – if he receives an apology – following the cowardly headbutt from behind by theRangers women's assistant coach Craig McPherson in Monday night's Glasgow Derby at Broadwood. That's according to Alison McConnell writing in Daily Record this morning.
'Celtic women's boss Fran Alonso will tell the police he doesn't want to press charges against Rangers coach Craig McPherson over the headbutt storm.
'Although the cops have opened up an inquiry into the shameful scenes at Broadwood on Monday night when the two Glasgow sides drew 1-1, Record Sport understands Alonso doesn't want to take the matter to the courts. But it's believed the Spaniard does want an apology from McPherson who is also alleged to have called him a "little rat". Celtic went on record to express their disgust while Alonso kept a dignified silence.
The SFA are unlikely to be as lenient as the Hoops manager, though. SFA compliance officer Martin Black has been alerted to the events that marred the game which was beamed live on Sky Sports – the first time a SWPL has been screened live by the broadcaster – and while the incident has not been fast-tracked, the international break this week should accelerate the process.'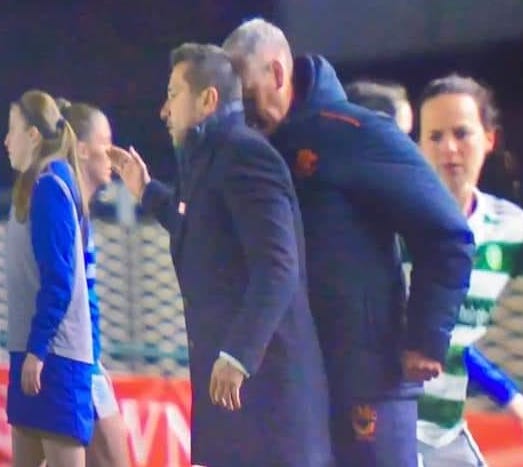 You could say Fran Alonso was happy to turn his back on the incident but then the last time he tried that he got thumped in the back of the head, so perhaps it's best to describe his decision as willing to accept an apology without involving a legal process.
Despite this report sorry seems to be the hardest word for theRangers, with the club keeping an undignified silence on the matter some 36 hours on, while the SFA have apparently let it be known their new Compliance Officer will look into the matter, possibly after his Spanish counterparts – who must be wondering what this little nation is all about when one of their own is attacked on the field of play – leave Glasgow today following Scotland's win over Spain at Hampden last night.
It may also be worth allowing time for the hangovers to disperse after a day of wining and dining courtesy of the Hampden ticket paying public and no doubt the post-match quaffing of celebratory champagne in hospitality.
You have to admire Fran Alonso for his stance on the matter, as I'm not too sure many of us would leave what happened in the past with a simple apology, particularly when it's yet to be made and with every passing hour seems all the more unlikely.
However, it would appear an olive branch has been offered by the honourable Alonso as a gesture of conciliation and goodwill. It remains to be seen however whether Craig McPherson or theRangers board will be willing to bring himself to accept it and issue a public apology to the Celtic head-coach. It may be best for Fran Alonso not to have too much in the way of expectation.
Niall J